One Week at the White House Was America's Pandemic in a Microcosm
(Bloomberg Businessweek) -- SARS-CoV-2 doesn't pay attention to party affiliation. Nor does it listen to spin that the nation is turning a corner in the pandemic or promises that a vaccine to solve everything is imminent. All it does is spread, silently and efficiently, wherever and whenever it can, taking advantage of people who let their guard down to find more throats and noses to infect.
The coronavirus apparently found plenty of throats to colonize at the White House. At least 12 people who attended a Rose Garden ceremony for Supreme Court nominee Amy Coney Barrett on Sept. 26, or other indoor events associated with it, have now tested positive, including the president and the first lady, two Republican senators, the president of the University of Notre Dame, former aide Kellyanne Conway, and press secretary Kayleigh McEnany. Numerous others in Trump's orbit who aren't known to have attended the Rose Garden event, including top aides Hope Hicks and Stephen Miller and campaign manager Bill Stepien, have also contracted the virus.
The White House outbreak, consuming the highest levels of the U.S. government, is a superspreader event with geopolitical shock waves. It's driven several of the country's top military leaders into quarantine and could ultimately put thousands of ordinary people, including staff at the White House and Trump's Bedminster, N.J., golf club and their families, in danger. And it's a microcosm of the Trump administration's handling of the pandemic from the beginning: All along, it has bet on quick fixes over unglamorous preventive measures like masks, social distancing, and contact tracing.
Even now, the White House is focused on moving on. "The president is conveying confidence and resilience and demonstrating to the American people that we must not live in fear, that we must reopen in a safe way and go back to school, go back to work, go back to church, because to do otherwise would be un-American," deputy press secretary Brian Morgenstern said on Oct. 6.
Trump announced on Twitter that he'd tested positive for the virus soon after midnight on Friday, Oct. 2, hours after Bloomberg News's Jennifer Jacobs broke the news that Hicks, one of his closest aides, had tested positive. He spent three days in the hospital before returning to the White House on Monday night. Exactly how serious his condition was isn't clear. But physicians were worried enough to administer an experimental antibody cocktail from Regeneron Pharmaceuticals Inc., and then, when his blood-oxygen level dipped for a second time, they started him on a steroid treatment that's usually reserved for severe Covid cases. On his release, Trump's doctors said he wasn't out of the woods yet; the illness can take a severe turn 7 to 10 days after symptoms appear. By Oct. 7, Trump had been symptom-free for over 24 hours, his doctor said.
Given how many crowded events the president attended the week he got sick, including rallies in two states and a fundraiser in a third—as well as hours of apparently mask-free prep for his Sept. 29 debate with Democratic presidential nominee Joe Biden—it's not clear exactly how or when the virus spread through the White House, and it may never be. What is clear is that the White House, for months, has been ignoring basic public-health precautions urged by the Centers for Disease Control and Prevention, such as limiting large gatherings, wearing masks, and practicing social distancing.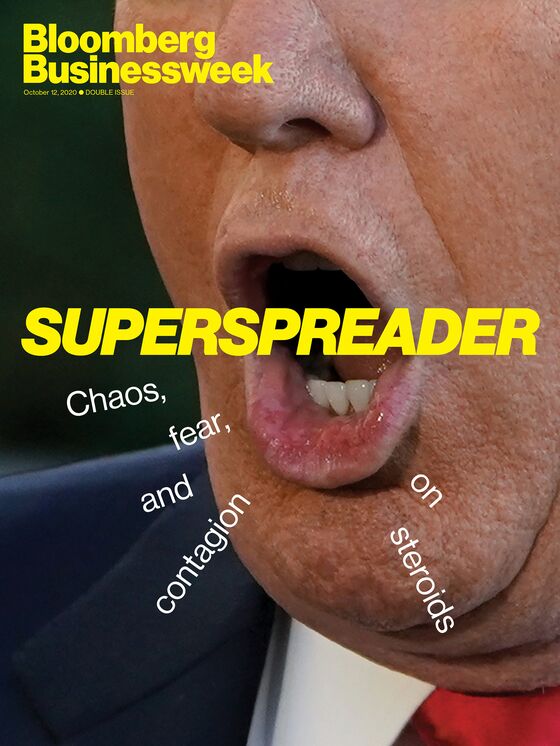 At the Rose Garden event, rows were packed, people were hugging and shaking hands, and few wore masks. But that wasn't anomalous: This summer, Trump held a rally inside a Tulsa arena and gave a convention speech to 2,500 people on the South Lawn of the White House. As his reelection campaign gained steam, de facto political rallies became full outdoor rallies, which soon turned into indoor ones. All featured Trump supporters largely maskless and packed together. "Anytime you are increasing contact between people, you're increasing opportunity to become infected," says Kate Grabowski, an epidemiologist at Johns Hopkins University. Trump may have been lucky not to have been infected earlier, she says.
Instead of social distancing, the White House has relied on technology to fend off the virus. Its main line of defense has been a rapid test from Abbott Laboratories. But tests like these, as useful as they are in spotting cases early so people can be isolated, were never intended to be the sole safeguard against Covid and may have given a false sense of security. While some White House staffers wore masks early on in the pandemic, most stopped in the weeks after the president ended his regular coronavirus briefings. "There are a lot of important lessons from this, and one of them is that testing in and of itself is not enough to keep the virus out," says Tom Frieden, a former director of the CDC.
That's because patients become contagious before they develop symptoms, and rapid tests won't catch all of these early cases until it's too late. If just one patient with a false-negative result slips through, a superspreader event can quickly ensue. "It's almost impossible to test often enough" to catch all cases before they become contagious, says Graham Snyder, medical director of infection prevention and hospital epidemiology at the University of Pittsburgh Medical Center. "That is why masking and distancing are so important."
The reliance on testing alone within the White House is emblematic of the silver-bullet approach the president has taken from the beginning of the pandemic. In January, Trump promised he could keep the virus out of the U.S. by restricting passengers arriving from China. When that didn't work, and deaths started to soar, he championed hydroxychloroquine, an old malaria drug that had meager data showing it might help against Covid. The Food and Drug Administration cleared it for emergency use, but had to retract the authorization after evidence showed it didn't work and could even cause heart rhythm problems.
In tweets, the president undermined the reopening guidelines of his own White House Coronavirus Task Force, encouraging states to accelerate the process. And after scientific evidence mounted that masks can prevent spread, Trump still didn't embrace them. He didn't wear one in public until July 11 and has done so only sporadically since then. At the first presidential debate, two days before he tested positive, his family didn't wear masks while seated inside the event hall, and Trump mocked Biden for wearing "the biggest mask I've ever seen."
Inconsistency and magical thinking at the top, public-health experts say, are among the main reasons the U.S. never got the pandemic under control. "One day, it's like a miracle, it will disappear," Trump said of the virus back in February. There has been no nationwide mask requirement and no testing strategy, leaving state governments to set their own policies while they scrambled for everything from personal protective gear to diagnostics. Large gatherings continued, sowing the pathogen widely.
Despite the expanding cluster inside, the White House has no plans to track exposures from the Rose Garden ceremony. (An administration official says that the Coney Barrett event was held too long ago for that—and it would be the responsibility of the local health authority anyway—but that the White House is tracing contacts of those who test positive or show symptoms on-site going back 48 hours.) This is consistent with the larger indifference to ramping up contact tracing, which has flopped in the U.S. because of lagging test results, weakened public-health services, and a broad lack of support.
Additional money Congress set aside for the CDC's testing and contact tracing has been delayed or redirected to other priorities. Trump is focused instead on accelerating the development of promising drugs and vaccines—sometimes at the expense of other measures that could slow transmission. While Congress directed about $10 billion to Operation Warp Speed, the administration expanded the funds available to that vaccine-focused program to as much as $18 billion, Bloomberg News reported in September. Some $6 billion was transferred from the Strategic National Stockpile, part of an allocation meant to replenish reserves of medical protective gear, ventilators, and testing supplies, all of which have seen shortages this year. The administration also steered $700 million of the CDC's funding to Warp Speed.
One drug Warp Speed has funded is the antibody cocktail from Regeneron that Trump received. Anthony Fauci, the government's top infectious disease doctor, views it and other anti-Covid antibodies being developed at Eli Lilly & Co. as a bridge to vaccines. Lilly said on Oct. 7 that it's asked regulators to authorize emergency use of its antibody based on promising preliminary trial results. But even assuming they are approved, antibodies by themselves won't magically solve the pandemic. Antibodies are even harder and more costly to manufacture than vaccines, and they're likely to be in short supply initially. It may be a while before most people, unlike the president, can get them.
Then there are vaccines. By all accounts, testing is proceeding at an unprecedented speed, with immunizations from Moderna, Pfizer, and Johnson & Johnson in giant final-stage trials in the U.S. A fourth big U.S. trial of an AstraZeneca shot is on hold while regulators conduct safety checks. The first of these trial results could come this fall, leading to an emergency authorization for some vaccines by year's end. But it's just not the case that vaccines will be widely available "momentarily," as the president suggested in a video on the night he left the hospital, vaccine experts say. On Oct. 6, the FDA issued strict requirements for vaccine applications that will likely slow down the timeline. Trump called this a " political hit job."
Even if they were ready, the shots wouldn't immediately eradicate the virus. Supplies may be limited at first, and authorization will likely be restricted to a select group of health-care workers and others at high risk. It will take months to get vaccines to the broader public. They may be only partially effective, and some people may refuse to take them, notes Vanderbilt University infectious disease specialist William Schaffner. That means, he says, some social distancing will likely be needed even after a vaccine becomes available.
There is no silver bullet when it comes to taming the coronavirus, just the hard, grinding work of putting together basic interventions, from mask-wearing to contact tracing, on a massive scale. So far, the virus has killed more than 210,000 Americans—six times as many as die in motor vehicle accidents annually—and infected more than 7.5 million. As the weather turns colder, sending people indoors, Covid is on the upswing again. Thirty-four states are seeing more cases than they were a month ago, and hot spots like Wisconsin and the Dakotas are hitting new peaks. "It is just mind-blowing to me, when we have the ability to control further spread of the infection, we are not doing it," says Leana Wen, a public-health professor at George Washington University and former Baltimore health commissioner.
President Trump downplayed the virus again during his hospitalization at Walter Reed National Military Medical Center. "Don't be afraid of Covid," he tweeted. That night, standing before news cameras after returning to the White House, he triumphantly removed his mask. But SARS-CoV-2 is still out there, ready to infect new victims at any opportunity. It's established itself around the world and is settling down for the long haul. Far from being a quick fight, the battle with the virus will be fought for many months, and possibly years, to come. —With John Tozzi and Josh Wingrove
 
Read next: Charting the Scale of the White House Covid-19 Cluster