Grand Theft Cobalt: Rotterdam
(Bloomberg Businessweek) -- A group of bankers, brokers, and journalists was huddled outside a dingy warehouse along the Nieuwe Maas River in Rotterdam on a gray morning last January. All around was the industrial sprawl of Europe's largest port, a landscape of cranes and colorful shipping containers stacked up like Lego bricks, reversing trucks and squalling gulls.
The building was run by Vollers Group GmbH, a logistics specialist based in Germany. One of its managers, Martijn Wijbrandi, led his visitors inside to get high-viz jackets and a safety briefing. We've never had a problem with theft, Wijbrandi said, but it pays to be careful. He pointed out the alarm system, secured by a PIN code. On the warehouse floor, everyone filed past piles of magnesium bricks and bags of coffee to an area walled off by steel sheets that rose almost to the ceiling. A security camera was aimed at the padlocked sliding door.
Wijbrandi gestured to a tattooed young employee in a baseball cap who'd been driving a forklift. The man strolled over to unlock the doors, revealing hundreds of orange and blue drums piled four-high on pallets. Each container was full of chunks of cobalt, a formerly obscure, unwanted metal that got its name from the German kobold, or "goblin," because it vexed medieval miners who, trying to extract more valuable substances from its ore, were instead rewarded with worthless powder or toxic gas. It's lately become highly valuable because it prevents the lithium-ion batteries found in mobile phones and electric cars from overheating and bursting into flames. Cobalt's value surged more than 300 percent from 2016 to its 2018 high, reaching a record of almost $100,000 a ton.
One of the group, Anthony Milewski, broke off to pose for pictures in front of the barrels. Milewski is the founder and chief executive officer of Cobalt 27 Capital Corp., a kind of metal hedge fund that offers investors an indirect way to bet on a battery-powered future. The Kennewick, Wash., native had amassed what's thought to be the world's largest private stockpile of the bluish-gray metal—about 3,000 tons, not far behind the largest public reserve, the Chinese government's—and was hoping to raise money to acquire more. The vast majority of the company's material was locked away in Rotterdam, including about 76 tons at this facility. He'd arranged the tour to show Cobalt 27's backers their stash was in safe hands.
An energetic former lawyer with a shaved head, Milewski began buying cobalt in 2015 as a fund manager at Pala Investments Ltd., a firm created by Russian coal and steel billionaire Vladimir Iorich. In 2017, Milewski recapitalized a dormant mining company by issuing shares on the Toronto Stock Exchange and used the funds to purchase Pala's cobalt in return for about 20 percent of the shares. With that, Cobalt 27 was born. Milewski is so enamored of his chosen commodity that he can summon the latest statistics about cobalt production and electric car usage at will. "I don't know where I get them from," he once joked at an industry dinner. "They just come to me. I'm like the Cobalt Jesus."
Wijbrandi pried open some drums to show visitors what cobalt looks like: cathodes in little squares that were rough and dull on the surface but glittery and jagged underneath. Some of the visitors took samples as souvenirs, and the tour came to an end. Vollers was just one of the companies being paid to look after Milewski's metal in Rotterdam. There was another site to visit.
Months later, on July 9, a worker arrived at the warehouse at about 7 a.m. to open up for the day. He entered a code to unlock the main gate. Nothing seemed amiss until he reached the cobalt section of the warehouse floor and noticed the padlock had been cut. He contacted his boss, who called the police. When officers arrived about an hour later, the only other visible sign of a break-in was a missing recording unit for the security cameras. That, and the drums of cobalt—112 tons of it, worth about $10 million—were gone.
The Minor Metals Trade Association, a London-based industry group Vollers is registered with, made the first public statement about the incident 10 days later. Vollers didn't comment, citing the ongoing police investigation. When a reporter asked Milewski if Cobalt 27 had been affected, he declined to comment at first. Then in August the company revealed in an earnings statement that it owned 76 of the missing 112 tons. All the metal was insured, Cobalt 27 said, assuring shareholders that the rest of its holdings were safe.
News of the heist spread quickly through the tiny network of people who trade in cobalt. All of them, it seemed, had stories about metal thieves. David Weight, the president of the Cobalt Institute, another industry body, told Bloomberg Businessweek he'd once sent a consignment to the U.S. from Rotterdam in the 1980s and received a note from the buyer in America that read, "Thanks for the gravel." Someone—Weight never found out who—had taken the lids off the drums, removed the metal, and replaced it. Around the same time, Weight said, armed men held up a freight train en route to South Africa, decoupled the carriages containing cobalt, and towed them away on a separate getaway train.
The Rotterdam case was something different altogether, unprecedented in its scale. Cobalt is tricky to mine, transport, and sell. A typical drum weighs 250 kilograms, making it tough to move unless you're a forklift operator or an Icelandic strongman. One metal trader told a story about a truck driver in Africa who, he'd heard, stole some cargo and stashed it in the vehicle's spare tire. Now weighing almost a ton, the wheel sheared off midjourney, rolling down a hill and over a car, killing the occupants.
If thieves do manage to steal it, they'll encounter a new host of problems: Cobalt can be toxic, so anyone trading it legally typically needs a special license. It can also be of troubling provenance—most of the world's supply lies in Congo, where child labor and corruption are widespread—meaning the few industrial buyers ask for documentation to establish that it's from a reputable source. (Cobalt 27 has a policy of sourcing its metal from mines outside Congo, which makes it easier to sell.)
London's cobalt experts could only speculate on how someone could steal 112 tons of rare metal from a secure warehouse, and Vollers declined to comment for this story. Getting more answers would require a trip to the coastal region of the Netherlands and Belgium that has for centuries been the gateway to European trade and to its criminal underworld. One man in particular could help a reporter navigate the port of Rotterdam, a veteran trader said—"You need to speak to Hans."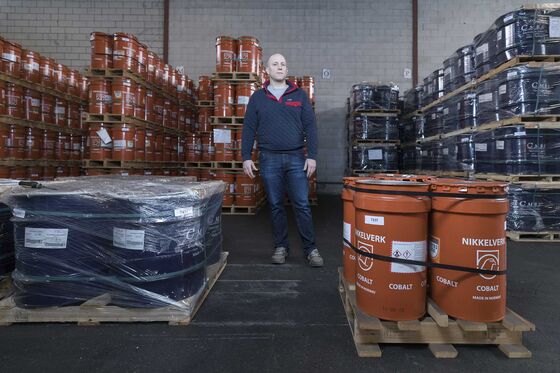 Rotterdam was destroyed by the Germans during World War II, but once it was rebuilt it became, for a time, the world's biggest and most advanced port. Locals joke that it was remodeled by the Nazis. Once seen as the roughhouse younger brother to sophisticated Amsterdam, it's grown into postindustrial hipness. The town center is immaculate, with edgy modern architecture standing comfortably alongside pockets of colonial-era grandeur. Young residents ride around on bicycles without any sign of the fear, evident in London or New York, of getting run down by motorists. Dutch orderliness is apparent from the moment you stroll through customs at the airport to find your baggage already waiting for you. Yet Rotterdam is still a port, with a port's lawless side. Just this October, customs officials found 1,300 kilos of cocaine hidden inside a frozen chicken meat shipment.
"There is never a day the same, but it's not always easy," said T.J. Meeuwisse—aka Hans. At 60 he's a huge man, especially around the middle, with patchy skin and a repertoire of bawdy jokes, and he's worked at the port since he was 19. He used to run a warehouse business and now works as a logistics consultant.
A few years ago, he said, he was on a list of people designated to respond when security alarms were triggered at the warehouses he oversaw. Eventually the port police warned him to stop showing up, because criminal gangs were operating in the area. You take a bullet and that's it, they told him. "In that case, it should be a big bullet," he recalled replying, grinning to reveal long, thin teeth. He was working on this day out of a riverside restaurant with waterproof menus and local soccer team jerseys hung on the wall. Outside, as cargo ships slid past and a refinery flared off gas, the port's scale was apparent. Nothing but industry for miles in every direction. Lots of places to hide a haul of stolen metal.
Hans said he was aware of the cobalt heist but couldn't talk about it, because some of his clients use Vollers and he was bound by a nondisclosure agreement. Like everyone at the port, he knows that thieves keep an eye on the commodities market no less than London traders. "We are all cooking with the same water," he said. "There is no warehouse in Rotterdam that hasn't had an issue." About a decade ago, 50 tons of ferromolybdenum, an alloy used in steel production, was stolen from one of his sites, Hans said. The thieves had cut through three fences and sabotaged the antennas that sent the alarm signal. The metal's owner recouped the money from its insurers, and though the police came out to investigate, they never arrested anyone. As for the criminals themselves, Hans said he had no idea who they were. He professed never to have met one.
Jan Struijs, the chairman of the Dutch police union and the former head of a criminal investigation squad in Rotterdam, offered a little more insight into the city's underworld. He met with Bloomberg Businessweek near the Cool District, home to brightly lit bars and Hawaiian poke joints. "We have the characteristics of a narco state," he said, as young Rotterdammers in skinny jeans sipped coffee and fiddled obliviously with their smartphones.
Struijs explained that he wasn't comparing the Netherlands to Mexico. "It's about a parallel economy," he said. "We have the best infrastructure in Europe, and not only the good guys are using it." Smugglers use the Netherlands to import cocaine, black-market cigarettes, counterfeit medicine. It's the site of considerable drug production, too, and among the world's biggest makers of ecstasy tablets, including a recent global flood of carrot-colored pills stamped with Donald Trump's likeness.
One problem, Struijs said, is that the police tend to catch only small-time crooks. Gang leaders, meanwhile, escape with their loot and embed themselves in the legitimate economy. "They own hotels, property, and garden centers," Struijs said. "They have been doing this for 20 or 30 years." This world of what he called "gray corruption" connected organized crime groups from Italy, Albania, and North Africa to corrupt, or corruptible, officials and dockworkers in Rotterdam. About 1 in 7 port employees in the city has been approached by a criminal, according to a police survey.
The recent warehouse heist? "I think it's the tip of the iceberg," Struijs said.
The July incident wasn't the first time someone had stolen metal from Vollers. It wasn't even the first time someone had stolen cobalt from Vollers. Back in 2008, the company worked with a trucking firm called Sigma Phi that employed ex-cons, according to Peter Poels, an inspector in the Belgian Federal Police who worked on the case. Among the felons was Gunther Jacobs, a serial thief well-known to police, who made it his business to befriend warehouse workers wherever he went. Jacobs heard, through some Turkish and Moroccan employees, that Vollers had a cobalt shipment coming in. On Dec. 23, according to documents from a subsequent insurance dispute, he locked himself inside the warehouse, waited until the place cleared out for the evening, then disabled the alarm and let his associates in. It took them six hours to load 20 tons of cobalt into trucks, which his colleagues drove to the Netherlands and stashed in a locked container.
According to Poels, Jacobs had a relationship with a Dutch businessman and horse breeder who had links to the drug trade, the local chapter of the Hells Angels, and, crucially, a network of scrap-metal dealers who didn't ask too many questions about paperwork. Vollers didn't notice for more than a month that the cobalt was gone, until the metal's owner, Axl Resources Ltd., ordered it shipped out. Axl successfully sued its insurers in London to recoup the $1.8 million it lost. The cobalt was never recovered.A
Jacobs and 13 other members of his gang were convicted and jailed in 2011, after a Belgian investigation called Operation Pepperoni. The thieves also confessed to taking more than 100 tons of copper, 23 pallets of Lee Cooper jeans, and 817 Yamaha saxophones during a two-year spree. The truck drivers who worked with Jacobs often had minor convictions on their records, Poels said, adding that some were heavily in debt and eager to make money on the side. The Dutch horse breeder later survived two assassination attempts. "Criminal gangs," Poels said, "are multidisciplined."
The Jacobs operation was less sophisticated than some other cobalt heists. As port security systems have improved, criminals have adapted, targeting some of the biggest names in the industry. In June 2012 a vessel delivered three containers of cobalt briquettes to an Antwerp shipping terminal. The cobalt was to be collected by a warehousing company called C. Steinweg Group on behalf of a buyer, Glencore Plc, the global commodities trading firm. When Steinweg's truckers arrived to pick up the containers, they found that two had already been collected, according to legal documents from the resulting insurance dispute. What happened to the cobalt is unknown, but it's assumed that the thieves somehow got hold of the secure code Steinweg used to pick up deliveries from the terminal.
Glencore sued the shipping company for breach of contract and won $1.1 million. In the course of the lawsuit, it emerged that both the shipping firm and Steinweg had been targeted by computer hackers. A Steinweg manager testified that a remote electronic surveillance device was found next to the office of the company's finance director, though the manager said it had been blocked by a firewall. A London judge decided there was no evidence the security codes had been stolen from Steinweg's systems, but the incident showed how far the criminal fraternity was willing to go.
Steinweg is familiar with the port's seedy side. Founded in Rotterdam more than a century ago, it's become a conglomerate that has also owned supermarkets and even a nightclub for a period in the 1980s and '90s—though several former patrons say "nightclub" is a flattering description of the Embassy, known for its pink-and-mirrors décor and occasional strip shows. Former executive Eddy de Werk had been a regular at the club, and he liked it so much he bought the place. (De Werk died in 2010.) When the Embassy was finally shut down in 1999, the Dutch press reported that it was a sex club employing illegal prostitutes.
And yet, Steinweg is the biggest and most reputable name in its industry, the IBM of warehousing. Nobody ever got fired for choosing Steinweg. After the theft from the Vollers warehouse, Cobalt 27 placed all of its metal with the company. Steinweg also took the only existing video footage of the 2018 Vollers cobalt heist, captured by a security camera at a facility up the street, according to several people familiar with the investigation. It showed three lorries (or one lorry making multiple trips) entering the warehouse on Friday, July 6, between 7:45 a.m. and 12:15 p.m. Each time, the vehicle was at the warehouse for a little more than an hour and departed with its trailer visibly sagging. The operation's efficiency was spectacular: Whereas the Antwerp crew took six hours to make off with 20 tons of cobalt, the Rotterdam gang took several hundred bright orange and blue drums weighing 112 tons in less than five hours. In broad daylight.
Steinweg and the Dutch police declined to make the footage available. Contacted for comment about that and other matters in this story, Steinweg Chief Executive Officer Ulf Boll responded: "Unfortunately, I am unable to help you, sorry. Company policy is that we do not talk to the press, never, on no occasion. No exceptions." A spokeswoman for the Dutch police said the investigation was ongoing, and it was too early to draw conclusions. Six people have been detained for questioning so far, four of whom were brought before a judge for a preliminary hearing, she said.
After the robbery, Vollers moved out of its old location and into a warehouse farther down the river. In October a Businessweek reporter visited the new site after getting no response to messages. Pressing the buzzer at the gate prompted the traffic barrier to rise and an unshaven man in a luminous yellow jacket to walk over and ask, "Can I help?" It was Wijbrandi, the Vollers manager. He explained that he was unable to comment and that it was best to contact his manager in Amsterdam. But he said he remembered the tour he'd given in January: "I have questions about that visit. There were too many people and too many pictures."
The tattooed forklift driver who'd opened the sliding door during the tour was actually the warehouse foreman. His name is Nick Ponsen, and aside from port logistics, he's also an amateur rapper whose earnest videos can be found on YouTube (think early Eminem without the sense of humor). He was fired in the wake of the robbery, for reasons that neither he nor Vollers will discuss. Reached via LinkedIn, Ponsen responded to questions at first with sarcasm, then hostility. He confirmed he'd been let go by Vollers "without any further consequences" and blamed the theft on the "childish" security measures taken by his former employers. He wrote that he was unable to talk because "I am on an uninhabited island of money that I have left over from the kobal [sic] theft." Asked whether that meant he'd been involved, he replied that he wasn't interested in Businessweek's questions. "Go and write about it. Idiot."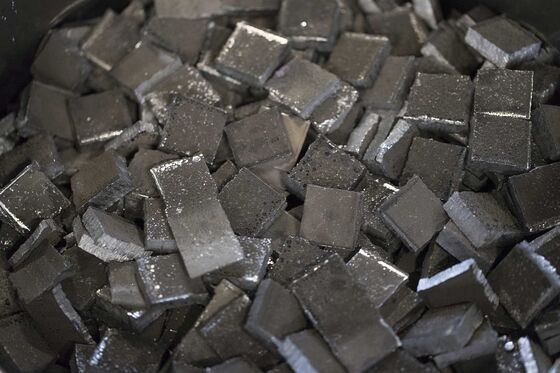 In October, Milewski hosted a cocktail party at the Arts Club during LME Week, a yearly outbreak of backslapping and boozing organized by the London Metal Exchange. By 5 p.m. a crowd of industry luminaries had already gathered in the basement bar, drinking Negronis and bubbly. Milewski, in jeans and a blazer, was on Diet Coke. He said he never drinks. Later that night, he gave a speech in which he riffed that the worst thing that could happen to the cobalt market "would be for this room to catch fire."
The joke fell flat, but the party buzzed on. No one was talking about the thieves stalking Europe's biggest ports. Instead, it was routine trader chatter: who was feuding with whom, which rival had amassed the biggest position. One mining executive toted around a sample of gold ore in a plastic case, to celebrate a recent discovery. From time to time, the conversation turned to cobalt prices, which had lately dipped, driven by a burst of new supply. Companies have also been developing battery-making advances that may ultimately diminish the need for the metal. The sooner the better, for some—Elon Musk has said it's getting so expensive he wants it out of Tesla Inc.'s batteries entirely.
Milewski is still buying up cobalt from mines outside of central Africa. He's raised about a billion dollars from banks and financiers for the purpose since 2017, signing so-called streaming deals that have Cobalt 27 pay upfront for access to a miner's future production. His nickname is spreading, too. Whenever he calls a Canadian bank he does regular business with, he said, he gets a confused response from the receptionists because one of the bankers entered his name into the phone system as "Cobalt Jesus."
And why not? Milewski has pulled off at least one cobalt miracle. In November his company's insurers paid out for the missing 76 tons—at the top market price for July, even though cobalt had dropped almost 20 percent since then. The victims made a small profit from the crime. "At the end of the day," Milewski said, "the system worked as it's supposed to."
To contact the editor responsible for this story: Jeremy Keehn at jkeehn3@bloomberg.net, Jim Aley