The U.S.-China Trade War Means Alibaba Is Producing Its Own Chips
China does not want to miss the next lucrative wave—silicon designed to handle AI tasks like object detection, voice recognition.
(Bloomberg Businessweek) -- In March, Shanghai began testing a service that lets subway passengers walk right onto a platform, using their faces or voices to pay the fare. A voice-recognition system identifies them and dings their Alipay accounts accordingly. Soon, as trials expand, millions of riders may not need cash, or a wallet, or even a cellphone to get around. They'll just need Alibaba.
The Hangzhou-based e-commerce company's ambitions in China—from facial recognition in subways to cloud computing—have never required more computing power. To satisfy its own bottomless demand, Alibaba Group Holding Ltd. has added a member to its corporate family: Pingtou Ge, a subsidiary that will design semiconductors tailored for artificial intelligence. It's part of the company's pledge to heave $15 billion into research and development on AI, quantum computing, and more. If the chip business succeeds, it has the potential to accelerate a larger shift in how the world's computing hardware gets produced.
Microsoft Corp. and Google already launched in-house silicon teams, deploying the hardware for their server farms and as add-ons to their cloud services. The specialized demands of cloud and AI capabilities make in-house manufacturing more practical, despite the expense. Alibaba, China's largest cloud provider, is rolling out its first chips next year. "They're sort of late to this game," says Mark Li, an analyst with AllianceBernstein LP.
Chinese companies have never rivaled the U.S., Taiwan, and South Korea in producing the most advanced computer chips. But China is adamant about not missing the next lucrative wave—silicon designed to handle AI tasks such as object detection and voice recognition.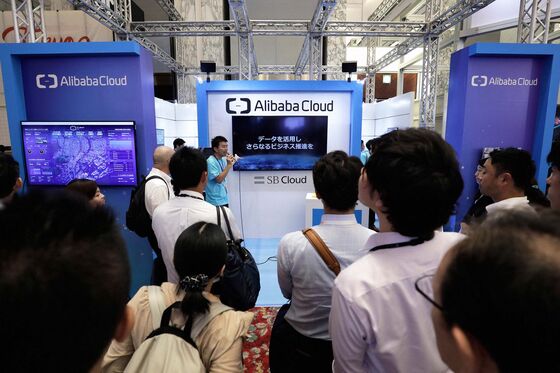 That mission has taken on increasing urgency thanks to Donald Trump. The trade war between the U.S. and China, spurred by the president's heightened economic rhetoric, has made the Chinese wary of relying on tech from outside its borders. And while the White House has fought to limit China's tech potential, citing concerns about intellectual property and security, China's central government is providing massive subsidies for manufacturing and AI.
Semiconductors are at the epicenter of the trade dispute. Today, China imports almost three times as many chips as it produces domestically, according to research firm Gavekal Dragonomics. The firm estimates that China's spending on semiconductor equipment from 2017 to 2020 will surpass $60 billion, trailing only Korea's. That's part of Beijing's big push to reach what analysts call "semiconductor sovereignty."
"The trade war is strengthening China's determination to have their own supply chain," Li says. A recent Bernstein report cataloged 13 Chinese companies working on chips tailored for AI software algorithms, including Baidu Inc. and Huawei Technologies Co., China's semiconductor leader. More than half the companies on the list were formed in the past three years. But none has as much reach as Alibaba. The country's largest company is so structurally important to the economy that some see the invisible hand of the authorities behind its move into chips.
An Alibaba spokeswoman says the company first considered a move into chips before China's industrial policy went into effect in 2015. Alibaba makes money mostly from e-commerce, but it's trying to diversify. It has invested in at least six semiconductor companies, acquiring the first, C-Sky Microsystems Co., in April. Announced in September, the new Pingtou Ge subsidiary, named after the Chinese internet moniker for a honey badger, has more than 300 people on its silicon teams, according to a person familiar with the company. They will work on two types of AI chips. One will be embedded inside internet-of-things devices, so objects such as smart speakers and Shanghai metro kiosks will be able to detect and decipher speech, then talk back. The other is for Alibaba's massive internal servers.
Both efforts could be bad news for U.S. companies Nvidia Corp., the biggest chip beneficiary of the AI computing boom, and Intel Corp., the server king. (An Alibaba spokeswoman says its relationships with Nvidia and Intel "remain unchanged." Intel and Nvidia declined to comment.) Threatening U.S. dominance in the industry is immensely difficult. Alibaba and other cloud computing providers that bring building and design in-house have yet to make a dent in the $134 billion-a-year market for computing chips.
Alibaba's semiconductors will first support what's called "inference"—when computer scientists have already baked the data they have (i.e., millions of voice interactions) into algorithms and want to deploy a service (a voice recognition app). But researchers pine for chips that turn raw data into workable AI algorithms, what's called "training." Alibaba has started building those, a spokeswoman says.
While Alibaba dominates China's cloud market, it's facing increasing competition from rivals such as Huawei and Tencent. Adding chips could help. And its cloud business benefits from the expansive reach of the parent company, says Colin Chan, vice president of software company Rackspace. Chan recently brought an executive from an unnamed hospitality company in China to assess Alibaba's cloud products. He and the executive met in a hotel. Alibaba operated the voice-controlled TVs and speakers in each room and even owned the hotel. "It's not just the basic platform. They come with a package," Chan says. "And that's an attraction." —With Ian King
To contact the editor responsible for this story: Dimitra Kessenides at dkessenides1@bloomberg.net