The Tesla Skeptics Who Bet Against Elon Musk
(Bloomberg Businessweek) -- Randeep Hothi was driving north on California's Interstate 880 in April when he spotted a red Tesla Model 3. The sight was unremarkable—in Fremont, where Hothi's parents live and Tesla has its auto plant, the electric sedans are everywhere—but this particular vehicle stood out.
It had manufacturer's plates, suggesting it was a prototype of some sort. More conspicuously, it also had a camera mounted on a custom tripod rising about 5 feet above the trunk. A second camera inside the cabin pointed at the steering wheel and center console. Two passengers rode in back, behind the driver.
Hothi instantly surmised what was happening: Tesla was filming a demo, likely related to the Autopilot driver assistance technology that Chief Executive Officer Elon Musk had lately been talking up. Hothi tucked his white Acura in behind the sedan and started tailing it.
He isn't a cop or a private investigator, and though he's sold shares of Tesla Inc.'s stock short, he's not a professional investor, either. Hothi is something much more dangerous: a grad student with a Twitter account. For the past few years, he's dedicated much of his free time to the idea that Musk isn't the successful technologist he's widely considered to be.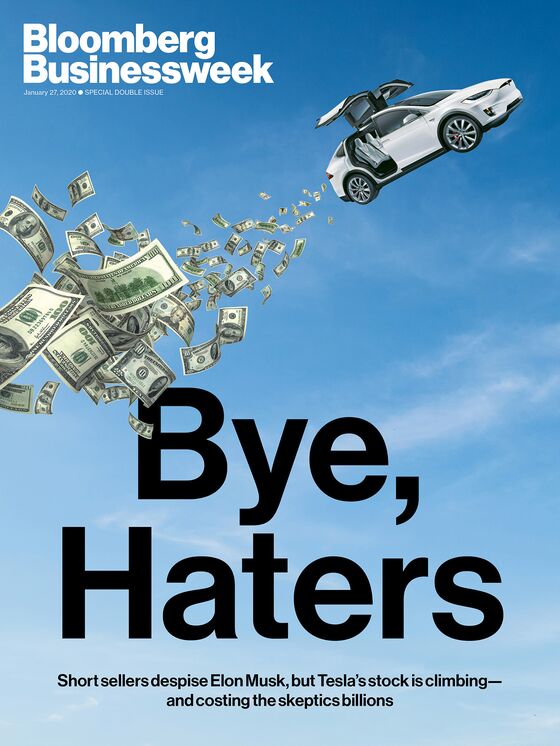 In Hothi's mind, Musk is an epic fraud—"the Ed Hardy shirt of tech visionaries," "the Jar Jar Binks of technology," or "a cross between Elizabeth Holmes and Donald Trump." Hothi has taunted Musk about weight gain ("Is Elon lactating?"), said he benefited from apartheid in his native South Africa ("Didn't your dad pay for your whites only schooling with his emerald mine money?"), and predicted his imprisonment ("You'll have more reading time in jail"). The vitriol mostly stays focused on Tesla, not Musk's other ventures—the spaceflight company, the brain-implant company, the tunnel-drilling company with the branded flamethrowers.
With more than 30 million Twitter followers and a steady stream of YouTube videos and podcasts from Tesla lovers around the world, Musk has plenty of fans to take his side. They shout down the gentlest critics on social media, have been known to bring doughnuts to employees during end-of-quarter pushes to get vehicles out the door, even volunteer to talk new owners through the bells and whistles. "Huge thank you to all Tesla supporters for helping with car deliveries," Musk tweeted in September 2018. "You rock!!"
Hothi is part of the counterrevolution—an informal yet obsessive global fraternity of accountants, lawyers, hedge fund managers, former Tesla employees, and some randos who just love trolling. For a few years they've been posting sick burns and negative indicators in equal measure with a $TSLAQ hashtag appended. They research executive departures, lawsuits, customer complaints, and accidents, adding the occasional allegation of financial chicanery and a passel of puns to suggest that Tesla's end is nigh. Shortly after the company paid $2 billion for the troubled SolarCity (co-founded by Musk and run by his cousins) in 2016, someone came up with the hashtag by combining Tesla's Nasdaq ticker with a "Q," the character markets tack onto a stock symbol after a company files for bankruptcy.
Lately, Musk and his company have had the upper hand. Tesla's share price has more than doubled since October, thanks to a surprise quarterly profit, January's announcement of record deliveries, and the start of production in China. Tesla short sellers lost more than $2.8 billion in 2019, according to Ihor Dusaniwsky, a managing director at analyst S3 Partners, and have already lost about that much in 2020. Some within TSLAQ have abandoned the cause. One tweeted that he "lost the vast majority of his net worth" betting against Musk and bid farewell with a series of GIFs from The Simpsons. Musk, always prepared for a victory lap, tweeted a link to Lena Horne singing Stormy Weather on Jan. 14. Hothi declined to say how much he's personally bet against Tesla, except to say, "I look forward to making use of the capital loss carryforwards."
But with Tesla, the next backlash is always right around the bend. In November, TSLAQ crowed when Musk unveiled an electric pickup called the Cybertruck and its "bulletproof" glass proved extremely vulnerable. "Watching serious people try to pretend like this #cybertruck isn't Elon's 'emperor has no clothes' moment will be fun," wrote TeslaCharts, a prolific and widely followed account. (The stock price fell 6% the following day.) More recently, the National Highway Safety Administration said it would evaluate allegations made in a petition: The complainants say a Tesla defect can cause unintended acceleration. Tesla responded in a Jan. 20 blog post that "this petition is completely false and brought by a Tesla short-seller." Days earlier, on Jan. 15, Tesla had overtaken Apple as America's most-shorted stock, according to S3 data. The company is slated to report its latest quarterly earnings on Jan. 29.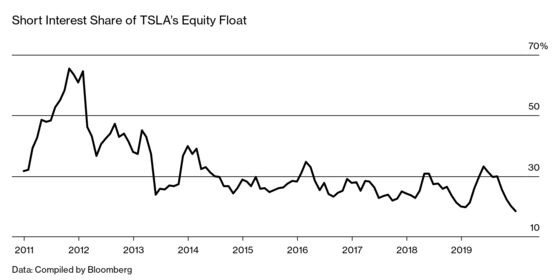 Fearing reprisals from Musk, for whom no critic is too obscure, most TSLAQ types tweet under noms de guerre. Hothi's is "skabooshka." Although he speaks five languages, the alias has no special meaning. "It's like a stupid sound," he says. "I wanted ridiculous and enigmatic."
That day on I-880, Hothi followed the Model 3 for a half-hour, snapping photos with his phone as it traveled along the East Bay's industrial spine. The car went through a toll plaza, onto the Bay Bridge, and ultimately to Treasure Island. On April 18 he posted the photos on Twitter, along with some bearish analysis. Hothi knew Tesla had invited investors to its headquarters the following week for an Autopilot presentation. The sighting of a demo car just days before the event, Hothi argued, proved that Autopilot—"slaughterpilot," in TSLAQ parlance—wasn't fully baked. The investor day, he predicted, would be "saturated with false promises, misleading suggestions, and lures to credulity."
Two days later, Hothi learned, to his surprise, that his real name was all over Twitter—and on a restraining order, to boot. No one served him in person, but the day after he published his tweets, Tesla lawyers had gone to a court in Alameda County and told a judge that Hothi had "stalked, harassed, and endangered" the employees in the Model 3. Tesla claimed that Hothi had been "swerving dangerously close" to the vehicle and that its employees had feared for their safety. The company also alleged that Hothi had hit a Tesla security guard with his car at the Fremont factory two months earlier and that he'd placed a portable camera mounted on a utility pole outside the factory in 2018.
Hothi was bewildered by the allegations and taken aback that he'd become the story. He and his family received racist messages and death threats. Someone emailed the University of Michigan at Ann Arbor, where Hothi is a doctoral candidate in Asian languages and cultures, to accuse him of having "disturbing and violent tendencies." Voicemails left at the department offices urged his expulsion. Disturbed as he was by the invective, Hothi also felt profoundly validated: He'd gotten inside Musk's head. "I realized that I had won," he says.
Naturally, he went straight back to Twitter. "This is my promise," he tweeted on April 20. "Tesla is a zero. @Elon Musk will go to prison."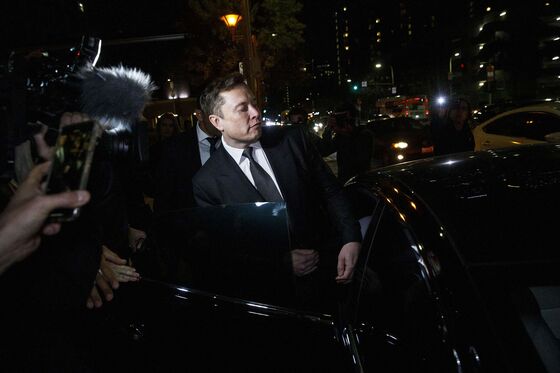 Under normal circumstances, TSLAQ would be just another way for obsessives to find each other online, like #paleodiet or #juggalo. But these obsessives have proved they can shape perception and move the stock of America's most valuable carmaker. "They've put Tesla under a microscope, and they have succeeded in diluting the company's success," says Gene Munster, a managing partner at Loup Ventures and a prominent bull. "It leaves the average person who loosely follows Tesla confused and concerned."
Musk has repeatedly acknowledged the impact of critics and short sellers, often while indulging his more juvenile impulses. He once sent a package full of short shorts to a regular heckler, the investor David Einhorn, and he's blocked a handful of journalists' accounts on Twitter, including mine. In its most recent annual report, Tesla cited "scrutiny of critics" as a risk to its business.
"You have a fundamental public disagreement on the social value of Tesla," says short seller Fahmi Quadir. She isn't active on Twitter but says she admires TSLAQ's democratization of due diligence. "There are also valid questions about governance, sustained profitability, and product integrity."
Hothi's main claim to fame in the TSLAQ community was his detailed reporting on the factory in Fremont in 2018. His production estimates were reliable enough to be cited widely by both bulls and bears. In June of that year, when Tesla erected a massive tent to house a new Model 3 assembly line, Hothi flew a drone to peer inside the tent, revealing that the cars were largely being built by hand. This was a major scoop, undercutting the company's hyping of its sophisticated robotic assembly line—its "alien dreadnought," as Musk called it.
Hothi was born 33 years ago in Punjab, in northern India, and grew up in Fremont, not far from the factory. A voracious reader and devout Sikh, he was obsessed with philosophy in high school but had trouble focusing. He failed out, then turned things around at a local community college, eventually transferring to the University of California at Berkeley. He graduated with a bachelor's in philosophy in 2009.
The following year, Tesla went public and took over a shuttered GM-Toyota facility in Fremont, where it planned to build the Model S. The company and its unconventional CEO became an irresistible story for the tech press, which routinely asked if Musk was "the new Steve Jobs." In 2013 the Model S was named Motor Trend Car of the Year, the first electric vehicle to win the award in the magazine's history.
By then, Hothi was in graduate school, but he'd developed a side interest in the stock market. When he wasn't inhaling the work of post-Marxist French philosophers, he was lurking on Yahoo! Finance message boards and shorting dozens of companies, including Tesla and SolarCity. His skepticism was rooted in the realities of the auto industry—a "capital-intensive, operationally demanding, low-margin industry," he says—but it was also a contrarian bet against Musk, who Hothi knew had been fired as CEO of PayPal Inc. before the payments company went public. "People are always like, 'Never bet against Elon,' but I'm like, 'Always bet against Elon.' He was a problem at PayPal, SolarCity was a disaster, and Tesla is a disaster."
Hothi argues there's a profound philosophical question in the way Musk is perceived—one related to a core tenet of Sikhism, the prohibition of idol worship. "I see people like Steve Jobs, or Elon Musk, or Donald Trump, or Barack Obama for that matter, and I'm not inclined to fall on my knees and worship these people," he says. "For me, they're just ordinary people caught up in situations."
In 2016, Hothi created an account on Seeking Alpha, an investing website popular among short sellers, and started posting about the SolarCity acquisition and other investment concerns. He says it became clear to him, as he learned more about finance, operating metrics, and regulatory disclosures, that Tesla was in a tough spot. "There was never a moment where I had to realize, Oh man, this genius is not a genius, " he says. "For me, it was more that this fellow selling these cars is trying to get by in a really difficult enterprise."
Over time, the Tesla shorts on Seeking Alpha largely moved their conversation to Twitter, a world of brevity and memes. Hothi joined the social network in March 2017. For skabooshka's avatar, he chose a dystopian painting by the late Polish artist Zdzislaw Beksinski of a skeleton playing the trumpet.
 
I first contacted skabooshka in June 2018 while reporting a story about Tesla's new Model 3 assembly line in the tent. I thought he might be a contractor or a supplier, or even, based on his apparent knowledge of the factory and his photos of the tent going up, a current or former employee. Unsure whether I was looking at the right tent among the several outside the Fremont plant, I sent him a photo from the train platform overlooking the factory. This it? "That's it," he wrote back.
That June 19 he posted his first accusation that the assembly line wasn't fully automated. "This is the alien dreadnaught Elon promised: hand-building cars," he wrote. (Musk had acknowledged on Twitter that "excessive automation at Tesla was a mistake.") Later, after he'd posted his drone footage to YouTube, I asked skabooshka if he wanted to meet in person. He declined because, he said, people were trying to dox him.
In July 2018 an obscure Twitter account with few followers posted a dossier connecting skabooshka and Hothi. It included information about Hothi's graduate studies and social media accounts and noted that his brother, Gagan Hothi, worked at Volkswagen AG, a Tesla competitor. The account had never tweeted before (and hasn't since), so few people noticed at the time, but Musk seems to have been aware of it.
In late August 2018 the Wall Street Journal published a story about the notorious effort by Musk to take Tesla private, during which he'd falsely claimed via Twitter that he had "funding secured" for a deal. (As penance for the tweet, Musk stepped down as chairman, and he and Tesla paid $20 million each as part of a settlement with the U.S. Securities and Exchange Commission.) The Journal story didn't refer to Hothi by name, but it mentioned Musk's contention that short sellers were trying to undermine him and reported that he'd contacted Volkswagen CEO Herbert Diess to ask if an employee was criticizing Tesla under a fake name. "Diess replied saying it was the guy's brother," Musk told the Journal. "That's pretty much it." (Hothi says his brother, who no longer works for VW, had nothing to do with his thinking on Tesla.)
After Tesla filed its restraining order against Hothi last April, Musk responded to the July 2018 tweet that mentioned the brothers. "This is extremely messed up," he tweeted. "@VW, what's going on?" A sympathetic fan responded to Musk, mentioning the restraining order and saying that "tslaq must be one of the most insane things that's ever happened to a company." Musk wrote back: "Never seen anything like it. Tesla is just trying to make electric cars & solar power for a better future for all. True, we might not succeed, but why do they want us to fail?"
TSLAQ rallied to Hothi's side. Lawrence Fossi, an attorney who writes under the pseudonym Montana Skeptic, organized a "skabooshka defense fund," which has raised more than $118,000 on GoFundMe. In his legal response to the restraining order, Hothi contested Tesla's description of the incident with the security guard. He'd driven to the factory parking lot to ask salespeople at the adjacent showroom questions as part of his research, he says. Two men approached his car, and one knocked on his window. Hothi, according to the Fremont Police Department's report, "drove away at a slow rate of speed" and struck an employee's knee in a way "that did not appear to be an intentional act." Hothi denies that he drove recklessly or that he intentionally hit anyone.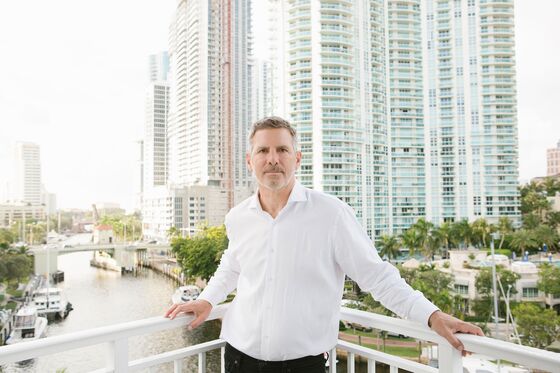 As for his actions while tailing the Model 3, Hothi argued that he'd never swerved toward it, as Tesla alleged. "I took some photos and paid attention to how this car was driving," he says now. "It's not like I was tailgating." Face to face, he chooses his words politely and carefully. Hothi was aware, given the cameras that come standard on the Model 3 and the extras on the demo model he'd spotted, that Tesla would have video of him following the car. He called on it to release that footage and video from the factory's security cameras. Tesla refused, on the grounds that it was protecting employee privacy. When a judge ordered the company to do so, it withdrew its lawsuit instead.
Even so, Musk hasn't dropped the fight. In an email exchange in August with Aaron Greenspan of PlainSite, which republishes legal documents online and first posted the restraining order, Musk claimed that Hothi had "almost killed Tesla employees" and that "what was a sideswipe when Hothi hit one of our people could easily have been a death within 6 inches of difference." Tesla and Musk didn't respond to emailed questions about the discrepancy between his account and the police report.
Fossi, the GoFundMe organizer, views the skabooshka saga as a prime example of Musk's worst tendencies. He's making statements about Hothi "after Tesla dropped the case and refused to provide any evidence," he says. "He's a nightmare client for a lawyer. It's self-destructive, and it's harmful to his company." Fossi compares it with the more high-profile case of Vernon Unsworth, the caver Musk falsely called a "pedo guy" on Twitter. Unsworth sued Musk in a California court, but in December a jury concluded that Musk's tweets didn't meet the legal standard for defamation. (Unsworth said afterward that he'd "take it on the chin.") Nonetheless, the CEO getting dragged into court to answer for his tweets wasn't exactly great news for Tesla.
The company may have abandoned its court fight with Hothi, but Musk won in an important way. Skabooshka hasn't tweeted since April, when he thanked supporters and wrote, "The pendency of Tesla's lawsuit against me makes it prudent for me to say little on Twitter at present." The longtime academic spent his summer interning at Muddy Waters Capital LLC, an activist short seller in San Francisco. (He says his equity research didn't involve Tesla.) In September he flew back to Ann Arbor to finish his dissertation. He says he's focused on that for now, though he's still contemplating legal action against Musk and isn't entirely out of the game. "I'm lurking on Twitter," he says. "I'm monitoring things as they unfold."
To contact the editor responsible for this story: Jeff Muskus at jmuskus@bloomberg.net, Max ChafkinJeremy Keehn