Tech Workers Consider Escaping Silicon Valley's Sky-High Rents
Tech Workers Consider Escaping Silicon Valley's Sky-High Rents
(Bloomberg Businessweek) -- Sachin Dhar thought he and his fiancée had a great deal paying $2,650 per month for a one-bedroom rental in South San Francisco, a short commute from Facebook Inc.'s offices in Menlo Park, where she works. But when the social networking company announced that most employees would be working from home until the end of the year, their calculation changed. "It makes no sense paying Bay Area rent if we can earn our salary living elsewhere," says Dhar, 25, who already works remotely for a New York advertising startup. They're considering moving to Hawaii—or, to really save money, somewhere in the rural U.S.
Dylan Hecklau is thinking along the same lines. His ad-tech employer, Jelli Inc., was dubious about letting people work from home before the pandemic hit. Now that employees have proven productive, its attitude has changed. Hecklau, 32, is planning to take the money he would have spent on a Lake Tahoe vacation home and make a down payment on a permanent home in Sacramento, abandoning his $3,200-a-month rental in San Francisco. "With nothing keeping me here, I can't justify paying the rent prices," he says.
With some of the highest rents in the world, the Bay Area has been dealing with an affordability crisis for years. The region saw 5.4 new jobs for every unit of housing built from 2011 to 2017, according to Bloomberg calculations of U.S. census data. The entire state is expensive, with the median price for a house exceeding $600,000, more than double the national level. In Silicon Valley that means most workers have been renting—and are therefore able to pick up and move.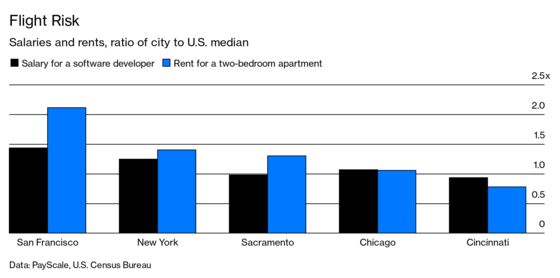 Both Facebook and Google have announced that most people won't need to come in this year, and Twitter Inc. has told some workers that if they wish to work from home permanently, they can. Employees are now considering the thousands of dollars they could save living somewhere else—maybe even permanently. Urban parents of young children suddenly find themselves coveting backyards and playrooms in larger homes that would be affordable on a tech salary pretty much anywhere except the Bay Area.
Some employees, expecting years of rolling shelter-in-place orders, are making long-term life decisions now. And they have a lot of housing options, given that the starting salary for a software engineer at Facebook and Google exceeds six figures, according to Glassdoor data.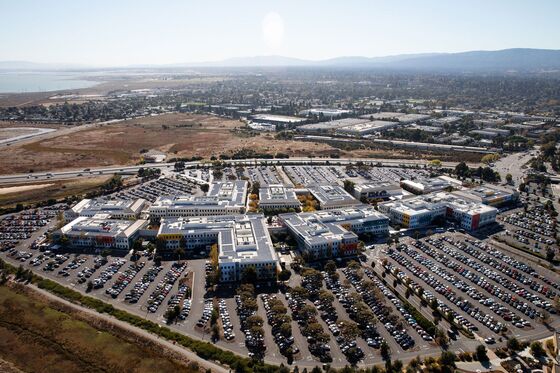 Christy Lake, chief people officer at San Francisco-based Twilio Inc., says several employees have already approached their managers and HR representatives to discuss plans to relocate. The cloud communications company expects more than 20% of its office-based employees will transition to working remotely in the long term. "It's percolating big-time," Lake says. She expects the company will have to come up with formal policies and maybe offer a relocation bonus to employees who decide to make the jump.
But the trend raises complicated questions. If employees move to a less expensive location, should Twilio adjust their salaries accordingly? "It's probably not great business practice to pay Bay Area comps in Michigan," Lake says. And when it comes time to promote, would those employees have the same opportunity to advance as everybody else? "We need to think proactively," she says.
Even though the tech industry builds the tools to help people work remotely and connect online, it's notoriouslyoffice-centric. Facebook, Google, Apple, and others have built sprawling campuses with catered lunches, gyms, bike-share programs, and even laundry services. The campuses are so central to their culture that companies will pay for Wi-Fi-equipped commuter shuttles for employees living two hours away.
Whether tech employees will actually start to leave the Valley for the rural countryside remains to be seen, and there are drawbacks to dialing in remotely on a permanent basis. In 2013, Yahoo Inc. decided its lax policies on working from home had prevented it from innovating and required everyone to come back to the office. But workplaces won't be the same, even early next year. It may not be safe to gather dozens of employees in the same shuttle bus, serve them food with the same utensils, or sponsor off-site gatherings and holiday parties. "Once the reality takes hold, why would we live in SF?" Hecklau asks.