For Sweetgreen, A Pivot to Plates to Combat Plummeting Sales
(Bloomberg Businessweek) -- Sweetgreen became a company with a $1.6 billion valuation by following a simple formula: Serve a creative salad in a bowl.
But with plunging demand for a grab-and-go office lunch—which accounts for the bulk of Sweetgreen's sales—and tumbling revenue, the company is trying to evolve their business. On Thursday, April 30th, Sweetgreen will start offering heartier plate entrees—a main course with sides and sauce—at its 84 locations across the country that remain open, for pickup or delivery (customers can't eat at the store). It's the first food not served in a bowl for the company since the business opened in August 2007.
Sweetgreen had planned to roll out the plates in 2021, but because of the dramatic decline in business as a result of the corona virus, they were rushed to stores in 30 days, says co-founder and Chief Concept Officer Nicolas Jammet. "With more people staying at home, customers' habits have changed and something we had been hearing from guests even before this crisis was the request for warmer, heartier options at home," Jammet says.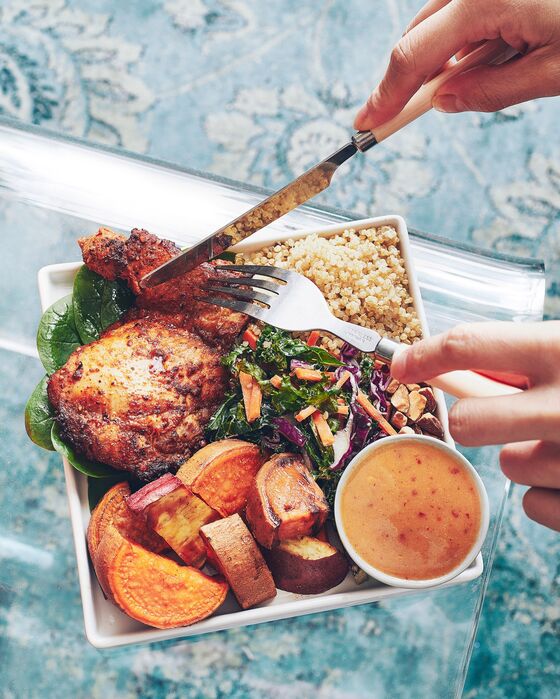 The plates are essentially Sweetgreen salads, reconfigured and served warm: chicken thighs that might have been blackened and featured in a buffalo chicken salad bowl are now Hot Honey Chicken, served whole with roasted sweet potatoes and honey mustard sauce. A roasted steelhead trout transitions from fish taco salad to a dish accompanied by pickled carrots, cauliflower rice, and green goddess ranch dressing. There will be 6 plates, and 3 side dishes. The company began testing the entrees in late 2018, and put them on the menu in their Culver City, Calif., test kitchen location in early March.
The swift pivot is a departure for the company, which generally takes months to introduce a single new dish (sourcing sustainable ingredients, supply chains, and running consumer market testing takes time, they say). A seaweed salad bowl collaboration with star chef David Chang was a seven-month endeavor before it debuted in stores in February.
Jammet says Sweetgreen business has declined 40-80 percent at locations across the country. Suburban outposts, outside cities such as Boston and Chicago, have seen the fewest losses. The sharpest have been in business centers: the company has closed or consolidated 21 of 105 locations, particularly in newly vacant office buildings like Manhattan's Rockefeller Center. Those numbers track with the industry average for fast casual restaurants: Womply, the small business software company, estimates that about 1 in 4 restaurants in the fast casual category have stopped doing business for at least 3 straight days since March 1.
Among the challenges confronting Sweetgreen were the need for disposable square plates. They worked with the sustainable tech firm Footprint to make these,  and get them to stores at a time when delivery channels have been strained. "Sprinting on the packaging was the hardest; that process can take 9 months," says Jammet. Also fast-tracked were modifications to the chain's mobile app to incorporate the offerings.
Remote training to assemble the dishes was done via Slack; workers displayed their dishes and got feedback. "Ultimately, we had to do it," says Jammet. "We had to develop more satisfying, non-lettuce based food. We want our revenue to come back. When our revenue drops, it hurts our farmers and our whole eco-system."
Last week, Sweetgreen made news when it announced it had received a $10 million Payroll Protection Plan (PPP) loan that they returned. Now the company, which brought in $300 million in revenue in 2019, is cautiously anticipating the future. "There is so much uncertainty, so much time scenario planning, I think the question is how work will change: Will people go to the office every day and how are they going to eat? Our offerings have to be broad enough to answer all needs," says Jammet.
"The company has had to pause several openings, including locations in Miami, Denver and Austin. Sweetgreen also is evaluating how to restructure its spaces. "Our design and ops team have spent the  last 3 weeks on what it might look like: How people will  queue, how to minimize contact points, curbside delivery, how couriers will wait," Jammet says. "We're rebuilding Sweetgreen's physical experience. It's what is the new normal is going to have to be."