Strava's Hardcore Fitness Following Is Powering Through the Pandemic
(Bloomberg Businessweek) -- Starting right around Christmas every year and continuing through mid-January, traffic to Strava, the social network geared to athletes, surges. "It's that new year, new you phenomenon," says Chief Executive Officer Michael Horvath. Unfortunately, both for the company and for those people who really do plan to get off the couch this time, resolutions to exercise more are almost always short-lived. By Jan. 17—or quitter's day, as it's known at Strava Inc.'s San Francisco headquarters—the company expects traffic to drop dramatically, as inertia defeats another year's crop of aspiring cyclists and distance runners.
All fitness businesses have some version of this rhythm, though it was thrown off during the pandemic. The 2020 lockdowns temporarily closed health clubs, leading to a spike in interest in tech-enabled alternatives such as Strava and internet-connected exercise bicycles and treadmills like those from Peloton Interactive Inc. Soon overachievers were ordering so many $2,000 spin bikes that Peloton had to delay deliveries by months. But usage of the company's subscription service declined starting this summer, as Covid case numbers fell and the appeal of getting shouted at via a tablet stuck between one's handlebars suddenly seemed less enticing than, say, actually riding a bicycle outdoors.
Strava, which was until recently known mainly to a small group of hardcore runners and cyclists who used its smartphone apps to track their mileage, also saw a burst of interest in March 2020. The Lycra-clad strivers accustomed to weekend runs and group rides began gathering in the app instead, and popular races such as the New York City Marathon went virtual, encouraging athletes to record their miles with the Strava app or on one of the more than 400 devices that can automatically sync with the company's software. (These include running watches with GPS and cycling computers, as well as indoor exercise equipment, including Peloton's.)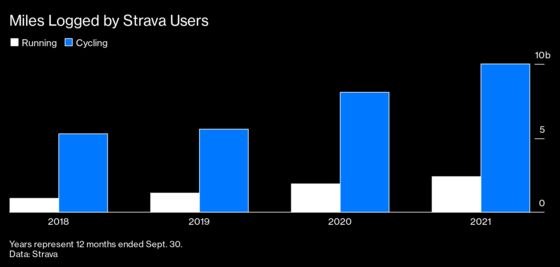 In 2020, Strava added 2 million users a month. Revenue spiked to roughly $100 million, up 75% from 2019, mostly in the form of the $60 annual subscriptions it sells to a small percentage of users who want advanced features unavailable on the free version, such as route recommendations, training plans, and online leaderboards.
While Peloton usage started falling in mid-2021, coinciding with a roughly 70% drop in its stock price since July, Strava users have been more willing to stick around. "We're not seeing any of the headwinds that we hear about in these other brands," Horvath says.
His explanation: Unlike Peloton and similar services, Strava works outdoors as well as indoors. Walking and hiking were two of the fastest-growing sports in 2021, and many of the users who took to Strava to complete virtual marathons stuck with the app even after the real-life versions of those events came back. About 41% of the 30,000-person field in the 2021 New York City Marathon recorded their race on the app; at the London Marathon it was 52%.
As a result, growth continued at a torrid pace in 2021, with revenue increasing by another 68%, Horvath says. This suggests revenue of approximately $170 million and a paid subscriber base of 2 million to 3 million. (Counting people using the free app, Strava has about 100 million users.)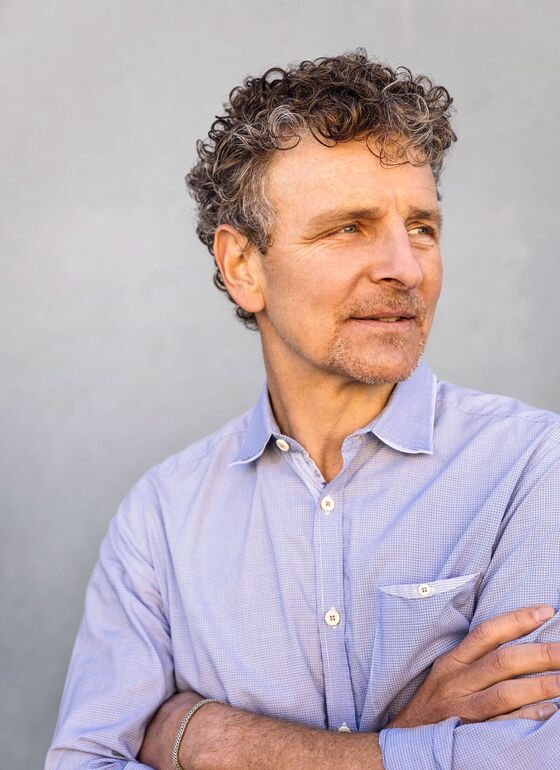 Horvath says the company was profitable in 2020 and 2021. Such financial success has been long in coming. The company—which Horvath founded in 2009 with Mark Gainey, a teammate from Harvard's lightweight crew squad in the late 1980s—grew at a plodding pace in its early years, focusing on generating revenue through paid subscriptions, rather than by selling advertisements. "Back in 2010 and 2011, if you couldn't get to a billion people in three years with an ad model, you weren't worth investing in," Horvath says. But the success of Netflix, Spotify, and Zoom have put subscription businesses back in favor. Last year, Strava raised $110 million in a round led by Sequoia Capital and TCV.
The next step would be an initial public offering. Strava has added a chief financial officer, Lily Yang, who helped take Pinterest public, as well as board members from Walt Disney Co. and Spotify Technology SA.
Horvath says an IPO isn't in the company's immediate future. Before that, Strava has to overcome its annual quitter's day challenge. The company has found that anyone who makes it past the milestone is likely to stick to their new habits. It steers users toward virtual clubs and "challenges" within the app—for instance, to complete a virtual half-marathon—because its data shows these users generally enjoy improved fitness or, at least, improved levels of Strava usage. "We really try to encourage people," Horvath says. "Just get past the 17th of January."
 
Read next: Prescription Weight Loss Drugs Are Working, If You Can Get One