Soros CIO Puts Conservative Stamp on Fund Built With Bold Bets
Soros CIO Puts Conservative Stamp on Fund Built With Bold Bets
(Bloomberg Businessweek) -- In November, Dawn Fitzpatrick, chief investment officer of Soros Fund Management, was being interviewed on a finance podcast called Capital Allocators. At the top of the program, the host sent out an appeal: "Dawn contends that Soros has a uniquely attractive platform for the right type of leading investors to apply their trade," he said before reciting an email address, twice, for interested managers to send their résumés.
It's not unusual for a company to let the world know they're hiring, but that kind of open call is surprising given the mystique the Soros name has in the investing world. George Soros is known for bold moves such as his 1992 bet against the British pound, which earned him the moniker "the man who broke the Bank of England." In its heyday his hedge fund returned more than 30% a year.
But it's a very different operation now. It has to be. Fitzpatrick started her job in 2017, the year Soros finished transferring about $18 billion of his wealth to the Open Society Foundations, the world's largest funder of groups promoting justice, democracy, and human rights. For the first time, most of the money at the firm belonged to the charity rather than to Soros and his family.
It's been a wrenching shift. In the two and a half years since Fitzpatrick took the helm at the $25 billion firm, she's been looking for more talent after replacing 13 portfolio managers she fired or who quit. She's hired 15 new managers. In the meantime, returns have failed to keep up with those of peers or with the foundation's own long-term benchmark. In part that's because Fitzpatrick reduced risk more than a year ago. She says returns were also muted by the performance of some private equity and hedge fund investments left over from prior management.
When it was Soros's fortune, the goal was simple: Make the most money possible. Fitzpatrick's much more pedestrian task is to make enough to cover the $1 billion the foundation spends each year, and to do so without risking any big losses that would eat into the principal.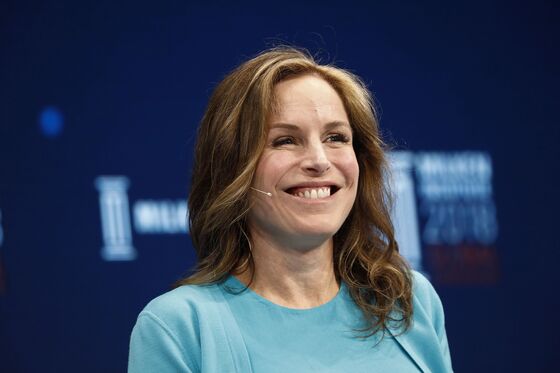 For this mandate, the board hired someone completely different from the six other CIOs who've held the job since 2000. Fitzpatrick is the first female head and arguably the most conservative. She's the only one to have gotten her start at a hedge fund with a market-neutral approach—a style of trading in which a manager seeks to do well no matter which way the markets are swinging. Her most recent job was overseeing part of the money management arm of Swiss bank UBS. She's the first CIO not to run her own large portfolio within Soros.
And she's the first investment head to operate with little or no involvement from the Soros clan. George, who turned 89 in August, spends almost all his time on philanthropic pursuits. While he shares his views on the market and the economy several times a quarter, he no longer trades directly. His two eldest sons, Robert and Jonathan, have left the firm to manage their own fortunes.
That leaves Fitzpatrick more or less alone to steer Soros through this cultural transformation—while keeping alive its reputation as a premier asset manager. "For a company to undergo a personality change, especially when there's not a crisis, is almost impossible," says Anat Lechner, a management professor at New York University's Stern School of Business. Even if the old guard departs, she says, "the old culture is still in the very history of the place." In addition to personnel changes, Fitzpatrick reduced the amount of money run by outside managers. She trimmed exposure to equities and cut back on macro investing—that is, the classic Soros strategy of trading on broad economic and political trends.
Fitzpatrick stands by her moves. "We have taken a lot of simple beta risk out of the portfolio, and we've taken out a lot of complexity from the portfolio," she says. "Beta" is a Wall Street term for exposure to swings in the overall market—a manager with lots of beta might not deliver much that an index fund can't. Fitzpatrick also says stocks and credit markets are more fragile right now than most people think. She wants to be in a position to "lean into those dislocations" when the time comes.
As for macro, her analysis shows that since 2015 the firm collectively spent almost $300 million in fees to macro funds and lost almost 1%. Macro hedge funds in general—once the stars of the investing world—have had a tough time for much of the past decade. Fitzpatrick is sticking with her view even as some of these managers have gained traction this year. The firm has just one external macro manager, whom she declined to name.
Fitzpatrick says her first step upon taking over was to do a return analysis of the internal and external money managers to see if they were worth their pay. Those who didn't add value got fired. More unusual, she cut some top-performing traders as well, saying they weren't team players. "I made some people unhappy, but I think actually that's one of my strengths as a leader," she says. "I've never been afraid to make hard decisions and own them." Other managers chose to go on their own.
Several who left have since raised significant money to manage themselves. Murat Ozbaydar, who worked at Soros for nine years, is getting an undisclosed investment from Yale for his new firm. Courtney Carson, who ran U.S. distressed bonds, is starting his own fund with $300 million from Jonathan Soros's family office. Jonathan and Robert are also backing Santiago Jariton, who oversaw Latin America equity investments at Soros. Cynthia Paul, who worked at Soros for almost two decades, started Lynrock Lake in 2017 and now manages about $300 million.
"To be a portfolio manager here, you have to check two boxes," Fitzpatrick says. "You have to be talented, and you have to believe that your probability of success is higher by sitting next to other smart people and be willing to kind of trade mindshare." To foster cooperation, she's paid bonuses for such things as mentoring an analyst or helping on an investment outside one's portfolio.
Less than three years isn't much time on which to judge a money manager. Fitzpatrick's shift away from stocks seemed smart last December, when global equity markets fell 13% from peak to trough. The fund ended the year up less than 1%. While that was behind its spending target, it was way ahead of most foundation peers, which lost money.
But Fitzpatrick hasn't increased risk much since then, even as markets rebounded. That's led to a return of about 4.5% this year, while an index of 60% stocks and 40% bonds—her long-term benchmark—has jumped about 17%. Since the beginning of 2017—she started in April of that year—the firm has returned a cumulative 13%, compared with more than twice that amount for the benchmark. Fitzpatrick says the better comparison, however, is a medium-term benchmark that's up only about 16% over three years. That measure reflects the Open Society Foundations investment committee's views of current market conditions.
The move to a more mellow investment style at Soros has been in the cards for years. In 2000, Soros renamed his flagship Quantum fund Quantum Endowment. Yet risk was still in its DNA. It made billions during the financial crisis. And Soros lost $1 billion on a wrong-way bet on the U.S. elections in 2016, the last time he was involved in managing money in any meaningful way.
Board members say Fitzpatrick has their confidence. "She is doing an outstanding job" managing the firm's "complex transition," says Daniel Sachs, chair of the investment committee. Her challenge is to get returns up to at least 5% annually to cover the firm's spending rate. She needs to find people who recognize that while Soros is a big pool of money with a long time horizon, and perhaps more sophisticated than an average foundation, it's no hedge fund anymore.
To contact the editor responsible for this story: Pat Regnier at pregnier3@bloomberg.net