SoftBank's $100 Billion Vision Fund Is Run by These 10 Men
(Bloomberg Businessweek) -- In 2016, SoftBank Group Corp. Chief Executive Officer Masayoshi Son shook up Sand Hill Road when he announced he was raising a $100 billion fund to make investments in fast-growing technology companies. According to Bloomberg Businessweek, Son will eventually go even bigger. He plans to raise $100 billion for a new fund every few years, investing about $50 billion a year in startups.
That arguably gives the Tokyo-based Son, 61, more power in Silicon Valley than any venture capitalist—and has turned his nine managing partners, many of them plucked from the world of banking, into tech kingmakers.
All these senior partners are men. Son says he has "no prejudice of any kind." Vision Fund head Rajeev Misra says he's leading an effort to hire more women, including at the managing partner level. Besides Son, here are the nine other key decision-makers: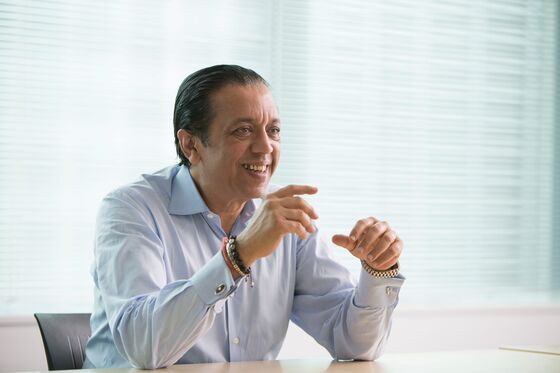 The most prominent of the fund's partners is a colorful former banker who is CEO of SoftBank Investment Advisers, which oversees the Vision Fund. Misra made his name as a finance whiz, rather than a venture investor (there's a perception in the Valley that SoftBank is full of executives who don't understand startups, though Misra says his experience building up trading operations from scratch gives him considerable insight). He was born in India and attended the University of Pennsylvania. He worked at Deutsche Bank AG and then UBS AG until 2014, when he joined SoftBank as head of strategic finance. He'd met Son a decade earlier, and played a role in the refinancing and restructuring of Sprint Corp. "I was considered the most aggressive investor at Deutsche," Misra says. But compared with Son, he continues, "I'm conservative."
The son of a Japanese mother and Syrian-Saudi father, Romeih serves on the Vision Fund's investment committee with Misra and Son. He grew up in France, Japan, and the U.S. and speaks five languages. He got to know Misra while at Deutsche Bank, where he spent 18 years working in Singapore and the U.K. He joined SoftBank in 2016 from Goldman Sachs Group Inc. and is based in London.
A former executive at Cisco Systems Inc., Akkiraju ran a cloud-based joint venture between Cisco and EMC Corp., and later a startup, Viptela Inc., that was ultimately bought by Cisco. He joined the Vision Fund's San Carlos, Calif., office earlier this year.
Fan started at Deutsche Bank in 1998. He rose to become global head of credit trading and co-head of the investment banking division by the time he left in 2015. Born in China, he went to Harvard. He moved from New York City to the Bay Area a year ago. "Masa is an extraordinary entrepreneur, investor," Fan says. "What he needs is surface area, opinions, advice, vetting."
Like Son, Housenbold grew up poor. His father was a truck driver with a seventh-grade education, and his family was on food stamps during his childhood. He ran online photo-printing service Shutterfly Inc. for more than a decade. Since joining SoftBank, Housenbold has led investments in the e-commerce site Brandless and the dog-walking app Wag. "Venture capital has never been done at this scale," Housenbold says. The Vision Fund allows entrepreneurs "to go after bigger, more audacious goals," he adds.
Matsui is yet another banker on the Vision Fund staff. Based in Tokyo, he got to know SoftBank while working at Mizuho Securities, where he advised Son's company on acquisitions of Vodafone Japan, Sprint, and Arm Holdings. He got his undergraduate degree from Keio University in Japan and earned a law degree at New York University.
Moon, also based in Tokyo, joined Son's company in 1996 to do venture capital deals in Silicon Valley. He ran the company's early-stage venture capital arm in South Korea from 2002 to 2018, and then moved to the Vision Fund earlier this year. Moon says there are three important criteria for winning support from the fund: "Is it led by a bold and ambitious entrepreneur? Can it revolutionize its industry? And is there the potential for a big exit in the future?" he says.
Nishar, who is based at SoftBank's San Carlos office, grew up in a 200-square-foot apartment in Mumbai with four siblings and no running water. He attended the Indian Institute of Technology Kharagpur and the University of Illinois, and eventually became head of product for Google's Asia-Pacific operations and, later, global head of product for LinkedIn. "We are both hungry, hungry to make a change and an impact," he says about Son. "That's a very immigrant mentality."
Last year, Ronen, then at Goldman Sachs, flew to Tokyo to pitch Son on some ideas for how SoftBank could make investments in autonomous driving. Instead, Son pitched him on joining SoftBank. The former Israeli air force intelligence analyst led SoftBank's $2.25 billion investment in GM Cruise and is based in California.
To contact the editor responsible for this story: Max Chafkin at mchafkin@bloomberg.net