Trying Out New Office Layouts for the Post-Pandemic Age
(Bloomberg Businessweek) -- To get into Cushman & Wakefield Plc's Amsterdam office, employees must first secure a work spot through an app that assigns them to a sanitized desk—which could be far from their pre-pandemic workspace.
The floors are marked with giant blue arrows directing one-way traffic. Don't make a wrong turn! Otherwise it's a lap around the floor to get back to where you were. Visual reminders to stay socially distant are everywhere, as are hand sanitizer dispensers. Individual desks are demarcated by screens and enveloped by circular boundaries on the carpet, lest workers roll their chairs too far. There are fewer communal tables, and those that remain have markings designating where people can sit, to avoid crowding. Cups are labeled with reminders to keep a 1.5-meter (about a 5-foot) distance, as per Amsterdam's regulations. Even the coffee and printing stations around the floors have "safe zone" standing areas.
"It's really about changing the behavior of people who have walked into the same office for years," says Jeroen Lokerse, head of Cushman's Netherlands office. "Rearranging the floor layout or carpets can immediately change the behavior of people and what is a comfortable zone to be in."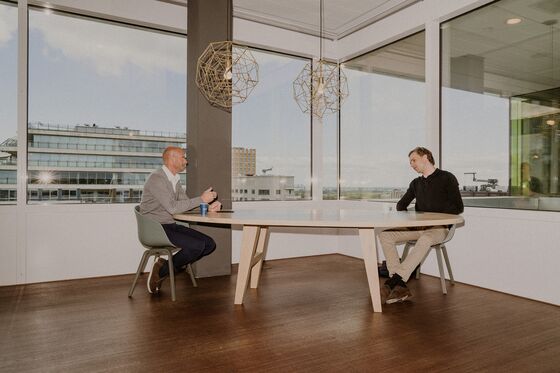 Cushman, one of the world's largest commercial real estate brokerage and management firms, has transformed the 35,000-square-foot workplace over four floors in the Dutch capital into its global testing ground for operating offices in the middle of a pandemic. The experiment, dubbed the "6 Feet Office," could serve as a prototype for many of Cushman's thousands of clients globally. The company says it's received inquiries from hundreds of businesses about how they can reconfigure their space to address the new post-pandemic reality. And the clock is ticking to get it right: Unless employers can tweak their workplaces to make employees who've gotten used to working from home feel comfortable and safe enough to return to the office, corporate renters will have far less need for expensive space—which could translate into less business for commercial real estate outfits like Cushman.
First, the real estate giant has to persuade tenants and landlords to abandon long-held assumptions about office setups. For the past decade, Cushman had encouraged open layouts with interactive coffee stations and frequently trafficked hallways to foster intermingling and innovation. Workers were squeezed into dense rows of desks, which helped cut costs. But that model is now a liability.
"It's tricky, because this is a highly fluid situation, and things that maybe companies thought were true two months ago are no longer true," says Chief Executive Officer Brett White. "Observations that we've gained in talking to hundreds, if not thousands, of clients so far happened in all of 60 days. It normally would've taken 7 or 8 years."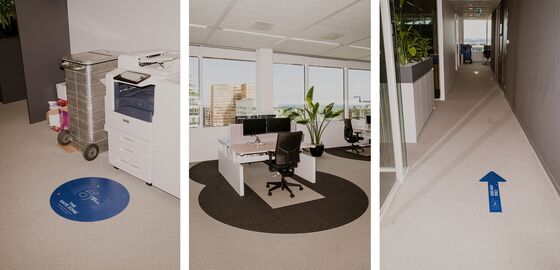 Chicago-based Cushman has a competitive edge thanks to its large footprint in China, where it already has helped guide thousands of businesses back to the office. But China's quick return—which stems from heavy government control and close monitoring of civilian health and movement—is less applicable in other countries. "Those protocols in China simply do not, will not, and cannot exist here," White says. "The pace at which buildings in the U.S. or Europe are going to be reentered is going to seem glacial compared to what happens in China."
In Amsterdam, Cushman is allowing only about 60 workers back in the office as it explores everything from better air quality systems to technology that tracks distance between employees. The goal is to bring back as many as 175 people over the next several weeks, compared with the previous capacity of 275. "Our occupancy on average was never more than 70%, so it isn't going to be a very big change," Lokerse says. "It just means better planning and weekly meetings won't all be on Monday. We also hope people will work from home a little bit more."
Cushman says it's advising clients in high-rise office towers that the easiest way to address Covid‑19-related concerns is to reduce the number of workers within existing spaces—a necessity, since social distancing lowers the capacity that bathrooms and elevators can handle in a typical workday. Ways to do that include adopting staggered work shifts within offices and encouraging some employees to continue working from home.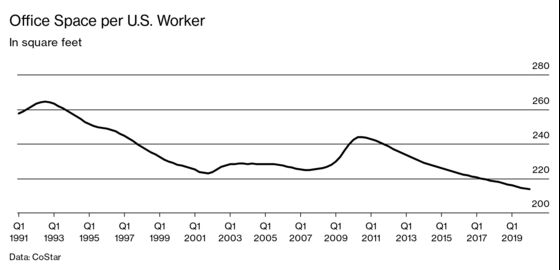 Rather than committing to complete overhauls of their existing space, White says, some big corporations in office towers are looking at taking short-term leases in nearby buildings operated by coworking or flexible-space providers such as WeWork. Others are considering shifting workers even farther away. White says he's talked with the CEO of a big, New York-based bank who'd been planning to lease new office space in the city but decided to hold off because of the pandemic and is looking at short-term space in surrounding suburbs instead. "Suburban satellites make a ton of sense," he says.
David Simson, a New Jersey broker at real estate services firm Newmark Knight Frank, says he's received an influx of inquiries over the past few weeks from New York corporations seeking short-term office space. "The rental rate in New Jersey is about a third of what it is in Manhattan," Simson says, "so the tenants are getting the benefit of the market from a cost-per-square-foot basis when reallocating some of those people to the suburbs."
Industrious, a flexible-workspace company backed by developer Brookfield Properties, says it's seen a recent jump in the number of corporate renters asking about suburban locations with private offices rather than open-plan setups. Meanwhile, brokers say communal hangouts added to workspaces over the past decade to appeal to younger employees—game rooms, beer pong tables, loungelike coffee huddles—have quickly fallen out of favor, leaving companies to look for new ways to promote collegiality. "It's going to be painful for a lot of companies, but it'll drive change," Lokerse says. "Look, innovation happens in times like this."
One of the biggest barriers reopening businesses will face will be managing elevator flow. Cushman's advice for now: two people per elevator in Amsterdam, clear signs in the lobby to direct traffic, and stickers to show where to stand. How that model will evolve in reality is less clear, especially for virus epicenters such as New York, where tens of thousands of people shuffle through giant skyscrapers each day. In China, reduced elevator capacity led to long lines in reopened office tower lobbies, so companies quickly began staggering employee start times.
Real estate experts say that while some of the changes will be temporary until a vaccine is widely available, many will likely stay, including flexible job hours, expanded remote-working options, and better hygiene practices. And the days of squeezing as many desks as possible into an office may be over. "We have to assume in the future this will happen again," White says. "Therefore, people have to reimagine their workspace, rethink some of these communal spaces, or maybe go back to a build-out of 30 years ago, with cubicles, private offices, and distancing between desks."
 
Read next: New Evidence Social Distancing Is on the Wane