U.S. Thirst for Russian Oil Hits Record High Despite Tough Talk
U.S. Thirst for Russian Oil Hits Record High Despite Tough Talk
(Bloomberg Businessweek) -- The oil tankers docking at the refinery in Baytown, Texas, look exactly like many others plying the waters of the Houston Ship Channel. But stashed inside their capacious holds is an unusual cargo: Russian petroleum.
The sprawling complex, which belongs to Exxon Mobil Corp., isn't the only U.S. refinery that's been receiving shipments of Russian oil. Chevron Corp.'s plant in Mobile, Ala., and Valero Energy Corp.'s facility in St. Charles, La., are also customers.
Deprived of access to Venezuelan crude by U.S. sanctions on the regime of Nicolás Maduro, and facing reduced shipments from OPEC nations since the cartel cut output, U.S. refiners turned to Russian oil in 2020 to fill the gap. The buying spree, combined with sharply lower Saudi shipments, catapulted Russia into the position of third-largest oil supplier to the U.S. last year. The feat for the Kremlin has been the talk of the oil market, but surprisingly it hasn't been discussed much in diplomatic circles. "Russia's move into third place has not attracted any attention in Washington," says Bob McNally, a former senior White House policy adviser who now runs Rapidan Energy Group, a consulting firm in Washington.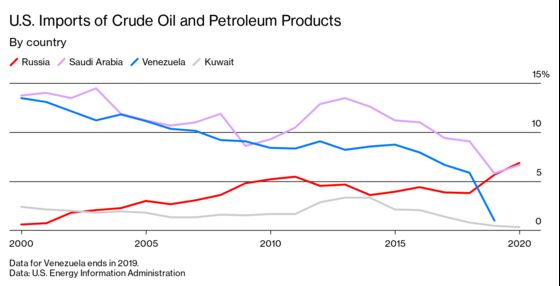 America's increasing reliance on Russian oil is at odds with U.S. energy diplomacy. For the last two years, lawmakers in Washington have been lobbying European countries to abandon Nord Stream 2, a multibillion-dollar pipeline to transport Siberian gas to Germany, fearing it will give the Kremlin further leverage over U.S. allies. (Russian gas accounted for about 45% of Europe's natural gas imports in 2019.) Congress went as far last year as to authorize the use of sanctions against companies involved in the project. The Biden administration hasn't indicated whether it's considering exercising that option.
More important, perhaps, the quiet surge in Russian oil imports shows that the mantra of energy independence championed by former U.S. President Trump is hollow, says Mark Finley, a former oil analyst at the CIA who's now a fellow at Rice University's Baker Institute in Houston. Campaigning last year in Texas, Trump boasted that the U.S. was the "No. 1 energy superpower" and the country would never again have to depend on "hostile" foreign suppliers. "So much for energy dominance," Finley says.
In February of last year, the Trump administration blacklisted a trading subsidiary of state-run Rosneft, the largest Russian oil company, saying it provided a financial lifeline to Maduro's government. But no other Russian entities were targeted, meaning U.S. companies could carry on buying Russian crude and refined products.
The path for Russia to become a key oil supplier to the U.S. was paved with market savvy, luck, and the Kremlin's proven ability to turn Washington's policies to its favor. After years of accounting for less than 0.5% of annual U.S. imports of oil and refined products, Russia steadily increased its share over the last decade, reaching an all-time high of 7% last year, according to Bloomberg News calculations. U.S. imports from Russia averaged 538,000 barrels a day in 2020—more than the 522,000-barrel-a-day average from Saudi Arabia.
The country's gains came in large part at the expense of Venezuela. Exxon's refinery in Baytown is one of several in the U.S. outfitted with special cokers designed to break down dense, sulfurous crude oils like those Venezuela produces. When the Trump administration targeted Petróleos de Venezuela S.A. with sanctions in 2019, the refineries' supply chains were disrupted. "U.S. refineries in the Gulf of Mexico are some of the most sophisticated plants in the world," says Adi Imsirovic, a fellow at the Oxford Institute for Energy Studies and former global head of oil trading at Russian giant Gazprom. "Having lost Venezuelan crude and facing less and more expensive feedstock from the traditional OPEC suppliers, they have become a major customer for Russian fuel oil as a substitute."
What U.S. refiners have been buying from Russia isn't mostly crude, but a semirefined fuel oil known as Mazut 100 that has a gooey consistency. A relic of the Soviet system, at home it's largely burned to generate heat. But in the U.S., it fed the cokers to produce gasoline. The top U.S. importer of Russian petroleum last year was Valero, with almost 55 million barrels, followed by Exxon, with almost 50 million barrels. The companies together accounted for almost 50% of total U.S. imports of Russian oil, according to customs data.
The supply issues caused by the shortage of Venezuelan crude have been compounded by cuts in OPEC output, in particular Saudi Arabia's decision last year to slash shipments to the U.S. to their lowest level since 1985 in an effort to reduce the overhang of crude oil that built up during the pandemic.
Consultants, analysts, and lobbyists working for the oil refining industry say they haven't detected any concern in Washington about the increase in Russian imports. That may change. In March, President Biden called Russian President Vladimir Putin a "killer" and warned he would pay a price for meddling in U.S. elections. McNally says the White House could weigh a ban on Russian oil imports as part of a larger review of Russia sanctions later this summer, though few in the industry see that as a real possibility.
If Saudi Arabia increases its production in the next few months, as many expect, its barrels could potentially displace the Russian ones. So could oil from Kuwait and Iraq. Otherwise, American refiners would still need to find some dense crude to feed their cokers. Crude from Canada's oil sands is an option; but U.S. refiners are probably already buying as much as is available.
 
Read next: Talk of De-Globalization Is Fashionable But Wrong