Private Equity's Opaque Costs Mystify the Pensions That Pay Them
Private Equity's Opaque Costs Mystify the Pensions That Pay Them
(Bloomberg Businessweek) -- The stewards of billions of dollars in retiree savings are struggling to account for fees charged by one of the wealthiest industries on Wall Street.
Investors who put money into a private equity fund expect to pay a management fee as well as a share of their profits to the firm running the fund. But on top of those costs are agreements to cover expenses ranging from dealmaker travel to dinners to news subscriptions. And it's proving difficult to determine how those dollars are spent.
A Bloomberg analysis of data collected from more than two dozen U.S. public pension plans shows that most of those investors aren't tracking details of so-called partnership expenses across their private equity portfolios. Some say the task is too difficult because fund managers are reporting the costs in vastly different ways or fail to break out expenditures at all. 
Private equity lobbyists are preparing to influence the crafting of any rule. They argue that investors in their funds are sophisticated and that firms already face disclosure requirements. The Institutional Limited Partners Association (ILPA), which represents investors including pension plans, is pushing for more transparency. (Investors in private equity funds are known in industry jargon as limited partners, or LPs.)
Public pension officials take the stance that private equity fees are worth the returns the firms can deliver. But without itemized disclosure of expenses, it can be difficult to tell whether firms are abiding by their contracts, says Jennifer Choi, a managing director at ILPA. "Having an understanding of what it costs to generate those returns is important," she says.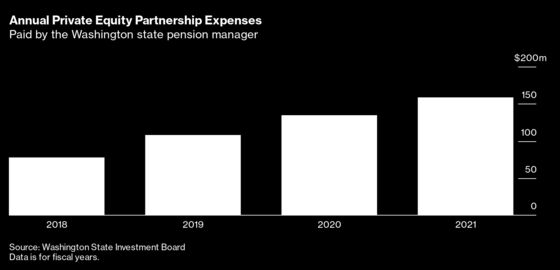 The pension officials who oversee retirement savings of state employees such as teachers and firefighters also have a duty to account for the charges, says Emil Siriwardane, an associate professor in the finance unit of Harvard Business School. "If you are going to spend public money, you should be able to figure out where it went," he says.
Bloomberg sent Freedom of Information Act requests to 27 U.S. public pension plans seeking details on how much they paid in partnership expenses, as well as a breakdown of those costs. Only nine said they kept track of the total costs to their private equity portfolios, and two of the plans said they monitored the expenses across categories. Four refused the request altogether.
Even for those pensions that have managed to track costs, the data can be nebulous. The Washington State Investment Board (WSIB) began tracking partnership costs more closely in 2020 to make sure private equity managers complied with the terms set out in their contracts on a more detailed level. The pension manager sought to categorize the charges by areas such as legal, travel, and bank fees. But about $70 million—or 45% of the money that went to reimburse private equity managers for fund expenses—was labeled "other," according to unaudited 2020 data.
That's in part because some private equity managers only provided lump-sum partnership costs. "Where practical, within our resource levels, we have continued to use those more detailed categories," says Chris Phillips, a spokesman for the pension manager. "What we would hope for is, managers use more consistency in how they deliver information and work collaboratively with us when we raise questions about fees."
Indeed, fund managers report expenses in varying ways to their limited-partner investors. For example, Apollo Global Management Inc. detailed costs to its clients across six categories, with the largest sum falling under "other operating expense," according to an update last year for its eighth flagship buyout fund. A financial report for a Bain Capital buyout fund showed only a single category called "professional fees and other." Spokespeople for the firms declined to comment.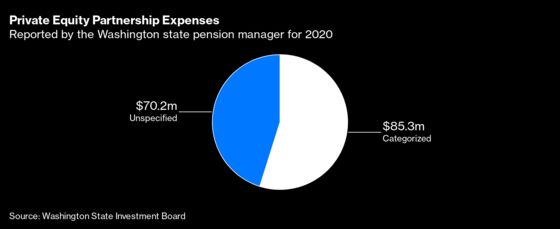 "The reason why there has been less standardized disclosure is that LPs want information broken down in different ways," says Jason Mulvihill, chief operating officer and general counsel of the American Investment Council, which is the private equity industry's lobbying group. He says that firms already provide extensive disclosure on a quarterly basis. To the extent there is an SEC rule, "we want to make sure that it is tailored appropriately and doesn't overburden firms."
ILPA has tried to standardize disclosures by creating a form for managers—actually a spreadsheet template—to send their clients each quarter that would define costs across various categories such as travel, audit, and legal. But even this has its limitations. Platinum Equity, founded by billionaire Tom Gores, labeled 75% of the $47 million in expenses charged to investors as "other" without elaborating further, according to an ILPA form that tallied costs since the fifth fund's November 2019 inception.
Mark Barnhill, a partner at Platinum, says the firm charges for expenses that don't fit into the form's categories, such as annual meeting costs, insurance, and the cost of subscription-line financing, which allows a fund to make an investment before tapping investors' cash. The largest contributor to "other" is what the industry calls broken deal costs—expenses incurred pursuing acquisitions that didn't work out. Platinum reports these in its quarterly financial statements, he says.
Teacher Retirement System of Texas (TRS), the sixth-largest U.S. public pension plan, only keeps track of expenses by category if its managers fill out the form. But it decided against requesting the form for funds started before 2011—in line with ILPA guidance that recommends providing the document for funds after 2016—and for co-investment pools, a type of fund with fewer expenses. Largely for those reasons, it didn't track expenses by category for more than half of its 64 managers that filed reports in the first half of last year, according to information provided through a FOIA. The SEC proposal will require reporting for all existing funds, no matter how old.
TRS says that while most of the firms it asks do provide the information in the form, some do not; American Securities, Clearlake Capital Group, and TA Associates were among the private equity firms that didn't in last year's first half, the FOIA data shows. Both Clearlake and American Securities declined to comment. Maggie Benoit, a spokeswoman for TA, says that it started providing ILPA forms for its most recent funds. TRS was part of a working group that developed ILPA's fee-disclosure template and is seeking to increase its use, says Neil Randall, managing director of private equity at the pension fund.
Partnership expenses are lower than other private equity management fees, so they've received less attention. Still, they add up for pension systems. The Washington State Investment Board paid $158 million in partnership expenses for multiple funds in its 2021 fiscal year on a $41.5 billion private equity portfolio, or about 0.38% of the total value. This compared with $374 million in management fees, or 0.9%. Phillips, the pension's spokesman, says that some of the partnership expenses go to reduce the management fee, though it is difficult to determine how much. According to its annual report, the WSIB got strong performance from its private equity portfolio in the 12 months ended June 2021, seeing a 58% increase in its value.
Those charges can also cumulatively translate into significant dollars for the managers that oversee mega buyout funds. For example, the Los Angeles County Employees Retirement Association paid Blackstone only $212,680 in expenses for one buyout fund during fiscal 2021. But the firm collected $22 million in total partnership fees across its fund's $18.8 billion pool, according to an analysis of FOIA data. Matt Anderson, a Blackstone spokesperson, says the fund has delivered annual returns of 21%, net of all fees and expenses.
Public pension plans have been increasing their exposure to the industry in search of higher returns. Some question whether tracking partnership costs at a more detailed level is worth the expense. Larger ones say that they can hold managers accountable by exerting influence through advisory boards.
Although expenses may be small relative to performance in a strong year, SEC Chairman Gary Gensler has expressed concern over private equity's high costs compared with the rest of the asset-management industry, which has seen its fees shrink in percentage terms. The lack of detailed accounting hurts investors because they don't have the ability to tell why costs might be high or low, says Chris Flynn, a manager at CEM Benchmarking, which provides cost benchmarking to large pension plans. "When you just get a lumped number for partnership costs, how are you supposed to exercise your duty that the funds are being spent well?" he asks.