A Polynesian Paradise Sacrificed Its Economy to Stay Virus-Free
"People not money," said Cook Islands Prime Minister Henry Puna.
(Bloomberg Businessweek) -- The year had gotten off to a promising start for Pa Napa, the manager of Kiikii Inn & Suites, located on Rarotonga, the largest of the 15 Cook Islands, which make up a nation in the South Pacific.
Bookings for the first three months of 2020 were solid for the family-run business, despite it being low season. Only meters away from the shores of the island's turquoise lagoon, Kiikii's grounds are planted with fragrant tropical flowers, banana trees, and vines of passion fruit. Guests lounging at the pool are treated to stunning views of the lush, emerald-green mountain peaks in the island's interior.
Yet within a few hot and humid days in mid-March, Napa's 16 rooms were sitting empty and his entire forward booking calendar was erased.
The coronavirus pandemic was spreading rapidly, and over the course of a weekend dozens of flights destined for Rarotonga would be canceled, cruise ships banned, and border restrictions imposed making entry practically impossible for everyone except residents of New Zealand, which has close links with the Cook Islands.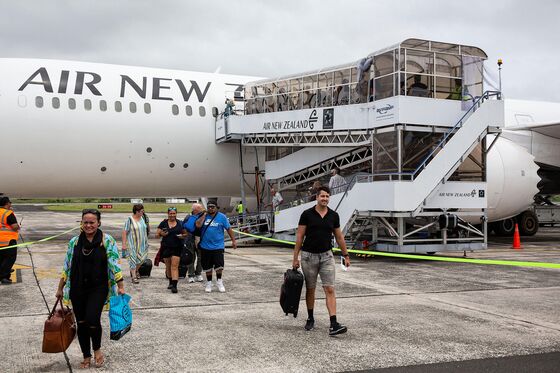 "People not money," said Prime Minister Henry Puna earlier that month, making a vow to shield residents from the virus, while accepting the cost of that commitment—the gutting of the country's NZ$540 million (about $300 million) tourism-dependent economy.
"I thought the same thing as everybody else: What are we going to do?" says Napa, 59, recalling the moment he found out there would be no more guests arriving at the motel. "I was just gearing up for busy season."
The nation of 17,500 people hasn't yet recorded a single case of Covid-19. But a multiyear streak of above-par economic growth has come to an abrupt halt. ANZ Bank warns the country won't see a single tourist for the three months through June at least, which will cause a 60% plunge in gross domestic product. Any return to normal will be slow. "2020 will be a very difficult year for Cook Islands given a shutdown of global tourism due to Covid-19," says Kishti Sen, an economist at the bank.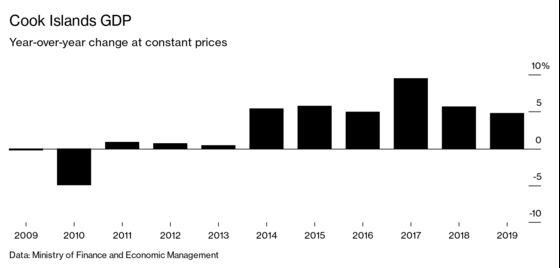 Tourism contributes more than two-thirds of nominal GDP. The number of international arrivals climbed to 171,550 in 2019—a 37% increase from a half-decade ago—powered by a frenzy in holiday home construction and the growth of online booking agents such as Airbnb. The sector's continued gains are the main reason GDP per capita doubled over the course of a decade to reach NZ$30,840 last year, despite stagnation in other areas of the economy.
In late February, as the virus spread globally, visitors were still arriving. Residents of Rarotonga were mystified after watching tourists disembark from the MS Amsterdam, a 1,300-passenger cruise ship operated by Holland America. Avarua, the nation's capital and the island's commercial center, was deserted, as locals stayed home for fear of being infected.
When infections began to spike in New Zealand, officials in the Cook Islands went on high alert. The countries are close, with daily flights and a high degree of intergovernmental cooperation. The Cook Islands uses the New Zealand dollar as its currency.
Officials feared the consequences would be catastrophic if the virus arrived on their shores. With 22 doctors, 110 nurses, and only two ventilators, resources were inadequate to deal with a pandemic. Hard decisions had to be made.
"There were companies whose income basically went to zero once the last flight left the country," says Mark Brown, the country's minister of finance.
Within a week his ministry had cobbled together an economic rescue package worth $61 million—equivalent to more than 11% of GDP—including a one-off NZ$400 welfare payment for pensioners and other vulnerable groups and three months of free electricity for all residents.
To help businesses stay afloat and avoid layoffs, the government also offered to subsidize wages. The goal, says Brown, was "to enable those people who would be impacted to still be able to buy food, put food on the table, feed their families." Grants ranging from NZ$3,000 to NZ$15,000 provided further short-term relief but did little to assuage long-term fears.
In a survey the Cook Islands Chamber of Commerce conducted in April, businesses expected revenues to drop by an average of 90% over the following three months. The Ministry of Health's sole clinical psychologist has begun organizing workshops for the private sector to deal with anxiety and stress. Idle hospitality workers took to the fields to plant taro and cassava.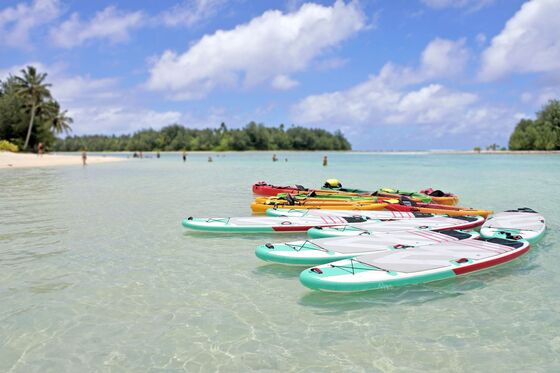 Annie Fisher and her partner Brent opened Fisher's Black Pearl Jewelry more than 15 years ago. Typically at this time of year they'd be busy selling pendants and earrings featuring black pearls harvested from their family pearl farm over 1,200 kilometers (745 miles) away on the remote atoll of Manihiki, also part of the Cooks group. These days they open their shop for only four hours every Wednesday, mainly to do repairs for local customers.
The 57-year-old Fisher says she's come to terms with the new normal, grateful knowing the country is insulated from the pandemic despite the effects on her business. With no vaccine, any relaxing of the borders would cause paranoia, she says. "Visitors can easily bring us the virus, they wouldn't even know they're carrying it. Things will never be the same," she says.
The current challenge for Finance Minister Brown and the Cook Islands government is putting together the national budget for the 2020-21 fiscal year. With little revenue flowing into the treasury, making ends meet will require creativity and innovation, he says. On top, he'll also need to fund an additional NZ$76 million in planned stimulus. But to mitigate the full damage caused by Covid-19, ANZ Bank estimates the country will need at least NZ$260 million.
With no central bank of its own, the policy options are limited. A relatively low debt-to-GDP ratio of 21% gives the country room to borrow, Brown says. The government is in talks with the Asian Development Bank and the New Zealand government to provide loans until border restrictions are relaxed and visitors can return.
During the recent run of good economic times, Puna's government had the foresight to bank NZ$56.7 million in an emergency reserve fund to be used during downturns or to recover from cyclones. The funds helped pay for the stimulus measures.
Having survived a handful of cyclones himself, Pa Napa says the country may be facing something more destructive than a natural disaster. "With a cyclone, once it passes, you clean up and you get back to work and move on," he says. "With this, it's been weeks and weeks of nothing."