Peloton Got Trapped in Its Trillion-Dollar Fantasy
Peloton Got Trapped in Its Trillion-Dollar Fantasy
(Bloomberg Businessweek) -- Up until a few years ago, it was safe to assume that someone using the word "peloton" was talking about either competitive bicycle racing (the term refers to the main pack of riders) or a French-speaking country's military (it means "platoon").
That assumption no longer holds. Peloton Interactive Inc. has ascended into the pantheon of companies that have eclipsed their names, sitting alongside Facebook (Harvard's freshman directory), Starbucks (the first mate in Moby-Dick), and Google (a very big number spelled "googol"). Six and a half million people use its exercise bikes and treadmills and take its online classes. Its cultural footprint is even larger: Those classes are plot points in television dramas and are parodied on Saturday Night Live. Peloton's instructors are celebrities, with wellness consultancies and clothing lines. President Joe Biden fought with his security staff to bring his Peloton bike to the White House. The name has become a verb and a Rorschach blot: for the possibilities of digital communities, for the lifestyle changes wrought by Covid-19, for the cultishness of curated high-intensity exercise, and for the prospect of the rich and fit getting even fitter from the comfort of their pool houses.
Peloton has also, however, become a test case for the brittle link between attention and financial success. For a few months during the pandemic, there was a sense that the company might represent the future of fitness: In December 2020 its share price peaked at $160. Today, as life begins to return to something resembling pre-Covid, the stock hovers around $23 a share, and demand for Peloton's machines and content has dropped. On Feb. 8, co-founder John Foley stepped down as chief executive officer, and the company announced it was laying off 2,800 employees, or one-fifth of its workforce, amid other severe cost-cutting measures.
If Peloton's story thus far were a Peloton class, it would be a high-intensity one, perhaps even a Tabata ride. Everyone would pedal as fast as they could, recover for not long enough, then do it again, as a charismatic figure on the screen urged them on with promises of transformational personal growth and of the massiveness of the total addressable market of subscription fitness. Midway through, the instructor would announce that the 20-minute class would actually go for an hour. Here and there, riders would injure themselves. There would be technical issues with the machines. At the end, right after recommending a five-minute post-ride stretching class and intoning his mantra—"We're not a stationary bike company, we're not a treadmill company, we are an innovation company that is at the nexus of fitness, technology, and media!"—the instructor would announce his transition to a new role at the company. It would be exhilarating and entertaining, but perhaps not a ride you'd want to do every day.
The idea for Peloton came from an expensive habit. John Foley was a peripatetic tech executive who had helped Barnes & Noble Inc. develop the Nook e-reader. He was also a devotee of immersive, branded exercise classes, whose studios began to appear in upscale enclaves all over the U.S. in the mid-2000s. The best-known of them was probably SoulCycle, which took the concept of a spin class—stationary bikes, propulsive music, an enthusiastic instructor announcing how fast to pedal and where to set the resistance on the wheel—and infused it with a New Age identity. There was also Barry's Bootcamp, which wedded treadmill workouts and weights, replacing the psychological brutality of an actual military boot camp with a more affirming ethos; Pure Barre, which drew on ballet; and Orangetheory Fitness, which has something to do with heart rate zones. Foley and his wife were the kind of fitness-focused urban professionals who structured their life around these classes, spending their ample disposable income (classes run almost $40 per session) and scarce leisure time on them.
But after John and Jill had their two kids, it was harder to find time for the classes and harder to get into the ones with the most popular instructors. What if we didn't have to leave the house to go to the classes, Foley wondered, and what if the classroom could be infinitely large? As he would describe it years later, at the TechCrunch Disrupt conference in 2018, "I knew from going to the boutique instructor-led group fitness classes [that] there's something magical that happens in this room, with the instructor, and the other people, and the energy, and the music, and the motivation—the whole program that is a class." Why not digitize that and bring it home, the way Netflix Inc. did with other kinds of programming? (Foley declined to comment for this story.) From his time creating the Nook, and from a job he'd had during and after college running the assembly line at a candy factory (he oversaw Skittles and Starburst production for all of North America), he felt as if he knew enough about manufacturing to develop a high-end bike.
The idea's promise wasn't immediately evident to the investors Foley pitched after starting his company in 2012. They were dubious of the size of the market and about Foley's dream of producing not only the classes but the bikes. Many of them also told him, as Foley would later reminisce, that if he ever actually did manage to manufacture a bike, they'd love one for their own home gym. He funded the first prototypes on Kickstarter.
It didn't take long for the company to find a committed user base. By 2017, 108,000 households were paying $39 monthly for Peloton's connected fitness subscriptions. Two years later, it was half a million. Over the same period, total revenue rose from $219 million to $915 million. In the prospectus for its 2019 initial public offering, Peloton pointed to its 12-month retention rate of 95% as evidence that its product was "engaging-to-the-point-of-addictive." Foley predicted that Peloton would be a trillion-dollar company.
For those outside the pack, however, the appeal could be befuddling. This was a $2,200 stationary bike—10 times what a decent alternative would cost—whose content cost another $500 a year. The company tried to address this, cutting the price of its bike over time to $1,500, teaming with the financing company Affirm Inc. to provide an installment plan, and offering digital subscriptions that don't require the purchase of the bike at all.
Even so, a genre of online mockery developed to snark the company's television commercials, in which customers pedaled away in dedicated Peloton rooms with million-dollar views. "You might ask why the windows in front of these Pelotons are so small," read one Twitter parody caption. "Unfortunately space on the yacht is limited and the gym is near the waterline. We manage." A 2019 holiday TV ad that presented itself as a video made by a young mother to thank her husband for the life-changing gift of her spin bike became the company's first public-relations debacle. The woman's manic riding, while wearing a wide-eyed expression somewhere between apprehension and terror, was interpreted by much of social media not as a testament to her deep emotional bond with her connected exercise device, but as the plea of a hostage to body-image expectations chained to a high-tech hamster wheel.
In the six months after Peloton went public in September 2019, the stock price bounced around, reflecting, in part, broader doubts about whether the success would last. Peloton continued to add users, but it was paying dearly for them. In the quarter ended Dec. 31, 2019, it spent $161 million, or a little more than a third of its revenue, on sales and marketing. Like lots of buzzy tech unicorns, it lost money.
With the pandemic, though, suddenly the choice for potential consumers wasn't between a Peloton and a gym membership; it was between a Peloton and nothing. By the end of 2020, 1.7 million households had Peloton machines and were paying for subscriptions. Over the next year, the company added a million more. The pandemic, Foley insisted, wasn't fueling a fad; it was giving people the chance to see how much they had always needed to be members of a high-end virtual fitness community. "When I hear Peloton being a Covid story in the press, it annoys the crap out of me, because what we're building is here to stay, and it's going to grow," he said at the Goldman Sachs Builders + Innovators Summit on Oct. 15, 2020. The recent growth, he declared, "is an acceleration of the inevitable." Inside the company, things felt heady. "There was a massive push to hire very quickly, to grow and kick off new projects," says a former executive who spoke on the condition of anonymity to avoid jeopardizing future career prospects. "It felt like there was nothing but tremendous growth ahead of us."
It wasn't a future Peloton was prepared to meet, especially as the global supply chain convulsed. In December 2020 the company announced it was acquiring the fitness-machine maker Precor Inc. to buttress its manufacturing capacity. In May 2021 it announced it was breaking ground on a $400 million factory in Ohio. Even so, Peloton fell far behind on orders, and wait times lengthened. Foley pledged $100 million to clear the logjam, in part by shipping bikes by air. A recent article in FT Magazine revealed that when the company discovered that bikes were arriving from its overseas plant with rust on them, staff were instructed to spray the bikes with a chemical cover-up and ship them out. (The name for this initiative was Project Tinman. The company said it had no impact on the performance of the bikes.) Along the way, aging alpha males on not one but two TV shows, HBO's Sex and the City reboot and Showtime's Billions, suffered Peloton-induced heart attacks.
In the real world, problems were emerging about the safety of Peloton's line of treadmills, which it started selling in 2018. The U.S. Consumer Product Safety Commission found that the touchscreen on the Peloton Tread could fall off, potentially injuring the user. The company fixed the problem, and the machine was soon back on the market. But on the higher-end Tread+, the risks were more serious. In an April 2021 warning, after a 6-year-old was killed by a machine, the CPSC wrote that the Tread+ posed "serious risks to children for abrasions, fractures, and death." The safety regulator eventually reported 72 injuries to people and pets. Peloton called the bulletin "inaccurate and misleading" and insisted there was no reason for anyone to stop using the Tread+ as long as they followed directions and kept kids and animals away from it. But the following month it agreed to a recall.
By the beginning of 2022, all the scrambling and expenditures and rust-covering had seemingly paid off. Peloton was finally making enough bikes to meet pandemic-era demand. The only problem was that pandemic-era demand was now gone. In January, CNBC reported that the company had such a glut of inventory it was pausing bike and treadmill manufacturing for several weeks. In a note on the company website, Foley denied the report but conceded that Peloton was "right-sizing our production."
Peloton was still growing; it just wasn't the wild growth Foley had aimed for. If he hadn't spent the previous two years chasing the dream that the pandemic represented the company's trillion-dollar future—if he hadn't spent hundreds of millions of dollars on marketing, built half a factory, and hired thousands of people who now are being fired—Peloton would probably look like a success story.
Instead, in the quarter ended September 2021, the company lost $376 million. It lost $439 million over the next three months. Along with the layoffs, Peloton is abandoning its Ohio expansion ("The Ohio factory and Precor acquisitions were huge mistakes," the former executive now says). Equally worrisome: Existing members don't seem to be getting on their bike as often as they were during the lockdowns. The average number of workouts for each Peloton subscriber peaked in early 2021 and has been dropping steadily ever since.
There's more talent in the building than I expected," says Barry McCarthy, the new CEO. It's a compliment, sort of, paid to Peloton's remaining employees if not their accomplishments. "Execution challenges have of course been disappointing." McCarthy makes clear that he believes the scramble to keep up with pandemic demand hurt the company. Among other things, it took the focus away from the product itself and on how to make it better.
Speaking by Zoom from Peloton's Manhattan headquarters, McCarthy, who was chief financial officer of Netflix and then of Spotify Technology SA, says he's a longtime user himself. Then he describes "an opportunity to quickly refocus people on a process of experimentation and learning that will restore a sense of momentum and progress." The plan follows a well-worn Silicon Valley playbook. McCarthy talks about making lots of small bets and failing fast, about A/B testing to see what consumers actually want.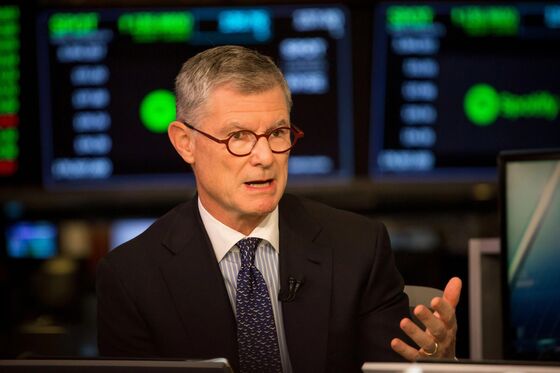 New products are coming, of course. There's the Guide, for lifting weights in front of your TV, and a rowing machine. The company also continues to work with regulators to get the Tread+ reapproved. All those devices will be necessary to compete in an increasingly crowded landscape of connected fitness contraptions, including new brands, like Mirror and Tonal, and older ones, like NordicTrack and Bowflex. Another competitor, Zwift Inc., doesn't bother to build machines at all. It caters to serious cyclists who provide their own training bikes.
The bring-your-own-bike model holds evident appeal for McCarthy, who's less interested in the physical machines than in his company's content. "The magic happens in the tablet," he says. He muses that perhaps the Peloton screen should be an open platform where third-party programmers can place apps. Or maybe the company could try the inkjet printer business model, offering machines for cheap and making money through higher monthly subscription fees. At the moment, you can ride your bike even if you're not paying for classes. McCarthy plans to experiment with making those payments mandatory. (On March 10, the company announced such a test, saying it would create a monthly subscription that combines the price of its hardware and content and lacks an upfront hardware payment.)
In all of this, McCarthy says he'll let the data be his instructor. It's a familiar narrative: Startup founder gives way to the bean counters and market researchers. Peloton, more than perhaps any other company, trades on charisma—of its instructors, of its corporate leadership, of its hardcore users cheerfully touting the brand. But even cults need accountants.
Peloton says it's not for sale, but anytime a company's stock price drops as much as its has, takeover rumors are inevitable. And McCarthy's proposed strategy of juicing subscriber numbers, outsourcing manufacturing, and opening up the software platform could make the company appealing to a cash-rich tech giant. Apple Inc. has been mentioned as a possible acquirer, but the company already has its own fitness features and content. Amazon, on the other hand, is always looking to add more material to Amazon Prime, and Peloton's classes could also make it tempting to Netflix or Walt Disney Co. Nike Inc. might see the company as a way to reenter the market for digital hardware.
How long McCarthy will remain at Peloton is unclear. "You know, I kind of think in three- or four-year increments," he says. "I'm 68 now, and part of the answer would depend on how I'm managing my health and stamina." The CEO is pacing himself, in other words, and he thinks the company should, too. —With Kristen V. Brown