Pricey Greens From Indoor Farms Are Thriving in the Covid Era
Pricey Greens From Indoor Farms Are Thriving in the Covid Era
(Bloomberg Businessweek) -- By Saturday, March 14, even before Mayor Bill de Blasio announced the shutdown of all in-restaurant dining in New York City the next night, Viraj Puri, chief executive officer of the Brooklyn, N.Y.-based indoor urban farming company Gotham Greens, found his business had essentially changed overnight.
His major restaurant customers were suspending all orders "until further notice," while the grocers, including Whole Foods Market, FreshDirect, and other major chains were doing the opposite, asking for huge increases in product and extra deliveries of the company's locally grown greens and herbs. (Puri declined to share the food service-retail split for his business, but he says restaurants are the smaller piece.) "My phone was buzzing off the hook from the largest supermarkets, saying can you run extra trucks," he says. Gotham was ready—it had just opened three facilities in Baltimore, Chicago, and Providence and had another opening in Denver in May, almost tripling its production capacity. In the immediate days after the pandemic declaration, the company increased planting by more than 20%. "For me, it's seed as much as you can," says Jenn Frymark, a managing partner who also serves as the company's "chief greenhouse officer."
Unlike typical field operations, with separate planting and harvesting seasons, Gotham Greens runs continual, year-round seasons in its hydroponic, urban greenhouses, often built on the sites of now defunct industrial businesses, including a former Bethlehem Steel Corp. plant in Baltimore and an old toy factory in Queens, N.Y. It focuses on such greens as butterhead lettuce, basil, and, especially since the many food-borne illness outbreaks that have come out of West Coast production, romaine lettuce. Packaged in chic 4.5-ounce plastic clamshells, the salad basics can go for more than twice the price of their direct competitors, which explains why Puri is so singularly focused on the greens market, at least for now.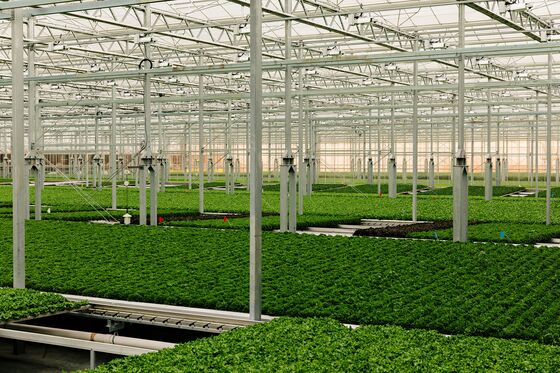 His greenhouses are huge technological steps forward from their forebears. Engineers can adjust factors such as humidity and temperature to simulate the ideal conditions for any part of the growing cycle at any time. They are, Puri says, "very coddled plants." The company says that thanks to such factors as shorter growing cycles and precisely applied recirculating irrigation, its yields are 35 times higher per acre than those of a conventional farm—and use about 95% less water.
When major farms around the country saw their food service business disappear almost overnight, many were left dumping produce and plowing it under while it was still in the fields. Puri says that Gotham, while it did donate some product that would have headed to food service, didn't dump anything. Some of its customers, such as restaurant distributor Baldor Specialty Foods Inc. and lunch chain Just Salad, kept buying product but sold it retail.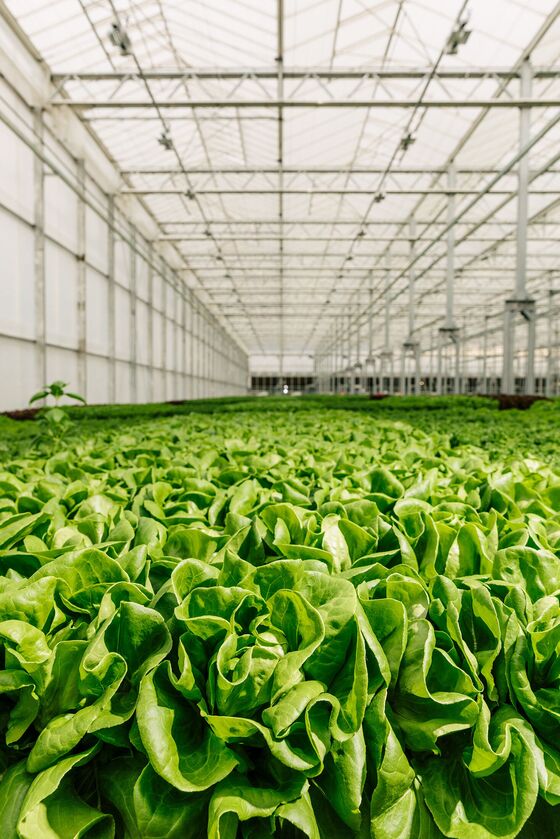 Gotham is hardly alone in its quest to retool American agriculture to be closer to consumers, more high-tech, and less reliant on the dwindling resources that are making conventional farming ever more challenging, such as water and migrant labor. While a number of its competitors have folded in the face of such challenges as scaling up and using new technology while selling expensive products, Gotham is expanding its reach to new regions. Overall, the "novel farming" industry, which can include everything from giant vertical farms near cities to distributed farms that grow produce right in supermarket aisles, raised $945 million in 2019, a 46% jump from 2018, according to agricultural researcher and investor AgFunder Inc.
Even with the growth of indoor farming, 90%-plus of leafy greens and vegetables still come from California, says Roland Fumasi, a senior analyst specializing in fruit, vegetables, and floriculture at Rabobank, and the epidemic has highlighted the potential disruptions of a very long supply chain. In March the shock spread to cold storage, trucking, and other parts of the normal way of doing food business, giving companies such as Gotham, with significantly fewer miles in its supply chain, a big advantage.
Meanwhile, other indoor growers are expanding beyond the lucrative basils and lettuces. Hamilton, Ohio-based 80 Acres Farms is growing tomatoes in its multilevel vertical farms. New York-based Bowery Farming Inc., which says it's more than 100 times more productive than typical field agriculture, has grown kohlrabi, tubers, and vine crops, though not commercially. Both companies say the pandemic led to massive jumps in demand for their products at retail. For Gotham, that's meant an increase in revenue of more than 50% since March. Edinburgh's Intelligent Growth Solutions Ltd., which builds and sells highly automated vertical farm towers and stations to operators, produces equipment that can grow root crops, such as carrots, turnips, radishes, potatoes, and spring onions, as well as leafy greens. Inquiries have "at least doubled" since the beginning of the pandemic, says CEODavid Farquhar, and they're coming from all over the world.
Conventional field operations, however, aren't about to disappear; they'll remain the primary source of fruits and vegetables for a long time, and in the U.S., much of that produce will come from California most of the year. They'll continue to face the same problems that have only grown worse, too little water and too little labor, says Dave Puglia, president and CEO of Western Growers. "The challenges facing our members pre-Covid are well known because we've been calling for help a long time," he says.
When it comes to labor, the coronavirus only exacerbated an existing problem. Traditional field agriculture requires humans, often close together, picking and packing the produce. While machines have been in development to replace humans for years, so far they have yet to imitate the precision and delicacy of a human touch. It's meant Covid-19 outbreaks hitting farms in New Jersey, Tennessee, and Washington just as the peak harvest season is getting under way. The industry is doing everything it can to protect its workers in the short term, says Puglia, including more education and forced distancing. (This protects more than workers; it protects yields, and therefore bottom lines.) Still, some farmers are better equipped than others for the kind of changes required to maintain a healthy workforce.
Talley Farms in Arroyo Grande, Calif., cultivates 1,600 crop acres to grow vegetables such as cabbage, spinach, and peppers. Its workers, 275 at the height of the season, often come through the government's H-2A visa program and therefore, under the program's requirements, live in farm-provided housing. Housing represents the biggest challenge for preventing the spread of a deadly virus, but co-owner Ryan Talley, who runs the farm his family started in 1948 and expanded in the following decades to not only grow but also pack and ship its vegetables, says his farm is unusually well prepared. That's because workers live mostly in actual homes, including ones that were on the farm when he purchased the land and those they've subsequently built, instead of the bunker-style dormitories that are common for H-2A workers. Each house has a few bedrooms, each of which holds a few people, and they're cleaned daily before workers come home from the field.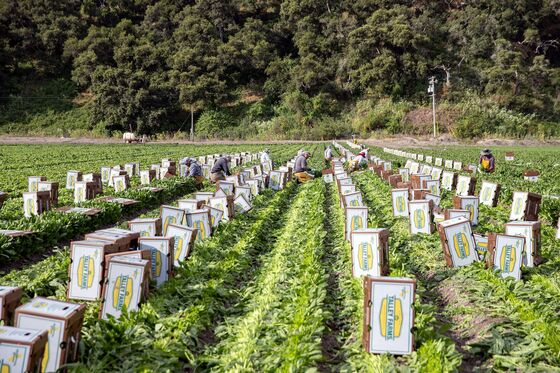 In the field, instead of having pickers shoulder to shoulder tossing cilantro and cabbage into a "harvesting aid" that is attached to a communal tractor for others to pack them, workers are now spread out and doing their own packing. None of the actual picking is mechanized, though Talley and others recognize that's where the industry is headed: fewer people, more machines.
"Our industry is so hand-labor-intensive that with minimum wage going up and overtime hours here in California, the workday is shrinking," Talley says, referring to the more worker-friendly laws that are increasing hourly wages and overtime pay requirements. "Mechanization, that's the future."
Investors agree with that prediction: Farm robotics, mechanization, and equipment companies raised $184 million from venture capitalists in 2019, a 38% increase from the year before, according to AgFunder. "Over the long haul, hopefully, we will have transitioned more workers to higher-pay jobs operating machinery and further reduce the risk of transmission," Puglia says. That means fewer workers total, and even fewer that come in under visas or without documentation at all.
Talley Farms was largely spared the worst of the Covid-19 financial blows, since food service accounts for only about 10% to 15% of the business. A Talley direct-to-consumer farm box program that delivers freshly harvested local produce exploded, as did those at many other farms across the country, when consumers were forced to stay home and do their own cooking, and many wanted to avoid the masses at supermarkets. But the shift from one kind of customer to another didn't happen without casualties. "We had to dump a little bit," Talley says, including about 2,000 cartons of napa cabbage, weighing 60 pounds each. The logistics of perishable foods means that big changes can be costly.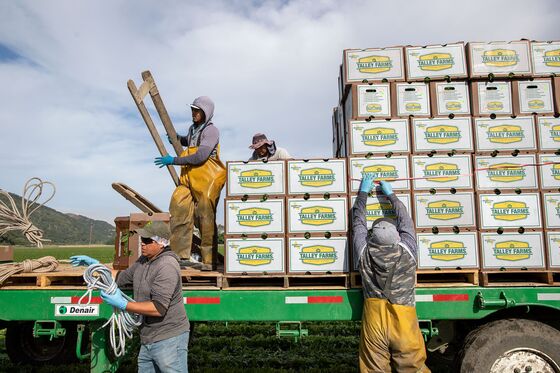 Talley doesn't expect to be able to afford one of the mechanical pickers, whenever one successfully comes to market for a crop he grows. Most likely farmers like him will be renters of the machinery, not owners, says Rabobank's Fumasi. "Harvest as a service," he says, "that's always made the most sense."
At novel farming operations, much of the work is already done by machines, and what isn't might be soon enough. Employees also don't live together and are unlikely to be migrant workers—they're frequently city dwellers who work their jobs year-round. Finding them can still be a problem, as those with the required training remain in short supply. But Covid has highlighted these systems' resilience.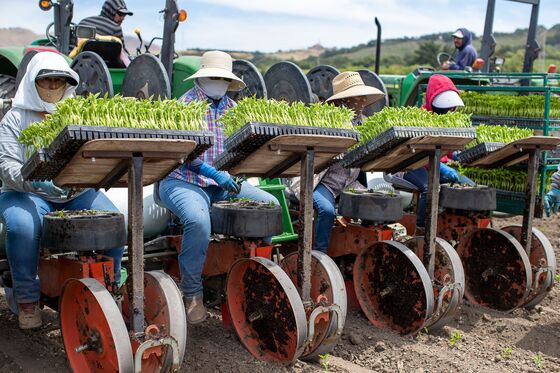 Startup costs for indoor farming operations can be very high, as are electricity bills, depending on the energy source, and supermarket prices often reflect that. Yet the benefits of longer shelf life, lower water use, and fewer (if any) pesticides and food-borne bacteria will continue to make these models attractive. That won't be true of everything in the produce section. "To make the economics work, it has to be in high-value crops, like herbs, specialty greens, and berries," Fumasi says.
The companies best positioned to succeed, he continues, are those that focus on regional distribution models, instead of hyperlocal, which can leave a producer in the lurch if, say, extreme weather closes everything within the city limits. Gotham's model is regional and extending farther westward with its new Denver outpost, while other newer farms are still extremely local.
But for countries where access to a local food supply is challenged, such as the tiny island of Singapore or the deserts in the Middle East, governments are increasingly funding the ventures, says Henry Gordon-Smith, founder and managing director of Agritecture Consulting, a novel farming consultancy. "These countries," he says, "are saying Covid has shown us how fragile our food supply is."