No Caddy Required: Homeowners Are Driving Demand for Golf Simulators
No Caddy Required: Homeowners Are Driving Demand for Golf Simulators
(Bloomberg Businessweek) -- In a 900-square-foot man cave that he calls "the 19th Hole," Eric Rosen has installed a wet bar, high-top tables, two rows of stadium seating, and a retro-looking popcorn maker. On Sundays before the novel coronavirus invaded the world, the 49-year-old venture capitalist would invite friends to his home in the Philadelphia suburb of Yardley, Pa., to watch the Eagles play on a 16-foot-long, 9-foot-tall screen.
But the centerpiece of the space is a little square of artificial turf in front of the screen that looks like a putting green. His golf simulator, a custom model made by AboutGolf Global Inc. in Kirkland, Wash., also includes a Canon projector that delivers pictures in 4K resolution. Two overhead cameras capture data on Rosen's every swing, measuring the ball speed, spin rate, and launch angle via a three-dimensional tracking system.
Bolstered by high-speed cameras such as these, simulators today can believably replicate a ball's trajectory using advanced flight and terrain physics. And thanks to GPS technology that maps courses down to the last inch, these virtual video games also come loaded with some of the grandest golfing destinations in the world.
Even before Covid-19 upended daily public life, those in the golf-simulator business said the home market was driving their growth. Matt Frelich, vice president of sales for San Diego-based TrackMan Golf, says his company has had a 50% jump in simulator installations this year for homes vs. pro shops or clubs. "This is the fastest-growing part of our business by all measures," he says.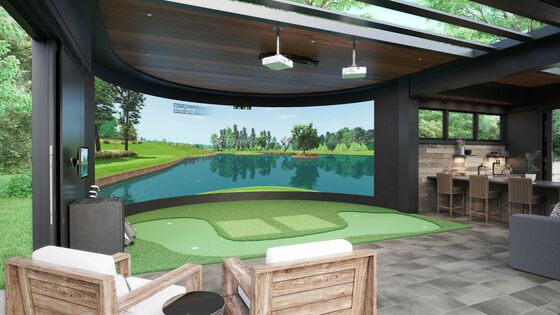 Technology aside, the aesthetics of home simulators have evolved over time. In an industry in which a highly customized installation can command a six-figure price tag, simulators have become a residential showpiece.

Curtains may have once hung from the ceiling to hide a setup when it's not being used. Now companies want "to ensure our simulators are built into their home or clubhouse to match their design aesthetic," says Jason Fierro, senior vice president for sales and marketing at Full Swing Golf Inc., also based in San Diego.
The systems make sense as an investment, at least from a golfing fanatic's perspective. For about the same cost as a well-appointed luxury sedan, a 20-handicapper can own the sort of equipment the pros use. Accurately recording the position of the clubface at impact and measuring ball speed and launch angles provide information that was once the exclusive province of teaching professionals, but it's exactly the sort of data many avid players crave.
Whether simple target practice games for beginners or sophisticated weight-distribution metrics for advanced players, there appears to be something for everyone along the spectrum of ability.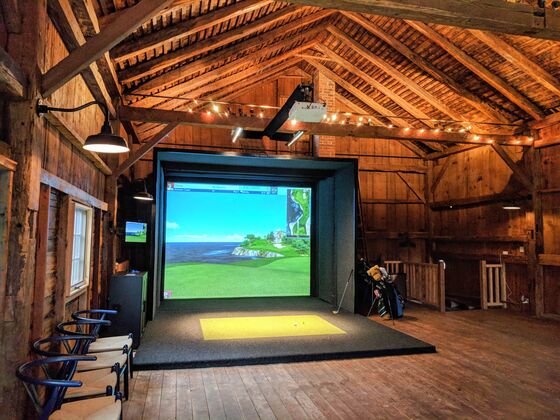 These setups may not fit in the average city apartment, but a simulator requires less space than you might think. The most important consideration is the ceiling—it needs to be high to accommodate a 9-foot-tall screen, the typical industry minimum, and to allow room for the club to swing freely. An "impact" screen can range from 16 feet to 18 feet wide. AboutGolf can go wider, and it also has a curved version that extends 30 feet. Many provide turnkey installation from first call to first swing.
Rosen chose AboutGolf, in part because, of the four simulators he tested, he preferred its graphics package, which offered clever solutions to the experience of playing in pixels. When you hit your ball behind a tree, for instance, 3D-graphic ratios let you assess your lie from a 360-degree perspective to see not only in front and behind your ball but around the tree, too.
Playing some of the most famous courses in the world from the comfort of home was also a draw. On any given day, Rosen can load up Pebble Beach and see just how crazy Tiger Woods's record-setting score was in the 2000 U.S. Open, when he won by 15 strokes.
Or, assuming that September's Ryder Cup is postponed or canceled, Rosen can fire up the Whistling Straits course at Destination Kohler in Wisconsin, or even "walk" the same ground as Arnold Palmer and Jack Nicklaus on the Old Course at St Andrews.
The sport should be "a pleasure, not a penance," says Ben Bridgers, director of golf at Pinehurst Resort in North Carolina, quoting the great course designer Donald Ross. A virtual version of the club's legendary No. 2 course can be found on some of the popular simulators.
Each hole is mapped out like a street on Google Maps; even surrounding houses are brought into the game when an errant drive or mishit sends the ball into a yard. "It's a testament to the lasting legacy of Pinehurst No. 2 that golfers would want to experience it even on a simulator, and we think that's great," Bridgers says.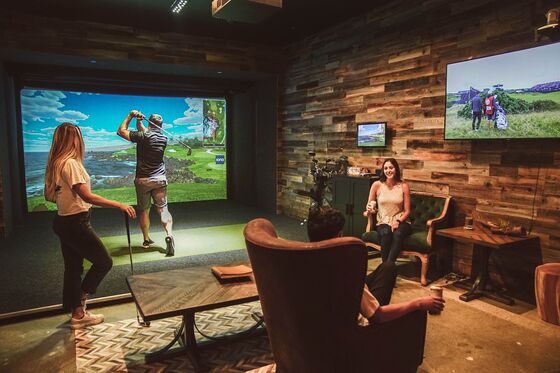 Destinations pay as much as $15,000 to get virtually mapped and loaded onto one of these systems. The one notable course you won't find is Augusta National Golf Club, home of the Masters Tournament, which hasn't approved any simulated versions of its course since 2011, when it appeared on EA Sports' Tiger Woods PGA Tour 12.
Michael O'Reilly, director of golf and operations manager for Whistling Straits, says virtual versions of courses are all about increasing opportunities to play. "For more avid golfers, playing these rounds on a simulator in their hometown can serve as the impetus for them booking a trip to experience the 'real' thing," he says.
While these innovations may be familiar to anyone who's been to one of the many virtual driving ranges for an after-work happy hour, those with in-home simulators are also using them as a one-of-a-kind, jack-of-all-trades entertainment complexes. Full Swing Golf, for instance, produces two models, the Sport Series and Pro Series, that also offer an add-on suite of 13 games besides golf, plus the ability to watch TV. There's soccer (you take penalty kicks at the screen to score against the goalie), football (where you try to throw a pass for a touchdown), basketball, baseball, bowling, and darts.
TrackMan, on the other hand, entered the simulator business just five years ago, after a decade dominating the market for outdoor ball-flight monitors; an estimated 90 of the world's top 100 golfers use its technology. As the company moved indoors, it acquired Perfect Parallel, a gaming and visualization startup that created a PC game, Jack Nicklaus Perfect Golf, to improve the graphics in its software.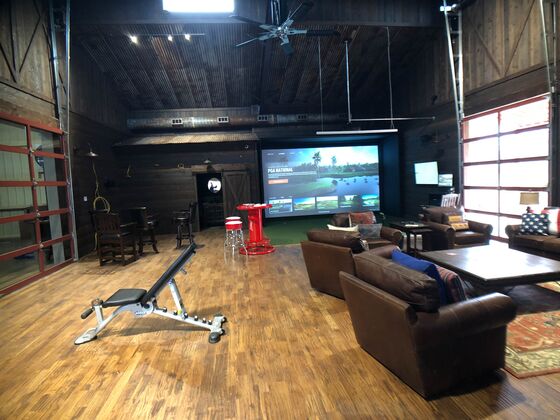 TrackMan says it will have 100 courses for virtual play by yearend. That might be necessary to stave off competitors such as Foresight Sports, which uses a camera system its adherents claim is more accurate than TrackMan's Doppler radar technology.
Seoul-based Golfzon, which features three models for residential customers, expects owners to begin using the simulators to compare data with their friends and create tournaments and competitions. Its ZStrict facility in Stamford, Conn., which opened in October, already allows players to participate in a virtual league there; as residential and commercial sales increase, an e-gaming model is inevitable.
Even as the boundaries of "real" golf blur, the struggle to create an adequate virtual version of the game is genuine. Putting can be problematic, and though you can adjust precipitation and wind conditions to approximate course conditions, rain won't be seeping into your collar on your backswing. Rosen says his system simulates just about everything else in real golf, with one exception: At home, he always gets a perfect lie—there aren't any sand traps to hit out of on the artificial turf.
But he's amplified the experience a little bit elsewhere. "I've got Bluetooth speakers connected to a subwoofer in the chairs," Rosen says, "so during movies they vibrate." None of that has much relevance when he's playing a round of simulated golf, but there's one moment when a big-boy sound system might be cool: Every golfer loves the sound of a putt hitting the bottom of the cup.
The Price of Simulation, in Real Dollars
$20,000
An entry-level setup from Golfzon, the Vision Compact, comes with a screen, a projector, a kiosk with sensors, and five golf courses, including Pebble Beach and the Old Course at St Andrews. The hitting mat isn't included but can be purchased for $1,000 to $1,500. A subscription of $70 per month in your first year unlocks a total of 192 courses to choose among.
$40,000
Full Swing's Sport Series includes the company's ION 3 camera system, which measures the ball at two points—on impact and midflight—giving it more data points with which to accurately track its flight, so it looks closer to actual golf. A cinema-quality projector is included, so you can turn your setup into an entertainment complex. The company also offers a separate virtual green that can mimic sloped putts.
$60,000
The No. 1 launch monitor in professional golf is the TrackMan 4, with more than 1,000 sold to touring pros. Standard features include a 6,000-plus-lumen projector, fitted enclosures for the screen, and on-site installation and training. A customized system includes one that works indoors and outdoors. And you can trade in your old model when you're ready to upgrade.
$90,000+
With its picture-in-picture feature, AboutGolf's curved, extra-wide screen lets you swing your clubs on one side while your family watches a movie on the other. The system, starting at about $60,000, includes training aids, games, and videos. Even if you stick to a traditional flatscreen, though, a 4K projector will run from $30,000 to $60,000, and you're going to want that. For real extravagance, try a G Max, which can go as wide as 120 feet.