Are Nike's Vaporfly Running Shoes Too Good?
(Bloomberg Businessweek) -- Last month, elite marathoner Eliud Kipchoge ran 26.2 miles in less than two hours, breaking a barrier some thought impossible. The following day, fellow Kenyan Brigid Kosgei shattered the women's marathon record. The common thread for both performances: the shoes on their feet. Kipchoge was running in a prototype featuring Nike Inc.'s latest Vaporfly technology. Kosgei was wearing an earlier version of the same shoe, which retails for $250.
Their runs reignited a debate that's simmered since Nike unveiled this class of shoes in 2017. The sneakers have a carbon fiber plate, lightweight foam, and a stiff forefoot that rocks you forward. Nike says they're proven to decrease effort by at least 4%, helping you run faster on the road and recover quicker afterward. "Out of the box, you are 4% better," says Matt Nurse, vice president of the Nike Explore Team Sport Research Lab. "No question. We tested that across ranges of speed and ability."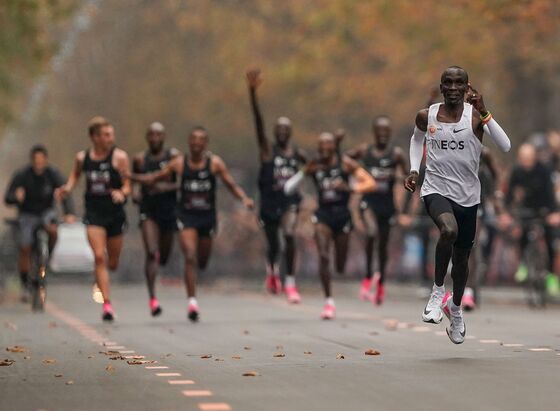 Now, as other sneaker companies race to produce high-end shoes with similar benefits, critics worry that Nike has tipped distance running's competitive balance on the eve of the Summer Olympics in Tokyo. The sport's governing body is exploring whether to rein in athletic goods companies or let them run wild, a decision that could usher in an arms race for high-tech sneakers. "This is not a little advancement in technology, this is a completely different animal," says Ryan Hall, a retired U.S. distance runner. "Physically speaking, it's so hard for elite runners to take one minute off their marathon time. To just put on a pair of shoes and be able to run two minutes quicker, that's mind-blowing."
No sneaker on the market generates more energy than a runner puts into it. But serious runners have long shown interest in recovering more of the force exerted in each stride. For decades, shoe companies have worked to reach maximum efficiency, producing many small innovations and a few big ones.
This new class of shoes is a once-in-a-generation leap, according to engineers and athletes. And there's evidence in the results. The five fastest marathons have been run in the Nike shoes, a list that doesn't include Kipchoge's closed-course run. They're also quickly becoming popular for weekend runners who can afford the $250 price tag. "It's fair, at a high level, to earmark this moment in time as a transformation in the definition of a marathon racing shoe," says Carson Caprara, senior director of global footwear product at Brooks Sports Inc. "Being able to see firsthand the impact on athletes, everyone is going to move quickly for their runners."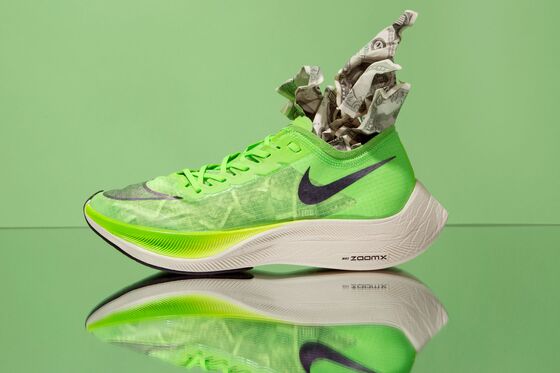 There's a lot of misinformation circulating about the shoes. Internet sleuths dug up a recent Nike patent and speculated that Kipchoge's pair had three carbon fiber plates. (There's just one.) Others latched on to the physics of the plate, saying it acts as a spring. In truth, the foam in all running shoes acts as a spring. Companies could put metal coils in sneakers, but they're heavier than foam and much less stable.
Although Nike has been the face of this class of running shoes, it's not alone in making them. Hoka released its own $180 carbon-fiber-plated shoes in May. Brooks's version, the Hyperion Elite, will sell for $250 when it's introduced next year. Saucony has been working on its latest, the Endorphin Pro, for more than two years. There are many others, including some prototypes worn by elite runners. "We all know each other, to an extent," says Spencer White, head of the Saucony Human Performance Lab. "It's rare that anyone does anything that another company hasn't already worked on or thought of."
But Nike's deep pockets have helped it stay ahead of the competition. "Is that really fair?" asks Hall, who still holds the U.S. half-marathon record he won wearing Asics shoes. "Kara [Goucher] missed out on the 2016 Olympic team by one spot; she was 65 seconds back. And they say these shoes make at least 90 seconds' to two minutes' difference in a marathon. Should she not have made the Olympic team because she wasn't with Nike?"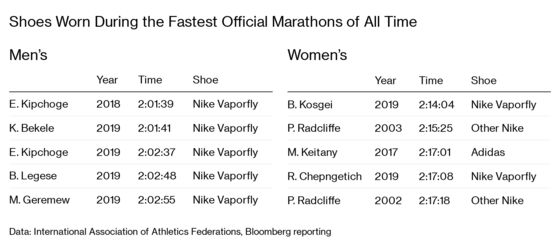 The International Association of Athletics Federations, track's international governing body, provides only a loose guideline on sneaker tech: Shoes "must not be constructed so as to give athletes any unfair assistance or advantage." In the wake of the controversy over Nike's shoes, the IAAF Technical Committee formed a working group of athletes, scientists, and ethics experts to help clarify the rules. The group is expected to provide its findings by the end of the year. "It is clear that some forms of technology would provide an athlete with assistance that runs contrary to the values of the sport," the IAAF said in a statement. "The challenge for the IAAF is to find the right balance in the technical rules between encouraging the development and use of new technologies in athletics and the preservation of the fundamental characteristics of the sport: accessibility, universality, and fairness."
Nike recently shut down a program for long-distance runners after a coach was suspended by the U.S. Anti-Doping Agency. Also, a female runner in the program alleged that an excessive training regimen destroyed her health. Nike has stood behind the coach and says no runners were implicated in the case. It's investigating the female runner's claim.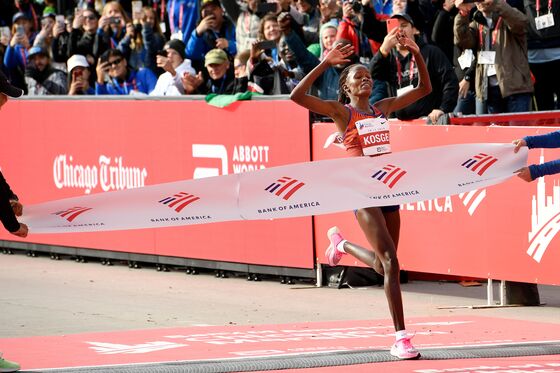 Running may be having a moment like one experienced a decade ago in swimming, when Speedo International Ltd. unveiled a full-body swimsuit. Imitations quickly popped up, and more than 100 world records were broken, leading some to compare wearing the suit to doping. Fédération Internationale de Natation, swimming's governing body, voted overwhelmingly in 2009 to ban the high-tech suits, imposing restrictions on the materials and the amount of the body they could cover.
Shoemakers hope the IAAF doesn't impose strict limits. That goes for Nike, which did $40 billion in sales last year, and much smaller companies such as Brooks, which reported a record $644 million in global revenue in 2018. They're largely unencumbered by IAAF restrictions and want to be able to keep improving shoes with the newest technology.
As its smaller rivals rush to match what's already on the market, Nike is pushing to find the next major innovation. "We're not in the business of changing rules, we're in the business of helping athletes find their greatness," says Chief Design Officer John Hoke. "If the athletes that we work with are able to do feats that are unique to them and pushes their own personal best, then we've done our job."
To contact the editor responsible for this story: Nick Turner at nturner7@bloomberg.net, James Ellis