Nets Owner Joe Tsai Is Caught Between Brooklyn and Beijing
(Bloomberg Businessweek) -- Joe Tsai was in his study in Hong Kong when he heard about the tweet. On a Saturday afternoon in early October, less than a month into Tsai's tenure as majority owner of the Brooklyn Nets, someone from the NBA called with the news. "He walked me through what happened and said this could become a troublesome thing," Tsai says. Earlier that day, Daryl Morey, general manager of the Houston Rockets, widely regarded as one of the league's most forward-thinking executives, had tweeted the slogan "Fight for Freedom / Stand With Hong Kong." It was a show of solidarity with protesters who'd been in the streets of the former British territory for four months, opposing what they saw as China's attempts to stamp out their freedom.
By the time of the call, Morey had deleted the tweet, but it was still sparking outrage on the mainland. "I was sitting there thinking, I'm uniquely positioned to say something. It would be weird if I didn't say something," Tsai recalls. "I am the only owner that's Chinese. I do business in China. I live in Hong Kong. I'm sort of in the middle of this."
Tsai, co-founder and executive vice chairman of Chinese e-commerce giant Alibaba Group Holding Ltd., is finishing up lunch in his otherwise-empty luxury suite above midcourt of the Barclays Center in Brooklyn, dressed in khakis, tortoiseshell glasses, and a black Nets half-zip fleece. Tipoff for a Sunday afternoon game against the Miami Heat is in two hours, and sneakers squeak as players warm up on the court below. The 56-year-old Tsai is worth more than $12 billion, according to Bloomberg estimates. A lifelong lover of sports, he casts his ownership portfolio as largely accidental. People come to him with teams. His holdings also include the WNBA's New York Liberty and the National Lacrosse League's San Diego Seals, as well as stakes in Major League Soccer's Los Angeles FC and an e-sports franchise. The Seals play near the seaside home where Tsai's wife, Clara, and their three children spend much of the year.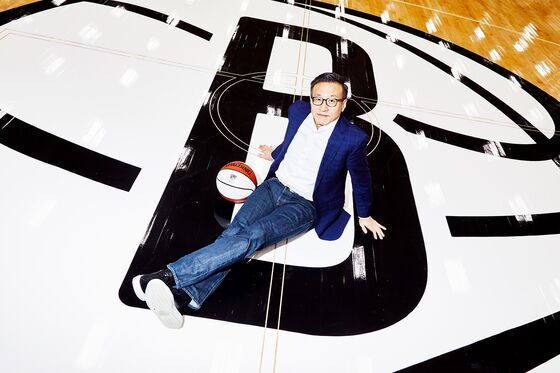 When representatives of the Nets' previous owner, Russian mining magnate Mikhail Prokhorov, called in 2017 to say the team was for sale, Tsai investigated the NBA's economic fundamentals. "We had several long conversations," says NBA Commissioner Adam Silver. "I came away incredibly impressed." Tsai also liked what he saw. The league splits revenue roughly evenly between players and owners, as well as among teams, regardless of market size or wins and losses. "It's kind of a socialist setup," Tsai says. "Basically all 30 teams get to make money." He ended up buying the Nets in two stages, acquiring the first 49% in 2017 and the remainder, along with the arena, last September. He paid about $3.5 billion, all told. "NBA teams are not going to lose asset value," Tsai says. "It's like owning a penthouse apartment on Park Avenue."
The Nets were rebuilding under a new general manager, Sean Marks, when Tsai bought his first stake. Still reeling from a disastrous trade that had sent four years' worth of first-round draft picks to the Boston Celtics, they'd finished last the season before. Marks set about unloading costly veterans and finding bargain-bin players to develop until the team had room under the league's salary-cap requirements to go after star free agents. His plan worked: Last April the Nets made the playoffs for the first time in four years, and a few months later they signed superstars Kevin Durant and Kyrie Irving. Even with Durant likely sidelined all season with a ruptured Achilles tendon and Irving battling a shoulder injury, the Nets are in the hunt for another playoff berth. Once both are healthy, the team is expected to compete for championships.
The buzz over the signings still hadn't subsided when Morey's tweet landed. As it happened, the Nets were scheduled to play a pair of exhibition games against the Los Angeles Lakers the following week in China. That Monday morning, before boarding a flight from Hong Kong to join the team in Shanghai, Tsai wrote a "letter to all NBA fans" and posted it on Facebook. "When I bought controlling interest in the Brooklyn Nets in September," he began, "I didn't expect my first public communication with our fans would be to comment on something as politically charged and grossly misunderstood as the way hundreds of millions of Chinese NBA fans feel about what just happened."
The letter, which cast Morey as ignorant and his tweet as damaging, drew criticism in the U.S. and Hong Kong from those who saw Tsai as following the Chinese government's line. In his 25 years of shuttling between China and the U.S., arranging highly complicated and lucrative connections between the two, Tsai's multicultural, intercontinental identity—Taiwanese-born, Mandarin-speaking Ivy League grad, California sports dad, Hong Kong dweller, Canadian citizen—had always been key to his success. Suddenly he found himself caught, in a very public way, between Beijing and Brooklyn.
Tsai's grandfather, Ruchin Tsar, left the Chinese mainland in 1948, part of an exodus of millions fleeing the communists as the country's civil war ended. Tsar had been an adviser to the Kuomintang (KMT) government of nationalist leader Chiang Kai-shek, who, in the aftermath of the war, established the Republic of China as a one-party state in Taiwan. Five years after the family arrived in Taipei, Tsai's father, Paul, enrolled at Yale Law School, going on to become its first Taiwanese graduate in 1957. He returned home to take a job in the Ministry of Economic Affairs, becoming, Tsai says, the chief drafter of a 1960 law that opened Taiwan to foreign investment and helped usher in an export-driven economic boom that lasted decades. In 1965, the year after Joe was born as the first of four children, his grandfather and father established Tsar & Tsai, a law firm that became a go-to shop for international clients looking to do business in Taiwan.
"I'm Chinese," Tsai says. "I grew up in a very culturally Chinese environment." He spoke Mandarin as a child, and his parents talked about returning to visit the mainland. At the time, the KMT saw itself as China's rightful ruler, a status then recognized by most of the West. "My upbringing is always that there is one China," he says.
Tsai's parents sent him to boarding school in suburban New Jersey when he was 13, avoiding a ban on boys 14 and older leaving Taiwan, lest they escape mandatory military service. He spoke little English when he arrived at the Lawrenceville School, which counts Malcolm Forbes, Michael Eisner, and former Salomon Brothers Chief Executive Officer John Gutfreund as alums. "I can imagine that was quite head-spinning for him, to ship overseas and plop down in the middle of this prestigious school with a decidedly East Coast, preppy vibe," says Pete Maruca, a former classmate who now runs a residential construction company in Pennsylvania.
Tsai longed to be one of the guys at what was then an all-boys school. To bridge the cultural gap, he turned to sports. "Sometimes, if you couldn't really communicate and you looked different, it was a little bit humiliating," he says. "The only equalizer was if I could kick their ass on the football field." Despite his size—5 feet 9 inches and about 160 pounds—he made the team as a freshman. "He got instant credit for trying," says Maruca, a fellow linebacker.
The following spring, after being cut from baseball, Tsai went out for lacrosse. He made it, then played on the varsity squad as a junior before being cut as a senior. "I got a little bit complacent," he says. The failure still stung when he arrived at Yale in the fall of 1982. He tried out for lacrosse there and earned a spot as a walk-on. Yale was one of the worst teams in the Ivy League, but a new coach had brought in a strong class of recruits, mostly public-school kids from Long Island. One of them, William "Mickey" Harley III, remembers being surprised by Tsai's skill and toughness. "He wasn't the biggest guy, wasn't the fastest guy," says Harley, who now runs a blueberry farm on Long Island, "but he stuck his nose in there and played hard."
Tsai stayed at Yale for law school, often playing pickup basketball with fellow students, including future Supreme Court Justice Brett Kavanaugh. ("I didn't know him that well," Tsai says.) Upon graduation he took a job as a tax lawyer at the white-shoe New York firm Sullivan & Cromwell, then became general counsel for the private equity fund Rosecliff Inc. He later moved to Hong Kong to work for Swedish holding company Investor AB, scouring the Asian markets for private equity deals.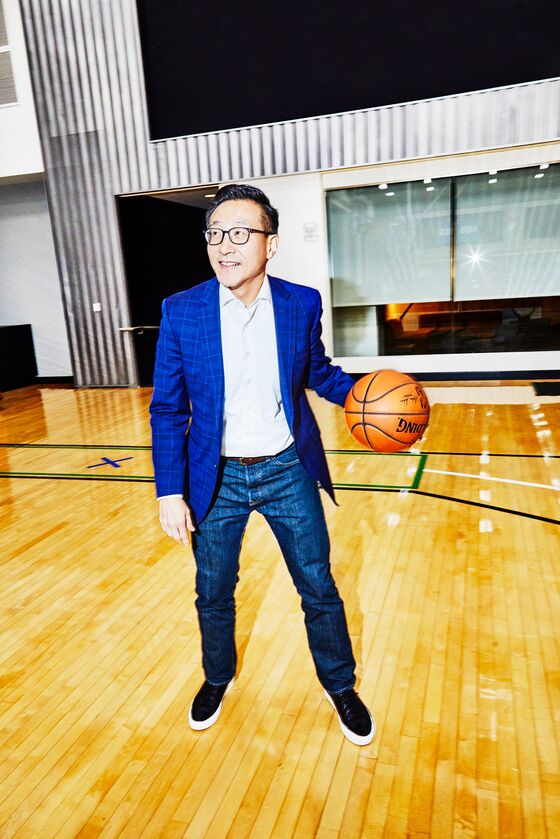 In 1999 a friend tipped him off about a charismatic, eccentric entrepreneur named Jack Ma, who wanted to build an online marketplace for Chinese factories. That May, not long after Ma founded Alibaba from his apartment in Hangzhou, Tsai went there to meet him. The two became fast friends. Born the same year, both had grandparents who'd been in the KMT before the People's Republic was founded. Both had learned English at a young age and were quick to absorb Western influences.
After meeting Ma, Tsai told his boss at Investor that in his spare time he wanted to help Alibaba get off the ground. "This is when the internet was just starting," Tsai says. "I caught the entrepreneurial bug." He soon drew up papers to incorporate the company, becoming one of 18 founding partners, then joined Ma on a trip to Silicon Valley to pitch venture investors. They came home empty-handed, but the trip helped persuade Tsai to throw in his lot with Ma. "When you take a trip together, you stay in the same room, you chat and just develop this bond," Tsai says. "I realized this is really what I want to do." That fall, Goldman Sachs Group Inc. and a handful of other investors agreed to put $5 million into the company, and Tsai quit his day job to become Alibaba's chief financial officer.
From the start, Tsai and Ma complemented each other. Ma overflowed with antic energy. Tsai channeled it into some semblance of order. "He is a very professional guy," Ma says by phone from China. "For me it's more like a street guy." When Alibaba went public on the New York Stock Exchange in 2014, raising a then-record $25 billion, Tsai arranged the daisy chain of contracts necessary to create a variable interest entity, which allows foreign investors to hold stakes in Chinese companies without owning the underlying shares. "He thinks more about the procedure, detail, all those things," Ma says. "I think more about the vision, about the future, about the big picture."
As Alibaba evolved into China's dominant e-commerce platform and one of the world's 10 most valuable companies, Ma became the country's entrepreneurial face, a symbol of its success and confidence. In 2017, at Alibaba's famously lavish annual party, he dressed up as Michael Jackson, complete with sequined glove, and danced to Billie Jean, a performance that's been viewed millions of times on YouTube. Tsai prefers to stay in the background. "I do dress up," he says of the parties. "During our 10th year anniversary, I dressed up as Marilyn Monroe. It was a pretty bad rendition, so that's why we don't talk about it."
He mostly works behind the scenes, serving as Alibaba's primary bridge between East and West, mixing with elites in New York or San Francisco, Hong Kong or Hangzhou. "I remember one of the several trips I went on to the States with him, some of the potential investors got upset with me because of the way I talk," Ma says. "Joe is the guy getting all of those things smoothed up."
In September, when the NBA's owners formally approved Tsai's bid to take control of the Nets, Silver said his expertise would be "invaluable in the league's efforts to grow the game in China." Tsai, who'd already been on the board of NBA China, the subsidiary that runs the league's affairs there, was added to the league's media committee, which advises Silver on rights deals and digital plans. "It was a no-brainer," says Silver. He describes Tsai, not long after they first met, pulling out his smartphone to play NBA highlights on Alibaba's streaming service. "He demonstrated how you could click on a highlight and buy the shoes."
The NBA has been in the Chinese market since 1987, when Silver's predecessor, David Stern, showed up at the offices of China Central Television in Beijing with a videotape of All‑Star Game highlights. CCTV, a state-controlled propaganda arm, offered about an hour of sports programming each week, including bullfighting and horse racing. According to Brave Dragons, a book by New York Times journalist Jim Yardley, Stern waited for two hours before anyone met with him. But later that year, the NBA began mailing videotapes to Beijing, where they would be edited into 15-minute highlight reels and aired about a month after the games had been played. CCTV, which hadn't even shown ads until 1979, sent back a share of the minuscule proceeds.
The relationship got a major boost in 2002, when Houston drafted Shanghai-born, 7-foot-6-inch center Yao Ming first overall. The Rockets immediately became the People's Republic's favorite team. Two years later the NBA sent them to play preseason contests in Beijing and Shanghai, eventually making games in China an annual rite. These have lately been complemented by barnstorming offseason tours on behalf of sneaker brands by the league's biggest stars.
The NBA is now one of China's most beloved Western imports, and the country is by far the league's most important overseas market. In July, Chinese internet giant Tencent Holdings Ltd. agreed to pay $1.5 billion over five years to stream NBA games, three times more than the previous deal. The league says that between Tencent and CCTV's live games and (now much timelier) highlight shows, 800 million people in China watched NBA programming last year. It also reports that business there saw double-digit growth every year of the past decade.
Morey's tweet threatened to undo the relationship. In the week after he sent it, CCTV and Tencent halted NBA broadcasts, Chinese sponsors dropped deals with the Rockets, and team merchandise disappeared from Alibaba and other online stores. Trolls swarmed Morey on Twitter. Politicians jumped into the fray. Behind the scenes, Silver told reporters, Chinese authorities had asked for Morey to be fired.
In an effort to contain the damage, Rockets owner Tilman Fertitta posted a tweet saying the general manager didn't speak for the team. Morey tweeted a mea culpa, of sorts, saying he hadn't intended to offend and was "merely voicing one thought, based on one interpretation, of one complicated event." The NBA's own statement called it "regrettable" that Morey had "deeply offended" fans in China, leading some to accuse the league of bowing to Chinese authoritarianism.
Before Tsai boarded his flight to Shanghai to see the Nets play the Lakers, he says, he sent the league a copy of the letter he was planning to post on Facebook. "They basically said, 'Look, Joe, you have to say what you have to say,' " he says. An NBA spokesperson says nobody at the league read the letter before it was published. "He didn't ask my permission, and I certainly didn't think it was my role to grant it or withhold it," Silver says. "He only told me that he planned to post something, and I read it when everyone else did."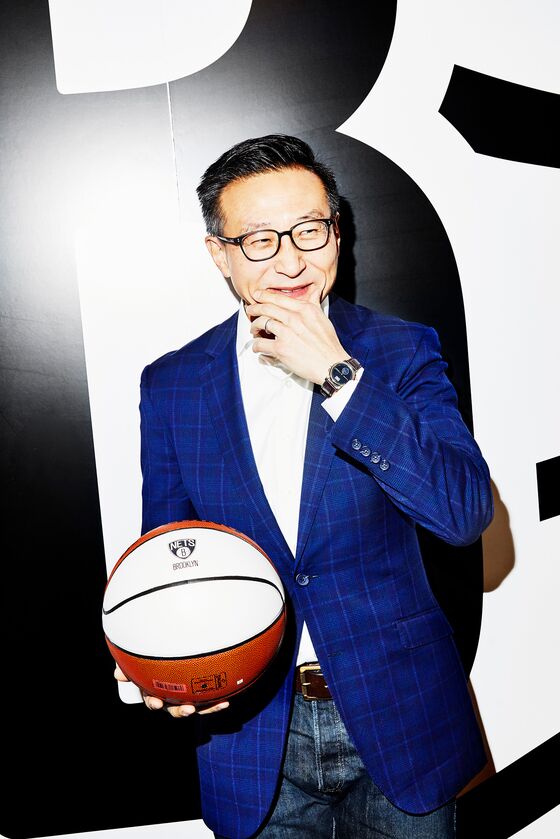 The 745-word letter endeavored to explain how Chinese NBA fans felt about Morey's tweet. It set the protests in Hong Kong amid centuries of imperialist aggression against China, dating to the mid-19th-century Opium Wars with the British and continuing through the massacre carried out during World War II by the Japanese at Nanjing. "There are certain topics that are third-rail issues in certain countries," Tsai wrote. "Supporting a separatist movement in a Chinese territory is one of those third-rail issues, not only for the Chinese government, but also for all citizens in China." The Hong Kong protests had begun in June after the city's pro-China CEO, Carrie Lam, put forth a bill that would allow extraditions to the mainland. More than a million people, roughly 1 in 7 of the city's residents, took to the streets, decrying the measure as a violation of the 1997 handover agreement between Britain and China, which established a "one country, two systems" policy allowing the city to keep its civil liberties and self-governance until 2047. Lam withdrew the bill in September, but the protests have continued, calling for, among other things, a more democratic city government and accountability for violent tactics by police, who've been documented shooting at, clubbing, and trying to run over demonstrators.
Nathan Law, a leader of pro-democracy protests that took place in Hong Kong in 2014, takes issue with Tsai's characterization of the current situation. "This is not a separatist movement," says Law, who's now studying for a master's degree in East Asian studies at Yale. "Supporting Hong Kong doesn't mean that you are completely anti-China or that you want China to be split." He argues that Tsai either misunderstood this or deliberately adopted the Chinese government's rhetoric.
"He really followed the lines of the official Chinese Communist Party position on this subject very closely," says Steve Tsang, director of the University of London's SOAS China Institute. Others, including Republican Senator Ben Sasse of Nebraska, in a Washington Post op-ed, have also noted how closely Tsai's words hewed to Beijing's.
"I believe that there are strains of separatism, because they don't want to have anything to do with China," Tsai says in defense of his letter. "They are very anti-China, burning the Chinese flag, beating up people who speak Mandarin, vandalizing Chinese-owned shops." In his estimation, although the protests may have begun as a peaceful effort to strengthen the "two systems" part of the handover agreement, they've since morphed into a violent attempt to undermine the "one country" part. "People should think very seriously about saying that it's not a separatist movement," he says. "I think they should look at the facts."
It's true that, as the protests have roiled, there have been instances of flag burning, vandalism, and attacks on mainlanders. And the movement does include voices who reject the idea of being part of China. It's also largely leaderless, with shifting and inchoate demands that revolve primarily around calls for freedom and democracy.
Tsai stands to lose a great deal if he alienates Beijing. He remains closely involved with Alibaba, which, like all of China's internet giants, exists because the Communist Party allows it to. "Once Alibaba became so big and became, in effect, adopted by the Chinese government as the next new champion," Tsang says, "Tsai must realize that, whether he believes in it or not, he will have to show very clear commitment to the course of the Chinese party state." Tsai's background, Tsang adds, makes him particularly vulnerable. "He must know that the fact that he was born in Taiwan puts him in a more awkward position. The Chinese government will trust him less for no reason other than his place of birth and early upbringing."
If Tsai is feeling the pinch, he's not letting on. "I feel free to speak my own mind and indeed did so in my Facebook post," he says. After it went live, he remembers, "there were a lot of people trolling me, but then the people that know me have all come up to me and said, 'Look, Joe, I'm really glad you wrote this, because I didn't know about all this history.' " His outspokenness might even have won the Nets some fans in China. On Weibo, one of the country's most popular social media services, thousands cheered his letter. "I will support the Nets in the future," wrote one. "Though I don't like Durant and Irving, I will try to let myself like them."
Tsai says he's not looking to supplant the Rockets as China's team. "If the Nets are very well-known in China, maybe we will get a little bit more sponsorship revenue, maybe some Chinese company will have signs here instead of Qatar Airways," he says, pointing to ads ringing the rafters at Barclays. "But that doesn't really move the needle. What's important is if the NBA is very popular in China."
During the preseason game in Shanghai, Ma joined Tsai and Silver in their suite. "I encouraged them to keep on. Pingpong used to be very good for diplomatic relations between China and the USA, and I think today basketball could be," Ma says. "Don't give up because of one or two issues. It's easy to break, but so difficult to build up."
Tsai is eager to see NBA games back on CCTV. Although Tencent has begun showing them again, the state-owned broadcaster has yet to budge. A person familiar with the matter says the league is optimistic the network will relent, beginning with the All-Star Game on Feb. 16—there's no ready replacement, after all, for LeBron James and Giannis Antetokounmpo.
"Once you are on the air," Tsai says, "everything will come back." In the meantime he's enjoying the perks of ownership. Down below the skybox, the gates have opened, and fans have started to fill the seats. A few guests arrive at Tsai's suite. "I love coming to games," he says. He chats with players any chance he gets. "I'm just like a fan. I'm a superfan." —With Qian Ye
To contact the editor responsible for this story: Jeremy Keehn at jkeehn3@bloomberg.net, Jim AleyDaniel Ferrara