Mass Transit Faces a Downward Spiral of Reduced Revenue and Ridership
Mass Transit Faces a Downward Spiral of Reduced Revenue and Ridership
(Bloomberg Businessweek) -- Jeffrey Tumlin and his staff at the San Francisco Municipal Transportation Agency spent Saturday, April 4, poring over rosters and route maps. The agency, which operates the Muni system, had already halted service on metro lines and trolley cars in response to social-distancing protocols and a ridership decline of as much as 83% some days, compared with normal levels. Now 30% to 40% of bus operators were expected not to report to work because of sickness or health concerns. Without enough drivers, Tumlin and his staff recognized, citywide bus service would soon be unfeasible.
On April 6, Tumlin announced that Muni was suspending about 75% of its bus lines. "I never thought I'd say this," tweeted Tumlin, a true believer in public transportation as a social unifier. "Please don't take Muni if you have other options."
The toll of the coronavirus on air transportation is well known: It's emptied airports and pushed carriers to bankruptcy. Mass transit employs almost as many people as air transport in the U.S., according to the Bureau of Labor Statistics—and it's also in a perilous state. While the airlines' catastrophe followed a decade of record profits, transit ridership in the U.S. since 2014 had already been declining, a result of cheap gas, the emergence of ride-hailing, and decaying infrastructure.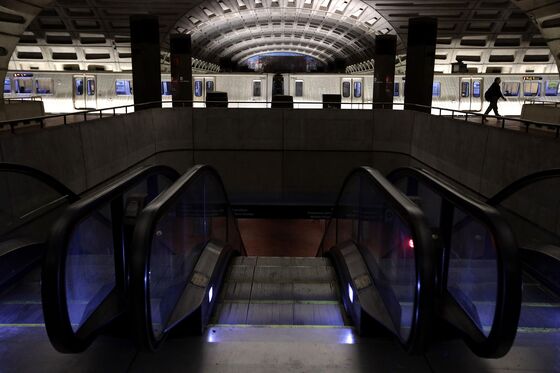 Now experts predict that U.S. rail and bus systems may never fully recover from the pandemic. That could present new obstacles to millions of low-income commuters and set cities on a course toward heavier congestion and failed climate goals. "It brings fear to my heart thinking about the sustainability of these systems," says Kari Watkins, a professor of civil and environmental engineering at the Georgia Institute of Technology.
As shelter-in-place orders and business closures have kept millions of workers at home, the most-used transit systems are carrying 70% fewer riders than usual, according to the American Public Transportation Association. Those riders left include workers in essential industries—nurses, janitors, grocery and pharmacy clerks, and others that state and local governments deem pandemic-critical. About 2.8 million of these use public transit, making up 36% of all riders, according to an analysis of 2018 U.S. Census Bureau data by TransitCenter, a think tank.
Along with revenue from fares, sales tax receipts—another key funding source—are expected to dry up with the economic shutdown. Paul Skoutelas, president and chief executive officer of APTA, calls this a "double whammy." Combined with the loss of ad revenue, parking fees, and other forms of income, the financial impact is profound.
The SFMTA is staring down a $200 million quarterly loss. New York's Metropolitan Transportation Authority estimates a weekly revenue loss of $142 million during the city's lockdown. ("The decline in ridership in the pandemic time is something that's desirable, although it's had a dramatic impact on our revenue," says Pat Foye, the MTA's chairman and CEO.) Washington, D.C.'s Metro is losing $2.5 million each weekday.
The third federal relief package will send $25 billion in aid to transit agencies. Those funds will help cover near-term losses, but systems will need more help from Washington if the pandemic continues, Skoutelas says.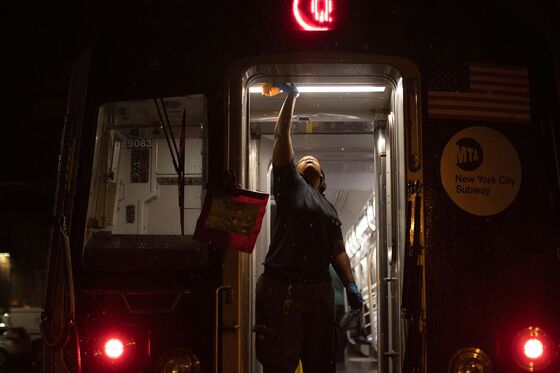 Most systems have slashed operations. Seattle has cut 103 bus routes and is running fewer trains; Miami has canceled express buses and is preparing to outsource overnight service to Uber Technologies Inc. and Lyft Inc. Even with a fraction of their typical ridership, agencies are investing time and money in extra safety measures such as deep cleaning. At the same time, labor shortages present a significant challenge. The health of transit operators is under siege: In New York City, 2,269 MTA workers have tested positive for the coronavirus and 59 have died as of April 14.
The crisis is likely to have long-term effects. When workers head back to the office, some may determine it's less risky to drive, bike, or walk than to pack inside a bus or train. "These riders will be very slow to return—and may never return," says Candace Brakewood, a professor of civil and environmental engineering at the University of Tennessee at Knoxville. "Those who will return are the dependent riders, without a car and without the means to purchase a car." They may find systems gutted by funding cuts, with fewer routes, reduced frequency, and less coverage.
Experts say transit systems would be more resilient to shocks if they could depend on regular infusions of federal funding, rather than revenue sources tied to the ups and downs of the economy. In the U.S., emissions from cars and trucks are the leading source of planet-warming greenhouse gases. Giving up on transit during one crisis would only compound another.