Live Like an Actual King in This Hotel on the Grounds of Versailles
(Bloomberg) -- Our server begins breakfast by pouring a golden-hued bouillon from a gilded, hand-painted pitcher into a delicate crystal cup. He's wearing a long, floral cutaway coat and Burgundy culottes. "Messieurs-dames," he explains, "the king used to begin each day with a glass of vegetable broth before eating anything else. We invite you to do the same."
A second server, in a voluminous skirt and floral bodice, places a generous platter of freshly baked pastries at the center of the table. When the morning feast ends and all the early risers make their way out, staff members stop what they're doing and stand in near-salute to offer guests warm wishes for their afternoon.
So starts the day at Le Grand Contrôle, the first hotel within the gates of the Château de Versailles.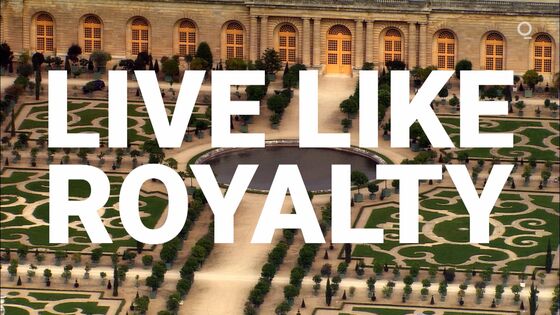 The 14-room hotel is a marvelously detailed re-creation of monarchic life before the revolution. Nearly every painting, desk, mirror, and piece of tableware is a genuine Louis XVI-era antique. If it sounds a little like Be Our Guest, it is. In fact, it's a lot like living your own fairytale palace fantasy.
By being anything but modern, ironically, Grand Contrôle sets a new bar for what contemporary luxury can be: hospitality as theater. Staff can arrange symphonic concerts and dinners in royal apartments inside the château; instead of turndown chocolates, you might find a soft nightshirt at the foot of the bed. And you don't need to share the Carrara marble pool deck with anyone if you don't want to; the staff can arrange a private swim at any hour.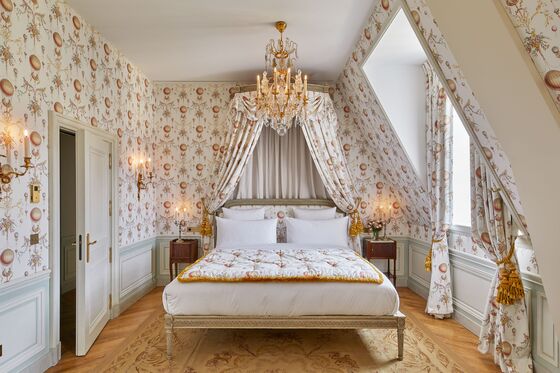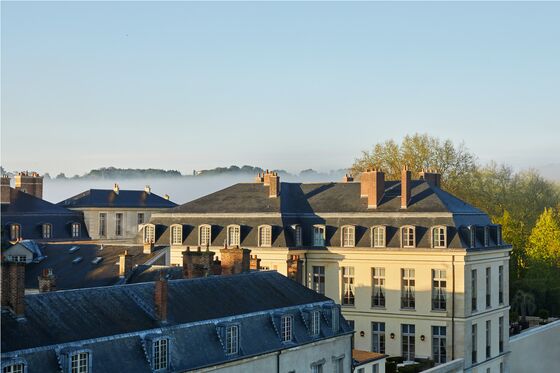 The hotel is so lavish in its amenities and renovations that the room rates—which start at $2,077 a night, including some meals and activities—come off as a relative bargain. Open since June, Grand Contrôle is a halo property for billionaire Stéphane Courbit, the French business mogul and president of the privately owned entertainment-focused holdings company LOV Group.
The Versailles period piece is intended to cast a glow of inspiration on the six other hotels in Courbit's Airelles hotel collection, including the stately Bastide in Gordes, named for the ancient hilltop town in the Luberon where it's perched, and Les Airelles in Courchevel, which feels more like a 19th century castle than a ski resort. Like Grand Contrôle, each Airelles property has historic portraits lining the walls and themed uniforms: In Gordes, staff are kitted out as 18th century Provençaux (think elegant, fitted bodices), and in the Alps, they wear old-world Prussian knickers and velvet vests.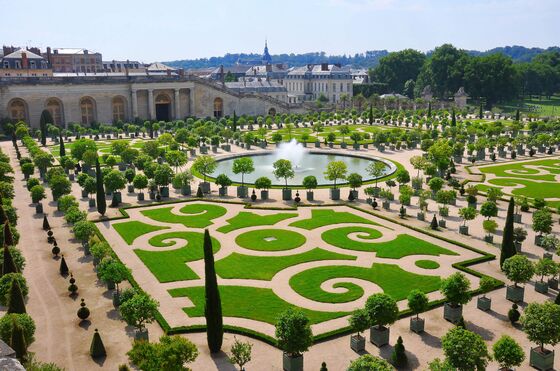 Grand Contrôle exceeds its predecessors in the scope and depth of its historical ambitions, however. The hotel occupies two standalone buildings on the south wing of Versailles—originally erected as a ducal residence in 1681—just opposite the elaborate stairways that connect the palace to the Orangerie. Restoring the exterior facades and interior details alone cost €50 million ($59 million). Courbit's project was selected after the Château de Versailles put out a call for proposals five years ago. (For its exclusive access the hotel pays a steep but undisclosed annual sum.)
Guests begin with a grand arrival that takes them from the show-stopping front view of the château to the more intimate side streets surrounding the estate, where an understated brick entrance and a valet await.
From there, it's an instant time warp to 1788, the year before the French Revolution, when royal excess was at its absolute peak. Everything—from the patterns on the pastel curtains to the way the plush armchairs are arranged around the fireplaces—is historically accurate, thanks to extensive consultation with Versailles scholars.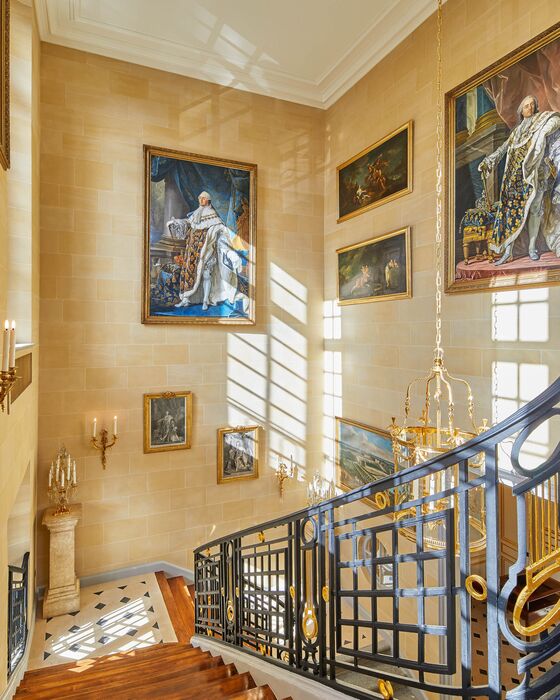 It's unlikely that any other hotel in the world has as large a collection of original 17th and 18th century antiques: Almost 900 collective pieces of furniture, books, paintings, and decor acquired at European auctions were restored for Grand Contrôle over four years.
The bed frames and some restaurant armchairs are the only reproductions in the entire hotel. The purposely patinaed chairs bear fabrics by Pierre Frey and were upholstered by one of Paris's last skilled artisans in period furnishings.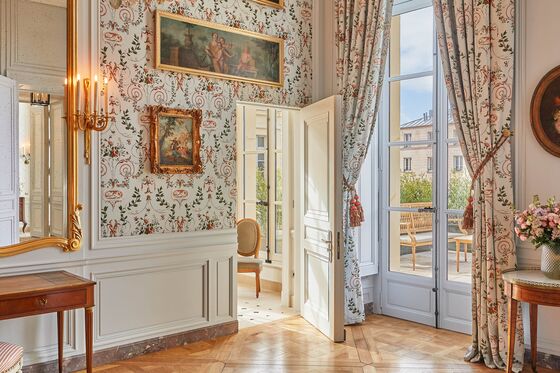 Take the Madame de Fouquet terrace suite—named after the socialite and wife of the American Revolutionary War hero Marquis de Fouquet. It features silver trays for crystal glasses next to a four-poster canopy bed whose cover resembles a crown, more crystal dangling from a spectacular chandelier, and a second bathroom hidden behind an upholstered wall. The fragility of the antique-heavy setup forces guests to straighten their spines and move with grace, embodying the spirit of those courtesans and cultural elites.
Modern comforts are categorically hidden from view. There are no TVs in the rooms unless you request one, and the leather-encased iPad Pros and mobile phones used for room service requests get tucked away in an elegant leather box on the antique desk. Even the lower-level, state-of-the-art Valmont spa has wet areas resembling the traditional Roman baths used by the court of Versailles.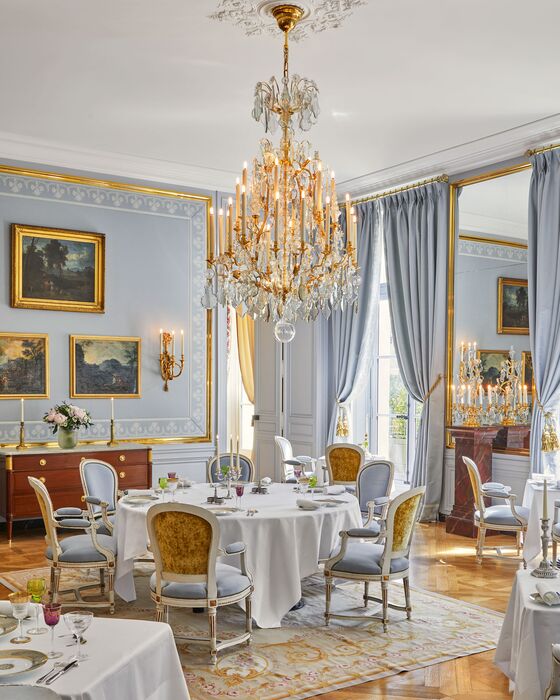 Waking up within the palace grounds means its 2,000 acres are available for exploring on morning garden walks with the château's horticulturists. Guests can also zip through the Grand Canal on an electric boat or take a privately guided, after-hours tour of the Hall of Mirrors or the Queen's apartments, which would normally cost upward of €5,000. (All are included in the room rate.) Period-appropriate costume fittings with photo shoots can also be arranged for a fee.
And then there's the food, which is unsurprisingly everywhere and in abundant supply. Dainty trays of financiers and Ladurée macarons are laid out on silver platters along first-floor corridors, in the common sitting rooms, and in literary-salon-style lounges.
The main restaurant, Ducasse au Château de Versailles, is led by, you guessed it, Alain Ducasse, perhaps the only French chef, other than Jacques Pépin, fit for such an establishment. Something of an antique collector himself, Ducasse sourced all the tableware, including the gold-encrusted Saint-Louis wine glasses and the pure silver-lacquered Christofle cutlery.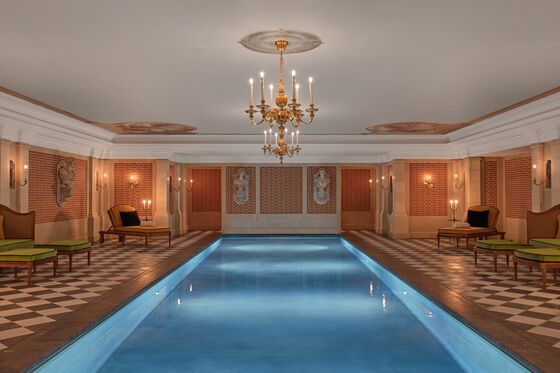 Although the restaurant, which is open to the public, serves three meals a day, its over-the-top elegance is at its best during nightly candlelit dinners (from €280 per person), which take inspiration from about a hundred years earlier, during Louis XIV's reign. Emulsified egg with caviar and poached flounder with Swiss chard, for instance, are dishes that feature his favorite ingredients.
It's a proper royal procession: Guests serve themselves main courses from elaborate, heaping platters. Servers break into short theatrical performances—reciting passages created exclusively for the restaurant—borrowing yet another flamboyant entertainment ritual from old kings and queens.
Afterward guests may enter the Salon d'Audience, where they can sip €190 pours of vintage Armagnac and play English whist, the 18th century trick-taking card game, all under the flickering glow of candlelight.