How a 'Milkman Model' Supplies African Hospitals With Cheaper Oxygen
(Bloomberg Businessweek) -- Like just about everyone, Bernard Olayo watched with dismay as the coronavirus began to sweep across the globe last year. But he also sensed an opportunity. In 2014 he'd founded a company called Hewatele ("abundant air" in Swahili) to supply African hospitals with oxygen, and when the pandemic sent demand soaring he was able to quickly boost production.
His strategy of building small oxygen plants near hospitals differs from that of larger producers, which typically favor big, centralized facilities. Olayo says this "milkman model" has allowed him to undercut his competitors' prices in a market where oxygen costs 10 times what it does in the U.K.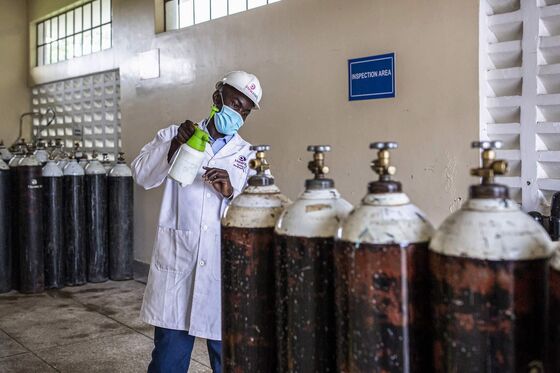 Hewatele has about 10% of the Kenyan market, serving about 250 hospitals. Olayo says he's raised $4 million and is seeking at least $13.5 million to fund expansion; he hopes to build a liquid oxygen plant and start to export the gas to neighboring countries. Here are edited excerpts of our conversation.
 
What motivated you to get into this business?
When I worked as a doctor, I sometimes didn't have enough oxygen for my surgery cases, particularly children with pneumonia. So I founded an organization called the Center for Public Health and Development to test some ideas I had. The first trials failed. We put very small oxygen plants in 14 health facilities across East Africa. After just 20 months, all of them had stopped working, as the hospitals had tried to repair the equipment themselves.
I realized that we needed to do it differently, so we came up with the milkman model, in which we build, own, and operate the plants. With adequate cylinders, a well-maintained plant, and a distribution truck or two, it's possible to supply oxygen to all health facilities within a 100-kilometer radius.
 
What changed when the pandemic hit?
Pre-pandemic we were using 60% to 70% of production capacity, and many nights we didn't need to run the plants. With the pandemic, demand doubled or tripled, so we pushed production around the clock. We doubled the number of plant operators and drivers. We leased additional trucks for distribution. We built oxygen manifolds outside Covid-19 wards so we could bring in cylinders.
Maintenance was a big challenge, because we couldn't get parts due to the global lockdown. But our local artisans came up with solutions, and we had no major breakdowns. We would have liked to get more plants, but no one was selling them. We had three plants, and as lockdowns have eased we've started building three others, so our capacity will more than double.
 
Do you think your milkman strategy can work in other countries, too?
The model can be replicated across sub-Saharan Africa and globally. It works mostly for the developing world, where infrastructure is weak and health financing is not that good. Our goal is to get to 40% of the Kenyan market when we open our liquid plant, expected to come live in 2023.
This will produce 20 tons of oxygen a day, equivalent to at least 2,000 cylinders. But we'll still use the milkman model: Rather than build plants at the hospitals, I'll build tanks and compressors to fill cylinders and distribute them locally. With a liquid plant, Hewatele can lower the price of oxygen by half and still make a profit. We will be able to supply countrywide, and even export to Uganda and Tanzania.
 
What's been the biggest hurdle you've encountered?
Getting people—investors, health-care workers, policymakers—to understand the value of oxygen. I found ways to communicate the importance. Covid-19 amplified it, though I still feel that there is a huge gap.
 
What lessons does your story offer other small-business owners?