Vape King Juul Wants Everyone to Chill Out
Vape King Juul Wants Everyone to Chill Out
(Bloomberg Businessweek) -- Few startups are as hot as Juul Labs Inc., the three-year-old e-cigarette maker with 71 percent of the U.S. market and a $15 billion valuation. But that's not the story the company wants to tell. As its sneaker-clad workforce lined up this spring for a steak-and-quinoa lunch at its new San Francisco headquarters, Chief Administrative Officer Ashley Gould said her team had failed. "We acknowledge kids are using the products," she said. "We're committed to stopping it."
Juul says its signature brushed-aluminum, thumb-drive-shaped vape is intended to help adult smokers switch to a healthier alternative, and there's reason to believe it's making some progress on that front. But it's also become ubiquitous in America's schools, prompting a backlash among critics who say it's hooked a new generation on nicotine. In conjunction with anti-tobacco groups, users have sued the company for allegedly leading them into addiction, a claim the company says is without merit. In June, San Francisco voters banned the sale of flavored tobacco products, which include 75 percent of Juul's liquid pods. Critics paint the company's flavors, which include mango, cucumber, and crème brûlée, as dangerous gateway drugs created from little-studied chemicals. The company says they're the cornerstone of its benevolent mission.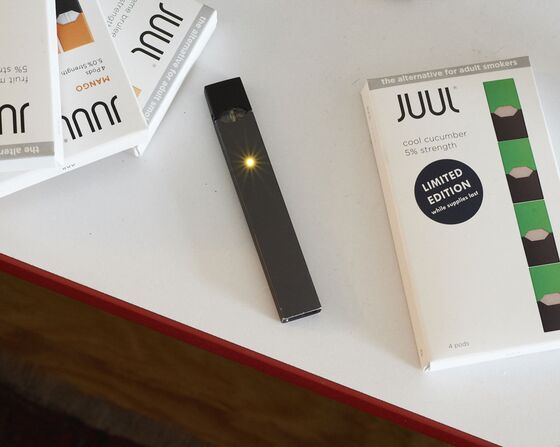 Instead of openly fighting the San Francisco ballot measure or at least four copycat proposals across the country, Juul is trying to aggressively self-regulate. In addition to issuing frequent apologies, it's pledged to spend $30 million to prevent underage use. It's hiring secret shoppers, talking to students and parents about nicotine's risks, and supporting a push to raise the age for tobacco buyers. More quietly, it's decided to keep 55 flavors it's prepared off the market for now, and to redesign its vapes to more regularly monitor who's using them.
Chief Executive Officer Kevin Burns says that in October he'll start rolling out Bluetooth-connected Juuls with software that's meant to help would-be ex-smokers track their nicotine intake as they wean themselves off the drug. The hardware will also make it possible to regularly verify that Juul users are of legal vaping age. The update will launch not in the U.S., but in new markets in Israel and Western Europe. "We're not a lifestyle brand, we're a functional product," says Burns, who previously ran yogurt maker Chobani LLC and has two teenagers at home. "We don't want the product to seem cool."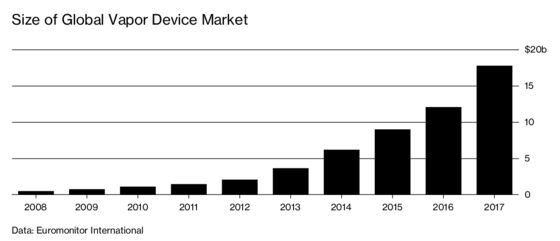 It's tough, however, to conjure the image of a staid anti-addiction tool from flavors such as mimosa, strawberry limoncello, Thai tea, and spicy watermelon, which are among the 55 off-market Juul liquids the company has registered with the U.S. Food and Drug Administration. Co-founders Adam Bowen and James Monsees, Stanford design school grads and former smokers, are personally involved in flavor development, testing pods in their own Juuls, according to a person familiar with the matter. Since 2016, federal policy has blocked most new e-cigarette technology from U.S. release, but unlike the Bluetooth Juuls, the off-market flavors were registered before the deadline. The person familiar with the matter says Juul has hesitated to sell them in part because of the ongoing controversy about underage use, and has also debated renaming them more vaguely as colors like red and green.
Juul declined to comment on the off-market flavors but says the ones it sells are meant to help wean adult smokers off the taste of tobacco. The company and its rivals have until 2022 to file applications with the FDA to demonstrate that their products "are appropriate for the protection of public health," according to the agency. Products released since 2016, which weren't grandfathered in under the federal policy, have to win over the FDA before they hit shelves. The agency says it's received about 400 applications and has so far approved eight.
Even so, Juul is confident enough to patent its forthcoming technology. An application published in April suggests the company is interested in refining its devices to better market to people as they're vaping. The patent includes ideas for Juul features such as multiplayer games controlled by moving the vape or taking a puff, and outlines plans to collect data on everything from users' preferred temperature and particle-size settings to their socioeconomic status. A Juul app could then recommend flavors, offer deals, or connect users to friends or social networks. The company says it doesn't plan to add games and that the patent was written broadly only to protect its intellectual property.
Juul has also considered using Bluetooth technology to set up geofences around schools, meaning the vapes would be programmed to shut down on school grounds, according to a person familiar with the matter. Juul declined to comment.
The company has a reputation as the Apple of vapes, with its gadgetlike design and patented form of nicotine remaking an industry full of bulkier or more cigarette-like models. (Bowen and Monsees created it while already at the more cannabis-focused Pax Labs Inc.) Juul's popularity, however, has reopened the question of whether tar was the only problem with tobacco. E-cigs generally lack—or have much lower levels of—the cancer- and emphysema-causing chemicals that made old-school smokes the world's leading preventable cause of death. In a recent independent survey, just under half of 11,689 U.S. smokers who started Juuling reported quitting cigarettes. But nicotine in any form is bad for a developing brain, rewiring its reward system and priming it for future addictions.
"Juul is the definition of a double-edged sword," says Michael Siegel, a professor of community health sciences at Boston University. "What makes it so effective for adults to quit is also what makes it addictive for youth."
Nontobacco flavors are key to helping smokers switch, says Rodney Jerabek, CEO of flavor house Five Pawns Inc., which developed some of Juul's unreleased varieties. Separating the nicotine rush from the other sensory elements of smoking erodes the cigarette habit, he says. But Jerabek also criticizes the high level of nicotine in Juul's pods. At 5 percent, it's almost double the concentration in some rival e-liquids, and Jerabek says they're no longer partners.
Juul says its doses were modeled on those in cigarettes and that it'll release lower-nicotine pods later this year. In the meantime, do-it-yourself types are finding other ways to tweak the hardware. A YouTube video with step-by-step instructions on manually refilling a Juul pod with cannabis oil has been watched more than 200,000 times.
The company retains other whiffs of its Pax origins. The April patent includes Bluetooth features explicitly related to cannabis use, including software to recommend particular strains and times of day to use them. And the current models contain another feature originally designed for the Pax: Wave a Juul around, and it lights up in a rainbow of LED colors, an Easter egg known colloquially as party mode. It's decidedly nonfunctional.
To contact the editor responsible for this story: Jeff Muskus at jmuskus@bloomberg.net