Italy's $1,000 Bicycle Bailout Pits Recovery Against Inequality
Italy's $1,000 Bicycle Bailout Pits Recovery Against Inequality
(Bloomberg Businessweek) -- It's early evening on Via del Pellegrino, a narrow cobblestone street in the heart of ancient Rome, and Orsola Polimeno is taking delivery of a pair of bright-orange-­detailed folding bicycles. The matching bikes will be a pleasure to ride, she says, but the purchase is even sweeter, because the €1,500 ($1,775) she's spending will net her a government check for €900. The payout comes thanks to a provision in Italy's Covid-19 recovery plan that offers 60% cash back to buyers of greener transport such as bicycles, electric scooters, even Segways and hoverboards.
The rebate goes up to €500 per person, corresponding to the purchase of a bike costing €833. That means to take full advantage you'd have to be the sort of Italian who has that kind of money sitting around. Case in point: Polimeno and her husband selected his-and-hers folding models because they'd fit into their vacation home on the coast of Tuscany. "I'd been planning to buy bikes to get around at the beach," she says. "The subsidy was an opportunity I had to jump at."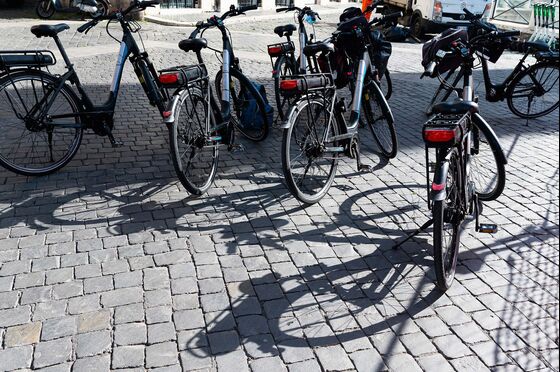 Like many Covid-relief provisions around the globe—trillions of dollars for everything from modest rebates on restaurant meals to tax breaks worth millions to ­megacorporations—the bike bailout benefits lots of folks who aren't the most in need. It even helps widen income gaps that the outbreak has exposed and exacerbated.
Few would argue that nudging people away from cars is bad, and the bike benefit is available to everyone. But the reality is that people of more modest means—frequently dependent on government handouts—lack the cash for an €800 bike, even with a 60% discount. "Programs like the bike bonus or electric car incentives are worth more if you spend a lot, so they tend to encourage wealthier people to buy that Tesla or fancy bike," says Rosamaria Bitetti, an economist at Luiss University in Rome. "If you don't have the money, it's not going to help you much, so these programs tend to increase inequality."
A better way would be to shift the tax breaks away from consumption, which tend to reward the wealthy, and focus on reductions in labor levies, beefed-up unemployment insurance, or investments in infrastructure and research. But ideas such as those, Bitetti says, are usually less visible to voters. "Governments favor the bonuses because they're easy to market," she says. "You're putting money in the economy, but there are more useful ideas that would help the poor more."
The pandemic, of course, has hit various populations differently, depending on your race, your sex, and the size of your bank account. Poor and non-White populations are more likely to contract the virus, they're dying at higher rates because of inequities in living conditions and health care, and their children suffer more when schools close, as wealthier families typically have better internet access and more time to help with homework.
The most precarious workers— migrant laborers or gig-­economy types such as Uber drivers—are frequently the first to lose their already meager wages, and many don't ­qualify for unemployment benefits because they don't hold permanent jobs. In Italy, which shuttered nonessential industries for months, the restaurant and hotel business, staffed largely by people at the bottom of the economic ladder, will contract 26% this year, researcher Prometeia predicts.
And the economic impact is harder on women. They most often bear the brunt of unpaid child-care duties as schools and summer camps close, and they're more likely to have part-time or temporary contracts, which are the first to go in a downturn. Italy's fashion industry, where 56% of the workers are women, is on track to shrink 19%. "Remember how the last recession was a mancession?" says Luigi Pistaferri, professor of economics at Stanford University. "This time it's sectors that have lots of female employees that are in ­trouble—­hospitality, services, public relations."
Governments around the world are seeking to give money to those most in need, and some is undeniably reaching them. Many of Italy's poorest get €500 or more every month via various programs aimed at offsetting the economic toll of the outbreak. The $600-per-week boost to U.S. unemployment checks kept many families afloat before it ran out at the end of July.
In Japan, everyone is eligible for a 100,000-yen ($950) government grant—yes, billionaires too, but the effect of the money clearly will be more dramatic for drivers, waiters, or hotel cleaners. (An earlier plan to offer payouts of 300,000 yen just to the needy was scrapped on concern that assessing ­eligibility would slow the transfers and largely defeat the purpose.) While wealthier people are benefiting from the fire hose of cash, "money has gone to all classes in various forms, we can't say just the middle and upper," says Jeremy Siegel, a professor of finance at the University of Pennsylvania's Wharton School. "Everything is meant to encourage spending."
Yet critics say many well-intentioned programs tend to help the haves and don't do much for the have-nots. Italy is offering tax rebates to offset green-oriented home improvements and will even throw in an extra 10%—so if you spend €60,000 (the maximum), you'll get €66,000 in benefits. Australia is handing out A$25,000 ($18,000) grants for renovations or newly built houses. While the cash is only for homes valued below A$750,000, detractors say it's still a subsidy for people who don't really need it. The money, says Cassandra Goldie, chief executive officer of Australia's Council on Social Service, would be better spent with a more targeted program. "It will largely benefit those on middle and higher incomes undertaking costly renovations," she says. "It's a wasted opportunity to address the backlog of urgent social housing repairs and the shortfall in social housing."
Like Italians, residents of Paris and its suburbs can get a rebate check for half the cost of a bike up to €1,000. And across France, buyers of new electric cars are being offered as much as €7,000 cash back from the state. In Germany, government incentives on electric cars have doubled, to €6,000 for purchases up to €40,000, at an expected cost to the treasury of about €2.2 billion through the end of next year.
In the U.K. the efforts range from the micro (50% off meals on certain days in August, up to £10 [$13] per person) to the macro (exempting home purchases up to £500,000 from a transaction tax, saving buyers as much as £15,000). "No stamp duty if you can afford to buy a home. Cheaper dinner if you can afford to dine out in restaurants," British trade ­unionist Lauren Townsend wrote on Twitter. "But nothing to ease the pangs of anxiety if you've recently lost your job, are facing eviction from your home, or are using food banks every week just to survive. Cool."
Despite the deep economic crisis, those lucky enough to have kept their jobs or hold investments have been able to save—even forced to do so, given closed shops and the difficulties of jetting off to Bali, Barcelona, or Berlin for the weekend. Some of the money not spent on restaurants and vacations has gone into kitchen renovations, flatscreen TVs, or video games to ease the ennui of home schooling and remote working. Sales of game consoles almost tripled in April from the year-earlier period, according to researcher NPD Group.
It's also going toward swimming pools. Pentair Plc, a maker of pool pumps and control systems, says demand has been "very, very strong." In Italy, the number of people intending to install pools has swelled by more than half this summer from last year, as families seek a secure way of keeping cool behind the walls of their properties, according to market researcher ProntoPro.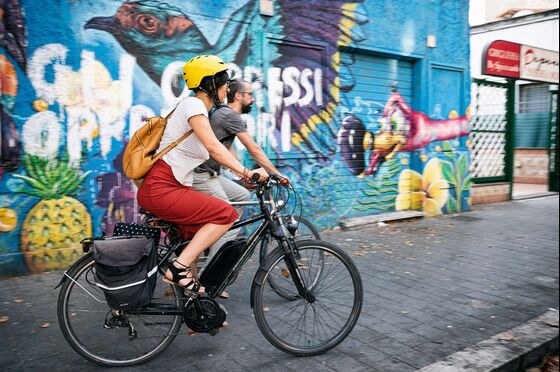 Bicycles represent one of the most poignant symbols of modern Italian culture—from the Alp-climbing-superheroes of the Giro d'Italia, to the craftsmanship of the finest racing frames, to perhaps the nation's most celebrated film, Vittorio De Sica's 1948 The Bicycle Thief. In the black-and-white fable, an impoverished father needs his dilapidated two-wheeler for his job hanging movie posters around Rome. When it's ­stolen, he can no longer feed his family. In his desperation for a new bike, he steals one from another member of the ­underclass—and is arrested while his young son looks on in shame. In essence, De Sica transformed bikes into a metaphor for the economic distress of the postwar era.
In the Rome of 2020, bikes present a more complex picture of class and opportunity. They are now, simultaneously, the object of bourgeois desire and tools of the trade for legions of immigrant deliverymen who fed the locals via food apps during lockdown. While there are no statistics showing how many of the latter are taking advantage of the "bonus bici," it felt like Christmas in July in wealthy sections of Rome. Bike sales in the city tripled in the weeks after the program was announced, and at a shop near the Galleria Borghese museum, police had to intervene to keep order as customers jostled over limited supplies, Corriere della Sera reported.
In all, Italy has set aside about €210 million for the "mobility bonus." That's a small slice of the government's ­Covid-19 measures, which include €100 billion in state-guaranteed loans for small companies and some €400 billion for larger ones. (The moneyed middle classes are arguably getting crumbs via the bike bonus when compared with the wealthy people who control the biggest companies. Government-backed loans have included a €6.3 billion credit facility for the Agnelli family's Fiat Chrysler Automobiles NV.)
At Collalti, a bike shop near Rome's Campo de' Fiori market run by the same family since 1899, the spending spree has been going full tilt. A wooden pallet holding boxes with eight Casadei bikes sits at the door. A crate with a €1,000 Serious Athabasca Hybrid is propped against a wall across the street. There's barely room in front of the store for the empty cartons from a pair of Brompton folding bikes (about €1,500 apiece) just in from the U.K. Inside, Collalti family members complete purchases by taking personal details from customers, which staffers send off to the Italian tax service. "It was crazy, a tsunami," says Danilo Collalti, the current generation's proprietor. "Everyone wanted one, even customers who'd never ridden a bike."
It is at Collalti that Polimeno found her Tern foldable bikes. She and her husband have since packed them and the dog into their car and relocated to the Tuscan sun for a work-from-home summer. These days, Polimeno's biggest concern is that the government might not make good on the deal. "I'm a bit nervous that Italy will run out of money," she says, "before they send me the check." —With Carolynn Look, William Horobin, Paul Jackson, and Nate Lanxon