Israeli Startup Sees Electricity Paving Road to the Future
Israeli Startup Sees Electricity Paving Road to the Future
(Bloomberg Businessweek) -- Oren Ezer insists that the road to the electric-vehicle future will be paved with ... well ... asphalt, just like today's highways. But beneath the surface, Ezer says, will be conductive coils that can wirelessly charge battery-powered cars, buses, and trucks, offering a fix for the biggest hurdle in the emerging EV industry: range anxiety. ElectReon Wireless Ltd., the company Ezer co-founded in 2013, has lined 6 kilometers of roads in Israel and Sweden to prove the viability of the idea, and it's working on similar projects in Germany and Italy.
ElectReon uses 1.2-meter-long coils buried fist deep in the road to deliver power to vehicles. To test the technology, ElectReon equipped a bus with three receivers under the chassis to pick up the charge on the go, using induction technology similar to plug-free phone-charging mats. The layer of asphalt zeros out the chance of passersby getting electrocuted, Ezer says. "There are no pyrotechnics," he says while riding the bus on the 2-km stretch of a road in northern Tel Aviv where the technology is installed in 100-meter-long sections spaced about 200 meters apart. "You get on the road. You get your charge. You keep moving."
The potential for such systems is huge as electric vehicles accounted for less than 5% of new car sales globally last year—and 2% in the U.S.—in large part because would-be buyers fret about the hassles of refueling. President Joe Biden wants to build 500,000 charging stations across the U.S. by 2030 at a cost of $15 billion. Germany, which is testing electric highways around Frankfurt, Hamburg, and Stuttgart, expects as many as 10 million electric vehicles on its roads by the end of the decade, about 20 times the current figure. Sweden, aiming for zero net emissions by 2045, plans to build 2,400 kilometers (1,491 miles) of electric roads by 2037.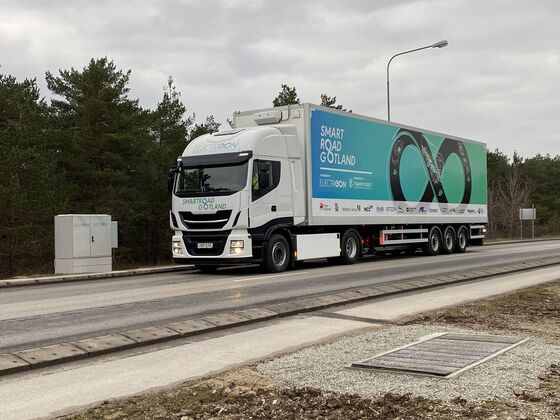 ElectReon is facing some formidable rivals. Germany's Siemens AG has developed catenaries—the spring-loaded systems atop many trains—that attach to wires strung above roads to give trucks a boost. French transport giant Alstom SA is among multiple companies that are working on street-level rails that deliver power through a sliding contact below the vehicle, which proponents say is safe because the systems are activated in short bursts or only when cars drive over them. But when Sweden wanted to test the idea on a 2.5-mile shuttle bus route to the airport on Gotland Island two years ago, it chose ElectReon, largely because any unsightly equipment is hidden beneath the pavement.
The Swedish Transport Administration says ElectReon's system in Gotland costs about €1 million ($1.2 million) per kilometer, slightly more than half the price of a catenary network. But ElectReon's coils deliver about a quarter of the electricity—energy travels more efficiently when the power source is in direct contact with the battery—so the company would require more infrastructure to achieve the same level of charging. The ElectReon system "is easy to deploy and has almost no visible parts and hopefully also low maintenance costs," says Jan Pettersson, director of strategic development at the Swedish Transport Administration. But reaching Sweden's climate goals will require "a whole palette of solutions," including fast-charging stations or heavy trucks powered by hydrogen fuel cells, which promise much longer ranges, he says.
ElectReon has increased the amount of energy it can transfer, to 25 kilowatt hours per receiver—almost 10 times what it was a few years ago—and it aims to hit 45 kWh by next year. At the current rate, the average city bus could run a full day on two hours of charging, says Ezer. It's testing the technology with Renault on the compact electric Zoe and on buses and trucks with Volkswagen, Jeep, and China's Higer. ElectReon is nearing deals with two other car manufacturers that it aims to conclude by December, and it expects to begin highway projects in Germany and Italy in the coming months. "There's an almost limitless market," Ezer says.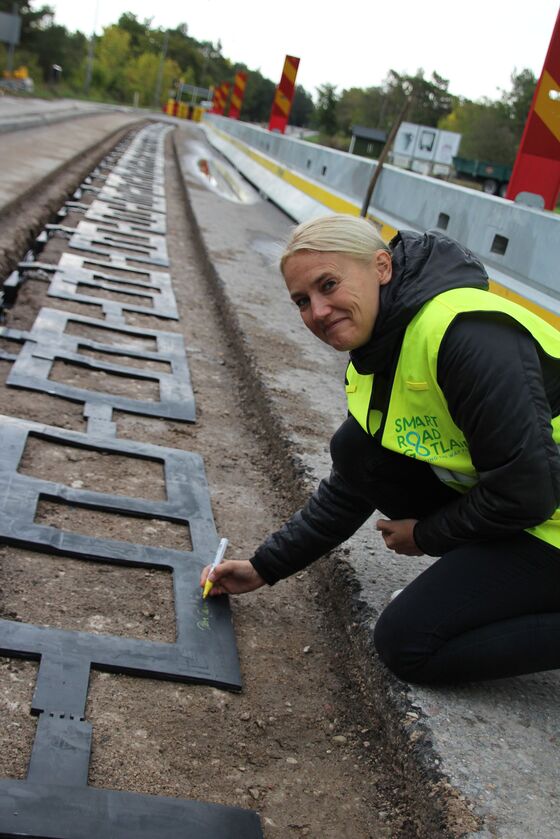 Skeptics say the technology risks being rendered obsolete by improvements in battery performance. Volvo Group AG, which recently teamed up with Daimler Truck AG on hydrogen-fuel-cell trucks after passing on an electric roads partnership with Alstom, says such systems would cost taxpayers 10 times as much as fixed charging stations. The "costs, benefits and uncertainties clearly speak against a large-scale electric road investment," says Claes Eliasson, a senior vice president at Volvo.
Ezer maintains that the viability of his system isn't threatened by better batteries. ElectReon's on-the-go charging would allow vehicles to have much smaller power reservoirs, which means an electric bus using the technology could cost significantly less than one with a full-size battery. Similar math applies to private cars, according to Martin Gustavsson, project coordinator at Swedish Electric Transport Laboratory. "It's become more and more apparent that with electric roads," Gustavsson says, "cars could drive very long distances without large, heavy, and expensive batteries."