Young Jewish Americans Question Boomer Consensus on Israel
Young Jewish Americans Question Boomer Consensus on Israel
(Bloomberg Businessweek) -- Childhood friends Elise Goldin and Emma Furman grew up in Evanston, Ill., in homes where supporting Israel was seen as a bedrock of American Jewish life. While both say they cherish the Jewish values ingrained in them by Passover Seders and temple services, now, in their early 30s, they're sharply critical of Israeli policies. "When I look at Israel, I see a different set of laws for Jews and non-Jews, different policing, different court systems," says Goldin, who works as a community organizer in Brooklyn, N.Y. "I find that extremely oppressive."
The two women are part of a shift among Jewish liberals—71% of U.S. Jews identify as Democrats—and Democratic voters more broadly. Baby boomers have tended to view Israel as an embattled country struggling to survive in a hostile region. And while that's still the prevailing view among centrist Democrats and Republicans, a growing number of progressive younger Democrats see Israel as a military power mistreating a dispossessed population.
A Pew Research Center survey of American Jews conducted in 2019 and 2020 and released in May reflects the generational divide: About 37% of Jews under 30 said the U.S. is too supportive of Israel, compared with only 16% of Jews 65 and older. Likewise, while two-thirds of Jews age 65 and older said they were "somewhat" or "very" attached to Israel, just under half of those age 18 to 29 did.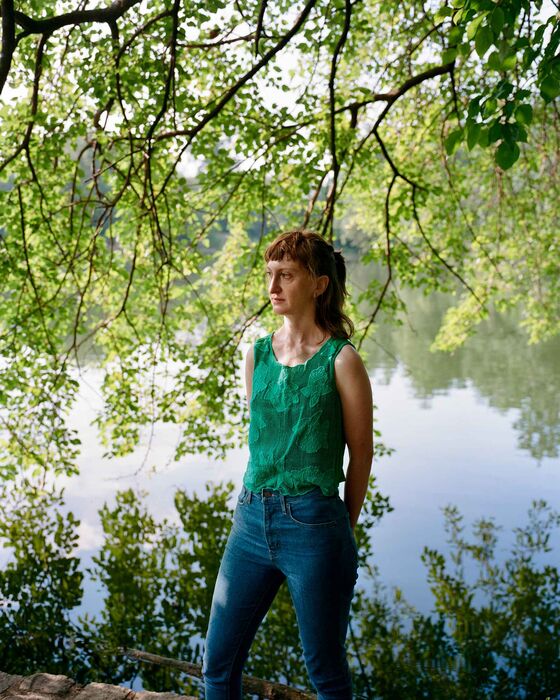 "For my generation, Israel was the David," says 58-year-old Jeremy Ben-Ami, the president of J Street, a liberal lobbying group that describes itself as "pro-Israel and pro-peace." To some young people today, says Ben-Ami, Israel looks more like the Goliath. Part of the shift has to do with what's happening in the U.S., especially the Black Lives Matter movement. "The left wing is getting more engaged in a whole set of issues and seeing it through a lens of racial justice, and they apply that lens to what's going on in Palestine," Ben-Ami says.
When fighting broke out last month between Israel and Hamas militants in Gaza, President Joe Biden followed the traditional U.S. playbook by declining to criticize Israel and affirming its right to defend itself. That didn't satisfy some lawmakers in his own party. "If the Biden admin can't stand up to an ally, who can it stand up to?" Representative Alexandria Ocasio-Cortez of New York tweeted on May 15. The next day, Senator Jon Ossoff of Georgia—who's 34 and Jewish—led a group of 28 Democrat senators in calling for an immediate cease-fire.
Still, Biden's stance toward the U.S.'s longtime ally is broadly popular. About 58% of voters, including 76% of Democrats, agree with how he's handled U.S.-Israeli relations, according to a May Harvard-Harris poll. The same poll asked voters whether their views were closer to Biden's (that Israel "has a right to defend itself against rocket attacks") or Ocasio-Cortez and Vermont Senator Bernie Sanders's (that Israel is an "apartheid state"). Three-quarters of Democrats said their opinion was closer to Biden's.
Chris Murphy of Connecticut was among the senators who called for a cease-fire. In an interview, he challenged the idea that Democrats are moving left on the issue. "The Democratic Party's position on Israel, which is better for Israel, hasn't changed," Murphy says. "What has changed is the Republican position. Republicans have shifted on Israel. They no longer support two states." Palestinian Authority President Mahmoud Abbas rejected former President Donald Trump's 2020 peace proposal, saying that it offered his people a "Swiss cheese" state because the plan would have allowed Israel to retain every Jewish settlement in the West Bank, thereby shattering Palestinian territorial contiguity.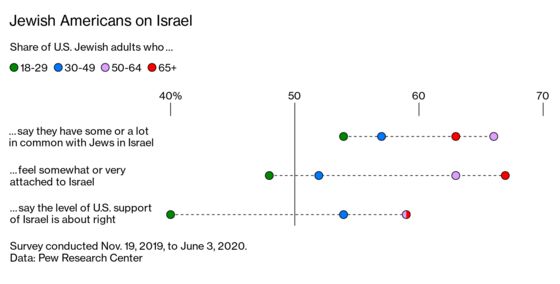 Jewish Americans have become politically polarized, the Pew survey found. Despite the group's strong Democratic leanings overall, Orthodox Jews gave Trump high marks for his handling of policy toward Israel, and 75% of Orthodox respondents said they were Republicans or leaned Republican, compared with 57% in 2013.
Shachar Binyamin, a 29-year-old Jewish Republican in New York City, says it's a mistake for American liberals to see the Israel-Palestinian conflict through the prism of domestic issues like Black Lives Matter. "They don't appreciate that the universal values that have been established in America don't apply yet in the Middle East, where gay people are persecuted and democratic movements are crushed," he says.
But for Goldin, the debate over Israel is interwoven with her broader views on the sort of world she wants to fight for. It's about tikkun olam, Goldin says, a Hebrew concept that liberal Jews loosely translate into "repairing the world."
Her friend Furman, a writer in Athens, Ga., says she started becoming more critical of Israel in college. Her views solidified after a trip to the West Bank, where she witnessed the checkpoints that Palestinians must negotiate to move around. "The word 'apartheid' used to seem radical to me, but now it feels like an accurate description," she says. Such views have led to painful talks with her parents. "We've had some conversations, but they always end up in a fight, so we mostly don't talk about it," she says.