Jack Dorsey's Stand Against Trump Marks a Long-Debated Red Line
(Bloomberg Businessweek) -- Jack Dorsey eats around 6:30 p.m. each night, a meal typically consisting of meat or fish, greens, berries, chocolate, and a multivitamin, with red wine. For breakfast, he drinks 28 ounces of water. For lunch, he has more water. He's been known to go entire weekends on water alone.
When it comes to human contact, Dorsey's tastes also tend to the ascetic: He attends 10-day silent retreats where even reading and eye contact are forbidden. Before the pandemic forced everyone to stay home, he would often complete the five-mile commute from his house to the San Francisco headquarters of Twitter Inc. on foot, even in the rain, and usually wearing sandals.
"I learn the most when I make myself—I wouldn't say suffer, but when I make myself feel uncomfortable," Dorsey said on a podcast earlier this year.
If that's true, Dorsey must be loving life right now. Twitter, where he serves as chief executive officer (a part-time job, since he's also CEO of the payments company Square Inc.), has become a favorite target of President Trump. The president has raged against the company since May 26, when Twitter attempted to fact-check two of his tweets about mail-in voting, and, a few days later, suppressed another that seemed to incite violence. "When the looting starts, the shooting starts," Trump wrote, referring to the fatal shooting of a suspected looter by a Minneapolis pawnshop owner during protests, among other violent incidents around the country. Twitter left the implied threat up, but forced readers to click on a message that said the post was a violation of its rules that prohibit "glorifying violence" before they could see it.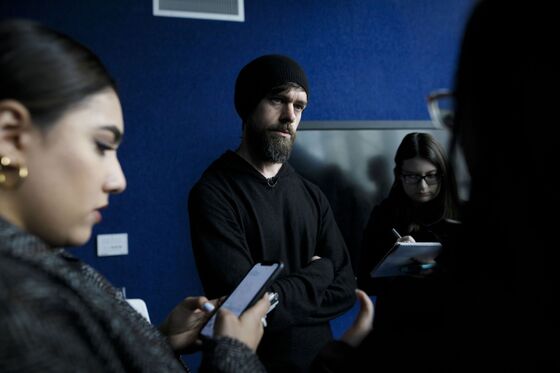 Whatever your opinion of Trump's rhetorical body of work, these latest tweets aren't hugely different from his usual stream of threats, boasts, conspiracy theories, and general vitriol. Trump, who has 82 million followers, used Twitter to call a former female employee a "dog" in 2018. In May, he baselessly intimated that Joe Scarborough, the MSNBC host, had murdered a congressional staffer, Lori Klausutis, who died in 2001. Klausutis died because she had an undiagnosed heart condition that caused her to pass out and hit her head, according to the medical examiner. Scarborough was nearly 1,000 miles away when the accident happened. "The President of the United States has taken something that does not belong to him—the memory of my dead wife—and perverted it for perceived political gain," Timothy Klausutis, her widower, wrote in a letter to Dorsey. Twitter left Trump's statements unchallenged.
In this context, adding a fact-check link at the bottom of a tweet about mail-in voting might seem mild, but Trump took it as a provocation. The company was censoring conservatives, he claimed, and he was to use the power of the presidency to stop it. "Twitter is completely stifling FREE SPEECH," Trump tweeted. He promised to "regulate" social media "or close them down." He also singled out Twitter's head of site integrity, Yoel Roth, calling him a "hater." Trump's senior adviser, Kellyanne Conway, followed up in an interview on Fox & Friends by spelling out Roth's Twitter handle on air, apparently urging Trump supporters to harass him. "Somebody in San Francisco, go wake him up and tell him he's about to get more followers," she said.
The next day, Trump signed an executive order aimed at "preventing online censorship." If it survives legal challenges, the order could cause Twitter, Facebook, YouTube, and other social media sites to lose some protection from lawsuits they've enjoyed under Section 230 of the Communications Decency Act. Some in the tech industry have warned that this would force the big social media companies to employ armies of editors and might even push smaller ones out of business.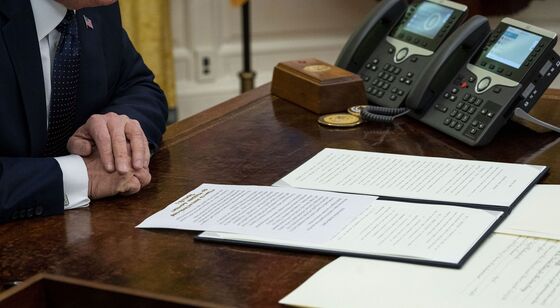 Dorsey's defense was measured but firm. "Our intention is to connect the dots of conflicting statements and show the information in dispute so people can judge for themselves," he wrote on Twitter. He asked followers to leave Roth alone. "There is someone ultimately accountable for our actions as a company," Dorsey wrote. "And that's me."
In the 14 years since he co-founded the company, Twitter has been more extreme on free speech than its much larger rival Facebook Inc., which has also been accused of enabling racism, violence, and all manner of fake news. Twitter is "the free speech wing of the free speech party," as its former CEO Dick Costolo once put it. In taking a stand—even a mild one—Dorsey, who declined to comment for this story, has picked a fight with the service's single most important user.
This is, as Andrew Yang, the former presidential hopeful who's friendly with Dorsey, points out, not the obvious move for an embattled CEO who was recently fighting off a challenge from powerful activist investor (and prominent conservative political donor) Paul Singer. Republicans, to borrow the old aphorism attributed to Michael Jordan, tweet too. "The last thing you want to do is antagonize the president of the United States," Yang says. "But, you know, Jack is not a conventional CEO."
Not long after Trump announced his candidacy in 2015, Twitter welcomed him to its New York City office for a tour and to help put on a video Q&A with his followers. Adam Sharp, a midlevel executive who managed the company's relationships with news organizations and political campaigns, helped show him around.
"What was most striking about that visit was the extent to which he was not thinking like a candidate," Sharp recalls. Hillary Clinton and John McCain, among other politicians, had also toured Twitter's offices over the years. Unlike those other visitors, who asked questions about Twitter's operations, the New York real estate mogul and reality-TV star pointed out Twitter's fire doors, which he thought were inadequate. He fixated on the concrete, too. Who had supplied it, he asked?
This punchy unpredictability was central to Trump's charm, of course, and it was also why he was amazing at Twitter. At the time, Twitter gave political candidates a sort of digital guidebook designed to help them use the service (and hopefully buy some ads). But Trump, who first started tweeting to promote The Apprentice, was already employing many of these best practices. He was routinely responding to and retweeting his supporters, and, whereas most candidates were relying on social media managers and committees of PR professionals to calibrate their messages, he wrote his own tweets, complete with malapropisms, misspellings, and Unpredictable USAGE of capital Letters.
Trump also intuited that the service was not just a way to directly reach an audience; it was, first and foremost, a way to reach producers and reporters. "He uses Twitter as an artery to get to cable news," says Nu Wexler, a former member of Twitter's policy communications team who has also worked at Google and Facebook. "He's discovered that he can pull his phone out and tweet something and see it on Fox & Friends within minutes."
Although Twitter was more freewheeling than Facebook—the bigger social network forces people to use their real names, while Twitter doesn't—it did have a few rules, even if they weren't always uniformly enforced. One of these was that users were not allowed to promote violence. But in September 2017, Trump wrote that North Korea "won't be around much longer," which some perceived as a threat to use nuclear weapons on the rogue regime. Then, in November of that year, Trump called Massachusetts Senator Elizabeth Warren "Pocahontas" in a tweet, which seemed to break another rule: no racism.
In both cases—and in fact, in every case of perceived harassment or misinformation up to now involving Trump—Dorsey declined to act, even as pressure built from people inside and outside the company who said Trump's speech was incendiary. In early 2018, he again taunted North Korea's Kim Jong Un. "Will someone from his depleted and food starved regime please inform him that I too have a Nuclear Button," Trump tweeted, "but it is a much bigger & more powerful one than his, and my Button works!" To justify its inaction, Twitter sometimes cited its "newsworthiness" policy, which allowed it to leave up offending tweets from well-known politicians because they were too important to take down.
Another long-standing difference with Facebook was that Twitter had no rule against lying, or spreading the lies of others, so long as it wasn't a direct threat to user safety. But in March, Twitter began fact-checking and labeling tweets that included so-called deepfakes, or digitally altered videos. In early May, the company expanded that policy to include Covid-related material. The day the company labeled Trump's posts on mail-in ballots, it also announced it would begin fact-checking tweets about voting.
It was under this rule that Twitter added a link offering users to "Get the facts" about mail-in ballots underneath Trump's May 26 warning about a "rigged election." If you clicked the link, you saw a message that said, "Trump falsely claimed that mail-in ballots would lead to 'a Rigged Election.' However, fact-checkers say there is no evidence that mail-in ballots are linked to voter fraud."
Trump took this as a challenge and wrote that Twitter was "interfering in the 2020 election." The provocation deepened before the nationwide protests that followed a Minneapolis police officer's alleged murder of George Floyd. That's when Trump tweeted, "when the looting starts, the shooting starts," a phrase generally attributed to a 1960s Miami police chief who'd boasted, "we don't mind being accused of police brutality." It was also used by the pro-segregation presidential candidate George Wallace, according to NPR.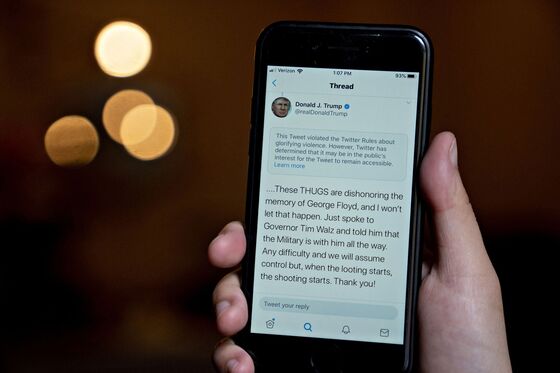 Twitter, like many companies, relies partly on a user reporting system, where regular people report content that may violate the law or company policies. Trump's tweet was flagged almost immediately, and members of Twitter's Trust and Safety team gathered on Slack to discuss what to do. Senior lawyers and policy executives were alerted, according to a person familiar with the process, and they decided that Trump had glorified violence. The group understood the significance of the moment: They'd known for years that Trump might eventually cross the line. They recommended to Dorsey that the company add a label to the tweet and cut its reach. Would the CEO approve of partially censoring the president of the U.S.? Dorsey said yes.
"I thought it was long overdue," says DeRay Mckesson of Twitter's action against Trump. Mckesson, the civil rights activist and a de facto leader of the Black Lives Matter movement, is a friend of Dorsey's. They met in 2014 following Ferguson police protests in Dorsey's home state of Missouri. "I had given up," Mckesson says. "I didn't think it was ever going to happen. So when it happened I was like, 'OK! Well, never say never.' "
Donald Trump is both the best and the worst thing that's happened to social media companies. Twitter and Facebook are essential parts of the national discourse. There's an entire genre of news articles that consist, more or less, of a date, a time, and the text from Trump's latest digital outrage. Twitter's user growth, once a major problem for the company, has increased steadily over the past few years. Twitter had 166 million daily users at the end of March, 32 million more than a year prior. But at the same time that Trump has done wonders for Twitter's popularity, his posts regularly test the rules set by the company, as well as the normal bounds of civil conversation. The effect on employees has been frustration. "There's no precedent for private-sector companies to, in effect, serve as oversight to the president of the United States," says a senior communications adviser to a major tech company. "It's trial and error."
Facebook, with nearly 14 times as many users, a market value that's 23 times bigger than Twitter's, and a looming possibility of a federal antitrust inquiry, has generally sought accommodation rather than confrontation with the Trump administration. After Trump's campaign ran ads on Facebook that included lies about Democratic rival Joe Biden last October, the company said that while it fact-checks ads generally, it won't do so for political ads from candidates. Shortly after, Trump had dinner with Mark Zuckerberg at the White House.
Facebook's deference to Trump may help explain why Dorsey, who banned political advertising from candidates or their campaigns after the Facebook controversy, has been willing to fight the president. A former Twitter employee who also worked at Facebook says that staff at Twitter feel "that they're the indie rock punk band, and Facebook is the pop radio sellout." Of course, as Sharp, Trump's 2015 tour guide, points out, it's easy to play the cool kid when you have nothing to lose. "There is pride in being the scrappy individualist," he says. "But it's a lot easier to do that when that's sort of where the market has put you."
In early 2019, Dorsey mocked Zuckerberg as a poseur, telling Rolling Stone about a visit to Zuckerberg's house during the year in which the Facebook founder and CEO had vowed only to eat meat that he killed himself. Zuckerberg prepared goat, which he'd killed using a "stun gun," and then a knife, but Dorsey recalled that he'd served it extremely rare. "We go in the dining room. He puts the goat down. It was cold. That was memorable," Dorsey told the magazine. "I don't know if it went back in the oven. I just ate my salad." Facebook declined to comment.
A few months later, Zuckerberg took a swipe at Twitter when he said that Facebook's budget for safety and security "is greater than Twitter's whole revenue this year." And after Dorsey came under fire for fact-checking the president, Zuckerberg highlighted the contrast during a Fox News appearance, saying Facebook had a "different policy." "I just believe strongly that Facebook shouldn't be the arbiter of truth of everything that people say online," he told Fox's Dana Perino.
Trump hasn't been Dorsey's only headache. Earlier this year, Elliott Management Corp., the firm founded by Singer, took a sizable stake in Twitter with the hope of pushing Dorsey out of his job in favor of a more efficient leader. Given Singer's political track record—he reportedly donated $1 million to Trump's inaugural committee—some suspected Elliott's motivations might be political.
Twitter worked out a deal with Singer, giving his firm a board seat and committing to a performance plan, though the firm has said its board member won't have any control over Twitter's content policies. Some investors and former employees still say the company could be better run by a more conventional CEO, with only one job. On Twitter's first-quarter earnings call, its messaging certainly felt more conventional; it said that improving its ad products was now "top priority," after years of saying the service's "health" was its main focus.
Critics point out that Dorsey's decision to fact-check Trump has been similarly late in coming. If the company is worried about misinformation, why did it spend years doing nothing? On the other hand, there may be a method to Dorsey's madness. With five months to go before the U.S. election, and at a time of maximum scrutiny on Trump, the company has never been more relevant. It says that while it won't be able to fact-check everything on its service, it plans to continue scrutinizing misinformation in certain categories for accounts with a large "reach and scale," which includes Trump.
On June 4 it removed a video tribute to George Floyd from one of Trump's campaign accounts, narrated by Trump, that also included complaints about "Antifa and other radical left-wing groups." Twitter says the removal was over a copyright claim, though the video remains on YouTube. The Trump campaign immediately went on the attack, accusing Dorsey of "censoring this uplifting and unifying message."
The attacks will continue, which by the twisted logic of social media and as Trump no doubt fully understands, is probably a good thing for Twitter, ensuring a lot of attention and continuous shoutouts on Fox News. Trump probably can't "close them down," as he threatened on May 27, but he doesn't even seem to want to. Since delivering that warning, as of June 9, he'd sent 726 more tweets. —With Scott Deveau