India Has Already Hit Record Number of $1 Billion Startups This Year
The country's latest generation of $1 billion apps have focused on local issues in education, logistics, and lodging.
(Bloomberg Businessweek) -- You get a clear sense of Policybazaar's target audience the first time you watch Yama, the Hindu god of death, drag a bedridden man to hell for failing to buy insurance. In a series of melodramatic TV spots, the fearsome deity, played by movie star Akshay Kumar, isn't shy to quote rates, either. After the hospitalized accident victim he's tormenting laments that his sister's wedding and his daughter's schooling had to come first, Yama scoffs in Hindi, "A 10 million rupee insurance policy comes at just 680 rupees a month!" (That's a wager of about $9 a month for a possible payout of roughly $130,000.)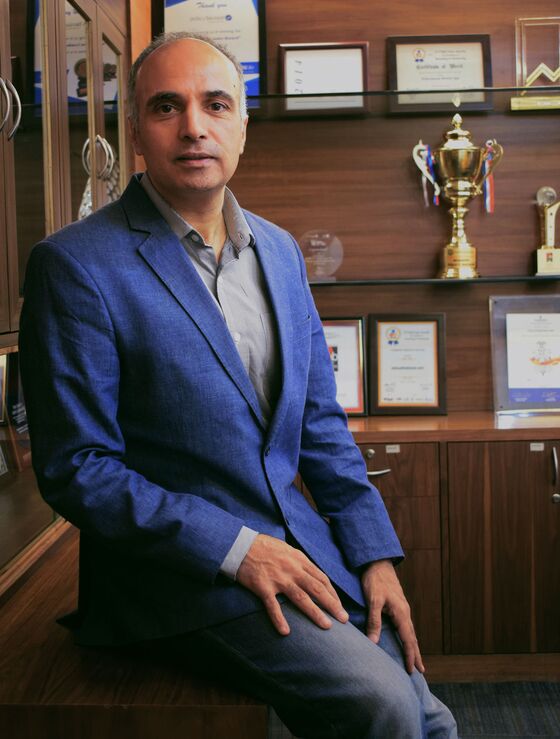 The startup behind the commercials has tailored its app almost as well for the intended audience as its Bollywood-inspired ad campaign. Policybazaar facilitates comparison shopping for insurance, a novelty in a country where only 3.7 percent of the 1.3 billion citizens have coverage. The 10-year-old company takes a 20 percent cut of sales on its site and has helped generate unprecedented demand for insurance: The overall industry collected $72 billion in gross annual premiums this year, according to the Associated Chambers of Commerce and Industry, compared with $49 billion in 2012. "We brought transparency," says Policybazaar Chief Executive Officer Yashish Dahiya. "We have no equivalents in the U.S. or China." His company became a unicorn—a startup valued at $1 billion or more—over the summer, when SoftBank Group Corp.'s $100 billion Vision Fund led a $200 million funding round.
India's first generation of internet unicorns adapted business models from abroad. Ride-hailing company Ola looks like Uber, for example; online retailers Snapdeal and recent Walmart acquisition Flipkart, like Amazon.com; digital-wallet leader Paytm, like China's Alipay. Like Dahiya's company, the new cohort is aimed more squarely at the hundreds of millions of potential users who don't live in India's major cities and may not speak much English. Four of the five companies that researcher CB Insights says have reached $1 billion valuations in the past year target some of India's fundamental needs in the education, logistics, and lodging industries, says Sanchit Vir Gogia, who heads analysis company Greyhound Research.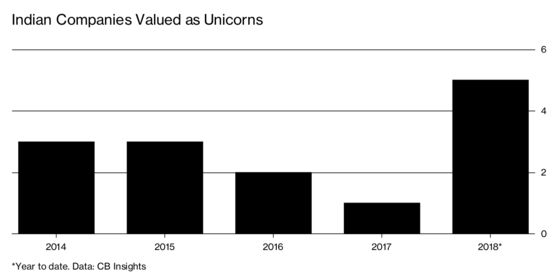 "A young population, increased spending power, and rapidly growing digital infrastructure are helping India-relevant models to scale quickly," says Byju Raveendran, CEO of online education company Byju's.
Some public schools in India don't have enough money to hire teachers or make sure the ones they hired keep showing up, and the broader education system tends to take rote learning to an extreme. By that standard, Byju's videos, which explain fractions or the laws of motion at a conceptual level, are a serious step up, drawing 1.7 million subscribers who pay about $135 a year for access to its three-year-old app. Annual revenue has almost tripled this year, to $190 million, with the app adding about 130,000 students a month. By contrast, "think of the effort and the capital involved in building thousands of schools and training teachers," says Raveendran, whose company crossed the $1 billion mark in March.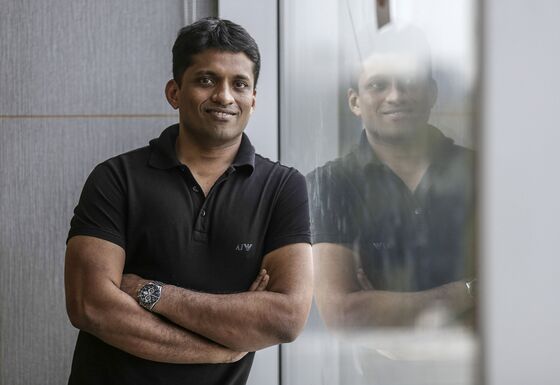 India's supply chain and logistics are rudimentary, and middlemen who proliferate between manufacturers and retailers profit enormously from the broken system. Udaan, a two-year-old marketplace-app maker valued at $1 billion last month, connects more than 150,000 buyers and sellers of electronics, clothing, and staples, using a chat feature that allows real-time conversation in multiple Indian languages. Founders and former Flipkart Internet Pvt. executives Sujeet Kumar, Amod Malviya, and Vaibhav Gupta have said they're looking to rapidly add product categories.
Travel startup Oyo Hotels, valued at $5 billion in a $1 billion round of funding from SoftBank's Vision Fund and others at the end of September, is pushing hotel owners to upgrade dilapidated lodges in cities across the country, then stamping them with its brand and listing them on its website. In this way, Oyo is gradually creating a lodging network travelers can trust for basic amenities such as clean sheets and running water. Five-year-old Oyo lists about 125,000 rooms, about 5 percent of India's total hotel inventory, and is adding about 12,000 a month. Ritesh Agarwal, its 24-year-old founder, says one of his key advantages has been that his home country is full of "optimistic entrepreneurs looking to make India more efficient."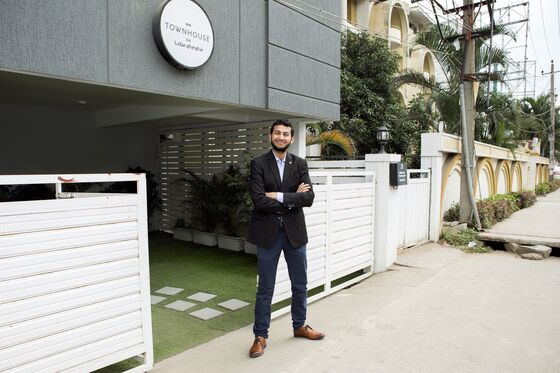 These new Indian unicorns are being run more smoothly than their predecessors, says Neha Singh, co-founder of startup tracker Tracxn Technologies Pvt. "Their fast-paced growth is making it difficult for U.S. or Chinese companies to enter and compete," she says. The proliferation of smartphones and cheap data plans throughout India has also helped the companies reach a scale the SoftBanks of the world will notice faster. There are more than 450 million smartphone users in India today, vs. 86 million five years ago.
The country's latest success stories have reason to worry about what comes next. Oyo's push into China, the U.K., and the United Arab Emirates marks the group's most serious expansion effort so far and has yet to bear much fruit. As with China's megastartups, it's unclear whether models tailored for India will carry easily into the global marketplace. And in most cases, they aren't yet profitable, says Tracxn's Singh. "People are investing a lot on developing the market, even though unit economics and profitability don't look so good," she says.
Enthused global investors are even pouring money into traditionally bad bets such as food delivery apps. In the past few months, Swiggy—the last of the new unicorns—and rival Zomato have collected about $500 million in venture funding, and both are already seeking more. For now, the fear of throwing money away remains far behind a different worry, says angel investor Ravi Gururaj: "That is, if you don't bet on India now, you'll lose."
Policybazaar's Dahiya says he's not taking his half of India's $1 billion online insurance market for granted. Although he's fought off the government insurers that tried to keep price quotes out of his interface, he says he's still working on turning a steady profit. "Large investors like SoftBank want digital disruptors," he says. "They also want digital disruptors who make money."
To contact the editor responsible for this story: Jeff Muskus at jmuskus@bloomberg.net