How to Buy a Vintage Watch Online: The Best and Biggest Retailers
Where does one go for the best prices, best selection, and most trusted authentication? Read on.
(Bloomberg Businessweek) -- Wristwatches and other luxury goods have been sold and traded online at least since EBay was founded in San Jose in 1995, ushering in the age of the digital marketplace. Chrono24, one of the leading players in the secondhand timepiece business, was introduced in 2003. But a burst in interest in collecting, combined with the pandemic's effects on in-person commerce, caused a rocketlike acceleration in the trade of vintage watches. According to McKinsey & Co., sales of pre-owned watches, which reached $19 billion in 2019, were forecast to grow to more than $30 billion by 2025. New versions of sought-after models are increasingly difficult to come by, which has also boosted the secondary market.
Where does one go for the best prices, best selection, and most trusted authentication? Read on.
For Deep-Pocketed Supercollectors: WatchBox
Drawing on the massive resources of its founding company, Philadelphia-based Govberg Jewelers, WatchBox offers a feast of pre-owned models. Global Chief Executive Officer Justin Reis says its top four brands are historical titans Audemars Piguet, Rolex, and Patek Philippe, plus indie-market hitmaker F.P. Journe. There's also a selection from red-hot independents such as H. Moser & Cie., Greubel Forsey, and De Bethune, in which WatchBox bought a majority stake in 2021.
In contrast to many of the others listed here, WatchBox is not a marketplace; it owns all of the watches it sells on its site. In 2021, on track to earn $300 million in revenue and already having offices in Dubai, Hong Kong, Singapore, and Switzerland, WatchBox secured an additional $165 million in equity capital. Reis told industry publication WatchPro that the average selling price for a piece sold on WatchBox has risen from $8,000 to $20,000 since the site's introduction.
For In-the-Know Traders: Chrono24
This online emporium for pre-owned luxury watches, founded in 2003 in Germany, has experienced steady growth in recent years. It's worked with more than 3,000 vetted dealers across 100 countries and with about 10 times as many private sellers, all resulting in roughly half a million watches for sale at any given moment. Like EBay, Chrono24 offers an escrow payment program; it also has a 14-day money-back guarantee.
When customers set up an online account, they can begin assembling a personalized watch collection—essentially a wish list of desired timepieces that sellers can access. Another bonus is the online estimated-worth calculator with a user-friendly graphic that shows the trajectory of a watch's value over any chosen time frame, based on a variety of pricing data. "Luxury watches are a financial commodity," says Tim Stracke, Chrono24's co-CEO and co-founder, "in that a lot of decision-making goes into when to buy. Our mission is to provide as much of that intel as possible."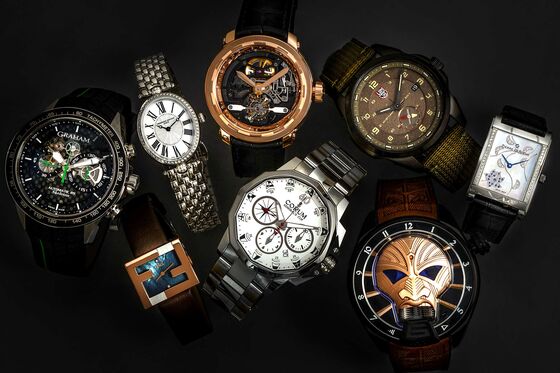 For Unloved Treasures: ShopWorn
If you're seeking a watch that's a personal favorite but didn't necessarily set the market on fire, you might want to check out ShopWorn, whose distinction is that it sells watches (along with jewelry and handbags) that were unsold inventory from an array of authorized retailers and brands. These are gently used watches that may have been tried on at the shop but never found a permanent home, and as you'd expect, many are no longer in current production.
That includes models from Corum's Admiral's Cup series, Carl F. Bucherer's Patravi TravelTec collection, and rare finds from fondly remembered brands such as Romain Jerome. They're heavily discounted and guaranteed to be completely authentic, because ShopWorn acquires them and their documents directly from the watchmaker. "Authenticators can only do so much," says CEO Larry Birnbaum. "Unless you're sending the watch to the brand that made it, no one else can tell you 100% that it's authentic. With us, the consumer can be comfortable it is."
For Intriguing Provenance: Analog/Shift
Analog/Shift shines a light on the lesser-known corners of the vintage watch space, says longtime collector James Lamdin, who founded the company in New York in 2012. "Whether it's an obscure 1970s diving watch like an Aquadive Depth Gauge or a design-forward avant-garde dress watch like the Cartier Tank Américaine, we love telling stories about less famous timepieces that are also an integral part of the tapestry that is the history of horology," he says.
London-based Watches of Switzerland Group acquired Analog/Shift in 2020 as part of its ambitious move into the U.S. market—and to serve as the European megaretailer's in-house resource for pre-owned and vintage timepieces. It now offers a curated selection of vintage watches at its flagship store in New York's SoHo neighborhood.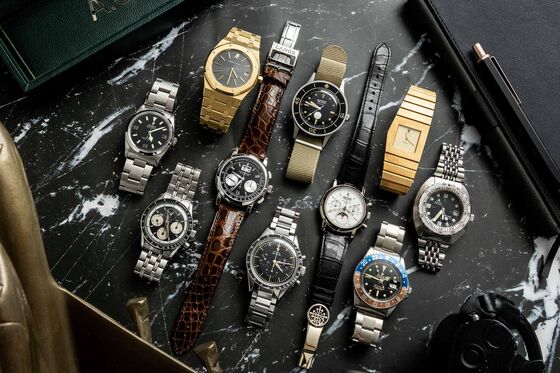 For the Biggest Inventory: EBay
EBay Inc. sold more than 2 million watches in 2019, and on average about 150,000 live listings for luxury watches can be found on its site on any given day. And yet the most familiar name on our list is also the one that's had to do the most work to burnish its reputation as a trusted seller of luxury goods, as evidenced by its own in-house customer satisfaction stats. To head that effort, EBay turned to former TrueFacet CEO Tirath Kamdar to be its general manager of luxury.
As of 2020, EBay offers a post-sale authenticity guarantee for all timepieces costing more than $2,000, which amounts to the online marketplace covering the cost of shipping the watch to an expert third-party authenticator who verifies its bona fides before it ever reaches the buyer. Kamdar proudly reports that since the establishment of the authenticity guarantee, EBay's customer satisfaction percentage, which had been mired in the 60s, has soared into the 90s.
"We've become a very safe place to transact high-value items," he says. That trust factor is one of three prongs EBay is focusing on to set its watch business apart, alongside access to an inventory of scarce models such as Rolex Submariners and its recently established, dedicated in-house team of watch experts.
The Wrist Winners:
​​​​​Which watches are being sought and bought on Chrono24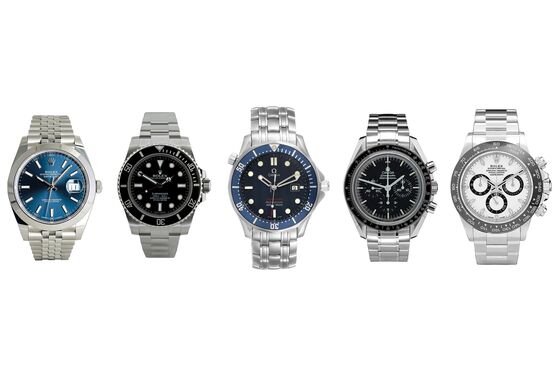 In 2021, 100 million users browsed for watches on Chrono24. As usual, Rolex was the most favored brand, followed by Swatch Group's Omega. Seiko, Breitling, and Audemars Piguet rounded out the top five. "Rolex, Omega, and Audemars Piguet have proven to be exceptionally stable in value," says Chrono24's Tim Stracke. "Seiko, on the other hand, is an interesting newcomer." The Japanese watchmaker was a pioneer of quartz, or battery-powered, watches; but in recent years, it's steered toward higher-quality mechanics offered at many price points. Also new to the top five is Breitling, a Swiss watchmaker specializing in diving and aviation watches, particularly chronographs.
Notably absent from the list is Patek Philippe, which makes some of the most coveted timepieces around. "Patek was less in demand," says Stracke. He calls it "a consequence of the discontinuation of the Nautilus in stainless steel," after which market prices exploded for the watch. List prices for that Nautilus have since tripled.
The model that was most often searched for and bought was (from left to right, above) Rolex Datejust ①, followed by the Submariner ②, also from Rolex. The Omega Seamaster ③ and Speedmaster ④ came in third and fourth. And the Rolex Daytona ⑤ slipped to fifth from the top position in 2020. This, too, is a result of limited availability for new models, causing secondhand prices to soar out of reach for many. —Chris Rovzar
For the Fairest Price: TrueFacet
EBay's Kamdar started this New York-based online outlet in 2014 with his childhood friend Chris Chan. Today, TrueFacet still offers individuals and retailers a platform to buy and sell pre-owned watches and jewelry at competitive prices. The jewelry segment is still somewhat larger, averaging around 55,000 in inventory, compared with about 40,000 watches. The company arrives at its prices through the use of software that weighs factors such as consumer demand for each item and market trends that may affect their value, then calculates the average online price for each item.
Like others in its space, TrueFacet prides itself on authentication, claiming that every piece sold is vetted by an expert at its New York City headquarters. A year after its founding, TrueFacet introduced its concierge program, which lets prospective customers reach out via text message to one of the company's experts for advice on a purchase, or even to track down a specific coveted item. In addition to what TrueFacet calls its certified preloved items, it also displays new watches from select authorized partners in its Brand Boutique, including fashion brands Fendi and Versace and high-watchmaking houses Arnold & Son and HYT.
For Options Among the Classics: Hodinkee Shop
Online watch magazine Hodinkee (which provides content for Bloomberg) has been aggressively expanding its retail business for several years and offers a plethora of buying options, including a series of limited-edition timepieces made in partnership between the Hodinkee Shop and major watch brands. It now sells new watches from dozens of makers, whether mass-market brands Apple and Swatch, sport-luxury giants TAG Heuer and Omega, or high-horology maisons Grand Seiko and Vacheron Constantin.
This year, Hodinkee added pre-owned and vintage watches to its portfolio when it acquired another online retailer, Atlanta-based Crown & Caliber, whose sales transactions since its founding in 2013 number more than 75,000. Hodinkee Chief Operating Officer Russell Kelly, who was hired away from watchmaker Tudor to help manage the company's growing commercial ventures, says the Hodinkee Shop is mostly about offering multiple options—a new Omega Speedmaster, a pre-owned Speedmaster, or even a limited-edition Speedmaster that sold out last year.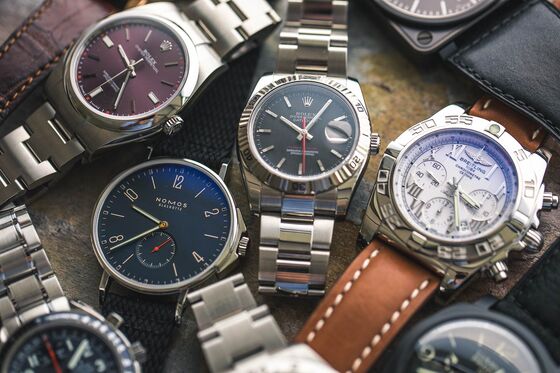 For a Win-Win Deal: Bob's Watches
Although Bob's Watches also sells favorites such as Breitling, Omega, Panerai, and Patek Philippe, the Rolexes are its main draw. The site has been an exchange for used and pre-owned Daytonas, Submariners, and other key models since its founding in the 1990s by Bob Thompson, who sold it in 2010 to current CEO Paul Altieri. One of the largest online watch resellers in the U.S. ($95 million in revenue in 2019), Bob's says it offers the best deal for both buyers and sellers. Each timepiece on the site carries two prices: a "seller" price that Bob's will pay to purchase it from you and a "buyer" price that spells out how much you'll pay for it.
Bob's promises not only that all its watches are authentic but also that every pre-owned Rolex has been serviced with authentic Rolex parts by a licensed Rolex provider. Unlike most of the other sellers on this list, Bob's doesn't offer a payment plan, per se, but works directly with a third-party finance provider called Klarna, which customers have the option of signing up with to stagger their payments.
For Swift Service: SwissWatchExpo
The family-owned SwissWatchExpo was founded in 2009 by CEO Eugene Tutunikov's parents, starting out with 60 watches and growing to an inventory of about 3,000 in 2021. The company displays almost every watch listed on its site in its Atlanta showroom, which also serves as the e-commerce distribution center, where customers can inspect prospective purchases up close before buying. Each timepiece is photographed in its actual condition—a rarity for a selection of this size—which means browsing the website is essentially a tour of the actual showcases, so there are no surprises.
Tutunikov says the website offers the largest number of watches available to ship the same day. Among the almost 40 brands sold, Rolex is well represented, with an array of pre-owned Daytonas, GMT-Masters, Submariners, and Yacht-Masters; rare finds from Audemars Piguet, Breitling, Cartier, and Patek Philippe (including a white-gold Nautilus Moon Phase) are also among the regular inventory.