This Trump-Loving Network Could Become the President's Fallback Plan
(Bloomberg Businessweek) -- Dan Ball, a host for One America News Network, looked disgusted. It was Tuesday, Sept. 29, and the first debate between President Trump and Joe Biden had just ended. Across social media, people were criticizing the moderator, veteran Fox News anchor Chris Wallace, who'd struggled to control the proceedings. Now Ball wanted to take a whack for OAN, a slavishly pro-Trump cable channel that's been positioning itself as more loyal to the MAGA cause than Fox News.
Ball pulled out a box of tissues. "I brought something with me for Chris Wallace," he said. "Chris should use that to get the brown stuff off of his nose." For the next half-hour, OAN's panel of analysts piled on. Wallace, they agreed, had been incredibly favorable to Biden, failing to fact-check his falsehoods, parroting Democratic talking points, and letting him interrupt and insult Trump. Still, the commentators said, Trump had performed admirably. He had better points to make and more specific facts. He was more natural onstage and stronger on the economy, voting fraud, taxes, crime, and the coronavirus.
By proxy, Fox News was the night's big loser. Ball noted that "a lot of people" think Fox leans right. "Not so much anymore," he said. "You have an anchor right there who was obviously favoring the Democratic candidate."
Since taking office, President Trump has ushered into Washington a baroque procession of louche political operatives and oddball supplicants unlike anything seen in prior administrations. In the news business, OAN has been the single most jarring arriviste. The network, which started broadcasting in 2013, has managed to claw its way out of the cable news hinterland of San Diego and into the White House briefing room. Trump regularly calls on its reporters and touts it on Twitter, holding it up as a worthy alternative to Fox.
OAN doesn't subscribe to Nielsen, so data about its audience size is something of a mystery. Kagan, the media research unit of S&P Global Market Intelligence, says the network reaches 23.1 million pay-TV subscribers. That's far fewer than Newsmax TV (58.2 million) or Fox News (78.6 million), but OAN has nevertheless more than doubled its advertising revenue over the past two years, to an estimated $13.3 million. The channel is brimming with ads from companies hoping to sell things to Trump fans. On a recent afternoon, it featured commercials for Henry Repeating Arms, a shotgun and rifle maker; Trump Card, a documentary by conservative polemicist Dinesh D'Souza; and MyCleanPC.com, a hard-drive-scrubbing service.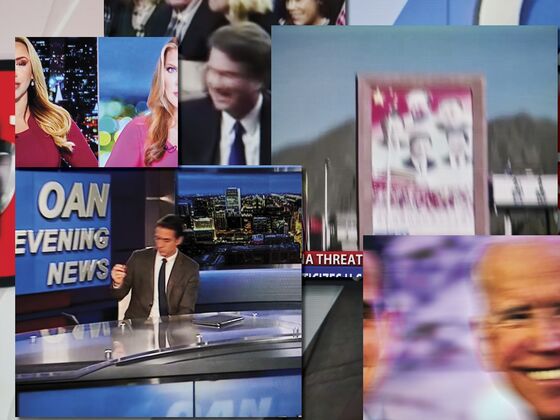 Trump's affinity for the network is proving to be its own kind of currency—albeit one that might seem at risk of serious devaluation. As the election looms, OAN faces a crucial test: Can it capitalize on the next act of its beloved protagonist, whether it's a second term or a post-presidency?
Some industry observers have speculated that, if Trump loses, he could acquire Herring Networks Inc., the little-known company that owns OAN, and turn the channel into his own TV network, siphoning off die-hard MAGA-heads and QAnon fanatics as Fox embraces whatever comes next from the establishment GOP. While it might be impossible to outflank prime-time hosts Sean Hannity and Tucker Carlson on the right, Fox's daytime hours are filled with less partisan voices, potentially leaving an opening. "Fox News, even under Roger Ailes, had a track record of being very pro-establishment," says Sam Nunberg, a former Trump campaign adviser. "A major syndicated network for conservative news media would certainly have a tangible market to compete against Fox during the daytime."
The person who could determine whether OAN capitalizes on a Trump free agency is Robert Herring Sr., a largely unknown 79-year-old former computer hardware entrepreneur. Herring didn't respond to interview requests, but conversations with more than 20 past employees paint him as an industrious, adaptive, paternalistic businessman who got into TV largely to chronicle the inspirational opulence of the unabashedly rich—and who, after a series of misfires, stumbled into Trump. Herring is a person, they say, who likes to trumpet expensive-looking things, as cheaply and loudly as possible—a Trump yacht parade come to life.
In courting the president, Herring may hold one advantage over his bigger rivals: He's built a private family business that operates with little of the tiresome interference and quality controls typical of modern corporate and newsroom governance. At Herring Networks there are no meddling board members, no second-guessing investors, no hotshot executives, and definitely no fealty to pious journalistic ideals. The company is a fiefdom designed to accommodate one man. Others might be able to offer Trump more dollars or a bigger audience, but Herring could give him something even more enticing: a company that feels like home.
In 2003 word spread through San Diego's small TV industry: Some rich guy was starting a new high-definition network about upper-crust lifestyles. Job seekers were summoned to a cavernous building along Interstate 5, where they met the visionary behind WealthTV: a short, spry man with dazzling white veneers and dyed brown hair.
Herring was born in Louisiana but relocated with his family to California when he was young. Forced to drop out of school as a teenager, he built a fortune in circuit boards, selling one company, Industrial Circuits, for $60 million in 1988 and another, Herco Technology, for more than $100 million in 2000. He lived in a megamansion and owned a yacht. His employees called him Mr. H.
The idea for WealthTV, he explained back in 2003, had come to him late at night while flipping fitfully among cable channels. He'd always enjoyed the show Lifestyles of the Rich and Famous, the seminal 1980s celebration of materialism. He'd even gotten to know its longtime host, Robin Leach. "I started thinking, 'What's this word "wealth" mean?' " Mr. H said in an early promo. "It's not 'money.' I looked it up, it said, 'an abundance of good.' That to me sounded like a fantastic name for a TV station."
WealthTV was launched in June 2004, with a staff largely made up of recent college graduates. Mr. H expected hires to write, produce, and star in their own shows. He involved himself in every facet of the business, generating ideas, reading scripts, and reviewing expense reports. Before long, WealthTV's programming reflected his passions, with series about anti-aging remedies and wellness (Wealth on Health), sports cars (Wealth on Wheels), yachts (Wealth on the Water), and other dudish playthings (Boys Toys).
The house style was one part Late American Empire, one part Monte Carlo bender. A former employee recalls that everything on the network looked like the lobby of a Trump hotel. Another describes the aesthetic as women in bikinis throwing a football on the beach. The network's brand logo was a ritzy "W" morphed into the shape of a crown.
At one point, Mr. H ordered up a half-hour program on a dating service called Svetlana Incorporated—the business, his employees soon learned, through which he'd met his young third wife. Its namesake, Svetlana Novikova, was an entrepreneur who arranged dating tours of Russia for successful American men. The TV program included footage of a poolside soiree at which a line of women stood smiling, their low-cut dresses numbered for easy identification. Men in slacks mingled nearby, assessing.
Mr. H got his first taste of the conservative limelight in 2005, during the legal battle over Terri Schiavo, a woman in a prolonged vegetative state. He publicly offered her husband, Michael, $1 million to turn over guardianship to Terri's parents, who disapproved of Michael's plan to take her off life support. Schiavo ignored him. Fox News did not. "This is a very, very generous offer, sir, that I think could save somebody's life," Hannity said.
At the time, Mr. H was losing a lot of money on WealthTV. Few major satellite or cable distributors were carrying it, and executives told the San Diego Union-Tribune in 2006 that the network had lost as much as $60 million. "It may break me, to be honest about it," Mr. H told the paper.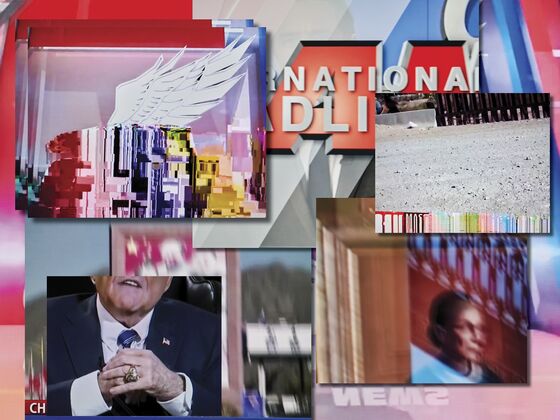 The mood at the studios grew increasingly strained. Every Tuesday morning, Mr. H would gather production staff in the boardroom and ask each person what they were working on. When he was in a good mood, former staffers say, the meetings could be pleasant. But when the boss was feeling on edge, as was often the case, he would tear into everyone, dropping what staffers began calling H-bombs. "A lot of the behavior felt unprofessional," says Stephen Alberts, a former WealthTV producer. "It seemed like there was no accountability. The attitude was always, well, we're a private company, we can do what we want."
The building's interior was outfitted with security cameras, the better to spot workplace malingerers. Turnover was high, gallows humor abundant. Mr. H frequently fired employees, often in front of their colleagues. Former staffers say he also kept what he called a "traitors list" of those who'd left him for competitors.
The Herring family was a source of much fascination among staff. The younger son, Charles, the company's president, was tight-lipped and aloof around the employees. The older son, Bobby, who oversaw many day-to-day operations, was regarded as the warm one. He told staffers he'd been wild growing up and had struck out on his own before becoming a born-again Christian and returning to the fold. Bobby gave the impression that he worked extra hard to win his father's approval, which wasn't always easy. Mr. H frequently berated him in front of others. Former employees say that for a brief, uncomfortable spell, he disciplined his eldest son by making him perform janitorial duties.
Bobby didn't respond to interview requests. In an emailed response to questions, Charles wrote that Bobby plays "perhaps the most important role" at the company, "overseeing daily operations," and said it was untrue that his father kept a traitors list. "Disgruntled, former employees, that don't have firsthand knowledge, aren't the best sources," he wrote.
In 2008, Mr. H started his first daily news show, Wealth International News, filling it mostly with repackaged wire service segments. It was anchored by Graham Ledger, a tanned, muscular San Diego newsman who'd spent years at KFMB-TV, the local CBS affiliate. Ledger was known behind the scenes at KFMB as a vocal conservative who would scour scripts for signs of liberal bias. (He didn't respond to interview requests.)
Five years after his first foray into news, in the spring of 2013, Mr. H announced he was starting a competitor to Fox News called One America News Network. OAN began broadcasting that July 4. The network's logo was an eagle with wings outstretched, talons descending. The graphics were red, white, and blue.
News programming continued to revolve around dutiful setups of wire service segments, but now Mr. H had an opinion side, too. Ledger moved there and began hosting a show called The Daily Ledger, featuring his signature opening line: "Stand by. The doors to the newsroom are locked, and the PC police are not getting in."
OAN, like WealthTV, struggled to attract major cable distributors. Staffers started calling the network One America Snooze. In its efforts to gain notice, OAN brought in Sarah Palin for a guest-hosting stint in the summer of 2015. At one point, she did an obsequious interview with candidate Trump, in which she praised his "avant-garde" campaign and asked him where he "got his guts" when it came to schooling certain "idiots" in the mainstream media. Afterward, Charles Herring told CNN he wanted to hire Palin but couldn't yet "afford what she is worth."
Trump, on the other hand, was endlessly jawboning for free—the perfect budgetary and stylistic fit for Mr. H. Soon, OAN was gaining notice on the campaign trail by airing Trump rallies, unabridged. Any Trump fan annoyed by the reality-based political interjections of Fox reporters now had a genuine alternative.
Once Trump gained office, OAN spiraled into a firenado of MAGA-friendly content. According to former employees, Mr. H involved himself deeply in the process, combing through right-wing websites for ideas and assigning stories. At some point, he dutifully performed the MAGA hajj, traveling to stay in the Trump International Hotel Washington, D.C., which he was aghast to find didn't subscribe to OAN. He duly complained on Twitter.
In 2018, Jonathan Harris, a former OAN producer, filed a discrimination and harassment lawsuit against Herring Networks and Ledger. According to the lawsuit, Ledger would regularly "berate, demean and verbally abuse" Harris over his liberal politics and his "perspectives as an African-American male." Harris claimed that when he filed a formal complaint about Ledger's allegedly racist behavior, Herring grew angry and fired him. In court documents, Herring and Ledger responded that the claims were without merit, but in early 2020 a jury found in Harris's favor, awarding him $1.1 million in compensatory and punitive damages. Several months later, Ledger left OAN, ostensibly to spend more time with his podcast.
Meanwhile, the network was playing host to various members of the Trump demimonde. Herring briefly hired former Trump campaign manager Corey Lewandowski as a political commentator, and OAN aired several documentaries and specials involving Trump associates, including Carter Page, Steve Bannon, Michael Caputo, and Rudy Giuliani. The multipart series featuring Giuliani aired during Trump's impeachment hearings, advancing the false notion that Ukraine, not Russia, interfered in the 2016 U.S. presidential election, and on Hillary Clinton's, not Trump's, behalf.
Over time, the line between the network's commentators and news reporters all but disappeared. In 2019, OAN hired Chanel Rion, a conservative illustrator ("President Trump's most stalwart graphic warrior against leftism," per her website), as its White House correspondent. She's since emerged as the defiant, maskless face of the network's pandemic coverage—tangling over Covid safety protocols with the White House Correspondents' Association, promoting the conspiracy theory that the coronavirus was created in a North Carolina lab, and posing some memorably bizarre questions. "Is it alarming that major media players, just to oppose you, are siding with foreign state propaganda, Islamic radicals, and Latin gangs and cartels?" she asked Trump in March. (Rion didn't respond to an interview request.)
All the while, OAN's reputation grew stronger among hardcore Trump fans—and the people hoping to profit from them. In January, the Wall Street Journal reported that Hicks Equity Partners LLC, an investment firm based in Dallas, was trying to assemble a bid of roughly $250 million to acquire Herring Networks. Even by Trump-era standards, the deal had the air of a nepotistic feeding frenzy. According to the Journal, Thomas Hicks Jr. (son of the firm's superwealthy founder) is friends with Donald Trump Jr. (son of the president) and was being backed by Doug Deason (son of billionaire Darwin Deason). "With the 2020 political season in full swing, expressed interest is on the rise," Charles Herring told the Journal. "Yet our family didn't build our operations to sell it." (A representative for Hicks Equity Partners declined to comment. Deason didn't respond to an interview request.)
If Trump wins, OAN would appear well-positioned to capitalize further on its relationship with the president. "Herring Networks Inc. is profitable, has no debt, and is growing," Charles Herring wrote to Bloomberg Businessweek, adding that "2020 is expected to be a strong year for the company, with record top and bottom line results, driven by increases in ad sales and digital deployments across numerous platforms."
Even so, it faces a daunting set of challenges. The cable industry is rapidly contracting. Many beloved brands are losing large chunks of their audiences to streaming competitors. And unlike, say, Sinclair Broadcast Group Inc., which owns or operates nearly 200 broadcast-TV stations it can inject with conservative views, Mr. H is dependent on satellite- and cable-TV providers. In recent years, those companies have been trimming away underperforming channels to keep costs down.
OAN's frequent pleas to viewers to badger one cable company or another to pick it up haven't helped it get carriage from several of the giant pay-TV providers, notably Comcast, Charter Communications, and Dish Network. And its largest distributor, AT&T Inc.'s DirecTV, is swiftly losing customers. Herring Networks does own a boutique streaming service called KlowdTV, but it currently provides subscribers with access only to a range of lesser-known outlets, including OAN, AWE ("A Wealth of Entertainment," the rebranded name of WealthTV), the Nautical Channel, Infowars, and Horse.TV.
Ultimately, OAN's best bet for winning wider distribution may depend on positioning itself around Trump's next act. Jon Klein, a former president of CNN/U.S. and current co-chairman of the streaming company Tapp Media LLC, points out that plenty of conservative consumers are still up for grabs. Just as political constituencies can splinter and re-form around new candidates, so can TV audiences. "You shouldn't assume the conservative audience is a monolith," he says.
Years ago, Klein remembers, when he was helping Palin launch a streaming channel, he reached out to Ailes, then the head of Fox News, where Palin was a contributor. "Ailes was very concerned about being outflanked on the right," Klein recalls. "He said, 'As long as you don't try to build a network to the right of me, I'm fine. If you do, I'm going to have to kill you.' "
Ultimately, the Sarah Palin Channel came and went as fast as her national political career. The Trump Show, by contrast, seems unlikely to fade so quickly to static.
In May, during an appearance on OAN, Mr. H said the network is preparing to expand and hire more people. Criticism of its reporting in the mainstream media, he averred, was a welcome sign of its growing stature. "I kind of enjoy it," he said. "What it really means is that we're making progress. They're worried that we're coming up. There's a lot of reporters out there that should spend more time really doing what our kids do, doing research and everything and trying to put out real news."