Louis Vuitton Makes Watches That Have Serious Watch Fans Gasping
Louis Vuitton has been making luxury watches for 19 years, and in Swiss watchmaking terms, that makes it an upstart.
(Bloomberg Businessweek) -- Louis Vuitton has been making luxury watches for 19 years, and in Swiss watchmaking terms, that makes it an upstart. The most important timekeeping inventions had been created by the first half of the 19th century by houses in Switzerland. The oldest, Vacheron Constantin, has been in the business since 1755, 100 years before Louis Vuitton made its first trunk.
Yet in 2002 the famed Paris luggage maker began its foray as a high-end horologer rather than a "fashion" watch brand. First out of the gate was the Tambour, a mechanical watch whose distinctive design featured a large dial opening and rounded, drumlike case. (Tambour is French for drum.) The 12 letters of Louis Vuitton were engraved next to each hour.
The Tambour was an immediate hit with Vuitton lovers, and, in variations over the years, it's served as the stage for several complications, or functions other than hours, minutes, and seconds. It's also been available for "couture" customizations, such as an option to include your own diamond-set monogram on the dial.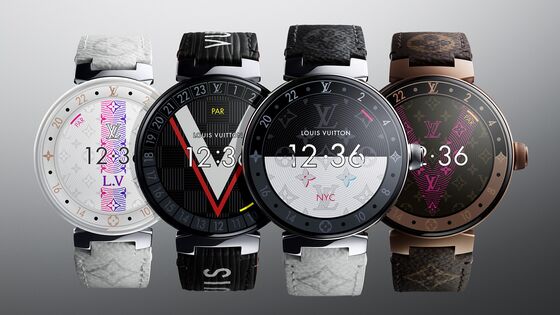 And voilà, the Louis Vuitton style was born: colorful, outspoken, different. Prices for the watches, many of which are limited in number, range from $2,900 for the Tambour Horizon connected watch to over $1 million for one-of-a-kind creations.
In the 1990s fashion houses commonly licensed their names to outside companies who churned out cheap, logo-ridden, and quartz (battery-powered) watches. Louis Vuitton instead employed a three-part formula that set it apart. First, it went to Switzerland, working with a handful of suppliers and artisanal workshops until 2008, when it built its own state-of-the-art factory near La Chaux-de-Fonds in the Swiss Jura, the epicenter of the country's watchmaking district.
Louis Vuitton's second tactic was equally bold, given the Swiss watchmaking world's subdued tastes: It went big with its intertwined L and V logo and floral motif. The lozine, as the flower is called, first appeared on luggage in 1896 and has since adorned bags, shoes, clothes, umbrellas, and fur muffs. The mark reminded customers just who was making these watches: LVMH Moët Hennessy Louis Vuitton is the world's top luxury company, with sales of €44.7 billion ($52.2 billion) in 2020. Its watch and jewelry division, which includes TAG Heuer, Bulgari, Hublot, and Zenith, posted €4.4 billion in revenue in 2019 and managed sales of €3.3 billion in 2020, when many of its stores were closed for part of the year.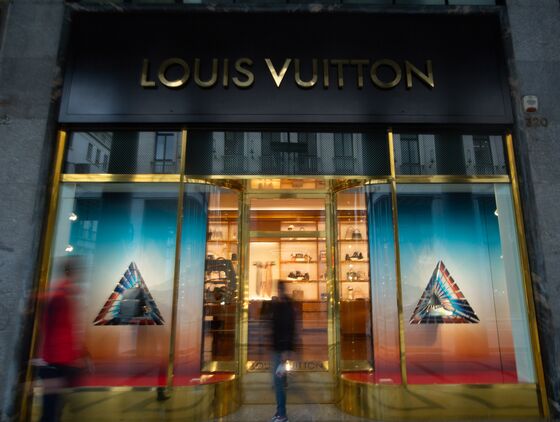 The final strategic move, in 2011, was to acquire La Fabrique du Temps, a Geneva manufacturer. Still operated by Michel Navas and Enrico Barbasini, two of the country's most respected watchmakers, it had created masterpieces for independent brands including Franck Muller and Laurent Ferrier.
This Swissification strategy has also been used in the watchmaking arena by Chanel and Hermès. "The decision to acquire La Fabrique du Temps bolstered Louis Vuitton's bona fides as a luxury watchmaker," says Paul Boutros, head of watches for America at the auction house Phillips. "It was a very important step for them toward gaining respect from clients and sophisticated watch enthusiasts."
And it was a good fit. "We were making beautiful mechanisms with original designs and functions, and we were the most avant garde," Navas says. "We understood the modern touch of Louis Vuitton."
The duo's determination to break the rules was evident in early collaborations. The Tambour Spin Time, released in 2009, doesn't relegate the hour-telling to a single hand. Rather, it uses 12 cubes on stems attached to the movement (what aficionados call the watch mechanism). Every 60 minutes, one cube flips to reveal its underside, indicating the current hour, while the preceding hour flips to its blank side. On the men's versions, the cubes spell out "Louis Vuitton." The women's are more elaborate, with diamond-set cubes (opposite page).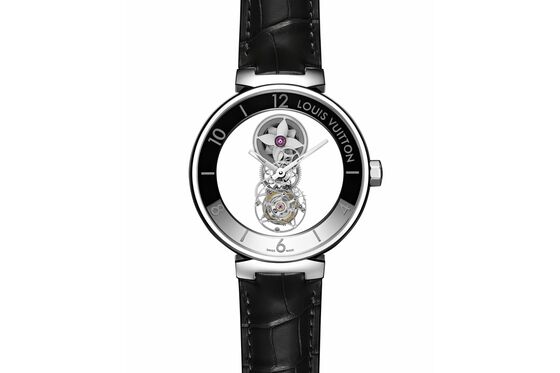 This year's Tambour Moon Mystérieuse Flying Tourbillon features a, well, mysterious movement—one suspended between rotating sapphire crystal discs that create an illusion in which the hands and other components appear to levitate.
In 2016, Louis Vuitton reached the stratosphere of high watchmaking by applying the Poinçon de Genève to select models. The Geneva Seal, established in 1886, serves as a mark of provenance—a watch must have been made in the canton of Geneva. To get it, a timepiece has to meet rigorous criteria for the case, dial, and movement, and even parts that only a watchmaker will see.
Only six brands so far qualify: Cartier, Chopard, Roger Dubuis, Vacheron Constantin, Louis Vuitton, and Ateliers deMonaco. Boutros says a scant handful of Geneva Seal watches cross his desk for auction. "It's not easy to qualify for the Poinçon hallmark," he says. "Between the hand finishing of every component, the testing for accuracy in every imaginable position, and the quality of parts used, it takes a highly trained watchmaker to produce these."