The Diapers.com Guy Wants to Build a Utopian Megalopolis
The Diapers.com Guy Wants to Build a Utopian Megalopolis
(Bloomberg Businessweek) -- In an American economy of winners and losers, it's clear where Marc Lore falls. He founded two e-commerce startups and sold them for $550 million and $3.3 billion before spending the last five years running Walmart Inc.'s online shopping division. Since announcing his departure from Walmart in January, Lore is on a victory lap that seems to include doing everything short of climbing into a rocket and shooting himself into space. Yet somehow, even as he's bought a stake in a basketball team, begun learning the basics of his new Steinway grand piano, and planned a reality show (it'll be like Shark Tank, but with bigger checks), Lore has found time to ponder what he sees as the biggest challenge facing the U.S.—the country's massive wealth gap. "Most civilizations in history at some point fall, right?" he says. "This is going to bring down America."
Lore laid out his plan to solve things during repeated phone and in-person interviews over the past six months. In early May he invited me to his apartment in Manhattan's Tribeca neighborhood for lunch. Covid-19's winter wave had waned, and vaccinations were becoming more widely available, but interacting with humans still felt weird, so Lore had arranged to have the walls on the top floor of his $43.8 million penthouse retracted, allowing the breezes coming in from the Hudson River to ventilate one of his living rooms.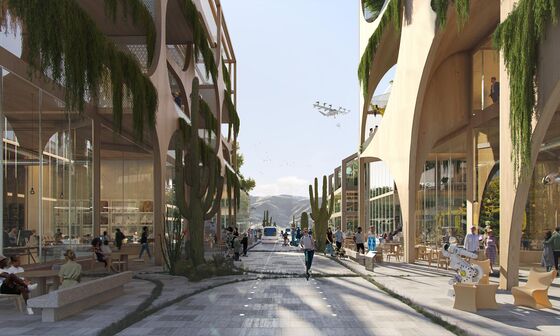 Lore sat facing out onto one balcony whose main feature was a life-size bronze statue of Benjamin Franklin. Wearing an all-beige outfit that matched, with unsettling precision, his beige couch, Lore explained how everything changed for him several years ago when he read Progress and Poverty, the 1879 manifesto by the economist and journalist Henry George. The book's core argument is that private land ownership is to blame for rising inequality. Land in unoccupied areas is often worthless, George wrote, but gains value when people move nearby. It's society that's creating this wealth, but the benefits accrue only to whoever happened to own the land in the first place, giving them the ability to get rich without providing anything worthwhile.
George argued that heavily taxing the value of land would increase both economic efficiency and social justice. His book was a 19th century blockbuster and has maintained a steady fan base ever since. His adherents argue that a land value tax could enable the elimination of most other taxes, including traditional property taxes, which assess improvements on the land in addition to the land itself. This idea has never been put into practice on a large scale, but it's gone through something of a resurgence in the past decade, gaining praise from economists such as Joseph Stiglitz and inspiring arguments that similar thinking should be applied to other large pools of capital.
The idea of a philosophy that the Atlantic magazine referred to in 1913 as "Government Without Taxation" has obvious appeal to Lore, who's on the hook for about $270,000 annually for New York City taxes on his apartment alone. He isn't shy about expressing his skepticism that the government will spend it well, suggesting that taxpayers should be empowered to vote on which specific government projects their taxes are applied to, so the proposals have to "fight one another" to move forward.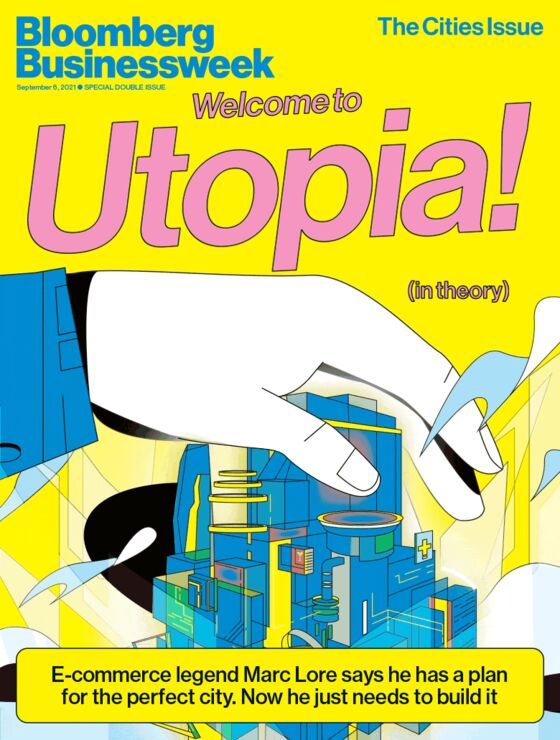 Lore is particularly attracted to the strain of Georgism that involves creating a trust that holds the land in a community and uses the income it generates to fund social services. From that idea, he's come up with the modest proposal to start a private foundation, buy 200,000 acres or so of land, probably somewhere in the American West, and build a 5 million-person city from the ground up—a Georgist utopia that will serve as a demonstration project for a new, fairer phase of capitalism.
"If you went into the desert where the land was worth nothing, or very little, and you created a foundation that owned the land, and people moved there and tax dollars built infrastructure and we built one of the greatest cities in the world, the foundation could be worth a trillion dollars," Lore says. "And if the foundation's mission was to take the appreciation of the land and give it back to the citizens in the form of medicine, education, affordable housing, social services: Wow, that's it!"
The wealth-sharing that would come from the foundation, Lore says, mimics the way employees at startups are paid partially in stock. He says he's planning the city much in the way he'd launch a business. For the past several months, Lore and a handful of colleagues have painstakingly brainstormed the new municipality's official values and developed its logo; Lore conducted a survey of his LinkedIn followers to help him pick a name. They settled on Telosa, which derives from an ancient Greek word meaning "highest purpose." He's hired a team that includes a transportation planner, an engineer, and an urban historian. His real estate consulting firm has narrowed the search for a site down to about six states and has even identified some specific 50,000-plus-acre parcels in Nevada—whose governor has proposed rules to encourage new cities—as potential sites. In June, Lore commissioned Bjarke Ingels, one of the world's most famous architects, to be Telosa's chief architectural designer.
Lore acknowledges this is all a bit preposterous. He's rich but not rich enough to fund such a large development project by himself, and he can't say with any specificity how he'd get the money. He hasn't acquired land or water rights, precursors to undertaking the daunting task of persuading people to leave real cities for his hypothetical one. Nor has Lore figured out how the foundation would operate or persuaded local officials to grant it the power it'd likely need to function. Clearing those hurdles would get Telosa to the point where Lore could see whether his unproven economic model would actually succeed.
Telosa taps into a long-running—and mostly unsuccessful—tradition of trying to improve urban life by starting new cities from scratch. Sarah Moser, an associate professor of geography at Montreal's McGill University who studies planned cities, has identified about 150 greenfield city-building projects being planned around the world, backed either by governments or private interests.
Until recently, the real action was in authoritarian countries whose governments have granted themselves wide latitude for such experiments. But there's been increasing activity in the U.S. and Canada. The push is coming largely from people associated with the tech industry, Moser says. Their motivations vary from the desire to create test beds for technologies such as autonomous vehicles and citywide networks of sensors, to the Silicon Valley-esque conviction that privately owned startups are the solution to every problem. But Moser views these projects as largely cynical. "It's so seductive to say, 'I'll start over,' rather than just pay my taxes. Then they present themselves as this beacon of hope for humanity," she says. In a 2020 paper, Moser and several colleagues gave this city-building philosophy a name, riffing off the billion-dollar startups that inspired it: "Unicorn Planning." It's the kind of framing Lore would agree with, even if Moser doesn't mean it as a compliment.
Lore developed his taste for risk as a kid growing up in Staten Island, N.Y., and then in New Jersey, where his family moved when he was 10 years old. His mother was a bodybuilder and personal trainer. His dad was always looking for business ideas to hit it big. "He would take moonshots on a micro basis," says Lore, affectionately suggesting his dad's best ideas were more audacious than successful.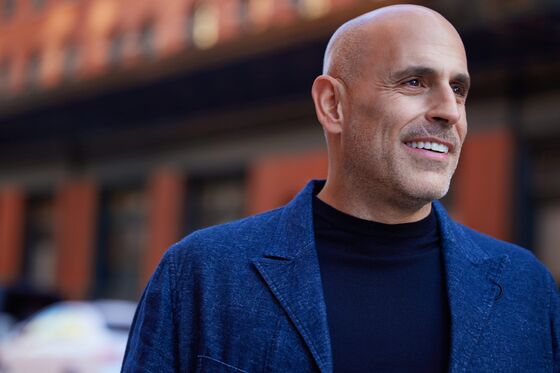 Still, he inherited his dad's hustling spirit and gambling nature. Lore was following the stock market by the time his voice dropped. He speculated on baseball cards as a teenager and ran a hedge fund in college; his clients were the parents of his rich classmates. Lore was in his late 20s and making a half-million dollars a year in banking when he decided to strike out on his own. His first big success was Diapers.com, which he sold to Amazon.com Inc. in 2010. He quit Amazon after two years, started a competitor, Jet.com, and sold it to Walmart in 2016.
The lesson Lore came away with from his entrepreneurial career was that the best ideas are those with low chances of success but high reward—the kind he saw B-school overachievers shying away from. "You get someone who's used to getting straight A's, and they just don't want to be associated with failure," he says. "It's not logical to not take a shot at doing something with a 20% chance of changing the world. But people don't do it. That's the city: The size of the prize is to change the world."
Lore started working on the idea of creating his own city almost as soon as he joined Walmart. Katie Finnegan, Jet's head of corporate development at the time, says he brought it up to her during a plane ride on a cross-country business trip. "The thing I remember thinking is, 'Where do you even begin?' " she says. Even so, Finnegan played along, quizzing her boss on land acquisition and other challenges, before the two settled into a debate about improving package delivery in a city built from scratch, a topic that allowed her to segue back to their actual jobs.
It was around this time that Lore stumbled onto George. He also took an online course on cities at the Massachusetts Institute of Technology with Kent Larson, a prominent urban futurist. Early in 2020, Lore became the largest investor in Archer, a flying-car company; its founders remember him vaguely telling them he was planning something big that their work might fit into.
Lots of people with outsize ambition and resources have set their hopes on building new cities. Sometimes the plans have come from governments—the national capitals of both the U.S. and Brazil were planned and built from scratch, and the single most ambitious project under way now may be Saudi Crown Prince Mohammed bin Salman's plans for Neom, a smart city in Saudi Arabia. Others served private businesses, like the company towns that once housed 3% of the U.S. population. Fascinating but failed projects have often started with individual dreamers and were rife in the 1960s and '70s. Among them: Athelstan Spilhaus's Minnesota Experimental City, whose plans consisted of a town partially enclosed in a geodesic dome; Floyd McKissick's Soul City, which the civil rights leader planned to develop on a former slave plantation in North Carolina; and Rose Island, a platform in the Adriatic Sea whose founder declared it an independent state before the Italian government dynamited it to the seafloor.
The endless twists on the idea fall into three broad categories, according to Alain Bertaud, an influential urban thinker who once served as principal planner at the World Bank: libertarian attempts to escape government regulation; technocratic areas established to foster and showcase innovations; and projects seeking some novel model of collective welfare.
Most ideas from the U.S. tech industry have fit into the first two buckets. The first to rise to fame was the seasteading movement, which envisioned sovereign city-states floating in parts of the ocean outside the reach of U.S. tax laws. This movement was personified by investor Peter Thiel. But seasteading played poorly outside of Ayn Randian circles, and even aspiring city builders whose plans have obvious libertarian elements now tend to play down any ideological motivation.
Technocratic city plans often stem from those who see overhauling urban life as necessary and technologically feasible but politically impossible. Ryan Rzepecki, founder of the bike-sharing company Jump Bikes, which he sold to Uber Technologies Inc. for more than $100 million in 2018, says it's just too difficult to make the drastic changes that would modernize transportation in major U.S. cities. "I endured a lot of pain just to launch a couple hundred bikes on the streets," he says. "It made me a bit more skeptical about seeing the large changes we'd need just by pushing incremental changes in existing cities." Rzepecki, who left Uber at the end of 2019 and moved to Puerto Rico, is now working on creating a virtual-reality-based simulation of a car-free city, which he hopes to use as the foundation for building one in real life. He acknowledges there are reasons to be wary of the chances of success for projects like this. Despite some big talk, the tech industry's track record for building cities isn't great.
Perhaps the most prominent attempt was Quayside, a plan by Alphabet Inc.-affiliated Sidewalk Labs to turn a 12-acre plot in Toronto into a demonstration project for the future of urban life. Sidewalk, run by Dan Doctoroff, the former chief executive officer of Bloomberg Businessweek publisher Bloomberg LP, inspired widespread opposition, largely centered on privacy concerns. The company abandoned the idea last year and is now focused on building software products for urban planners.
Another prominent failure came from Y Combinator, the tech accelerator program. In 2016, YC said it was planning to build a city as a way to test novel technologies and ideas for urban governance. It hired Ben Huh, an entrepreneur whose claim to fame was the meme website I Can Has Cheezburger, to run the project. Huh says he began scouting sites, including a Jordanian refugee camp, before focusing on a stretch of Mexican desert. YC had some discussions with Mexican officials and explored the idea of flying in supplies from the U.S. on drones. The discussions collapsed when Donald Trump was elected president, but by then Huh had also realized that not everyone was waiting for technologists to build the city of the future. "No one was starving to go start a new city," he says. "What they wanted was a better city they already lived in."
YC quietly shuttered the project in 2017. One of its first investments had been Huh's own startup, Social Construct, which developed software for the construction industry. Huh tweeted this August that the company had shut down and asked his followers what he should do next.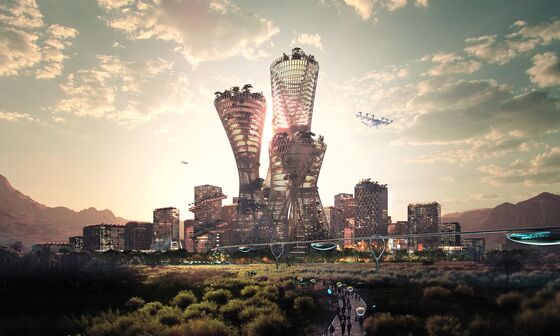 Planning for Telosa began on a muggy day in early July at the Brooklyn, N.Y., headquarters of Ingels's firm, Bjarke Ingels Group (BIG). The office seemed typecast for the task at hand. Architects pecked quietly away on Macs with expansive screens, their desks surrounded by scale models of BIG's projects, Legos, and rows of architecture books. There was free beer and espresso. New York's skyline presided over everything through the panoramic windows.
Shortly before noon, Lore bounded off the elevator and through the door, wearing blindingly white jeans and sneakers, a shiny blue shirt, and dark sunglasses. About two dozen people had already gathered at a long table in a conference room under a chandelier made out of desk lamps. The group included architects from BIG, as well as Jon Mallon, a college friend of Lore's who's helping lead the project, and his staff. There was also a sizable video crew training multiple cameras on the participants—Lore says a documentary of the creation process will be a useful tool for recruiting business partners and, eventually, new residents.
The last person to enter the room was Ingels, who showed up once people had finally begun to pick at the sandwiches in the corner. He shook Lore's hand and took the chair across from him, producing a small ball of green clay he'd shape and reshape over the next several hours.
The meeting began with a recitation of the project's core values of being transparent, fair, and connected. (These values continued to evolve over the summer and have settled on open, fair, and inclusive.) "We're not just building a city, we're creating a new model for society," Mallon said. From there, BIG's architects started with the Garden City movement, a tradition of urban planning drawing heavily on the ideas of George. The father of the Garden City was Ebenezer Howard, an English urban planner who envisioned self-sufficient communities with concentric rings of development surrounded by greenbelts. The land for Howard's first garden city, Letchworth, was held in trust, with the income from leases reinvested into public improvements. Letchworth, located near London, still exists and has about 34,000 residents.
Lore's plans for Telosa are far more expansive. BIG's staff explained how the city will be built in several stages over the next 40 years. The first phase, targeted for completion in 2030, consists of 50,000 people living in a circular neighborhood of about 1,500 acres—an area that would be easily traversable on foot. Once this zone is populated, the city will expand by encircling it with subsequent layers of 1,500-acre neighborhoods.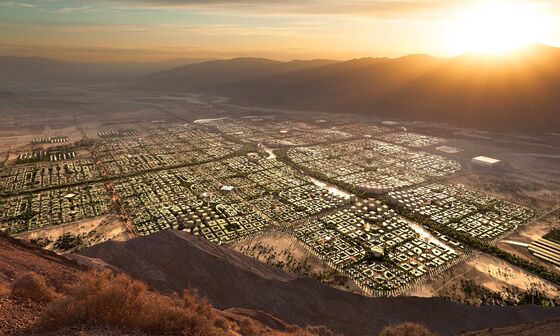 BIG's presentation showed Telosa housing precisely 34 residents per square acre, a density similar to Singapore, though it'd be less dense in its earlier stages. The city, of course, will start out with zero residents per acre, and Lore wanted to talk about the first generation of Telosans. One way to attract people, he suggested in the meeting, would be to start a venture capital firm and only invest in companies willing to move to the city. He also described a move-in day—maybe more like a move-in month?—where all 50,000 initial residents would show up at once and go through an orientation, the sort of bonding experience that's proved effective with first-year college students.
"The class of 2030!" yelled Ingels, laughing. City-building-as-freshman-orientation is just the kind of zaniness he can get behind. Throughout his career, Ingels has described his philosophy in terms of seemingly oxymoronic terms like "pragmatic utopianism" and " hedonistic sustainability" that focus on ways to have one's cake and eat it, too. A prime example is BIG's 2019 project CopenHill, a facility in Copenhagen that burns garbage to make electricity—and doubles as an artificial ski slope.
Ingels's faith in avoiding uncomfortable trade-offs through design is unlimited. During a break from the bigger meeting, he and Lore retired to a smaller glass room to praise the idea of thinking big. "Sometimes, at a larger scale, you can do things that would be economically or environmentally unsustainable," said Ingels, as Lore nodded along.
Still, as Lore talked out the details of Telosa, he kept running up against the tensions in his vision. He told Ingels's staff that he wants its initial residents to be socioeconomically and racially diverse, but he also knows that you can't just hire the population of a city the way you staff your startup. "It's not a controlled city, it's not a private city," he said in the larger meeting before musing that there must be some trick of planning to get what he's after. If there is some diversity-enhancing secret, the crowd in the room—overwhelmingly White and predominantly male—hadn't heard of it.
The inherent unplannability of real cities always catches up to the dreamers, says Bertaud, the former World Bank principal planner. He argues that greenfield cities stand a chance if they're established on the edge of existing population centers, where they can piggyback off a labor market, but creating a self-sufficient city from scratch requires the ability to coerce people to move there. "Only the government can do that," he says.
This hits at what might be the biggest contradiction with Telosa. Lore's foundation, which would manage public resources to provide social services, sounds a lot like a government. Lore regularly refers to the foundation as a way to provide "checks and balances" to the city's actual government. Its board, he says, would even be elected by city residents. But he objects to any suggestion that he's either talking about establishing a government or a private alternative to one. Instead, Lore says, he just wants to supplement the existing system at a time when people have lost faith in public institutions. "The answer is not higher taxes. That's socialism," he says. "Let the land be owned by the people! But in a capitalistic sort of way."
When I spoke to people about Lore's chances for success, the spectrum of responses could not have been any wider. "He will create a new economic model and a city that is better for the common good—100%," says Finnegan, his former colleague at Jet, who's now an executive at Rite Aid Corp. "I will bet my life on that."
Moser of McGill University puts his chances more or less at zero, but she does give him "kudos for originality." Not a single one of the 150 cities she's tracking has hit its population goals, and those that did attract people usually ended up significantly pared down. She points out that Telosa hasn't taken a single tangible step forward. To her, projects like Lore's are at best a distraction from the boring work of building functional cities—a particular shame at a time when places that already exist are struggling with the pandemic and the growing challenges of climate change. At worst, they end up being vehicles for private interests to extract concessions from local governments desperate for capital that could lead to economic development.
Lore comes down somewhere in the middle about his chances. He says that philosophically he can't say out loud that they're any less than 100%, before he concedes that they're probably about 20%, then saying it depends on one's definition of success. He understands that people who know more than him about urban development have plenty of convincing reasons why he'll fail. Expertise leads to caution—it's the same reason why he'd never start another e-commerce business.
"You get jaded when you know too much," Lore says. "You don't have that clean slate, thinking about it in that fresh way. That's how startups can build, right? It's that naivete you need to have."