Soaring Home Prices Stoke Anger Against Korea's President
(Bloomberg Businessweek) -- Grasping her mobile phone, Jang Mi-kyung flicks past South Korea's latest news on Covid‑19 infections and social distancing restrictions and begins anxiously scrolling through the real estate listings. The 48-year-old private tutor has spent the past few years hunting for an apartment in Seoul so she, her architect husband, and their two teenage daughters can move out of their cramped rental. Her frustration at being priced out of one of the world's frothiest real estate markets has crystallized into seething anger directed at the president she helped vote into office four years ago. "I'm nothing but the butt of a joke for believing in him and his government's promise to cool home prices," she says. "It feels like being stabbed in the back."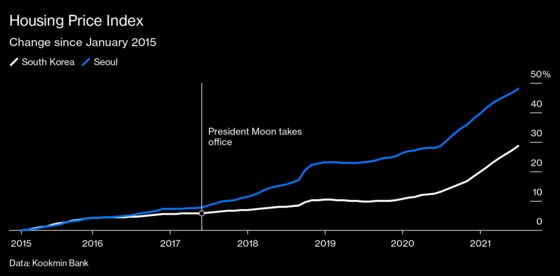 Jang's sentiments are shared by millions of middle-class Koreans. In a Gallup Korea survey released on July 23, President Moon Jae-in's real estate policies were cited as a top irritant among the 51% of respondents who disapproved of him. His failure to tame the forces that have bid up the average price of an apartment in Seoul by 90% since he took office in May 2017 played a role in the drubbing his Democratic Party suffered in mayoral elections in Seoul and Busan this spring.
Those upsets bode ill for the party's hopes of holding on to the presidency in elections scheduled for next March, even though Moon's administration has engineered one of the world's fastest economic recoveries from the Covid recession. Among the front-runners in the race is Yoon Seok-youl, a former chief prosecutor who's accused the government of inflicting pain on people with housing policies that defy market dynamics.
Moon campaigned on a progressive platform, pledging to attack the root causes of the country's growing economic inequality. Real estate has become one of the most obvious markers of the chasm separating Korea's haves and have-nots, as vividly rendered in the Oscar-winning film Parasite. In the movie, one family inhabits an ultramodern home situated in a hillside enclave, while the other is squeezed into a sub-street-level apartment that floods when it rains.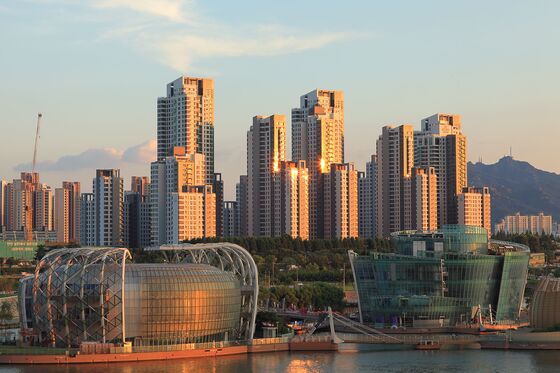 In the Seoul metropolitan area, which is home to almost half of the country's population, the average price of an apartment has doubled in the past five years, reaching 1.1 billion won ($953,000) in July, while that for the entire country increased 60% over the same period, according to Kookmin Bank. By the bank's calculations, a home in the capital now costs the equivalent of 17 years of median annual household income, roughly double the ratio in 2012. The central bank has cited that figure as evidence that homes are overpriced and is poised to raise the benchmark interest rate, partly in an attempt to cool the market.
Moon's well-intentioned policies have only aggravated the situation. To tamp down real estate speculation, his government has hiked property and capital-gains taxes on owners of multiple homes and introduced loan restrictions. But the net effect has been to discourage sales, thereby squeezing supply and pushing prices higher. A drive to close elite private schools that have sprung up across the country has further stoked demand for housing in city districts with well-regarded public schools. "Policymakers waged a whack-a-mole battle to curb prices with a series of taxes and policies that just did not make sense when put together," says Ahn Dong-hyun, a professor of economics at Seoul National University. "It was ideology that led policymaking, not sound economics. And now no one is happy, whether you have a home or not, with the feeling of deprivation especially stronger among the middle class."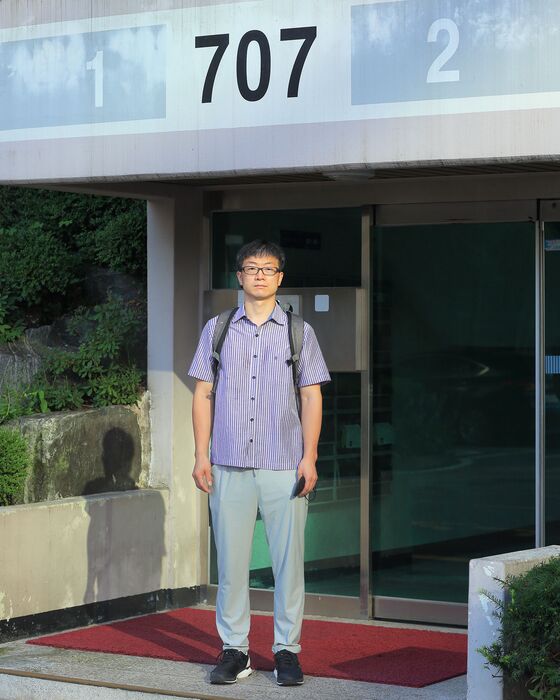 One peculiarity of Korea's property market left untouched by the government's actions is the well-established practice of landlords requiring prospective tenants to advance them a lump sum worth roughly 60% of the property's price, instead of paying rent. It's not uncommon for families to take out bank loans to finance a large chunk of the deposit, called a jeonse.
Back in the 1970s, the arrangement helped provide a pool of funds that builders could tap to finance the construction of new homes. But nowadays landlords are increasingly using the jeonse money to engage in property speculation.
Renters such as Jang who've been left behind by the price surge of the past few years are part of a group of Koreans who call themselves "overnight beggars," because they feel as if they're downwardly mobile. Jung Jin-young is another middle-class Korean who's grown disenchanted with Moon. Since getting married 18 years ago, Jung, who owns a store in Seoul that sells camping gear, and his wife, a schoolteacher, have scrimped and saved to buy an apartment. But they've been repeatedly outbid—even on the kinds of units they once passed on. "I don't think I have a future now and even feel sometimes I don't want to carry on anymore," he says, letting out a long sigh. "Seriously, I wish my children could just grow up and live in another country." —With Jiyeun Lee