Health Scares Slow the Rollout of 5G Cell Towers in Europe
Health Scares Slow the Rollout of 5G Cell Towers in Europe
(Bloomberg Businessweek) -- In the small Alpine town of Wohlen, a fierce backlash against the latest generation of mobile phone technology is under way. The Swiss municipality won't allow Sunrise Communications AG or other phone companies to build masts to broadcast 5G, citing concerns about health risks from the towers' electromagnetic radiation. Activist group Frequencia, which calls for limits on 5G's rollout in part because of fears about cancer risks, attracted hundreds of people to a mass protest outside the parliament in Bern in September.
Reticence in Wohlen and other parts of Switzerland, including Geneva, has created an obstacle to Sunrise's plans to provide the latest services. "All this stuff has delayed my rollout vs. my own company plan," says Olaf Swantee, who resigned as chief executive officer on Jan. 3 in the wake of a failed deal to buy a cable business. He says Sunrise was able to build only half the number of 5G sites he'd wanted to complete by the end of 2019.
With 5G, or fifth-generation, wireless technology, you get data speeds as much as 100 times faster than what's available with 4G, the current standard. That means faster downloads, boosting the potential of automated cars and factories and helping realize the promise of the internet of things. For phone carriers, 5G offers a chance to bolster revenue by enabling a range of new commercial services; governments view it as a path to business opportunities.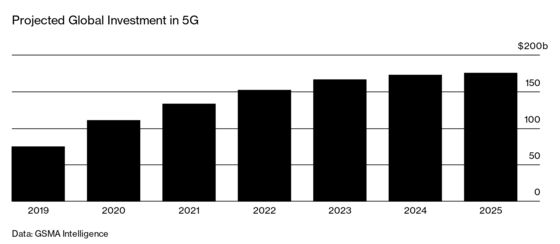 But to realize those benefits, carriers must add 5G equipment to existing mobile masts, so they can emit more powerful signals. On the older standards, towers broadcast wireless signals far and wide, hitting any and all devices in their range at low intensity. Masts that are 5G-enabled use a high-energy process known as beamforming to transmit only to devices that can read the signals.
The increased energy intensity has sparked health concerns from activists. Matthias von Herrmann, a spokesman for the Stuttgart-based environmental group Diagnose:Funk, which has been critical of the 5G build-out, says the additional radiation raises the risk of cancer, infertility, and other serious ailments. He says his group gets about two or three requests a week from people across Germany for advice on building opposition to 5G. The mobile phone industry is facing "a level of protest they clearly hadn't expected," von Herrmann says. "It's not about denying people the use of mobile phones. But we can't just expose people to radiation without running the necessary checks."
Protests have percolated from Berlin to Bristol, England, despite little scientific backup from major government health bodies. One study, from the U.S. National Toxicology Program, showed rats exposed to very high levels of electromagnetic radiation developed tumors. But the Food and Drug Administration says weaknesses in that research, including a failure to establish a clear relationship between radiation doses and cancers, mean it shouldn't inform public-health guidelines. The International Commission on Non-Ionizing Radiation Protection, which works with the World Health Organization on research and policy, agrees with the FDA. "There's no reason to be concerned" about the potential for 5G to raise the risk of cancer or other ailments, says commission Chairman Eric van Rongen, a radiobiologist.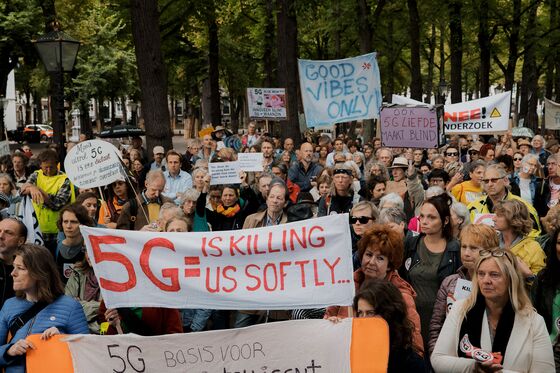 Despite "a lot of noise in social media" on the possibility of 5G damaging health, U.S. carriers have been largely unaffected, says Jack Rowley, a senior research director on electromagnetic radiation at GSMA, the international lobbying group for the mobile communications industry. Opponents in locales such as Mill Valley, Calif., which has attempted to block the erection of 5G towers, face a tough adversary: Ajit Pai, head of the U.S. Federal Communications Commission. Pai, who sees 5G as a national priority, has streamlined antenna approval processes. He's said it's illegal for local governments to set a moratorium on telecom infrastructure.
It's a different story in parts of Europe. In Belgium, regional governments have set strict limits on mast emissions that will make any 5G rollout there difficult for now, says Michael Trabbia, CEO of mobile operator Orange Belgium. A 2018 study by the country's communications regulator said setting limits on the amount of energy a telecom mast can use is necessary to "protect the public against the effects that may arise as a consequence of exposure to electromagnetic fields."
Europe's biggest carrier, Deutsche Telekom AG, has also had to modify its 5G program in areas where there's been pushback. In January 2019 residents of the small Bavarian district of Graswang protested the company's plans to build a 100-foot mast near their homes in part because of concerns about health risks. Deutsche Telekom has agreed to build the tower at a site that's farther away.
In England, local governments including that of Glastonbury, home of the well-known music festival, are threatening to frustrate mast applications on health grounds. The prospect of prolonged and expensive local planning disputes is causing some companies to consider avoiding problem areas in Britain. "That sort of time is not something that any part of the mobile industry can really afford, nor wants to spend its time and its money on, and we will focus on areas where there is a more supportive environment," says Howard Jones, head of network communications at BT Group Plc.
System operators aren't likely to quiet 5G opponents anytime soon, because collecting indisputable evidence of the technology's effect, or lack thereof, would require decades of observation across big populations. And the WHO's classification of mobile phone emissions as "possibly carcinogenic" still resonates with some critics—even though pickled vegetables and aloe vera fall under the same category.
Former Sunrise CEO Swantee says Swiss officials could help wireless carriers by offering reassurance to citizens. So far, though, they've been "pretty much silent" on the topic, he says. "They should say, 'This is fake news. Telecoms are applying normal laws. Birds are not falling from the sky because of 5G.' " —With Stefan Nicola and Leonard Kehnscherper
To contact the editor responsible for this story: Benedikt Kammel at bkammel@bloomberg.net, James EllisJennifer Ryan