Google's Search Monopoly Complicates a Mental Health Crisis
Nearly one-third of small-business owners said that, without digital tools, they would have had to close their business.
(Bloomberg Businessweek) -- In March, Ellen Ross's business came to a standstill. Ross is a psychotherapist, accustomed to sitting across from patients, helping them deal with their deepest traumas and fears. When the pandemic started shutting the economy down, Ross shut her San Jose office, too. She nixed plans to hire another therapist and began adjusting to video therapy, which meant, among other things, building breaks in between sessions.
"I can't look at a screen as long as I can interact with human beings," says Ross, who spent years counseling in hospitals before setting up her own practice in 2017. And then there was the Google problem. In the beforetimes, Ross spent about $20 a day on search ads to promote her practice. That worked well enough. People would search for things like "therapist near me" and she would bid for those terms at Google's silent auction. If she won the auction, ads for her practice, True North Psychology, would appear at the top of search results. Google charged for each click. In 2019, she spent about $5,500.
Starting in April, Ross's calculus changed. Americans were stuck at home, some juggling home-schooling and work, others newly jobless. They were anxious and searched the web for help, sometimes looking for video counseling. Ross noticed that the prices for her regular keywords jumped sharply. She was still finding patients, though they often arrived after trying one of the proliferating virtual therapy startups, such as BetterHelp and Talkspace, and it was becoming prohibitively expensive to buy the Google ads to attract them.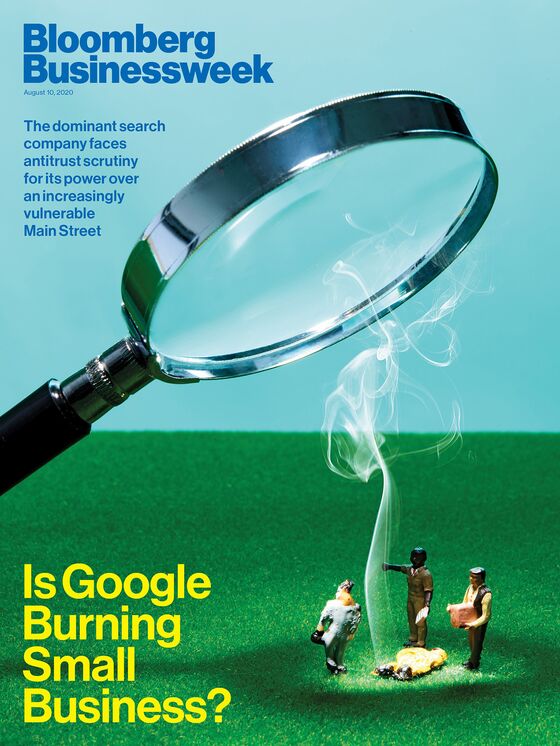 Ross wasn't sure what to do. Google, as she well knew, has a near monopoly in web search—it has 87% of the U.S. market by some estimates. Its next-largest competitor, Bing, has about 7%. So Ross knew she couldn't simply stop buying Google ads. If she did, she'd lose out on any new business. But continuing to pay so much didn't seem sustainable either. "I'm a fairly good psychologist," she says. "I'm a terrible marketer."
Ross is one of millions of small-business owners whose reliance on Google has only grown during the pandemic, when the internet has become the main avenue of commercial life. That dependence is at the heart of the most high-profile antitrust showdown since Uncle Sam went after Microsoft Corp. in the 1990s. The U.S. Justice Department and almost every state attorney general are preparing antitrust cases that are expected to allege that Google's dominance is illegal. "High prices in and of itself isn't an antitrust violation, neither is being big," says Herbert Hovenkamp, a professor at the University of Pennsylvania Carey Law School. "The bigger question is whether Google is abusing its power."
Google got a preview of the government's likely argument on July 29 during a five-hour congressional antitrust hearing. It opened with questions about Google's stranglehold on search and included lawmakers calling four tech chief executives "cyber barons" and unregulated bullies.
Sundar Pichai, Google's well-dressed and reserved chief executive officer, began by ticking off family-owned U.S. companies that have benefited from Google ads and services. "Nearly one-third of small-business owners said that, without digital tools, they would have had to close all or part of their business during Covid," he said via video feed from Google's headquarters. The company gave out $340 million in ad credits to small companies as part of its pandemic response. In his testimony, Pichai also asserted that the company operates in competitive global markets. The point was reinforced the following day, when Google announced that its ad intake fell for the first time ever because of the crisis. The company still finished the spring quarter with $121 billion in cash on hand.
When it comes to advertising, Google likes to broadly define the market it competes in to include even television. And it likes to point to its fierce rivalry with Facebook Inc. and Amazon.com Inc. But for therapists, lawyers, and anyone offering a service, this argument is bogus. People peruse Facebook for the latest news or baby photo, not for psychological care. No one goes to Amazon to buy a therapy session. Other search engines are afterthoughts. Ian Palombo, a therapist in Denver, bought Bing ads right after the pandemic hit, but it was such a throwaway proposition, he didn't even check to see how they did. "I mean, it's Bing, right?" he says.
Therapists talk about Google like they would about any utility. It's just another check, only this one goes to the fourth-biggest company in the world and comes with no guarantees. "It's a lot like a poker table at the casino," says Daniel Wendler, founder of Marketing for Therapists. "Anyone can play, but unless you know what you're doing, you're likely to get rolled."
The last time the global economy cratered, in 2009, Google released its first "Economic Impact" report. Regulators and other critics were questioning its sway over web publishers, whether the search engine was too big and powerful. Peppered with glossy, smiling photos of mom and pop business owners in each state, Google's report showed that, far from consolidating economic power, the company was helping the little guys. A bookstore in Mishawaka, Ind., a lighting supplier in Kennebunk, Maine, a remodeling service in Aberdeen, S.D.—each had grown, Google said, thanks to Google ads.
Selling therapy, though, isn't as straightforward as selling a book or a light fixture. It can be expensive and, for some, still comes with a stigma. "There is just a really significant human need that a lot of us struggle with," says Wendler, who's been helping therapists buy Google ads for the past five years. At 32, with his rectangular glasses and untidy facial scruff, he could pass for an engineer at the Googleplex. He also has Asperger's syndrome and wrote a guidebook, Improve Your Social Skills, full of tips for others with it.
Those interests prompted Wendler to pursue a career as a counselor. While in grad school, he set up a marketing practice for therapists and now handles the budgets for roughly 20 of them a month. He wrote another book, Clicking With Clients: Online Marketing for Private Practice Therapists. In the first months of the pandemic, he saw the prices of keywords related to therapy jump as much as 50%, with some terms that had once cost $7 or $8 fetching $10 a click. Prices went higher as searches and buyers piled on. "There's only so much inventory," he says, referring to the slots available for search page ads. "That is driving prices up, up, up, up."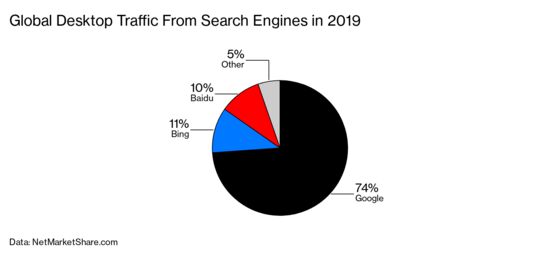 Prices are a problem. But even more frustrating for Wendler and other search buyers are the tweaks Google has made in recent years as it pushes to automate wherever it can. Today there are two basic ways to buy search ads. A business owner can pick out search terms manually or take the approach Google prefers: Hand over a budget, select an industry, and let Google's software figure out which ads will get the most clicks. In Google-ese, this is known as Smart campaigns. The idea is to make search-ad buying as simple as possible, while Google uses what it promises is the latest and greatest in machine intelligence to maximize profits for itself and its customers. "Our advertising tools are designed to help small businesses compete on a level playing field with large businesses, even Fortune 500 companies," says a Google spokesman. "Local businesses, even those without marketing expertise, can create compelling ads in minutes that reach the right audiences."
But automation doesn't work terribly well for therapists. Many are specialists, focusing on, say, couples counseling or trauma—distinctions that Google's software doesn't necessarily make. As a result, some therapists who use the automated approach end up entering auctions for broader keywords where the clicks don't lead anywhere. For one of Wendler's clients, Google's system once suggested "PTSD," a search many people make for idle research rather than to find an expensive counselor. Another client wasted a tenth of his $2,000 monthly Google ads budget this way before Wendler caught the problem. In another feature, Google even automatically writes ad copy. "If you're selling a widget or something, maybe that works for you," Wendler says. People are less thrilled with psychologists who sound like they've been programmed.
That hasn't stopped Google from pushing therapists to adopt Smart campaigns. Wendler recalls Saturday calls from Google representatives asking him to turn on automated ads for his clients. He politely declines and asks them not to call again. They wait three months and call again. "Google is essentially competing with itself," he says. "I think Google's ultimate goal is that you give them your credit card and that's the only thing you do."
The control such companies as Google exert over their markets is one key reason lawmakers are trying to check Big Tech's monopoly power. Consider Amazon's "subscribe & save" feature, which lets shoppers place a standing order for Raisin Bran or toilet paper. It's convenient—and it reduces the incentive to try competitors. "It locks you in," says Luigi Zingales, a finance professor at the University of Chicago Booth School of Business. The same could be said of Google's Smart campaigns.
But Wendler and other search marketers say Google's drive to automate has dovetailed with a reduction in the quality of customer support. For years a search-ad buyer could call a Google help line and get someone on the phone. Starting about two years ago, Google began outsourcing these services, and, buyers say, the quality of support quickly diminished. "It feels like you're speaking to someone who's just talking out of a binder," says Matt Coffman, founder of Therapy Practice Accelerator, a health-care marketing firm.
During the pandemic, Coffman says, he hasn't been able to get a human on the phone at all; Google moved its customer support to chatbots. The Google spokesman says the company "scaled back" support services because of Covid-19.
Practically every antitrust investigator who's looked into Google has seen a web presentation called "Focus on the User." It was created in 2014 by Yelp and TripAdvisor, local review sites and longtime Google critics whose central complaint was that Google was expanding its ambitions beyond mere web search in ways that hurt small companies. As rivals tell it, Google's search engine once did one thing: Spit out a list of 10 blue links. But starting in the mid-2000s, search results began to include, above the links, actual answers to questions like "How hot is the sun?" and "What are the signs of heat stroke?" Google pulled these facts from other websites, resulting in searches where consumers don't bother clicking on any links. Yelp and others argue this represents a theft of their intellectual property, siphoning off their web traffic.
Gradually this extended to phrases like "Where is the best Sichuan food in London?" with the top results from Google Maps. After Maps, Google did the same with its own services in travel, hotel booking, and shopping. In each case, Google says it shows the best results for consumers. Competing businesses say this is an open-and-shut abuse of monopoly power.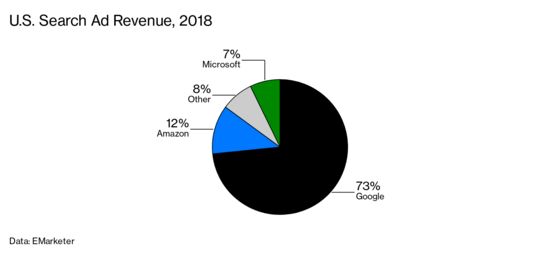 Google has done something similar with health care. At times the company has seemed intent on capitalizing on Doctor Google—that ubiquitous modern phenomenon of self-diagnosis-by-web-search. In 2015, Google teamed up with the Mayo Clinic to begin listing symptoms and treatments directly in search results rather than showing web links. At that point, Google said 1 in 20 searches were health-related.
About two years ago, the company hired David Feinberg, a hospital executive and former psychiatrist, to lead a new division, Google Health. Feinberg's remit is to create an electronic medical records system for hospitals that functions like Google search and to help revamp Google searches about health. His division created a special search page for anything related to Covid-19 in May and rolled out features specifically about mental health. People can now book virtual care appointments directly in Google Maps. Searches for terms such as "anxiety disorder" or "PTSD" now produce buttons linking to a clinically validated questionnaire and other resources.
"A lot of folks come to Google and ask us questions," Feinberg said in a May interview with YouTuber Dr. Mike Varshavski. "You can do your own, in essence, screening for depression and anxiety. So then you can see that you're not alone." That he was speaking on YouTube, Google's in-house streaming service, was fitting. Those self-assessments happen directly on Google, rather than on the sites of would-be competitors such as WebMD or Zocdoc. Feinberg, through a representative, declined to comment. That representative says he doesn't control paid ads and that the screening tools are designed to "raise understanding of mental health conditions," not diagnose or provide treatments.
These Google-owned mental-health checkups on Google's own search engine compound a problem marketers have complained about for a decade—namely, that it's very hard to attract users without paying Google for ads. If someone near Google's headquarters in Mountain View, Calif., searches for "treat depression," they might see ads for One Medical, a concierge health service in which Google is itself an investor; PlushCare, a tech company that specializes in online prescriptions; and BetterHelp, a virtual counseling service. To the right, they'd see an information box where Google lists various treatment options. The so-called organic search results—the old 10 blue links—come below all of that. In fact, so many search results are stacked with ads that one health-care investor says his firm advises portfolio companies not to bother tweaking websites to inch higher in Google search listings. Only paid results matter.
This has propelled an entirely new kind of competitor that is, more or less, the inverse of someone like Ross: Marketers that have a sideline in therapy, such as BetterHelp and Talkspace. When Ross loses Google auctions, it's mostly to these therapy consolidators. They have hundreds of millions in venture capital and corporate backing, and use an Uberlike contract labor model, acquiring customers and sending them to a sprawling, nationwide network of counselors and coaches.
Ross holds a doctorate in clinical psychology, which required six years of graduate school. She usually charges $250 an hour. BetterHelp's therapists need to be licensed counselors, clinical social workers, or psychologists with a master's degree and at least three years' experience. The company charges from $35 to $50 a session. (Full-time therapists earn from $15 to $30 an hour.) "I could probably make more money working at the grocery store," Ross says. "They pay terribly. It's abysmal."
Alon Matas, president of BetterHelp, says retention is high among his company's 11,000 therapists. Some therapists with thriving private practices in affluent areas can earn more than they could online, he says, but "there are providers on the platform who make six figures annually. Definitely not 'abysmal.' "
Google is, in a way, a co-conspirator in turning the business of mental health into a marketing game. BetterHelp's app has been downloaded 600,000 times so far in 2020, a 41% increase from the same period a year ago, according to research firm Sensor Tower. During the first couple of months of the pandemic, new customers complaining of stress and anxiety doubled from the year before, Matas says. The app saw a similar influx of independent therapists joining its platform, many of whom had no choice but to try online care while the pandemic shuttered physical businesses. The Google spokesman says a range of companies and nonprofits have bought search ads related to mental health. He notes that the company doesn't set ad prices and that its auctions operate fairly for all advertisers.
BetterHelp and others like it have another advantage: They don't have qualms about asking customers for testimonials to display on their websites or paying social media influencers to tout their networks. That helps them boost their rankings on Google, which favors businesses with reviews. Many licensed therapists consider that kind of marketing an ethical violation.
One could argue that the rise of these virtual therapy providers is a positive development, making therapy affordable and available at a time when everyone seems to need it. But that would cast BetterHelp, whose parent company brought in more than $550 million in sales last year, in the role of the scrappy challenger, and Ross, a sole proprietor, as the incumbent. David Cicilline, the Democrat representative from Rhode Island who led the antitrust hearings, challenged Pichai's contention that Google helps small businesses. "Google just shows what's most profitable for Google," Cicilline said. Gary Reback, an attorney with Carr & Ferrell LLC who worked on the Microsoft antitrust case, watched that and saw a clear signal that the Justice Department should be more confident to pursue a case against Google. "There are so many issues, and it looks like Google is on the bad side of all of them," he says.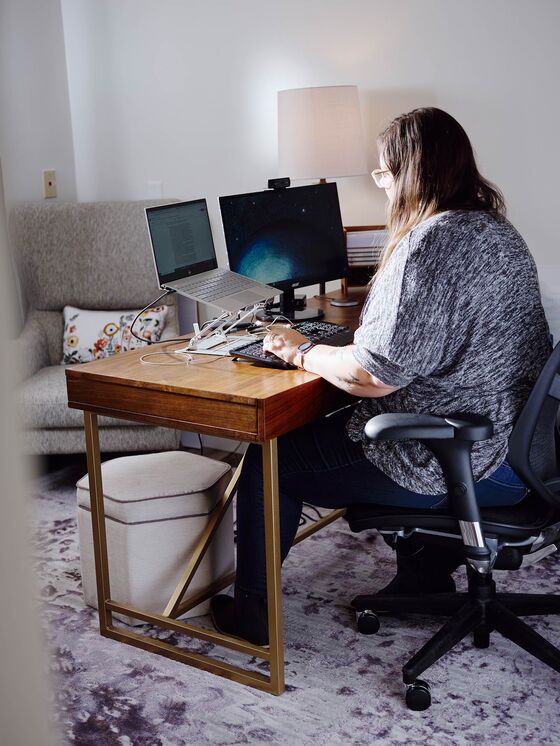 By summer, Ross's practice was picking up again. A couple of patients who'd left town continue seeing her via video. New patients are coming in, stressed by the unrelenting pandemic, dissatisfied with whatever they'd been trying as relief. She's even reopened her office for those who truly need in-person care. To prepare, Ross spent hours searching for Clorox wipes before finding a reliable supply at her local liquor store. She's also improved her video backdrop, adding new wallpaper, a potted plant, and a smart-looking wooden desk and bookshelf. Since more people seem to be seeking care, she's back to paying Google about $20 a day. She says she's feeling better about her business. She's also telling her patients that she's preparing herself for two more years of pandemic dislocation.
Google could be in for even more political hurt. It may have to pay record fines and make deep changes to its ad business. Politicians from both parties opened a probe into a data-sharing arrangement Feinberg's health division set up with hospitals. Google has waited more than nine months to close its $2.1 billion acquisition of Fitbit, which makes fitness trackers. Regulators, politicians, and critics have denounced the deal, worried about handing over a company that tracks our bodies to one that knows so much about our minds. To win approval, Google has promised that it won't use any data from Fitbit's devices for its primary business of selling ads.