Germany Doubles Military Spending, But Can't Rearm Overnight
Germany Doubles Military Spending, But Can't Rearm Overnight
(Bloomberg Businessweek) -- Three decades ago, the German military boasted about 500,000 soldiers, more than 2,000 battle tanks, and almost 1,000 fighter jets—respectable numbers to fulfill its defensive obligations should the Cold War suddenly turn hot.
With the fall of the Soviet Union and the opening of the Iron Curtain, Germany started cutting back on its defense outlays, abolishing conscription, slashing equipment, and recalibrating its troops for a new type of mission: quick interventions abroad deploying nimble special forces. In the new world order, trade, diplomacy, and economic aid could underpin security, while tanks, warplanes, and frigates were costly anachronisms.
Following Russia's invasion of Ukraine on Feb. 24, Germany has been shocked into the hard reality that its yearslong demilitarization by design and by neglect needs a radical rethink. Its eastern border sits just one country removed from Ukraine; less than half of its fleet of 289 Leopard 2 tanks is operational; and by some estimates, Germany's military has only enough ammunition in store to withstand about three days of fighting.
"The army that I am privileged to lead is more or less bare," Lieutenant General Alfons Mais said in a scathing LinkedIn essay shortly after the Russian invasion. "This does not feel good! I am pissed off!"
Two days after President Vladimir Putin started the invasion, German Chancellor Olaf Scholz held emergency meetings in Berlin with his closest aides that culminated in the most dramatic reversal in German security and defense policy since the end of World War II. The country would rearm its undermanned and outgunned military with a cash injection of €100 billion ($110 billion) and spend at least 2% of gross domestic product on defense in the coming years—a NATO target previously acknowledged with vague assurances or outright scoffed at by German politicians.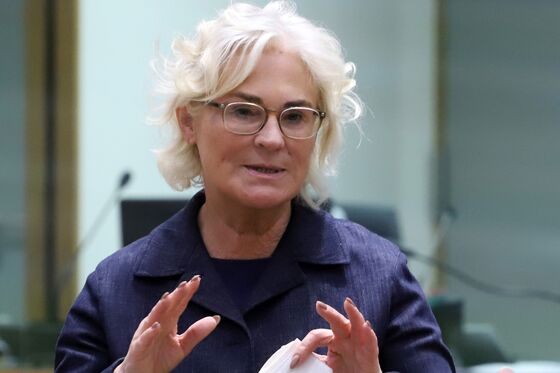 To replace its aging Tornado warplanes, which are at least 30 years old, the country plans to order almost three dozen F-35 jets from Lockheed Martin Corp. and 15 additional Eurofighter models. While the move was unusually swift for a country notorious for its bureaucratic processes, even with the €100 billion it will take years to return Germany to a viable military force with credible deterrence.
For now, the country ranks below Egypt and Indonesia in military prowess, according to the Global Firepower index, underscoring just how low its resources have run. Even quick fixes won't be so quick. A replacement order for tank shells takes some seven months for delivery, and fulfilling more complex purchases of equipment such as armored personnel carriers can take as long as 10 years, according to Rheinmetall AG, Germany's largest defense firm.
Germany's wish list is long and wide-ranging—from relatively minor investments such as laptops to huge outlays like submarines and helicopters. And the shortcomings extend to basic needs. Barracks at a base near Luxembourg have two toilets for 90 soldiers, and an airfield in northern Germany has no hot water for showers, according to Germany's annual defense report. Eva Hoegl, the parliamentary commissioner for the armed forces, says the conditions of many facilities are "desolate."
"The investment backlog is immense," says Marina Henke, director of the Hertie School's Centre for International Security in Berlin. "Germany can't hide behind the past anymore."
German defense contractors, which specialize mainly in ground equipment such as tanks and armored personnel carriers, stand to benefit from the spending shift. The division of labor and current capabilities within NATO mean Germany is better placed to help with tanks, infantry, and logistics, while the U.S. or the U.K. are more positioned to provide air and naval support.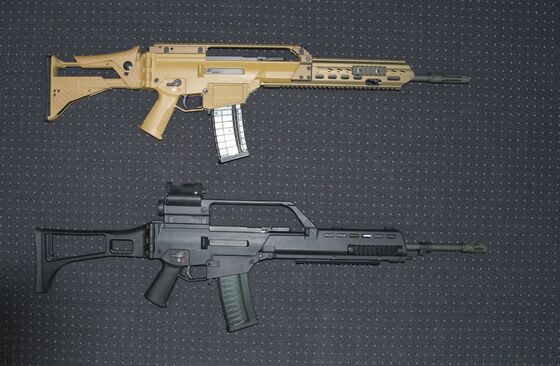 Rheinmetall sees a potential €42 billion in revenue over the next 10 years, while KNDS —the French-German maker of the Leopard 2 tank—is targeting as much as €20 billion. Investors are taking note. Since the beginning of the year, Rheinmetall shares have more than doubled in value.
"There's a lot available, it just hasn't been ordered in the past," says Rheinmetall Chief Executive Officer Armin Papperger. "An aggression like that against Ukraine simply wasn't on people's radar."
Not all of the windfall will land in German companies' pockets, as the F-35 purchase has already made clear. Many of Germany's needs are so immediate that it cannot wait for new systems to be developed, and it instead must choose from the arsenal that's already out there, often manufactured abroad. The F-35 fighters are critical to maintain obligations to NATO to carry nuclear weapons. Meanwhile, Boeing Co.'s CH-47 and Lockheed's CH-53K are being considered as new transport helicopters.
"We need to buy what's now on the market," says Marcus Faber, defense expert for the Free Democrats, a member of Scholz's ruling coalition. The armed forces were "broken by cost cuts over many years."
Germany's previous dismissive approach to the military is a byproduct of the horrors of the Nazi era. Any talk of spending on weapons raised the specter of aggressive rearmament and sparked fierce public debate. The country has no nuclear weapons, though the U.S. stores them on German territory and could deploy them in the event of an annihilating war.
Over the years, a sense set in that traditional warfare requiring huge amounts of materiel was a thing of the Cold War past. Besides, it was simply more comfortable for Germany to promote trade and leave strong-arm security posturing to its powerful NATO ally across the Atlantic.
"Germany again needs a fully prepared and modern-equipped army," says Bodo Koch, CEO of German rifle maker Heckler & Koch. "What is the point of having armed forces if we don't equip them?"
The country's military started operating outside NATO territory only after the fall of the Berlin Wall, sending small cohorts of troops on peacekeeping operations. It's currently engaged in about 10 such missions, most with a few dozen soldiers; the biggest was in northern Mali with just over 1,000 personnel.
Besides being starved for resources, the German military has been plagued by mismanagement. Some defense ministers under the chancellorships of Angela Merkel and Gerhard Schroeder resigned in disgrace, and few served a full term. Ursula von der Leyen, who was Merkel's defense minister for five years before becoming European Commission president in 2019, continued the cutbacks in areas such as tank battalions.
New Defense Minister Christine Lambrecht, a Social Democrat with no military experience and little national profile, has pushed back against the notion that Germany would be swiftly overrun in its current state. "We are capable of defending the country," she says.
At the same time, Lambrecht acknowledges that there is little equipment on hand to ship to Ukraine and help repel Russia.
Among the gear that was eventually sent out: 2,700 shoulder-mounted Strela rocket launchers to shoot down low-flying aircraft and helicopters. The equipment, inherited from the communist East German Army after reunification in 1990, had been gathering dust in storage—classified as so outdated that it had been barred from use for the past 10 years. —With Wilfried Eckl-Dorna

Read next: Broke Oligarch Says Sanctioned Billionaires Have No Sway Over Putin