Xi Jinping Is Too Busy Lobbying China's Elite for a Global Summit
Xi Jinping Is Too Busy Lobbying China's Elite for a Global Summit
(Bloomberg Businessweek) -- It's a delicate time to be in charge in China.
Every five years, a big meeting rumbles around in the world's second-largest economy. While China isn't a democracy, the Communist Party leadership meeting next year will be an election of sorts. President Xi Jinping, having coalesced power around himself and secured a constitutional rewrite to bust presidential term limits, is going for an unprecedented third term.
To secure it, he'll need the endorsement of the powerful Central Committee and the more than 2,000 officials who will attend the 20th National Party Congress in 2022, likely late in the year.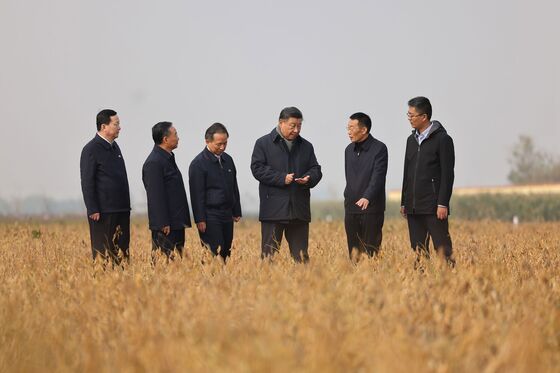 "Elite politics in China have always been high-stakes and high-competition," says Drew Thompson, a visiting senior research fellow at the Lee Kuan Yew School of Public Policy at the National University of Singapore. Winning over influential party members is "going to require lobbying" by Xi, he says, and the congress is also an opportunity for Xi's critics "to coalesce and potentially challenge him."
The action begins well before the congress starts. The Central Committee will first meet from Nov. 8 to Nov. 11 this year. That plenum will bring together state leaders, ministers, military chiefs, and provincial bosses. State-run Xinhua News Agency reports that they will review and adopt a resolution on the party's major achievements during its first century in power.
There's little indication that Xi, 68, will face a serious challenge, analysts say. But like his predecessors, he needs to keep China's citizens happy and burnish his credentials as their leader. In recent months he's spearheaded a national campaign to achieve " common prosperity," smacking down big companies such as Alibaba Group Holding Ltd. and DiDi Chuxing Technology Co., trying to rein in a culture of long hours and general mistreatment of workers, and pushing the country's billionaires to better distribute wealth. The crusade has a core imperative for Xi: to sell the Chinese dream.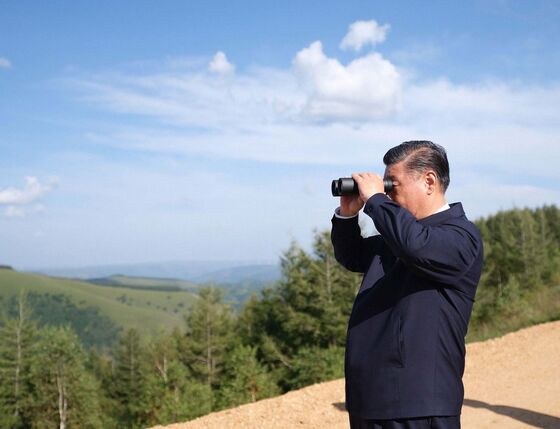 Preserving his power requires a laser-like focus on matters at home. That could explain why Xi hasn't left China in almost two years. And why he's expected to skip in-person appearances at two major gatherings starting on Oct. 30: the Group of 20 summit in Italy and the COP26 climate meeting in Scotland.
The Covid-19 pandemic does give Xi a rationale to stay home. China's Covid-zero policy keeps it largely shut off to the outside world, and recent outbreaks have spurred fresh lockdowns in the north. It also allows Xi to stay focused on domestic affairs.
The advantages that summits and high-profile overseas trips offered during Xi's early years in power have diminished, says Katie Stallard, a fellow at the Wilson Center, a Washington, D.C. think tank. Now he's probably more interested in the optics of being seen to battle poverty, inequality, and corruption than "in walking red carpets with other international leaders," she says.
When he attends summits, Xi arguably doesn't "do" much business. Other leaders take the chance to have corridor conversations and impromptu group chats. Not Xi. His schedule follows a careful script: attend plenaries, have stilted and formulaic bilateral meetings, meet with the local Chinese community, and leave.
In declining to travel, Xi could be missing an opportunity to better defend China against criticism on human rights amid a hardening of international views, with strategic alliances forming against China and countries starting to bar Chinese investment. But for Xi, the benefits of staying home outweigh those from going abroad. "Xi arguably believes that global leaders are eager to come to him, and thus he doesn't need to expend energy traveling abroad—or risk being publicly lectured by other leaders about China's human rights," Stallard says. "From his vantage point, access to China's economy remains a significant enough draw that he likely believes he is holding most of the leverage."
China is "past that stage in development" where Xi needs affirmation from meeting with President Joe Biden, Thompson says, and Xi can gain "maybe more domestic political credibility by being able to firmly tell the West where to step off, where to back down." While remaining in China, Xi has in recent weeks moved to improve ties with other countries, setting up a virtual meeting with Biden and planning an EU summit for later this year.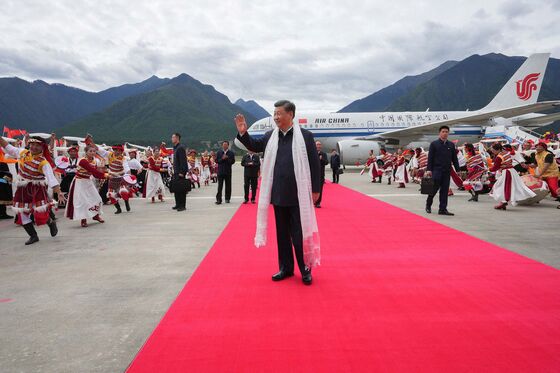 The Chinese president isn't alone in likely skipping a trip to Rome. Russian President Vladimir Putin is going to dial in to the G-20 from afar. Japan's Prime Minister Fumio Kishida has an election then. Still, Xi's reluctance to go anywhere stands out. Even Mexico's famously frugal and travel-averse President Andrés Manuel López Obrador left the country during the pandemic last year, taking commercial flights to see then-President Donald Trump in Washington. 
It's all the more stark given how busily Xi has been traveling within China. In September he toured Shaanxi province in the northwest, which is dotted with tourist sites commemorating key points in the early history of the Communist Party. Mao Zedong held a meeting in 1947 in the area that was attended by Xi's father, Xi Zhongxun, a high-ranking party official who was purged and then rehabilitated. In August, Xi went to the northern province of Hebei, where he visited a farm and eldercare facility. In July he went to Tibet, making his first trip as leader to the border region.
By embarking on such a tour, Xi is visibly tying the fortunes of China to his own stewardship. The upside is that he personally gets the credit when things go well. The downside is that he, rather than the party, could be on the hook if they don't. China, like other nations, is experiencing supply-chain and energy shortages affecting both factories and households heading into the winter months. Xi must also carefully navigate the problems at the deeply indebted property giant China Evergrande Group, whose failure could pose systemic risk and hurt investors and homeowners. There have been scattered protests by Evergrande investors.
Then there's history to bear in mind: Prior leadership meetings have been fraught. Xi's rise to power in the party shuffle of 2012 was clouded by the spectacular downfall of Bo Xilai, then party chief of the southwestern metropolis of Chongqing. Bo, who was touted at the time as a potential future leader, is serving a life sentence in prison for graft and abuse of power. Another onetime contender, Sun Zhengcai, was arrested just three months before the last party meeting in 2017 and later sentenced to life in prison for taking bribes. He was one of a handful of former members of the party's Politburo—a group of 25 top officials who oversee the party—jailed for life under Xi.
In the runup to the 2022 meeting, Xi is working hard to avoid any problems. Common prosperity is clearly Xi's vehicle as billionaires and bureaucrats fall into line to endorse it. He also took personal credit for the release of Meng Wanzhou, Huawei Technologies Co.'s chief financial officer, from house arrest in Canada, where she'd battled extradition to the U.S. on fraud charges for almost three years. Meng enjoyed a hero's welcome when she flew into Shenzhen Bao'an International Airport in late September. Her arrival was broadcast on state media and was a top social media trending event. The tallest building in the city lit up with the words "Welcome Home, Meng Wanzhou" scrolling across its façade.
And Xi is again campaigning against graft, something that could play well with the public. China is inspecting financial regulators, big state-run banks, insurers, and bad-debt managers for the first time in six years to root out corruption in the financial system. In early October officials announced they'd placed former Justice Minister Fu Zhenghua under a disciplinary probe, days after former Public Security Vice Minister Sun Lijun was expelled from the party and accused of "cultivating personal power."
After earlier crackdowns on the military, police, and legal system, he's "moving on to targeting the 'money bags,'" says Chen Daoyin, a political commentator and former professor at the Shanghai University of Political Science and Law. "He has made quite a few enemies." Chen says it's unlikely Xi will leave the country until the party congress is over so he can keep on top of potential threats. "Xi knows he has to brave the 'foul wind and bloody rain' until then," says Chen, quoting a Chinese proverb. From a Western perspective, that might appear paranoid or weak, he says, "but if we try to see China with China's own lens, it's not the case."
When Xi gets his endorsement from the Central Committee, that's where Taiwan could come in, Thompson speculates. The party's goal of unification with Taiwan has failed to progress and, if anything, the democratically governed island is moving further away from China. Xi could be "effectively goaded" by hawkish Central Committee members "into making long-term preparations for an invasion of Taiwan to force unification, because there is no prospect for it to happen peacefully," Thompson says. War with Taiwan remains unlikely anytime soon. But the risk, Thompson says, might be that Xi getting another term starts the clock on a forcible unification with Taiwan.