DeSantis Faces a Revolt From Angry Parents and Schools Over Masks
(Bloomberg Businessweek) -- Fear and anger were palpable at the school board meeting in downtown Miami on Aug. 18. A virulent strain of the coronavirus had ravaged the state for most of the summer; since early July the delta variant has sent 1,900 children to hospitals in Florida—more than in any other U.S. state. Within days of classes beginning, at least 20,000 kids and teachers in the state's five largest school districts had contracted or possibly been exposed to the virus.
Dozens of parents had signed up to speak about a proposal to mandate face masks in school. During the meeting, Franzella Guido Chacon held up a petition supporting a mask order, signed by 11,000 people. "We do not want the start of school in Dade County to become a superspreader [event] like we are seeing throughout Florida," she said. Outside, more parents held up placards for and against masks as some shouted, "Save our kids!"
Hours later the Miami-Dade County School Board voted to require 340,000 students to wear masks in class—defying an executive order from the governor and new rules from his education department.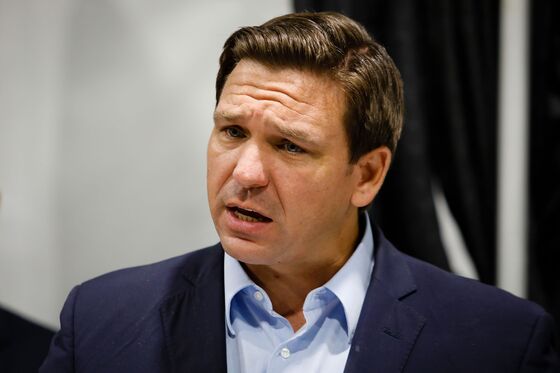 As the new school year commences, some Floridians are openly revolting against Governor Ron DeSantis's ban on mask mandates in schools. It hasn't swayed the 42-year-old DeSantis, who says parents—not schools—should decide whether kids need to mask up. He's stepped up his campaign, vying to withhold the salaries of superintendents and school board members who support mask mandates that don't give parents the right to opt their kids out.
It's a stance in line with his opposition to government-imposed economic shutdowns, curfews, and mask orders, which has raised his profile during the pandemic and made him a national face of the Republican Party. DeSantis, who's up for reelection next year, is considered a contender for the presidency in 2024.
So far the governor's threats have produced mixed results. Some parents have taken the fight to the courts. A dozen filed suit in Tallahassee on Aug. 6, claiming that DeSantis's ban is putting their children at risk as the Covid-19 delta variant batters the state. On Aug. 19, Judge John Cooper denied a request by DeSantis to throw out the suit, and a hearing began on Aug. 23. 
At least seven Florida school districts, including Miami-Dade, have gone against the governor and required students to wear a mask unless parents get a doctor's note advising against it. The latest was Leon County, which includes Tallahassee, the state capital. On Aug. 22, Superintendent Rocky Hanna announced that he was reversing course and imposing an all-out mask mandate after 245 students tested positive for Covid seven days into the academic year. "Look, I don't believe that masks are necessarily the end-all be-all, but we know they make a difference," Hanna said from an empty elementary classroom in Tallahassee. 
Rebel school districts have won a powerful supporter: Joe Biden. On Aug. 18 the president chastised governors for trying to block mask mandates and earlier punctuated his support by calling one Florida superintendent, in Broward County, north of Miami. School districts could use federal Covid relief funds to make up 100% of any money that governors might try to withhold, he said. "You know, we're not going to sit by as governors try to block and intimidate educators protecting our children," Biden said at the White House. 
The president's rebuke only seemed to embolden DeSantis. "For the federal government to come in and try to overrule parents' rights and force masks on kindergartners, first graders, and second graders—that's a massive overreach," he said at a news conference about monoclonal antibody treatment for Covid in Fort Walton Beach on Aug. 20. 
Florida's kids have been hit hard by delta. The state, with 6% of the U.S. population, has accounted for about 20% of the country's pediatric coronavirus hospital admissions since July. That's exacerbated a broader Covid surge that has hammered Florida's health system. Hospitals have been forced to put patients on gurneys in hallways because of a lack of space in intensive care unit beds, according to Mary Mayhew, chief executive officer of the Florida Hospital Association. 
DeSantis says he's only following Florida's Parents' Bill of Rights law, which he helped put in place in July. As for masks, the governor says there's no proof they protect kids. "There's never been a controlled trial study saying forced masking of kindergartners does anything against Covid or any respiratory virus," he said on Aug. 20. At least six other states, including Arizona and Texas, have barred local school districts from requiring pupils to wear masks.
The Centers for Disease Control and Prevention recommends indoor masking for all teachers and students. In a 2020 paper cited by the CDC, a laboratory experiment using two mannequin heads showed masks provide some protection from SARS-CoV-2 droplets. Cotton masks cut virus uptake by 20% to 40%, and properly fitted N95 masks by 80% to 90%. The benefits were even higher when both mannequins—the one releasing the virus and the one receiving it—wore the facial coverings. 
The science gets more complicated when it involves real people, who may wear masks incorrectly or remove them to eat. In the July executive order against mask mandates, DeSantis cited a study, lead-written by Brown University economist Emily Oster, that found no correlation between the mandates and Covid rates among students in Florida, Massachusetts, and New York.
Last year, DeSantis lifted lockdowns and forced public schools to reopen in October, months sooner than just about any other state. He seemed to be betting on data trends suggesting Florida wouldn't be hit significantly harder by Covid than more-locked-down places in the end. And it wasn't—until the delta variant came along. 
While his posture may play well with Republicans nationally, it's not so clear how the mask controversy is affecting DeSantis's political fortunes in Florida. The governor's approval rating was 44%, with 49% disapproving and the rest unsure, in an Aug. 2-3 survey from St. Pete Polls. He trailed in a hypothetical matchup against Democratic Representative Charlie Crist, though the result landed within the margin of error.
Another poll shows that 60% of Floridians agree students and staff should wear masks. But just over half also believe parents should have the ultimate right to choose, according to the poll last week from Florida Atlantic University.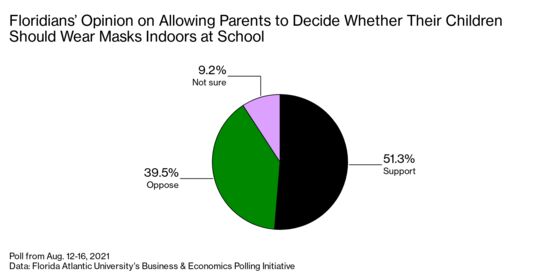 DeSantis has tried to shift the conversation from masks in schools to the promise of monoclonal antibody treatments for early-stage Covid or suspected exposure to the virus. He's spent the past two weeks traveling the state to show off clinics offering the treatment, free of charge. 
Weekly Covid cases have begun to decline in Florida, signaling that the latest wave may be receding. But at Nemours Children's Hospital in Orlando, the threat is far from past. On Aug. 24 seven kids were in the pediatric ICU, including one intubated and on a ventilator, says Kenneth Alexander, chief of infectious diseases at Nemours. Emergency room traffic is 50% to 60% higher than the seasonal norm, fueled by the Covid spike and a rise in other respiratory illnesses. "I do think that this delta variant may be more severe in children," Alexander says. "My real concern is that we need to keep the incidence of disease at school as low as we can."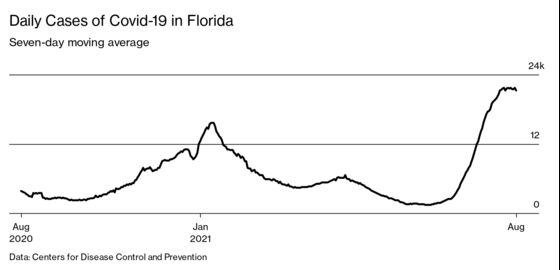 Mayhew, of the Florida Hospital Association, says that "hospitalizations are still extremely high and bed availability is still very tight" across the state. "There are so many hospitals delaying other services and worrying about the consequences," she says, noting that even cancer patients are being asked to put off procedures.