Exiles Target Cruise, Hotel Companies to Recoup Their Piece of Cuba
(Bloomberg Businessweek) -- Cuban exiles have begun suing in U.S. courts to demand compensation for property lost to the communist government, filing test cases that target multinational companies they say profit from confiscated assets.
Four lawsuits have been filed since May 2, when President Donald Trump broke 22 years of precedent to activate a provision of the Helms-Burton Act, one of the federal laws that enforce the U.S. embargo against Cuba, allowing the cases. The U.S. Department of State estimates there are as many as 206,000 potential claims, but many plaintiffs are waiting to gauge the success of the first legal wave. "The flood has not materialized, or at least not yet," says Pedro Freyre, head of the international practice at Miami law firm Akerman LLP, which advises clients on business in Cuba, including lawsuit target Carnival Corp.
Javier Garcia-Bengochea, a Jacksonville, Fla., surgeon whose family lays claim to port facilities in Santiago de Cuba, says the current cases are just the beginning. "Our intent is to go after everyone who is trafficking," he says. (In the context of Helms-Burton, "trafficking" means using confiscated property for profit.) "This is not just the 12 or 13 cruise lines that have been trafficking in our stolen property, but associated groups, travel companies, university groups—all the travel agents who book Cuba cruises are trafficking in stolen property, every one of them."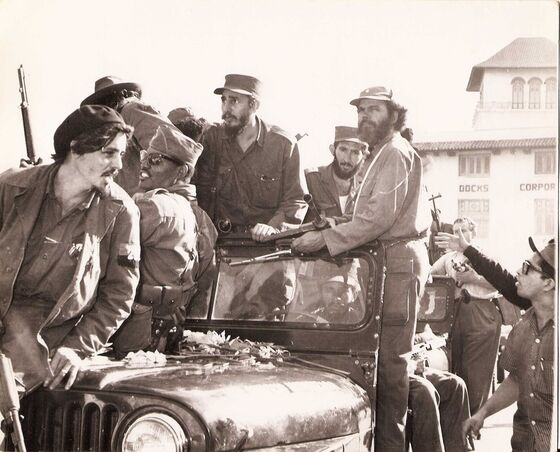 The Trump administration increased pressure on Havana again last week. Hoping to choke off the communist government's supply of hard currency, it barred cruise ships departing from U.S. ports from anchoring in Cuba and eliminated educational travel from its list of approved reasons to visit the island, effective June 5.
While the Helms-Burton provision known as Title III hasn't yet done much to constrain Cuba, it's already having far-reaching consequences for the U.S., as allies complain that Washington is trying to impose its will in violation of international law. The announcement that the lawsuits could proceed triggered protests from countries that are home to companies with significant Cuba investments, such as Canada and Spain.
The State Department said in an emailed statement that "the Cuban government's confiscation of Americans' property without just compensation was illegal under international law, and foreign companies' involvement in these properties simply emboldens that theft and makes accomplices of the investors." Cuba's embassy in Washington didn't respond to a request for comment.
Helms-Burton passed in 1996, but every president since Bill Clinton has waived the lawsuit provision to avoid friction with other countries. Trump's decision, aimed at ending an Obama-era rapprochement and pressuring Cuba over its support of Venezuela's socialist regime, was swiftly condemned. Canada has vowed to protect its business interests. The European Union may turn to the World Trade Organization or prohibit companies from complying, according to EU foreign policy chief Federica Mogherini. In a May 30 letter to the U.S. Chamber of Commerce, the EU said claims would likely start a "protracted legal process in which those companies might win compensation in U.S. courts only to have the same amount seized from their EU operation."
The European Union says the implementation of the lawsuit provision breaches agreements it struck with the U.S. in the 1990s. Javier Lopez, a Coral Gables, Fla., lawyer with Kozyak Tropin & Throckmorton, says the EU's response would do little to scuttle his cases. He said most of his clients have little property, let alone assets, in the EU that could be seized in a counteraction.
Attorneys have been choosy, given the challenges of marshaling six-decade-old proof and the potential difficulties in collecting damages, says Lopez. He says he had considered 60 or 70 potential cases, but cut the list to about a dozen. He says some plaintiffs won't pursue viable claims for personal reasons: "Some people that have worthy claims don't want to reopen the wound." There are also questions about how plaintiffs would collect if defendants are prohibited by their home governments from complying with court judgments.
Plaintiffs' targets include some of the highest-profile investors on the island: Spain's Melia Hotels International SA and American cruise operator Carnival. Exxon Mobil Corp. has sought $280 million from a pair of Cuban state-owned companies over their use of assets seized from its predecessor, Standard Oil.
One suit seeks compensation for the Cuban-American family that once owned the Hotel San Carlos in Cienfuegos, seized decades ago and managed by Melia in partnership with the state. The hotel was built in 1925 by Antonio Mata y Alvarez, whose family lived and worked there for decades, according to their lawyers. For some 20 years after Fidel Castro rose to power, they were allowed to stay, but in 1981 the last of the Matas departed. Melia didn't respond to a request for comment on the suit.
Garcia-Bengochea and Mickael Behn are claiming waterside buildings and piers. Even in exile, Behn's grandfather kept his company, Havana Docks, operational for decades, maintaining an office in Coral Gables and convening regular shareholder meetings. He died in 2015 at 91, shortly before the Obama rapprochement led to an opening for cruises. Carnival ships now use the facilities. "That would have killed him if the old age hadn't," Behn says. "Cuba was his island. He loved it. He thought it was the most beautiful place in the world, and his only dream was to go back."
Carnival declined to comment. The company has filed motions to dismiss the suits. Carnival said in the motions that Helms-Burton makes an exception for "transactions and uses of property incident to lawful travel to Cuba." José Cárdenas, a Latin America official for the U.S. Agency for International Development under President George W. Bush, says the policy shift is at least sowing uncertainty, which is likely to force companies to think twice before investing in Cuba. "Most companies are going to continue to look at Cuba with a jaundiced eye about prospects for investment, because the risks are not worth the benefits," he says. —With Michael J. Moore
To contact the editor responsible for this story: Stephen Merelman at smerelman@bloomberg.net