An EV Charging Station CEO Plans to Electrify the Roads
An EV Charging Station CEO Plans to Electrify the Roads
(Bloomberg Businessweek) -- EVgo Services LLC, the decade-old electric-vehicle charging network, has a simple strategy for building stations in the U.S.: Put them where people spend time (think suburban Whole Foods), and make juicing up fast. Chief Executive Officer Cathy Zoi talks about weathering the Covid-19 lockdown, preparing for electric pickup trucks, and the case for stimulus funds.


Cathy Zoi
● CEO, EVgo ● Co-founder and executive chairman, Odyssey Energy Solutions ● Former partner, Silver Lake Kraftwerk, a venture between Soros Fund Management and Silver Lake Partners ● Former assistant secretary for energy efficiency and renewable energy, U.S. Department of Energy
 
What has the pandemic meant for EV charging in the U.S.?
We've had 25 new station openings, even with shelter-in-place. We're an essential service, which is a good sign that electrification is mainstreaming. Not only are gas stations essential, but charging stations are, too.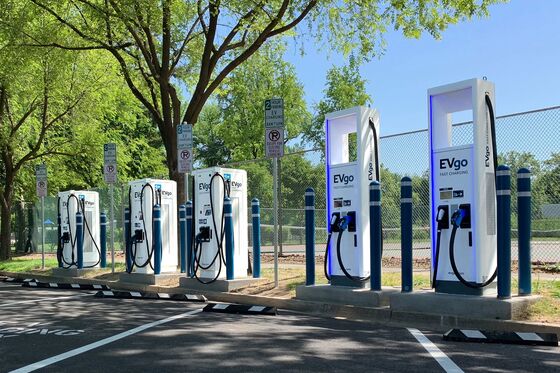 Your network is mostly in California?
We're in 34 states, 66 metro areas. We like to build in urban places. Utilization is going to be higher where there are more EVs, but we're also building through public-private partnerships in places where there are not yet enough EVs to make it profitable—for example, hundreds of stations in rural Virginia. You need to stimulate demand for the purchase of EVs at the same time as you're building the charging infrastructure.
In those rural places, how long before it becomes profitable on its own?
It depends on a lot of things. We absolutely have to electrify the corridors. Interstates were a public good that had to be subsidized by the government. If we're going to have fast-charging stations everywhere, there are going to be some places that will require public support.
Ride-hailing is taking a hit in the pandemic. Does that change your model at all?
It doesn't change our model. No. 1, we think it will come back. No. 2, delivery is part of that. People are staying at home, but there's a lot of delivery happening. For us it's the same high usage. Get those delivery drivers to electrify, and they're going to have to charge away from home because that's what they do for a living.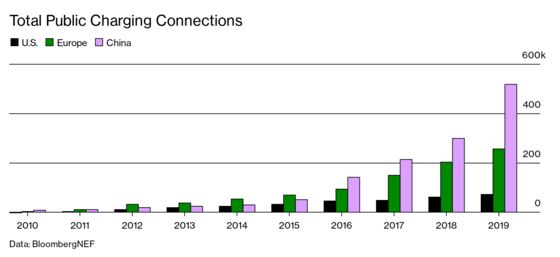 Are you planning on more commercial EVs?
Absolutely. And medium- and heavy-duty trucks. We'll provide both access to our public network and what we call BTF—behind the fence—where we will build and operate for fleets their own charging infrastructure. They can have a depot that's complemented by the rest of our network.
In terms of federal stimulus, what might we see, depending on the election outcome in November?
The November outcome is obviously huge. Our estimate is that by 2025 we'll need close to 50,000 DC fast chargers on American roads and maybe 500,000 slower chargers. That's about a 10-times increase. What would be really nifty would be if we had a $10 billion piece of a stimulus package for public-private partnerships in EV charging. That should be complemented by some stimulus to make sure the EVs that get produced get bought. The thing you don't want to have is charging infrastructure that just sits idle.
Is pricing still too confusing for consumers?
I've been in the electricity business since I got out of graduate school, 30-some years. Nobody really understands what a kilowatt-hour is. Consumers want simplicity. We will happily explain our pricing to people, but most people just want to know that when they drive up to a charger that it's going to be on and they're probably going to spend somewhere between $7 and $12.
● Interviews are edited for clarity and length.
Get Your
Daily Newsletter
Get market moving news, top news & compelling perspectives
---