The Little Engine That Won an Environmental Victory Over Exxon
The Little Engine That Won an Environmental Victory Over Exxon
(Bloomberg Businessweek) -- Chris James pulled off a feat that for years had eluded the Rockefeller family, giant pension funds, and money managers. In just six months—and after staking his own money—James's tiny investment startup, Engine No. 1, won a victory over one of America's most iconic companies. Its acrimonious six-month proxy battle against Exxon Mobil Corp., centered on its flagging performance and resistance to preparing for a low-carbon future, resulted in three dissident directors being elected to the company's 12-member board.
The victory not only stunned the oil world and corporate America at large, but it also marked a coming of age for socially conscious investors who've long pressed companies to improve their environmental policies, often with mixed results. Engine No. 1's proxy campaign may usher in a new age for them. "It opens up a new strategy," says Timothy Smith, director of ESG shareowner engagement at Boston Trust Walden Co., who's been speaking with companies and filing shareholder resolutions for 50 years. "There's never been a case of directors being unseated for ESG issues," he says.
A confluence of trends set the stage for Engine No. 1's success: mounting societal concern about the warming planet, world leaders and corporations setting emissions targets, and Exxon's poor recent performance. The heart of Engine No. 1's argument was that Exxon's failure to address climate change was damaging its finances and harming shareholders.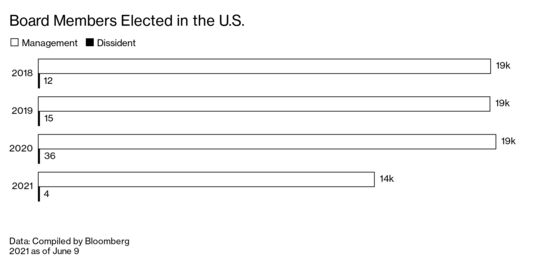 There was also already a groundswell in investor pressure. In the U.K., billionaire activist investor Chris Hohn had started a campaign pushing companies to produce plans to cut greenhouse-gas emissions and give shareholders a say on those efforts. And after facing criticism for its record on environmental issues, mammoth money manager BlackRock Inc., a top Exxon shareholder, said it would start voting against corporate directors whose companies fail to act on the climate. The shareholder vote held May 26 gave seats to three candidates Engine No. 1 supported.
It was a shocking defeat for Exxon Chief Executive Officer Darren Woods, who is four and a half years into what's already been a rocky tenure. His first task will be to convince the fossil-fuel skeptics in his own boardroom that the company should continue searching for untapped oil fields. Exxon has to find the equivalent of 1.4 billion barrels every 12 months just to offset what it pumps out of the ground every year. Operating on that gargantuan scale requires vast exploration programs that burn through billions of dollars for years on end, with no guarantee of success.
For most of its history, Exxon was known for its unrivaled financial and operating acumen. But a series of blunders in the past 20 years—including ill-timed forays by Woods's predecessor into Russia and American shale gas—laid the groundwork for steep declines in cash flow and oil production.
The crisis intensified with 2020's twin perils: a global crude glut and a pandemic-driven slump in demand crushed oil prices. Exxon posted its first annual loss in at least 40 years, and the stock registered its worst annual performance since it merged with Mobil in 1999. Even as revenue plunged to less than half of what it was earlier in the decade, Woods pledged to protect the S&P 500 index's third- largest dividend and borrowed heavily to fund it.
Ballooning debt and bleak prospects for any imminent rebound gave activists an opening. But whether the three new board members Engine No. 1 proposed will be able to alter the company's course remains to be seen. "We welcome the new directors and look forward to working with them," Exxon spokesman Casey Norton says. But Felix Boudreault, managing partner at ESG researcher Sustainable Market Strategies, is skeptical that Exxon's embrace will be a warm one. "They've shown so much resistance," he says. "At best, they will do the bare minimum on climate."
Nonetheless, Engine No. 1's victory has emboldened socially conscious investors, who for decades have been coaxing companies to improve their environmental and social practices. They typically talk with corporate managers and submit shareholder resolutions to be voted on at annual meetings. Matt Patsky, who's done socially responsible investing for more than 30 years, sees Engine No. 1's win as a way for him to up the ante by shaking up boardrooms. "We would consider doing this type of activism as part of a coalition of large investors," says Patsky, CEO of Trillium Asset Management. "It's opened up new opportunities for us. It's a third tool."
Investors such as the California State Teachers' Retirement System, Legal & General Investment Management, and the Rockefeller family spent years fruitlessly pressing Exxon to take action on global warming. CalSTRS, an early backer of Engine No. 1's Exxon fight, says it may use other strategies with companies it's already in talks with on ESG issues.
LGIM, one of Europe's largest money managers, which cut its stake in Exxon two years ago after failed talks on the climate, said it could throw its weight behind other investors who mount activist campaigns, as well. "More aggressive ESG tactics are here to stay," says John Hoeppner, head of its U.S. stewardship and sustainable investment unit. "Companies should expect more of this."
Engine No. 1's campaign wasn't focused on metrics like carbon dioxide levels or the planet's temperature. The fund argued instead that Exxon had generated poor returns—and jeopardized its own dividend—through years of wasteful energy-project spending and rising debt. It was important to make that financial case to other investors, James says. "In many of these cases, shareholders who vote aren't the loudest about these ESG issues. We are assessing the total value of a business, their impacts on stakeholders and shareholders."
Taking on one of the world's biggest oil companies was a big risk for James, who spent at least $30 million on legal fees. Engine No. 1 had only a 0.02% stake in the $260 billion company. But his firm won backing from the three-largest U.S. money managers, which together own about a fifth of Exxon, and the three largest U.S. pension funds.
James is now focusing on expanding his fledgling socially conscious business, including plans for an exchange-traded fund that will encourage changes at the companies it holds through proxy voting. He declined to comment on what his next targets might be. But a recent government filing shows Engine No. 1 had taken stakes in several companies including automaker General Motors Co., agribusiness Bunge Ltd., and manufacturer Deere & Co. before the end of March. All operate in high-carbon-emitting industries, so the Exxon fight is likely not far from his mind.
Get Your
Daily Newsletter
Get market moving news, top news & compelling perspectives
---