Elon Musk Takes Tesla's War on Labor Unions to Germany
Elon Musk Takes Tesla's War on Labor Unions to Germany
(Bloomberg Businessweek) -- As Tesla Inc. builds its first European car factory, in a patch of forest outside Berlin, Elon Musk has been on a relentless charm offensive. He's pledged to create thousands of jobs; he tweets in surprisingly good German; and, during the site's topping-out ceremony in September, he donned a heavy-duty cord vest and wide-brimmed black felt hat like those traditionally worn by local craftspeople.
The message has been warmly received, with politicians fast-tracking approvals for the factory and locals clamoring for jobs in a region that struggles to attract investment. On Nov. 30, the Tesla chief executive officer swooped into the German capital for the third time in as many months to accept an award for his entrepreneurial achievements from the publisher of the influential Bild tabloid.

But there's one corner of the German economy where the lovefest feels more like a standoff: the powerful 2.3 million-member IG Metall labor union. The group is on a collision course with the billionaire that threatens to either undermine Musk's ambitions or diminish the power of an organization that's long had an outsize role in the country's auto industry with its demands for better wages and shifts in strategy, backed up by the very real threat of strikes.
The conflict centers on Tesla's refusal to sign the kind of collective wage agreements that are standard in Germany. After the company ignored a letter from IG Metall seeking a dialogue, things started getting testy. At a protest in Berlin, hundreds of workers decried Tesla's poaching of a key manager from Daimler AG. And a local union leader released a statement admonishing Musk not to view wage accords as "the work of the devil," but rather as essential to maintaining peaceful labor relations. "It's not good for an automobile manufacturer to be in permanent conflict with IG Metall," says Christian Bäumler, deputy leader of a labor-affiliated faction of Chancellor Angela Merkel's party. "The union has organizational power, it has money, it has experience. It can endure a long fight."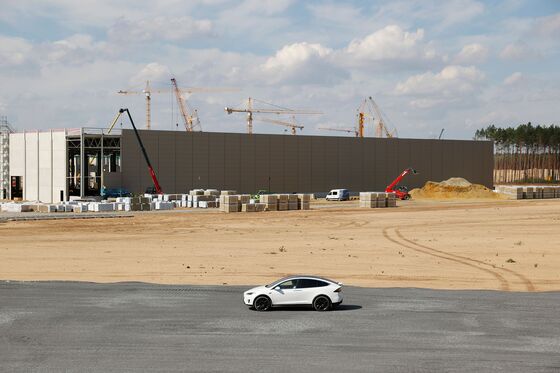 Musk, too, has plenty of power, experience, and especially money—in November he surpassed Bill Gates as the world's second-richest person—and he rarely backs away from a fight. With his factory rapidly rising from the sandy plot adjacent to Berlin's beltway Autobahn, he's managed to neutralize the bureaucratic resistance that can slow big projects in Germany. He's assiduously courted top officials such as Economy Minister Peter Altmaier, who promised whatever is needed to get the plant up and running by mid-2021. Local authorities swiftly granted aid and rubber-stamped construction permits, seizing what they see as a huge opportunity to ignite growth. Musk's pressure to go electric has started a "successful revolution" in the car industry, Altmaier said at a conference on Nov. 24. "Without him, we would have never ever achieved this."
The Tesla factory, Germany's first new auto plant in two decades, promises to create as many as 40,000 jobs in eastern Germany, a region that lost most of its heavy industry during World War II and atrophied during the country's decades of separation. It's being built as domestic manufacturers and suppliers lay off tens of thousands of employees in anticipation of the shift to battery-powered vehicles, which require fewer parts assembled by fewer workers. The site is central to Tesla's European growth plans and sends a signal to BMW, Daimler, and Volkswagen that the U.S. upstart they long belittled or ignored has arrived on their doorstep.
Musk is no friend of organized labor. When an employee at Tesla's plant in California in 2017 sought assistance from the United Auto Workers to unionize the site, Musk fired off an email suggesting the man was seeking to undermine the company and later hinted that organizing the factory would mean no more stock options. A judge last year reprimanded Tesla for repeatedly violating the National Labor Relations Act, a ruling the company has appealed, saying it was the result of a "smear campaign" by the union and unsupported by the facts.
For IG Metall, the concern is that Tesla will follow in the footsteps of Amazon.com Inc., which has expanded in Europe's biggest economy without signing wage deals for its warehouse workers despite years of union-organized protests. Musk wants to run his plant like a Silicon Valley startup—luring workers with unregulated salaries and stock options and promising perks such as a "mega rave cave" party space featuring a sound system the size of a car. If he succeeds, he might well threaten IG Metall's ability to get what it wants from other automakers.

The power struggle comes at a delicate juncture for the union as its members risk losing the safe employment the automotive world has promised for decades. As German auto executives negotiate tough cutbacks with IG Metall to pay for investments in electric mobility, they might point to the lower costs at Tesla, raising the pressure on union officials to curb their demands.
Already, Musk has helped set a more confrontational tone for German executives who have long felt restrained by unions. VW CEO Herbert Diess, an outspoken fan of the Tesla chief, has repeatedly clashed with IG Metall and has bemoaned what he calls the "old, encrusted" structure of the world's best-selling carmaker. Component suppliers Continental AG and Schaeffler AG have vowed to cut thousands of jobs and close or sell factories despite heavy criticism from unions. And Daimler CEO Ola Källenius has drawn labor's ire by culling some unlimited employment contracts in favor of more flexible arrangements.
Despite the threat Musk's company poses to Germany's big automakers, his foray into the birthplace of the combustion engine may ultimately prove a blessing in disguise for an industry that can be slow to change, says Ferdinand Dudenhöffer, director of automotive research at the University of Duisburg-Essen. For unions, by contrast, there's little upside as Musk's arrival represents a growing peril to a model that may have run its course. "Our corporate culture tends to keep things the way they've always been," Dudenhöffer says. "Musk is someone who can break that open, and that is the major opportunity here—also for the German carmakers."
 
Read next: Ex-Tesla Factory Worker to Pay $400,000 Over Feud With Musk