DJI Won the Drone Wars, and Now It's Paying the Price
DJI Won the Drone Wars, and Now It's Paying the Price
(Bloomberg Businessweek) -- Every summer, DJI, the world's largest drone maker, puts on a competition in Shenzhen called RoboMaster. If amateur robotics warfare isn't your hobby of choice, you should know that at the event hundreds of university students from China, Japan, the U.S., and elsewhere build robotic vehicles the size of lawn mowers, arm them with plastic bullets, and pit the machines against one another in front of thousands of screaming fans.
The competition was Frank Wang's idea. For several years, the founder and chief executive officer of DJI (full name: SZ DJI Technology Co.) has attempted to turn RoboMaster into something like a cult that celebrates engineering—and, not incidentally, stokes demand for his company's products. Along with the event, there's a TV cartoon, a reality show, a documentary, and a comic book series. Starting last year, DJI began selling a smaller version of a battlebot to consumers as a DIY kit called the RoboMaster S1.
In public, Wang doesn't preach the RoboMaster gospel himself. He's perhaps the most private tech CEO of them all, shunning all but a handful of media requests over his 14 years as DJI's boss and figurehead. He stood up a planned interview for this story twice, leaving his representatives to apologize and explain that they just never quite know what the man will do. In fact, the rumor going around DJI's press office is that Wang might not speak to a reporter ever again.
Reclusiveness is a bit off-brand for the world's first drone billionaire. DJI has filled the skies with cheap, easy-to-use flying machines that produce vivid video records of the world below. It has improved these products at such a relentless pace that rivals don't so much compete with DJI as cower before it. Photographers, filmmakers, and gadget wonks adore DJI and obsess over its every invention. Other Chinese tech companies are still sometimes dismissed as lame copycats, but DJI has proved that China's startup scene can create an original global brand with a steady supply of die-hard fans.
And yet the company's future suddenly seems uncertain. Talk of an initial public offering, which never came to pass, has been replaced by headlines documenting an internal fraud scandal that cost DJI $150 million. The trade war between China and the U.S. hasn't helped, nor has the outbreak of novel coronavirus Covid-19, which shut down the Chinese economy in January and is now threatening the company's biggest market, the U.S.
Some of these problems stem from DJI's total dominance of the drone business. American anxieties about China's influence, especially anything involving computers, extend naturally to the steady supply of robots buzzing overhead. And within the industry itself, the company's tireless drive to improve its products and lower prices has sucked so much of the profit out of the market for consumer and corporate drones that even Wang has little choice but to fund expansions into cameras, robotics, and, most controversially, drones sometimes used for surveillance by big companies and government bodies. As one former employee puts it, "Frank has created a race to the bottom, and now he's competing against himself."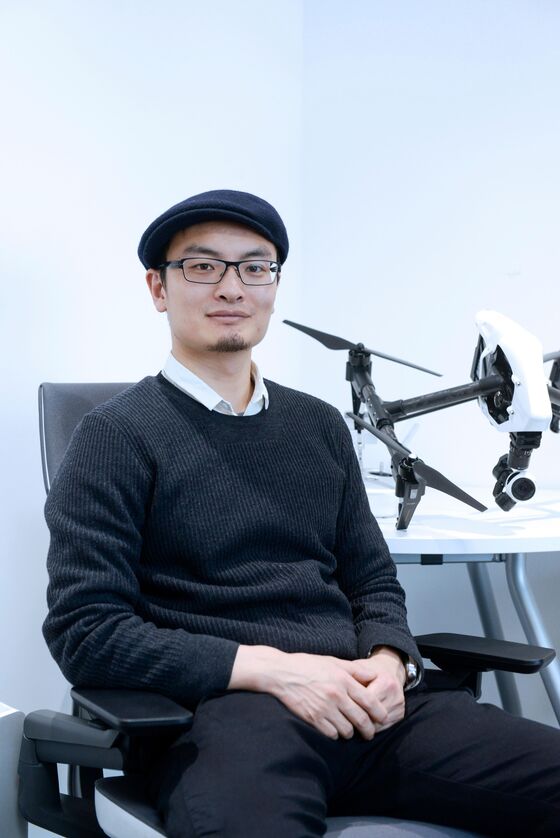 Wang was still a college student in Hong Kong when he started DJI in 2006, building components for remote-controlled helicopter prototypes. He and a classmate studied under the guidance of Li Zexiang, a renowned Chinese researcher who helped them develop a tracking system for the devices. In 2009 the technology proved good enough to fly an unmanned chopper around Mount Everest. It coped well with the blustery, high-altitude conditions at hand.
Following this early success, Wang began hiring young engineers to develop the motors, speed controllers, bodies, and radio modules for what we now think of as drones. Early drone enthusiasts had been accustomed to soldering their own components, spending hours on forums to figure out how to get things to work, and installing and reinstalling clunky software. DJI managed to eliminate all of this hassle and deliver a product that worked out of the box.
In 2015, DJI upended the drone market with the release of the Phantom 3. By then, Wang had tapped into Shenzhen's manufacturing expertise to build factories that could produce most of a drone's key components. The Phantom 3 added a built-in camera that could swivel and transmit video to a screen held by an operator. "That was a watershed moment," says Ryan Tong, a former managing director at DJI. "They made it so easy. As a photographer and as a Chinese American, I was very proud."
The Phantom 3's popularity and DJI's ceaseless push to release successor devices—the Phantom 3 SE, the Phantom 4, the Phantom 4 Pro V2.0—drove out many of the company's competitors, especially its U.S. rivals. 3D Robotics Inc. in Berkeley, Calif., was also early to the hobbyist drone market. It's raised $170 million over the better part of a decade, but eventually shifted away from making its own drones to focus on producing software that can run on DJI's models instead. GoPro Inc., the wearable camera maker, thought it could expand into drones, but got out of the business in 2018. (Last year, DJI rubbed it in, releasing a GoPro-like camera called the Osmo Action.) According to Drone Industry Insights UG, DJI now accounts for about 77% of drone sales in the U.S. No other rival has more than 4% of the market.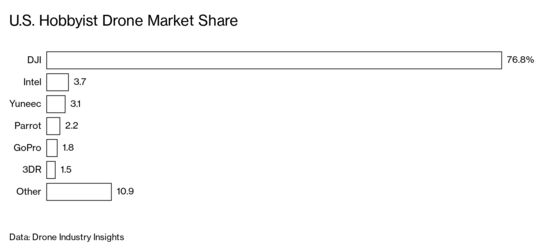 Some executives might use such dominance as a reason to brag. Not Wang. The CEO, who has a thin build and likes to wear a newsboy cap and distinctive round glasses, hasn't sat for an interview since 2016. Those close to him, including more than two dozen current and former employees who spoke on condition of anonymity to protect their job prospects in the drone industry, describe him as an engineering and design obsessive with little interest in anything else. They say that his office is filled with objects he admires—a motorcycle, a model plane, a massive coffee table that looks like petrified wood—and that his favorite movie is Real Steel, the 2011 Hugh Jackman film about fighting robots. One former employee says Wang "dreams of the day robots can do everything."
DJI's hiring standards are famously strict. To prepare for a personality quiz, employees trying to get their friends hired advise them to pick answers that sound analytical, not artsy. A real stumper, people who've taken the test say, is whether Leonardo da Vinci is a good role model, since he's both an artist and an engineer. Those who seem engineering-focused enough eventually face a hands-on challenge: soldering drone components together. Until recently, even potential sales and marketing hires were asked to complete this task.
The tests don't stop once an employee is hired. DJI has become infamous for its competitive atmosphere. The company separates workers into groups and challenges them to come up with rival takes on a new product. The winning group gets the glory of seeing its ideas come to market; the losers must help make that happen. Employees are often asked to judge one another in surveys and to rate the performance of other departments. This data is then used to help decide salaries. There are more arbitrary factors, too. Wang once threatened to dock the pay of a public-relations executive because Wang had received too much attention in the media.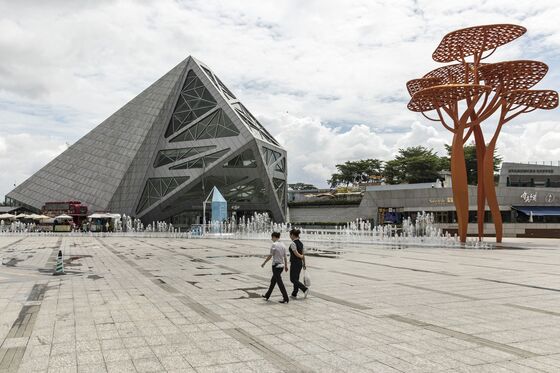 The intensity of DJI's culture is partly a reflection of its hometown of Shenzhen, where the company's factories continue to hum even as the coronavirus outbreak may delay deliveries of key raw materials. People flock from all over China to the city of 13 million to try to get ahead in the tech industry. Wang found a way to tap into this vibe, giving young engineers lots of freedom and responsibility. As one former high-ranking executive puts it, "Frank doesn't give a shit about anything except technology. He wants the best young engineers and people who are willing to get their hands dirty and think up new ways to solve problems." Among the consequences of this ethos are infighting and crushed morale for those who can't keep up. DJI declined to comment.
Like many large Chinese companies, two people familiar with the strategy say, DJI dabbles in so-called black ops, tactics used to attack competitors or buff its own image. In one case, the company's agents set up 50 fake accounts to fill a message forum with negative comments about rival EHang. The forum head saw that the comments were all coming from a Shenzhen IP address, which pointed back to DJI, and demanded that the company stop its behavior. The company responded by telling its troll minions to keep bashing, using software to cloak their locations. Pro-DJI trolls allegedly attempted a similar operation on YouTube, where they've been accused of smearing products from another rival, Yuneec. DJI declined to comment.
Wang's hostilities can carry over to DJI's customers, too. The company's customer service is notoriously bad. Top executives have been known to personally hop into customer complaint email chains, according to one former employee, where they engage in direct consumer combat, in multiple cases using flight data to dispute the cause of crashes in bids to quash refunds. Wang, according to this employee, takes particular umbrage with resellers like Apple Inc., which offer refunds with no questions asked, and vents his rage in emails to top executives. DJI declined to comment.
About a 20-minute drive from the company's headquarters, its factory has the same boxy, bland look of any other electronics plant. But on the inside, there are multiple levels of automated assembly and test lines. Robots put the drones together and then set the aerial machines humming; the drones take off on their own by the hundreds, performing a series of maneuvers over the course of two minutes, then land and continue moving down the manufacturing line. "It used to be more people than robots on the line, then it became more robots than people," says Mario Rebello, DJI's former vice president for North America. Many of the robots used on the lines were built in-house to perform highly specialized operations. "There's tooling on the line that no one else in the world has," Rebello says.
These pricey assembly lines have allowed the company to keep up with its engineers' innovations. DJI now produces industrial drones that survey land, spray pesticides on farms, and even take biological samples from whale spouts (the Snotbot). When Chinese authorities instituted a lockdown in response to the coronavirus outbreak in Wuhan, police used a DJI drone, the Inspire, outfitted with a loudspeaker, to warn people in the streets to stay indoors, wear masks, and wash their hands. (Police around Europe have also taken to flying drones to dispense coronavirus information.)
In 2018 media reports suggested that DJI planned to raise several hundred million dollars ahead of an eventual IPO. That talk died down after the company fired dozens of employees it accused of inflating parts costs for personal gain. The fraud scheme cost DJI about $150 million, according to company statements. Former employees say the parts wheeling and dealing stemmed from internal chaos and a financial reporting system that might not pass muster with auditors. DJI copped to some of this in a statement it released at the time. "While mature companies have established the training, controls, and management protocols to limit these issues, DJI has in the past emphasized corporate growth over new internal processes," the company said.
Roger Luo, DJI's president, says there's no hurry to go public. "If we IPO, there might be some restrictions. Investors will pay attention to profit. We want to avoid restrictions and focus on our passions," he says. The company is currently building a monument to those passions, and Wang's ambitions: a 636-foot-tall structure with a pair of towers connected by a skybridge, a multistory drone test zone, and, on the first floor, a product showcase and battlebot arena.
 
While it's not recommended—or, in most places, legal—it's technically possible to fly DJI's drones as high as 4 miles into the sky. Someone in China was doing exactly that—and the drone almost collided with a People's Liberation Army Air Force fighter jet, according to two people familiar with the 2016 incident, who spoke on condition of anonymity because they weren't authorized to discuss it. The fighter pilot landed and was furious. He asked to check footage from a camera mounted to the plane to see if it caught images of the device, which it had. The military brought the pictures to DJI and demanded to know whose drone it was. DJI said it didn't have a database with that sort of specific information and could provide only a general idea of devices near that location, according to one of the people familiar with the matter.
The government insisted that DJI create a type of air-traffic-control database that can identify and monitor drones flying in China. While Wang, according to former employees, isn't a big fan of the military, he created this system rather than have the government try to build it, one of the people says. DJI's Unmanned Traffic Controller, or UTC, matched the unique IDs of drones, which are tied to people's phone numbers in China based on a black box inside them, to various sensors—GPS, barometer, gyroscope, and compass. After developing the program, DJI turned it over to China's air force as a so-called white-label product that could be branded however the military wanted, so as to obfuscate DJI's involvement and avoid concerns about the company working with the military. (Some former employees contest whether the near-collision spurred DJI's development of UTC. One says the company had been working on the concept before 2016, while two people say it focused on the system later, after a series of drone incidents at international airports in southwest China caused flight disruptions in 2017.) Luo declined to comment beyond saying he had no knowledge of the military plane incident.
These previously unreported details underscore the concerns of China hawks in the U.S., who've questioned how close Chinese drone makers are to government authorities. They also cut against DJI's years of insisting these worries are overblown.
Cut to 2020, and the company now sells a tracking system similar to the one built for the Chinese military called AeroScope. It allows airports, nuclear power plants, and other sensitive locations to buy a device that can scan about 30 miles of airspace and detect drones in a matter of seconds. In 2015, DJI also hired Brendan Schulman to help navigate regulations and lawsuits for the nascent technology. Schulman, a Harvard-educated lawyer, is something of a hero among drone enthusiasts for having defended the first instance of Federal Aviation Administration enforcement against a drone operator. Lately, Schulman, who's now vice president for policy and legal affairs, has been spending much of his time reassuring people that DJI is not spying on them. "Now we have to deal with skeptics and international politics and things that are somewhat outside of our control," he says.
Concerns about drone surveillance also extend to Xinjiang, a region in northwest China that human-rights groups have described as a police state because of the oppression, horrific abuse, and confining to camps of as many as 1 million Uighurs, the region's predominantly Muslim ethnic minority. China's foreign ministry earlier this month dismissed reports of such abuses as attempts to smear its counterterrorism efforts. The government also said late last year that "students" who were undergoing "de-radicalization training" at the camps had all "graduated."
DJI had posted a statement on its website in 2017 outlining a deal for "strategic cooperation" to provide police drones to the public security bureau of Xinjiang. The announcement was covered by local media, and the security bureau reposted it on one of its social media accounts, but the statement disappeared from DJI's website after Bloomberg Businessweek asked about the partnership and the company now says the person with knowledge of the agreement had left the group.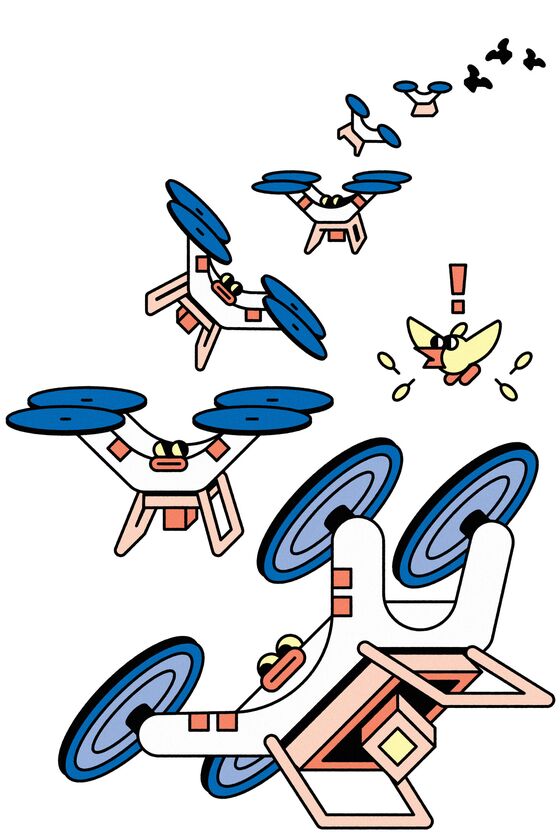 The concerns over Chinese-made drones have also reached a critical threshold in the U.S., with China hawks including Republican senators Marco Rubio and Rick Scott of Florida leading the uproar. More than a dozen proposals to ban or restrict the use of Chinese drones by U.S. government agencies are making their way through Washington. The Department of the Interior, which uses drones for wildlife conservation and inspecting infrastructure, said late last year that it would ground about 800 Chinese drones, a move that DJI said in a statement was "politically motivated country-of-origin restrictions masquerading as cybersecurity concerns." The Los Angeles office of Immigration and Customs Enforcement said in an agent's bulletin that it had "moderate confidence" that DJI was providing critical infrastructure and law enforcement data to the Chinese government. (In a public statement, DJI described the bulletin as being based on "false and misleading claims.") And last May, just after the Trump administration announced its ban on tech giant Huawei Technologies Co., the U.S. Department of Homeland Security issued an alert warning American companies of the data security risks posed by Chinese-made drones.
Schulman says he's in agreement with the DHS memo and recommends that customers use an encrypted data link between their drones and remote controllers. "What's happening is the very rapid adoption of our technology has now presented us with a need for increased data security protection," he says. DJI is pitching itself as more secure than its Chinese rivals and would, of course, like to sell security technology to prove it. Schulman says the company now offers something called "local data mode," in which the drone exchanges no data with the internet during flights, as well as technology that keeps data exclusively within a company or government agency.
In the U.S., concerns about DJI's products have done little to discourage its customer base. Flymotion, a drone services company based in Florida, uses its devices to support dozens of police departments, according to CEO Ryan English. "DJI owns the global market," English says with a Southern drawl. "One thing about DJI is that the advanced technology you get for the price point is very difficult to beat."
While companies such as GoPro and 3D Robotics have given up on trying to compete with Wang's company in the consumer market, DJI still faces challenges that include ongoing patent suits from U.S. businesses and a new crop of startup competitors attempting to build American-made flying machines. Impossible Aerospace Corp., for example, makes its drones in a Santa Clara, Calif., factory. It was founded by Spencer Gore, a former battery engineer at Tesla Inc., whose big idea was to ditch separate battery packs for drones, à la DJI, and instead make the batteries the basis of the drone's entire body. The concept borrows from Tesla's designs in that a massive battery pack makes up the base of a car's chassis, giving it a low center of gravity and better handling. In this case, building a drone's frame out of a battery meant Gore's device could have a much bigger battery with a much longer life. Impossible's drones can fly for two hours, compared with 30 minutes for a rival DJI product.
The first Impossible drone, the US-1, started shipping last year to a company that uses them to check on oil and gas leaks at wells in West Texas. Gore thinks police and fire departments will end up as Impossible's largest initial market, because the long battery life makes the drone well-suited to hovering over a crime scene or a fire, while requiring less tending from an operator. "There are 18,000 municipal police departments and 32,000 fire departments in the U.S., and only 60 of those municipalities can afford helicopters," he says.
A rather confounding issue Impossible has faced is that the purchase bids put up by police and fire departments often have specifications that guarantee the sales will go to DJI. To illustrate, Gore pulls up a request for proposal for a drone from the Kansas Highway Patrol that lists properties such as flight time, cameras, and payload capacities. The numbers match up exactly with those of DJI's Matrice 210. "If the U.S. wants to be competitive in robotics and drones, the least it can do to jump-start its own industrial base is to award government contracts to American companies or at least let them compete for them," Gore says. "There are about 1,000 police departments receiving DHS grant dollars and spending them on Chinese-made, DJI-made drones. We are using our federal dollars to fund what could become one of China's first prime contractors."
Gore has taken to contacting the police and fire departments one by one to ask them to alter the purchase bids so Impossible can apply for the contracts. He's also hired a couple of former police officers as part-time salesmen. Before drones, they sold firearms to police departments. In Washington, DJI has stepped up its lobbying expenditures, to a record $200,000 in the third quarter, while avoiding the kind of sanctions the Trump administration used against Huawei. "DJI has incredible lobbyists," Gore says.
DJI is at greater risk than it used to be of a Washington ban on federal use of drones from China. "No amount of lobbying is going to convince members of Congress to compromise on U.S. national security," says Senator Chris Murphy, a Connecticut Democrat. But it'd be tough to decouple Wang's company from law enforcement agencies at the state and local levels. Agencies in all 50 states have drones now, about 90% of them made by DJI, according to a recent Bard College study. If U.S. drone makers are going to compete with Wang, Murphy acknowledges, they may need subsidies, too. —With Venus Feng
 
Watch: DJI's Robot War-Games on Wheels