Online Disinformation Campaigns Undermine African Elections
Online Disinformation Campaigns Undermine African Elections
(Bloomberg Businessweek) -- In the runup to Guinea's elections on Oct. 18, voters are grappling with a familiar-sounding problem: disinformation and a lack of transparency over who's providing the news they're getting.
In the U.S., similar complaints led to a crackdown on campaigns such as those staged by Russia during the 2016 presidential vote, won by Donald Trump. This election cycle, Facebook has banned new political ads in the week before Election Day on Nov. 3 and—following Google's example—indefinitely after, while Twitter has also pledged to better police misleading information.
But in Guinea, a West African nation of 13 million that was under authoritarian rule until democratic elections in 2010, social media platforms are a powerful tool for the government—not some foreign entity—to dominate the narrative around the campaign.
The internet has become a welcome space for Africans to gain access to information and join political debates. A recent survey across 14 African countries found that 54% of young people read news on social media, and a third spend more than four hours a day online, mainly on their smartphones, according to the South Africa-based Ichikowitz Family Foundation, which commissioned the study. But there's growing unease about the darker side of social media in electioneering on the continent. Critics such as Stanford University's Internet Observatory and Cyber Policy Center worry that online platforms have become yet another instrument for governments to tighten their grip—joining such traditional methods as controlling the content on state-run broadcasters and limiting the freedom of expression with draconian laws.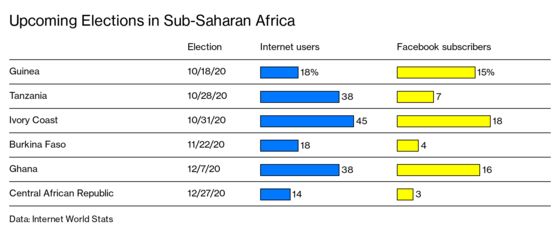 While laws are in place in most African countries to restrict political advertising on traditional media, there isn't enough accountability for platforms such as Facebook, Kenyan activist Nanjala Nyabola argues in her book Digital Democracy, Analogue Politics. "This assumption that developing countries are blank slates onto which technological fantasies can be projected is really dangerous," Nyabola told the Centre for International Governance Innovation last year. "What we're seeing is the consequences are usually far more grave than they are in countries that have robust legal and political frameworks."
A survey in Ghana last year found the use of social media was increasing the cost of already hugely expensive campaigns and strengthening the position of wealthy politicians, whose social media machines drown out the voices of smaller parties, according to researchers of the University of Exeter in the U.K.
In Guinea, dozens of patriotic-sounding Facebook pages say President Alpha Conde is a savior and his main opponent wants to destabilize the country. (That's a frightening thought for citizens who recall the most recent military coup, in 2008.) Paid workers regularly post on pages promoting Conde's ruling party, including Alpha Conde TV, and one called "Guineans Open Your Eyes," which targets Conde's rival and carries a picture of a bloody clown on its banner. But an analysis of the pages by Stanford shows the people controlling them rarely divulge that they're paid, and most don't use their real identities so viewers can know where the information is coming from.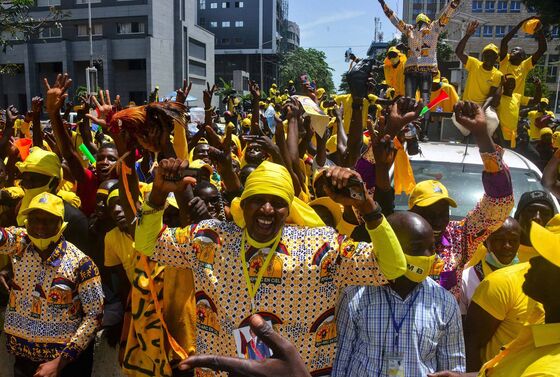 Tech companies' higher standards for the U.S. vote aren't a panacea across the ocean. "Because Facebook is an American company, largely run by Americans, it is able to rely on institutional knowledge of American politics and its dynamics" to figure where misinformation enters the process in the U.S., says Arthur Goldstuck, managing director at African technology research company World Wide Worx. "It does not have the same depth of knowledge or understanding of most other countries."
In the case of Guinea, most Facebook pages promoting Conde, the 82-year-old president, who's seeking a third term, appear to lack transparency, according to Stanford. In a report last month, researchers said they found 94 pages that are "clearly" tied to the ruling party but fail to disclose that their operators are being paid to post text and images. Many of the administrators hide their identities, using names such as "Continuity, Continuity" or "Alpha the Democrat." The pages have a combined following of some 800,000 people, equal to about a third of the country's 2.4 million internet users. The Guinean network of pro-government pages pushes up against the boundaries of acceptable behavior on Facebook, says Shelby Grossman, a research scholar at the Stanford Internet Observatory. "If you are being paid by political candidates to post media that supports those candidates, you should be transparent of who you are and who you are affiliated with," she says.
According to one of its spokesmen, Alhousseiny Makanera Kake, Guinea's ruling party has established a dedicated social media team that's active on various platforms, not just Facebook. The spokesman for that team, however, has not responded to phone calls. Messages to six pro-government Facebook pages have also been met with no response.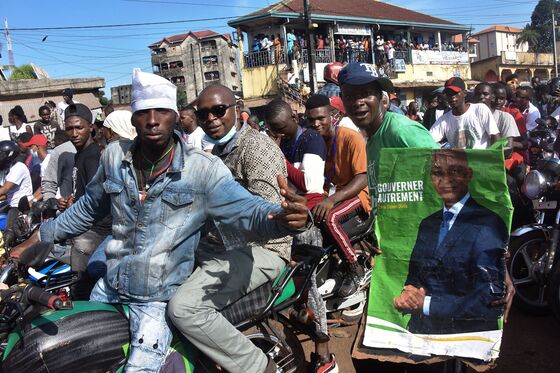 Facebook says the pro-government pages do not violate its standards. A company investigation showed that the pages are operated by real people with real identities, a company spokeswoman said by email. The company is working on tools that enable people to better understand the pages they follow and who's behind them. In the U.S., the platform has introduced a tab called "Organizations That Manage This Page" to help avoid a "misleading experience," and the company may bring the tab to more countries, she said.
That isn't enough to help users in a country such as Guinea, where web literacy is in its infancy. Political propaganda has become completely "normalized" as parties across Africa have grown more sophisticated in their use of social media, says Thomas Molony, co-author of the book Social Media and Politics in Africa. "It's when the pernicious content gets in, and the line between verified news and fake news is crossed, that we should be concerned," Molony says.
Like Guinea, social media campaigning in other African countries comes with huge problems of accountability. The ruling party in Ghana, which will hold elections on Dec. 7, already had a social media army of some 700 workers by mid-2019, prompting the main opposition party to catch up and recruit its own "communicators," as the University of Exeter study called them. All the main parties in Ivory Coast have deployed teams to campaign on social media for a contentious Oct. 31 vote. The East African nation of Tanzania, which will hold a presidential vote on Oct. 28, has taken the opposite course, having pushed through legislation in 2018 and 2020 that criminalizes some social media posts by journalists and suppresses the growth of online media, including radio and TV.
Internet-powered politics is overwhelming underfunded grassroots political activists. "For us, this is completely unorthodox and hasn't happened before," says Sekou Koundouno, head of the Guinea branch of Balai Citoyen—or Citizen's Broom—a civil society group active in several countries. "It's not regulated at all, and you see people taking money from the state to try and keep the ruling party in power."