Disillusioned Bureaucrats Are Fleeing China's Ministries
(Bloomberg Businessweek) -- For centuries, getting a job as a government bureaucrat has been the path to power and relative wealth in China. It also led, in more recent times, to bureaucratic sclerosis and corruption. After President Xi Jinping took office in 2013, he started clamping down on graft, absenteeism, and other abuses. He also began curbing dissent, as he moved to restore the Communist Party's control and stamp his own authority on all aspects of the nation's development.
Interviews with eight officials in China's ministries and regional governments show growing dissatisfaction as the party tightens restrictions on its 7 million civil servants, traditionally known as cadres. All these officials either recently quit or plan to do so, and all requested anonymity to speak about sensitive matters.
In the old days, many senior officials would rarely turn up for work—while still collecting monthly paychecks and enjoying perks such as privileged health-care benefits. Those interviewed said such abuses have become rare. But increased inspections and oversight have taken a toll. One senior government official in his early 50s decided to apply for early retirement because his heavy workload sometimes required him to sleep in his office on the tiled floor amid crawling cockroaches, using newspapers for sheets. A 29-year-old civil servant in a provincial capital is rethinking his career as housing prices soar beyond what he can hope to afford on his $522 monthly salary. And another official quit to join a private company after 10 years of service, disillusioned by increasing scrutiny from the party's disciplinary watchdog, which combs party officials' reports looking for "malpractice" or "inaction."
Since taking control of the party in 2012, Xi has made himself into China's most powerful leader since Mao Zedong. He's put himself at the center of Chinese communist thought, heading dozens of policy committees and enshrining his signature policies in the country's constitution. The abolition of term limits, which Xi pushed for and won in last year's National People's Congress, and efforts to consolidate his personal authority run counter to the country's meritocratic tradition, says Suisheng Zhao, executive director of the Center for China-U.S. Cooperation at the University of Denver's Graduate School of International Studies. "Since Deng Xiaoping, the Communist Party of China tried to institutionalize a system that grooms and assigns young and well-educated cadres to key positions," Zhao says, but that system is breaking down.
Many of those interviewed said they felt political performance had become more important for civil servants than ability, and officials were often uncertain about what actions would be deemed disloyal from one month to the next. "Bureaucrats don't dare to do things, as they worry about making mistakes," Zhao says. The State Council Information Office didn't respond to a fax requesting comment.
A report from China's top antigraft body last year detailed how cadres up and down the government, from localities to state-run enterprises, frequently failed to follow party instructions or demonstrate sufficient loyalty to Xi. At a meeting in January, Xi warned top leaders of "sharp and serious dangers of slackness in spirit" within the party. A document issued by the party's Central Committee on Jan. 31 urged leaders "to veto cadres who are politically incompetent and resolutely replace those who are in a leading position." Vetoed cadres won't be eligible for promotions, stalling their careers.
For some government officials, the most galling problem is the discrepancy in pay between public and private enterprise. In the past, senior positions were well-compensated compared with those of most workers outside the administration. But the ascent of the business community has tipped the balance, as entrepreneurs have redefined what it means to be wealthy in China.
One official with three college degrees earned $1,600 a month after working for 12 years in a ministry. Another bureaucrat who quit her position last autumn to join a finance company said that she didn't mind working overtime and weekends in her former job and that the $1,100 monthly salary without a raise for years didn't bother her because her family is well-off. But the political pressure and the uncertainty over what would be considered a mistake got to her. She cited colleagues who were scared to dine out during the holiday season—a traditional time for families to hold celebratory dinners—after a party clampdown on gift-giving and lavish entertainment that began when Xi took office and continues today.
Foreign businesses say Xi's anticorruption campaign has made doing business in China simpler, even if it's slowed the bureaucracy. In a 2017 survey by the European Union Chamber of Commerce, only 14 percent of respondents listed corruption as one of their three greatest concerns about doing business in China, down from 26 percent in 2014.
There's no official tally of the number of bureaucrats who've quit. In October 2017, Qi Yu, then vice minister of the party's Organization Department, said only about 10,000 civil servants resign each year, less than a quarter of 1 percent of the nationwide total. The Organization Department didn't reply to a faxed inquiry asking for updated figures.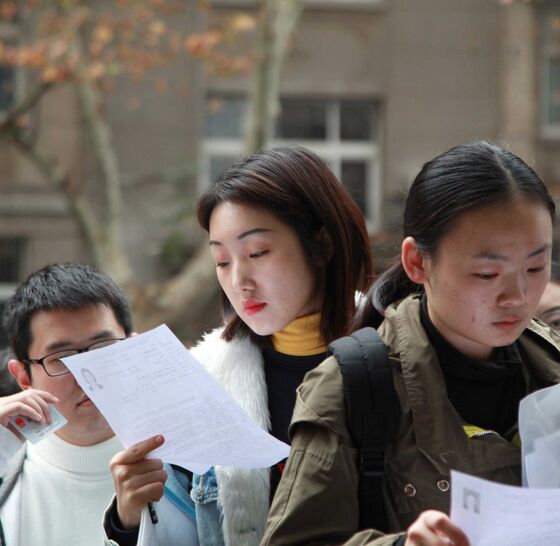 One sign that the government may be concerned about a talent drain was the introduction in 2017 of new rules for civil servants who quit. One prohibits officials at the division chief level or above from working for regulated companies or for-profit organizations. The penalty is a heavy fine. "Restricting public servants from joining a regulated company within a certain time frame is an international practice," Zhao says. "But combining with other restrictions on political and ideological fronts, the bureaucracy system is losing charm."
Confucianism, the ruling ideology in ancient China, advocates serving the emperor and the country as the ultimate honor for an intellectual. Not as many people are heeding the call. About 1.4 million applicants took the National Civil Service Exam in December, the lowest number in five years, according to data released by the State Administration of Civil Service.
The document issued by the Central Committee in January vowed to implement an education program to develop young cadres' sense of purpose. It called for the cultivation of "socialist builders and successors who have a firm communist belief and a higher Marxist theoretical accomplishment."
Zhang Jian, an associate government professor at Peking University, says that for most of the past 40 years, "the Chinese bureaucracy was tied to the party center by a relatively long leash." Over the past six years, increased central control has led to a decrease in individual motivation, and "a major engine of the economic development is lost," he says. "This is bad for China in the long run."
To contact the editor responsible for this story: Brendan Scott at bscott66@bloomberg.net, Adam MajendieJillian Goodman
With assistance from Bloomberg