Urban Exiles Are Fueling a Suburban Housing Boom Across the U.S.
Urban Exiles Are Fueling a Suburban Housing Boom Across the U.S.
(Bloomberg Businessweek) -- Homebuilder Jimmy Previti's sales haven't been this strong since last decade's housing boom. And that makes him nervous.
His home turf, the Inland Empire, 45 miles from densely populated Los Angeles, is at the center of a suburban land rush. In the Covid era, the single-family houses that are the stock in trade for Previti's Frontier Communities are a hot commodity. Armed with the lowest mortgage rates in history, buyers are increasingly shunning urban centers, settling instead where they can live at a safe distance from their neighbors. "Is this the little runup before everything runs off the rails?" asks Previti, chief executive officer of Frontier. "Nobody can tell."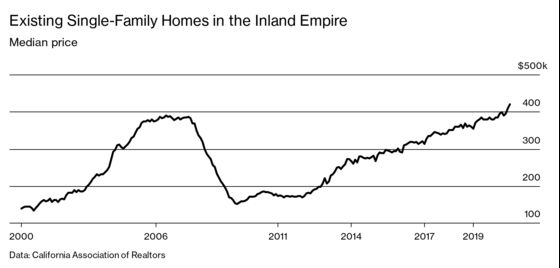 The suburban buying frenzy, driven by urban exiles hunting for home offices and space to quarantine in comfort, comes on the heels of the U.S. economy contracting at its fastest rate ever in the second quarter and the unemployment rate almost tripling from a year earlier. U.S. policymakers have kept the housing market afloat by freezing foreclosures, cutting borrowing costs, and flooding the economy with stimulus cash. How long the surge in demand lasts will depend on the path of the virus and what happens once the rescue plans expire.
"We've delayed the crash, but at the same time we're inflating the boom," says Ed Pinto, director of the housing center at the American Enterprise Institute, a conservative think tank in Washington, D.C.
The exodus to sparser landscapes is happening across the U.S., but it's most dramatic outside pricey, crowded New York, Los Angeles, and San Francisco.
In Manhattan, signed sales contracts for condos and co-ops fell 60% in July, from a year earlier. Meanwhile, in the northern bedroom communities of Westchester County and Fairfield County, Conn., deals for single-family homes doubled, according to appraiser Miller Samuel Inc. and brokerage Douglas Elliman Real Estate.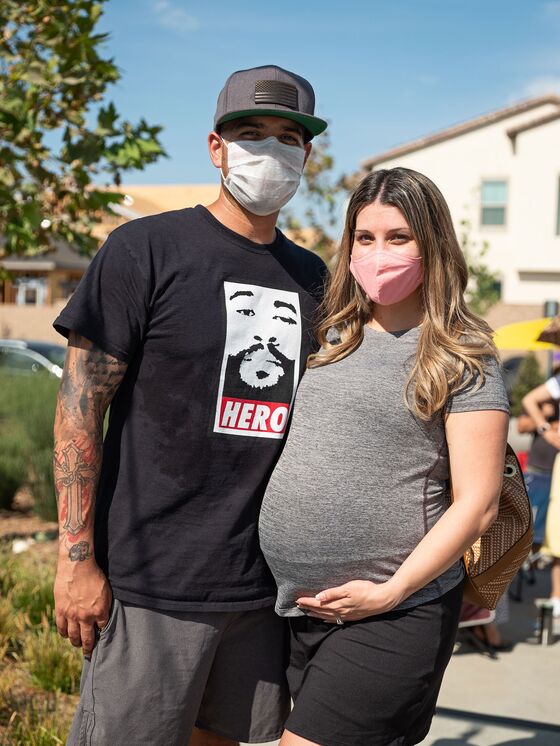 Price growth slowed from pre-lockdown levels in urban sections of Boston, Detroit, and Washington, D.C.; but they accelerated in their suburbs, according to an analysis by Zillow. Home prices in Boston, for example, rose 2.1% in July while they climbed 5% in the suburbs. In Washington, they rose 3.6% and increased 4.4% further out.
The number of sales in San Francisco last month inched up 1.4%, but they leapt 36% in the pricey suburbs of Marin County and 15% in the more affordable ones in Contra Costa County, according to the California Association of Realtors.
The Inland Empire area in Riverside and San Bernardino counties, home to 4.5 million, has long been a land of booms and busts. Previti, whose company is private, lived through that roller coaster, when a bubble inflated by loose lending, speculation, and overbuilding burst, unleashing a massive wave of foreclosures. The price for a typical single-family home in the area plummeted 60% in last decade's crash. But it jumped 10.5% in July to $420,000, which is almost 10% above the 2006 peak. Previti's sales pace last month was three times as high as in July 2019.
Bidding wars are breaking out again in the region, which has long been the affordable alternative to the coast, a place where buyers put up with desert temperatures and hellish commutes for a home that costs a fraction of similar real estate in Los Angeles, Orange, or San Diego counties. The orange groves and dairies that once blanketed the Inland Empire are being supplanted by sprawling red-tile-roof subdivisions. In addition to housing super commuters to the coast, the area is home to armies of transport and industrial-warehouse workers with jobs in the region transferring freight from Southern California's ports to cities across North America.
People started lining up at noon on Friday, Aug. 14, as the thermometer climbed to 104F, 22 hours before 40 lots were released at ShadeTree, a community in San Bernardino County just launched by Chinese builder Landsea Homes. The line swelled to more than 30 buyers, who camped overnight and shielded themselves from the sun with umbrellas, while mostly complying with requirements to maintain social distance and wear masks.
The demand seems "unprecedented to me, especially in light of the fact that it is the middle of August—traditionally a dormant time period for sales," says Mike Forsum, Landsea's chief operating officer.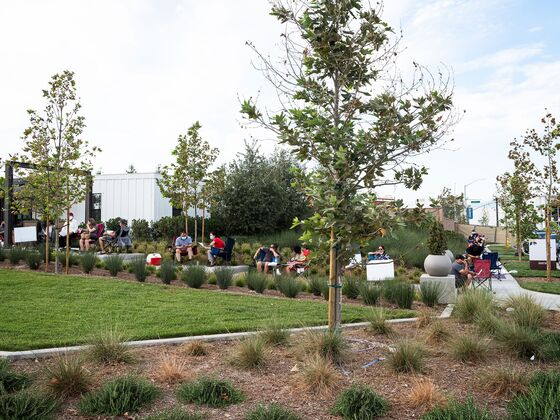 Simultaneously, however, the U.S. property market is facing another test. The federal government's $600 weekly supplement to unemployment insurance, which helped millions of homeowners weather job losses and pay mortgages and household bills, came to an end last month, and Congress can't agree on a replacement. President Trump signed executive orders earlier this month that may deliver as much as $400 in supplemental benefits for those still out of work, but the relief may not last more than a month, analysts say.
Unless the economy comes roaring back to life soon, the unemployed may be forced to sell their homes for a loss or face foreclosure. They're allowed to delay mortgage payments under a forbearance plan for up to a year. Six of the biggest U.S. banks, including J.P. Morgan Chase & Co. and Wells Fargo & Co., have already boosted reserves to $35 billion, bracing for a tsunami of soured loans.
Buyers who purchased recently and have little equity in their homes are the most vulnerable if housing crashes again. In the Inland Empire, many stretched into homeownership using programs such as Federal Housing Administration loans, which require small down payments and allow borrowers to take on more debt with less income. Almost 16% of borrowers with FHA loans in the US. were delinquent in the second quarter, more than twice the rate for conventional loans and the highest level in records dating back to 1979, according to the Mortgage Bankers Association.
The good news for the Inland Empire and other suburban areas is that the migration away from cities will last until the virus is gone, and longer if employers get comfortable with having a remote workforce, says Ralph McLaughlin, chief economist for Haus, a co-investment platform for homebuyers. "We're seeing a very radical change in where people want to live—if it's temporary, the fortunes of suburban areas may not be as rosy as some people think," he says. "If it's permanent, we may see a new wave of suburbanization like we haven't seen in decades."
At ShadeTree, many of the shoppers are first-time buyers, leaving high-cost rentals in coastal towns like Irvine or Newport Beach, who lacked cash for a big down payment, but could afford FHA loans to finance homes that start at around $500,000, according to Landsea's Forsum. "It feels counterintuitive that our industry is experiencing the kind of success that it is right now, but I believe it's a confluence of events that's leading people in our direction," Forsum says. "There's a sense of urgency that I need to get to safety and space while I take advantage of this situation with the mortgage rates."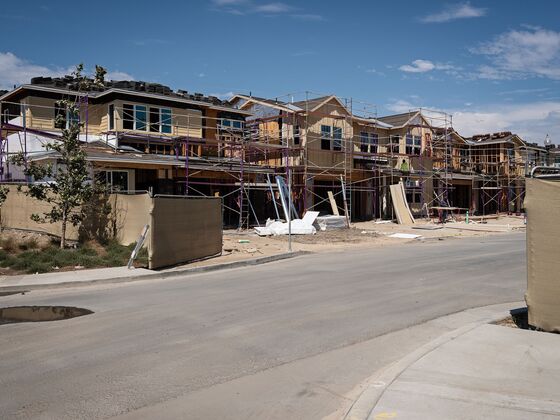 As a firefighter and former Marine, Jason Alonzo, 34, has learned to sleep practically anywhere. So camping overnight on a lawn chair in the heat outside ShadeTree's sales office wasn't all that bad, he says. He couldn't take a chance—his wife, Rebecca, is nine months pregnant with their first child, and they need space. A month ago they missed out on the lot they wanted at the same 432-lot master-planned subdivision near the town of Ontario, because they arrived too late.
This time, Alonzo was seventh in line. The couple secured a five-bedroom house for $680,000, which they'll finance with a zero-down VA mortgage. "I know things will never go back to normal after the pandemic," Alonzo says. "But I feel safer knowing I have room now to take in my extended family if things get bad."
Builders are boosting production to cater to millennials like the Alonzos. They're bidding up prices for increasingly scarce finished lots in the Inland Empire, which this month were up as much as 10% from a year earlier in some areas of Riverside County, says Justin Esayian, a senior vice president with The Hoffman Company, a land broker in California. "If you look at all the major homebuilders that already have positions in the Inland Empire, by and large, every one of them is trying to expand their holdings," Esayian says. "They're aggressively pursuing opportunities where the product could be tailored to that first-time buyer."
Confidence among U.S. homebuilders reached a record high in August, but Previti, one of the few private builders in the area that survived the 2008 housing crash, says he can't ignore storm clouds. "I'm not loading up on land, assuming this is the new normal," he says. "It feels frothy."
 
Read next: Stranded International Students Sustain U.S. College Towns
Get Your
Daily Newsletter
Get market moving news, top news & compelling perspectives
---