Cuba Is Exporting Doctors to Make Up for Lost Tourism Revenue
(Bloomberg Businessweek) -- The pandemic was raging out of control and the towns of northern Italy were shuttered and silent when Dr. Yasel Castillo and his team of Cuban doctors rolled up in March. The Havana-trained lung specialist and about 50 colleagues were on a dual mission: to ease the burden on Italian doctors overwhelmed by Europe's most intense Covid-19 outbreak and to earn hard currency to help Cuba's economy through its worst crisis since the collapse of the Soviet Union.
"The night we got there, the Italians in the airport applauded us," says Castillo, speaking by phone from Crema, 25 miles (40 kilometers) from Milan, where he was based for two and a half months. When Castillo arrived, all the patients on his ward were gravely ill and on ventilators, he says. Now almost all of them are on the road to recovery, and his team is preparing to move on, having treated about 5,000 Italians.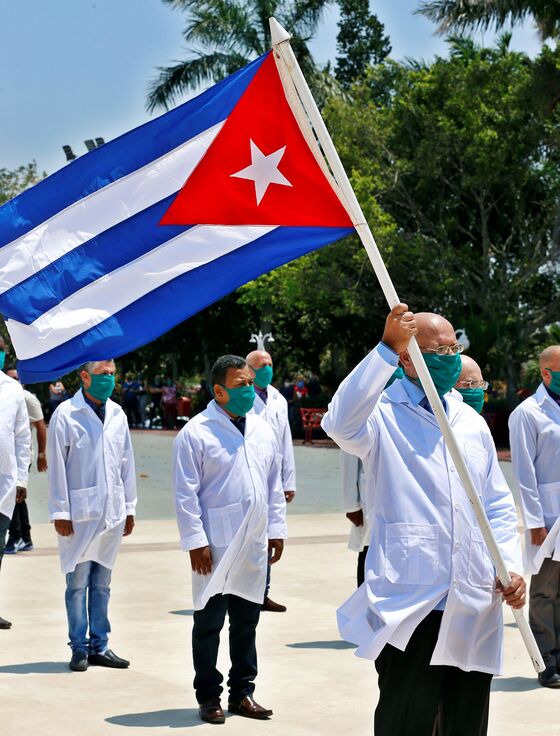 Meanwhile back home, Cuba's economy is undergoing its deepest slump since the early 1990s. U.S. President Donald Trump tightened sanctions on the island in 2019, and the economic implosion of its longtime political ally Venezuela has meant Havana no longer receives generous subsidies from Caracas. Tourism disappeared with the pandemic and remittances fell as many Cuban-Americans lost their jobs when the U.S. plunged into recession. Cuba's economy is forecast to contract 3.7% in 2020, according to the United Nations' Economic Commission for Latin America and the Caribbean.
That's left medical brigades such as Castillo's as Cuba's most important source of foreign currency. They've been deployed to fight the Covid-19 pandemic in more than two dozen countries, including China, Jamaica, Kenya, Peru, Saudi Arabia, South Africa, and Turkey. The island nation's health-care system has long been a source of pride for its communist rulers. Cuba boasts 8.19 medical doctors per 1,000 inhabitants, the highest of any country tracked by the World Health Organization. (The ratio in Italy is 4.09 per 1,000.) Exports of medical services earned the island $6.4 billion in 2018, the last year for which the government published figures.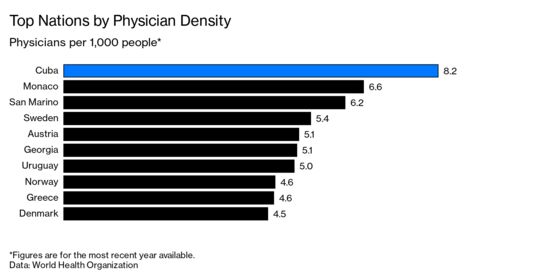 Since its revolution six decades ago, Cuba has sent hundreds of thousands of doctors, nurses, trainers, and technicians to respond to everything from Caribbean hurricanes and earthquakes to the Ebola outbreak in West Africa. The program became a moneymaker for the government in the early 2000s, when Hugo Chávez, the late Venezuelan president, began paying for the medical workers with oil shipments. Since then, Cuba has developed a tiered system in which it charges wealthier nations but not poor ones.
The Trump administration has urged other governments not to accept Cuban medical staff, saying the revenue they generate is helping prop up a communist tyranny. In April, Secretary of State Mike Pompeo said countries that pay for the missions "are helping the Cuban government turn a profit on human trafficking."
As the coronavirus spread and governments wondered if their health systems could cope, those warnings were widely ignored. The medical missions have now treated more than 100,000 Covid-19 patients, according to Cuba's government. "They need the medical support. Why would they say no?" says Ambassador Jeffrey DeLaurentis, former chargé d'affaires at the U.S. embassy in Havana. "They are not paying as much attention to what the Trump administration is saying as they are to what they need."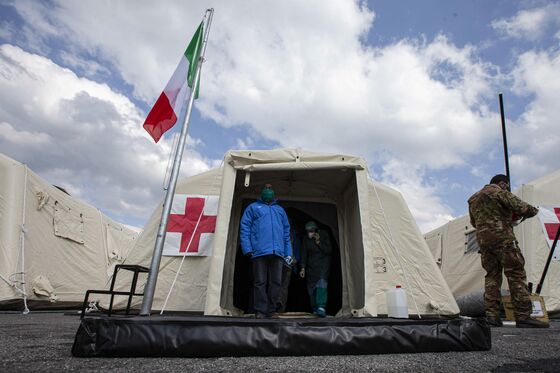 Cuba's economy took a turn for the worse last year when the Trump administration tightened sanctions, leading to a sharp decline in the number of Americans visiting the island and damping investment. Meanwhile, the slow-motion collapse of Venezuela's state-owned oil company has resulted in a sharp reduction in oil shipments, forcing the government to buy fuel from other countries.
One telltale sign that hard currency is in short supply is that staples of the Cuban diet, including chicken and rice, have become scarcer across the island, leading the government to reinstitute a system of rationing. Cuba imports an estimated 60% to 70% of its food.
On a recent weekday, Yanelis Méndez, a 26-year-old mother who lives in the Diez de Octubre neighborhood in central Havana, waited with more than 200 others hoping to get government rations of canned tuna, toilet paper, and meat scraps. After four hours, the truck carrying supplies finally arrived.
Three hours later, when she got to the front of the line, the meat and tuna had run out, so she came away with extra rolls of toilet paper and bottles of soda instead. "You have to get there at 4 in the morning just to get a ticket," says Méndez, who lives with her son, husband, mother, and two brothers in Havana. "By the time it's your turn, things are gone."
The current crisis is the worst since the so-called "special period" in the early 1990s, when the Soviet Union's dissolution cut Cuba off from food and fuel imports, leading to power outages and widespread hunger, says Ricardo Torres, professor of economics and Cuban economy with the Center for the Study of the Cuban Economy at the University of Havana. "You only have to look at the long queues on the shortage of basic goods," he says. "There is no rice anymore at market places, only through the rationing cards. Cubans eat a lot of rice, so when there are shortages, they supplement with pasta—and that's also in short supply."
Even for food such as pork that Cuba produces domestically, the country relies on imported feed for the animals, Torres says. This means the lack of hard currency to pay for imports is biting hard.
With U.S. dollars in short supply, Cuba missed payments due under an agreement it struck in 2015 with a group of foreign governments on debt dating back decades. The deal was supposed to pave the way for the country to eventually return to international capital markets. The Cuban government is now asking those countries for a moratorium on debt payments until 2022.
"They are desperate. They do not even have a penny to buy food—they will have less to pay the debt," says Emilio Morales, president and chief executive officer of Havana Consulting Group, a Miami-based company that provides data and analysis on the Cuban economy.
However bad things are, Cuba still has powerful friends that will bail it out sooner than watch it fall apart, Ambassador DeLaurentis says. "A country like China, Russia, or others, for ideological or political reasons, would not stand by and let it implode."
 
Read next: U.S. Health-Care System Was Totally Overwhelmed by Coronavirus