Mariah Carey's 'Queen of Christmas' Crown Is Worth Far More Than the Royalties
(Bloomberg Businessweek) -- It seems to be an accepted fact that Mariah Carey is the Queen of Christmas. There are her Apple TV+ Christmas specials and the Mariah Carey Holiday Collection of collectibles. McDonald's has the Mariah Menu in the 12 days leading up to Dec. 25. And, of course, there's her ubiquitous holiday hit, All I Want for Christmas Is You.
There was no coup in which she and a battalion of elves stormed the mythical kingdom of Christmas to seize the crown. Instead it's the product of a multiyear media and public-relations campaign that capitalized on the streaming music wave to seed the idea that Carey is, miraculously, our Yuletide monarch.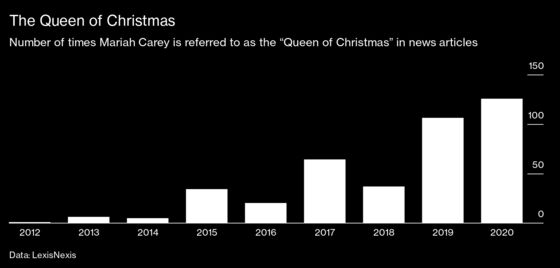 All I Want for Christmas Is You, released in 1994, is the cornerstone of her festive franchise. Only a year later, Billboard magazine became the first publication to dub her the "Queen of Christmas," but that was because her distinctly un‑Christmassy album Daydream had topped the charts for the last week of December 1995. Carey then had to wait almost two decades for the moniker to be resurrected—by a publicist.
In 2013 she made a series of appearances on stations owned by NBCUniversal, then newly acquired by Comcast Corp. In a press release her then-publicist, Cindi Berger, almost flippantly declared her the "ordained Queen of Christmas." Never mind the conflation of church and state—six publications used the title in their coverage of Carey that year. By 2020, the year of her first Apple TV+ special, about 125 publications acknowledged her crown.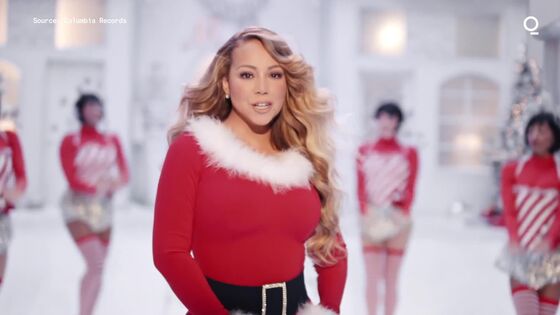 The NBC appearances came at the dawn of music streaming services, not the least of which was Spotify Technology SA. In the intervening years, not only have subscriber numbers swelled—to almost 400 million—but so, too, has Carey's share. Hers is the most popular Christmas tune by some distance. Her hit accounts for 1 in 50 Christmas streams on Spotify, double the proportion of seven years ago.
But it's her broader Christmas magic that's landed her commercial partnerships and TV specials. Those deals are orders of magnitude more lucrative than the less than $1 million a year she's likely to make from the song's streaming royalties. And that's the true value of her crown: Being the Queen of Christmas has made her a bankable behemoth. She rules the celebrity Christmas coffers.

Webb is a correspondent for Bloomberg Quicktake.