It's Masks and Plexiglass for Mall Santas Trying to Lure Family Shoppers
It's Masks and Plexiglass for Mall Santas Trying to Lure Family Shoppers
(Bloomberg Businessweek) -- The coronavirus has upended many aspects of life, dramatically changing how people work, study, and even worship. Now it's primed to wreak havoc on another pillar of modern existence: Santa Claus. Macy's Inc., the iconic department-store chain whose 34th Street flagship in Manhattan is the setting for the most famous Santa movie ever, has announced that the jolly old elf won't be visiting because of the pandemic. And while Santas in many malls across the U.S. haven't gotten the boot, their traditional faux-North Pole backdrops near the food court are going to look a lot different this year, when many of their brethren will be checking their nice and naughty lists online.
Children at the Park Meadows mall in Denver will be able to greet a masked Santa sitting safely on his sleigh 6 feet away, and families at Orlando's Altamonte shopping center will share their wish lists from the bottom of a mountain of gifts with a socially distanced St. Nick perched on top. At the SoNo Collection, an upscale mall in Norwalk, Conn., a masked Santa will be behind a plexiglass shield shaped like a snow globe, giving the illusion that he's trapped inside, safe from the kids chatting him up from the other side.
They're all ways mall developer Brookfield Property Partners LP has devised to protect the seasonal performers—who are often older and plumper, putting them at higher risk of Covid complications—while also driving the holiday foot traffic that's so critical to retailers' bottom lines.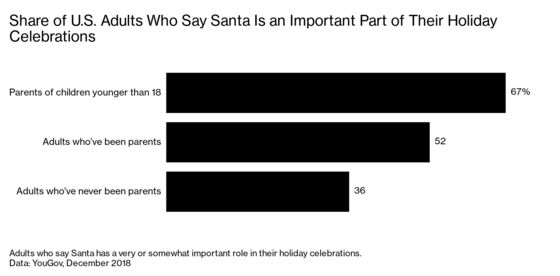 This holiday season, just 45% of U.S. consumers plan to go to a shopping mall, down from 64% who visited last November and December, according to an International Council of Shopping Centers survey. Having no Santa to draw families would be the latest blow to retailers, dozens of which have filed for bankruptcy in the past year, from J.C. Penney Co. to J.Crew Group Inc.
Brookfield normally gets about 350,000 visits to Santa at the 134 shopping centers where it typically hosts St. Nick. The company declined to say how many Santa visits it expects during this Covid-slammed season. "Holiday time and getting people into our centers for shopping and visits with Santa is very important for us," says Rocell Viniard, director of marketing at Brookfield. While they're there, they also shop and eat, which can add up to big bucks.
Kimco Realty Corp., owner of open-air shopping centers across the U.S., isn't giving up on Santa, either. Many of its locations will offer socially distanced pictures with him in tented areas outdoors. At some of those Kimco properties, such as Suburban Square in Ardmore, Pa., Santa will be making toys behind a table as guests come greet him, ensuring there's plenty of space between them.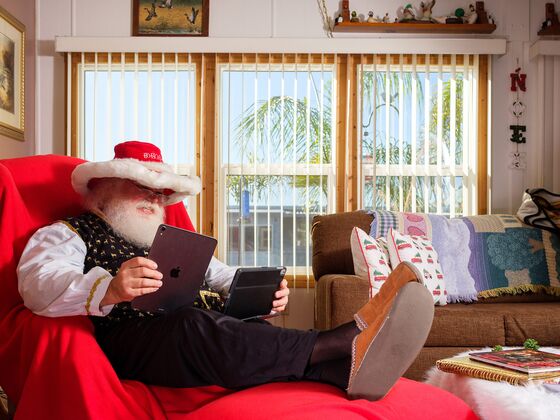 For Santa fans who don't feel safe venturing to the mall, there will be plenty of options. Brookfield is offering personalized virtual visits, starting at $24.95. And Airbnb Inc.—whose main short-term lodging business has been crushed by Covid—is marketing online experiences with St. Nicholas put on by members of its far-flung network of hosts. They include everything from chatting with a "real" Santa Claus in Lapland, Finland, to sharing story time with Santa Mike in Los Angeles to conversing with a so-called Sign Language Santa in Athens, Ga.
HireSanta, a platform where retailers and others find Clauses for appearances, has seen interest in virtual visits spike about 500% from last year, according to founder Mitch Allen. Still, to accommodate those preferring traditional in-person visits, HireSanta has created its own "Santa Shields," plexiglass barriers with small built-in benches at the base for children to sit on while Santa chats with them from his chair on the other side. "Our expenses have gone way up, from both the development cost and then also creating these physical barriers," says Allen, who pitched his on-demand Santa business on ABC's Shark Tank in 2018 and left with a $200,000 investment from entrepreneur Barbara Corcoran. "We're doing that so that we can actually provide our service. Our revenue is going to be higher this year, but our margins will be lower, primarily because of providing all of this safety equipment."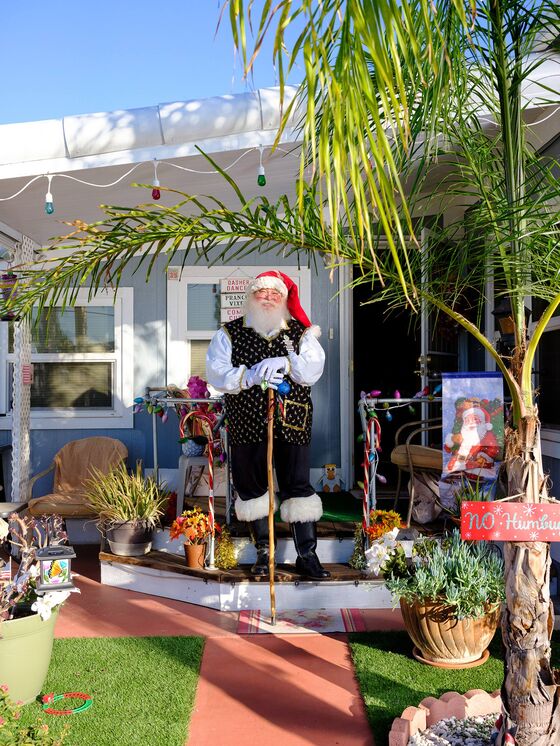 After years of hosting a parade of random children sharing their wish lists, only about 30% of Santas say they'll conduct in-person interactions as normal this year, according to a recent survey by the Fraternal Order of Real Bearded Santas, a group of performers founded a quarter century ago that boasts 450 active members. An additional 31% say they'll do them but with very strict conditions, such as physical barriers and temperature checks, while 22% say they won't do them at all.
Ric Erwin, the chairman of the Santa order, decided not to do any in-person visits this holiday season after his father-in-law died from Covid in May. During a regular year, he usually has 90 to 120 bookings in the weeks between Thanksgiving and Christmas, coming in close contact with anywhere from 5,000 to 15,000 people and making $12,000 to $15,000. This year, as of mid-November, he had 170 bookings, all of them to be done in a virtual format. "I promised my wife and my mother-in-law that I would take zero chances of bringing back the virus into this home, even if that meant giving up my Santa season this year," he says.
Joe McGrievy, a California Santa who's the fraternal order's vice president, is trying a different route: shelling out thousands of dollars to buy a red car and a green screen to do drive-up and virtual visits. He hopes those costs will be worth it, since he'll get to do more visits from home instead of traveling to appearances all over the state. But whatever he makes on these pandemic-tweaked gigs, it won't be anywhere near the $20,000 he usually brings in during Santa season. "I don't expect to hit more than $8,000 this year," McGrievy said early in the booking season. "That's my income. I take that $20,000 and I put $1,000 away in an envelope for each month; that way I live each month and have a certain income besides my Social Security. So this year that won't be happening."
Some entrepreneurs are betting that alternatives to the mall holiday experience will be in demand even when the pandemic ends. Wikipedia co-founder Jimmy Wales in November launched an app called Santa HQ that offers a live video call service with Santa. Wales expects high demand this season and doesn't see it winding down in years to come. "If the experience is good—and we're trying really hard to make it be a good experience with well-trained performers—then people will talk about it," he says. "They'll say, 'Oh yeah, this was fantastic.' It's much better than standing in line." —With Natalie Wong
 
Read next: Virtual Influencers Make Real Money While Covid Locks Down Human Stars