The World's Dominant Crypto-Mining Company Wants to Own AI
(Bloomberg Businessweek) -- Even by the standards of Bitcoin, things are crazy in China. As the boom in cryptocurrencies has become the biggest speculative bubble in recorded history, a single company in Beijing's Haidian District has been selling the chips that generate as much as 80 percent of the world's cryptocoins. "We feel lucky," says Jihan Wu, the co-chief executive of Bitmain Technologies Ltd., which was more or less unknown two years ago and, according to Wu, booked revenue of $3.5 billion in 2017. (On June 4, a Bitmain spokesman said Wu misspoke and the actual figure was $2.5 billion.) Cryptocurrency networks run on number-crunching, electricity-hogging "mining" technology, and to play in that game with any seriousness, you pretty much need Bitmain's chips. And because it's China, the whole thing could fall apart at any minute.
Last year the government cracked down on cryptocurrency trading and banned initial coin offerings. This year it's sent signals that it could seriously restrict mining. So even though Bitmain has succeeded far beyond Wu's expectations, he's already planning for the company's next act: artificial intelligence. "As a China company," says the taciturn 32-year-old, "we have to be prepared."
During a rare series of interviews with Bloomberg Businessweek at Bitmain's headquarters, Wu and his executives say AI chips are a natural adjacency for their privately held, extremely secretive company. "Artificial intelligence requires lots of computations," says Wu. That makes it like Bitcoin mining, which is best done by a custom chip known as an application-specific integrated circuit, or ASIC.
On the strength of such chips, Bitmain has quietly become a global power. A February report by Bernstein Research estimated that the company might be generating profits of more than $3 billion per year, about the same as its much larger rival, Nvidia Corp. The report also suggested that Bitmain is probably one of the five biggest customers of the most advanced fabrication process offered by the Taiwanese chip giant Taiwan Semiconductor Manufacturing Co., which also counts among its clients Apple Inc. and Qualcomm Technologies Inc. Wu declined to comment on Bitmain's profits, but it seems a safe bet that, given the company's revenue figure, things aren't quite as rosy as Bernstein's estimate. TSMC declined to comment.
In October, Bitmain began selling early prototypes of its Sophon BM1680. The ASIC chip, which is sold as part of a $600 accelerator card that you attach to a computer, is designed expressly to speed up machine learning. Although it doesn't do everything that high-end graphics cards made by the likes of Nvidia and Advanced Micro Devices Inc. do, it's more powerful for some kinds of deep learning, and much cheaper. "We are just trying to do something that they cannot take care of well enough," says Wu, who estimates that as much as 40 percent of Bitmain's revenue will come from AI chips within five years.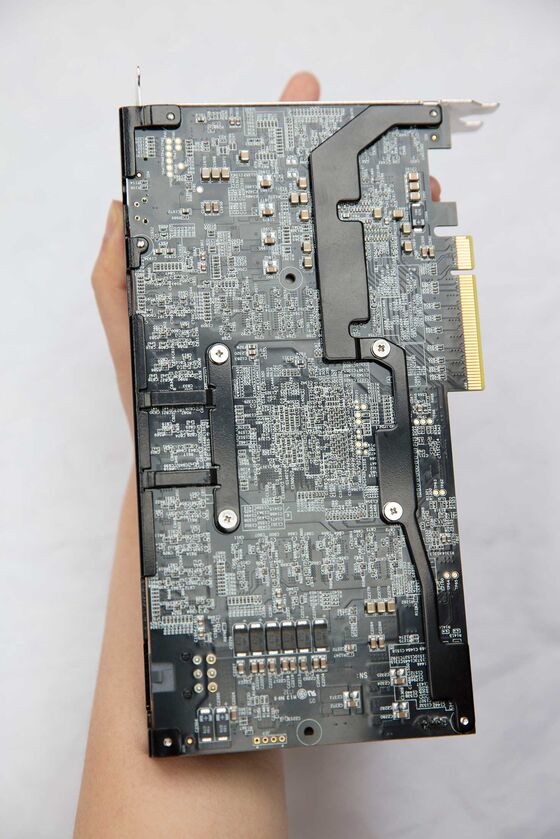 He's got a ways to go. Bitmain's big AI chip, Sophon—named after the tiny supercomputer in the wildly popular Chinese sci-fi novel The Three-Body Problem—came out five months behind Google's leading design, the Tensor Processing Unit. But while Google is the company to beat in all things AI, its chips are available only to customers of its cloud services, which are banned in China. That gives Wu a strong position at home.
If Bitmain's recent history is any guide, the company may not remain an AI underdog for long. In 2011, Wu, a video game geek who favors white T-shirts, light jeans, and sneakers, stumbled into the world of crypto while working as an investment analyst in Beijing. He quickly became obsessed, devouring everything he could about cryptography and monetary history. He translated into Chinese the famous Bitcoin white paper, originally written in English by the pseudonymous author Satoshi Nakamoto, and became a fixture on online cryptocurrency forums.
In 2013, Wu met up with entrepreneur Micree Zhan for dinner at a local restaurant. Zhan, a chip designer by training, had pitched him years earlier on an investment in his startup, which was focused on TV set-top boxes. They spent two hours discussing the ins and outs of Bitcoin, and Wu proposed starting a chip company. Zhan, whose startup had been struggling, listened intently. The next morning, he spent two hours learning more about cryptocurrencies on Wikipedia. He called Wu the next day and said he was in. They sold their first chip later that year.
It was, Wu now says, one of two Bitcoin businesses that seemed plausible. The other was a cryptocurrency exchange, a model that came with far more legal risks. "The only thing that is good to do is Bitcoin mining," he says. "Because it is 100 percent sure it is legal."
In the early days, when Bitcoin and its ilk were mainly the province of math geeks and dorm room libertarians, hobbyists could mine Bitcoin using software that ran on a laptop. But as interest grew, miners were forced to beef up their rigs if they wanted to keep solving puzzles and earning coins faster than the next miner. That set off a frantic technological arms race, where traditional CPUs were replaced with high-end graphics chips, or GPUs.
By the end of 2013, when the price of Bitcoin hit $1,000 for the first time—it topped $19,000 last year before tumbling back into the $8,000 range—miners began experimenting with ASICs, including Bitmain's offering. The chips, which had the necessary algorithms coded directly onto the silicon, were faster and used less electricity than GPUs.
Today, Bitmain Antminers are one-trick, server-size boxes that sell for a few hundred to a few thousand dollars. Instead of the various parts that make up a traditional PC, they're filled with dozens or hundreds of identical high-powered chips. Customers are mostly large mining operators in places with cheap electricity. Rural China, with an excess of cheap coal power, is the most popular location by far.
Bitmain's success has made it a whipping boy for purists who cherish Bitcoin as a way to subvert any kind of centralized authority. Decisions about the future of the currency are made democratically, with voting power based on the percentage of transactions one controls. This meant Bitmain had a lot of influence when it began arguing that Bitcoin should be tweaked to make it easier to use to buy and sell things, which you might think a no-brainer. Not in Cryptoland, where no disagreement is too small to go full-nuclear over. During one exchange in 2016, the normally restrained Wu tweeted at a critic, "F--- your mother." Eventually, Bitcoin split into two currencies: an original flavor and a new Bitmain-backed currency called Bitcoin Cash. The newer model has slightly more centralized control and much lower transaction fees.
"That is an old story," Wu says of the dispute. "The cryptocurrency world is becoming more diversified." With that in mind, he's selling mining rigs customized for more than a dozen different coins, and he plans to add more.
Controversy, of course, has ensued. In April, Bitmain released an $800 miner for Ethereum, another cryptocurrency that had been seen as resistant to ASICs and thus harder for powerful companies such as Bitmain to dominate. Even so, the news set off a frenzy, with stock prices of graphics-chip makers falling. It also provoked the usual high-intensity debate among Ethereum developers over whether the currency should once again be "forked"—that is, split off into a new version that would render Bitmain's miners useless.
Ethereum developers have since seemed to make peace with Bitmain's entrance into the market, and Wu shrugs off criticisms about his company's power because other chipmakers will inevitably enter the market, too. "If it's not us, it might be Intel, it might be Nvidia, it might be AMD," he says.
For now, Bitmain is on the offensive. It's building new mines in the U.S. and focusing its efforts in China on chip development. With AI, Bitmain is targeting an industry that, unlike Bitcoin, has the full backing of Beijing. Last July the central government announced plans to transform China into the leading AI player by 2030, by investing in research and supporting related businesses. If that support materializes, Bitmain's uncertain position, and any fear of a regulatory crackdown, will be a distant memory. —With Tom Mackenzie
To contact the editor responsible for this story: Jim Aley at jaley@bloomberg.net, Jeff Muskus