Canada's Boy Wonder Prime Minister Keeps Tripping Over Himself
(Bloomberg Businessweek) -- Justin Trudeau's top rival in Canada's October general election is, technically, Andrew Scheer, a pro-Brexit Conservative Party leader running a campaign of suburban values and smaller government in an attempt to hold the prime minister to one term. But lately, Scheer's had help in weakening Trudeau's brand—from Trudeau himself.
The famously globe-trotting, feminist, supposedly woke 47-year-old prime minister has committed a string of flubs, from a vacation on a private island owned by the Aga Khan to a state visit to India where he and his wife rubbed elbows with Sikh separatists. That streak was extended on Feb. 7, when allegations surfaced that Trudeau had pressured his then-justice minister, Jody Wilson-Raybould, to help fix a legal problem for SNC Lavalin, a conglomerate with long-standing ties to his Liberal Party. This latest scandal exposes Trudeau to allegations that his fresh-faced Liberal Party is, in fact, the same old party with the same old baggage. That could be politically fatal for an agent of change.
Wilson-Raybould's three-year record as justice minister was largely uncontroversial. Trudeau relegated her in January to the lesser post of veterans affairs minister, part of a larger cabinet shuffle that also saw the appointment of a new minister for rural economic development. The SNC story drew new attention to the demotion, and Trudeau denied "directing" anyone to do anything. On Feb. 12, Wilson-Raybould further escalated the crisis by resigning from the cabinet.
Fortunately for Trudeau, his opponents have problems of their own. Canada has three major political parties: the leftist New Democratic Party, the centrist Liberals, and Scheer's right-leaning Conservatives. The NDP is in free fall, and Trudeau is poised to pick up many of its voters. Scheer, meanwhile, is still relatively unknown outside the Conservative Party, and he's facing an upstart right-wing party, led by a former rival.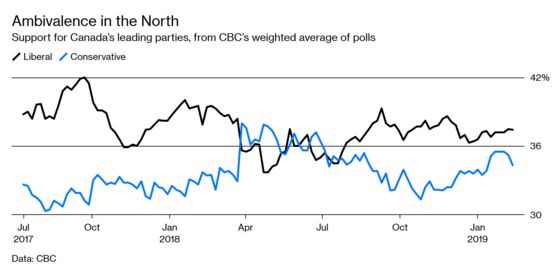 Scheer, a father of five who was first elected to Parliament in 2004, represents a district in Canada's conservative prairies. He won the party leadership in 2017 as a compromise pick. A skeptic of globalism, he not only supported Brexit but also has since gone out of his way to remind people of that, even as talks on Britain's exit deal spiral into chaos.
Trudeau is "pretty lucky right now," says pollster Nik Nanos. Nonetheless, he sees an "accumulation effect" building. Heading into the election, Trudeau's Liberals represent 180 of Canada's 338 electoral districts, just 10 above the slimmest possible majority, leaving little margin for error. "When things go wrong, people pin it on the prime minister," Nanos says. "So for him, it's been a year of not-great news. Nothing's really gone right."
Trudeau's people have tried to paint Scheer, 39, as a younger, dimpled version of his predecessor, Stephen Harper, who governed from 2006 to 2015. In handing the job to Trudeau in October 2015, many voters were driven by a desire to see Harper defeated. Trudeau is trying to activate that same desire, pitching himself as the best bet for progressives who want to keep Scheer from taking power.
The prime minister's virtue-signaling has given his critics plenty of attack fodder, particularly as his gaffes mount. Roughly a year after he was elected, polling data showed that more than half of Canadians were happy with their choice, a major achievement in the country's multiparty system. Now, barely a third say so. His party's popularity has slid almost 10 percentage points since 2016, to 37.4 percent, according to a polling aggregator run by the Canadian Broadcasting Corp.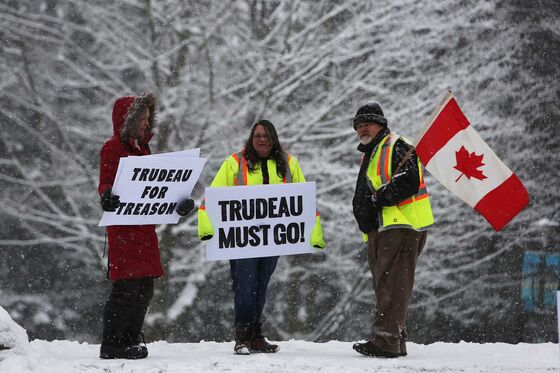 Trudeau does have a few things going for him. He's cut middle-class taxes, expanded parental benefits, and enacted national pension reform. Pot legalization, which went into effect last October, has gone mostly smoothly, and the country's first federal carbon tax takes full effect in April. The economy is strong, and at 5.8 percent, unemployment is near a four-decade low. Plus, Canadian voters have historically given prime ministers at least two terms.
Still, there's precedent for voters sending Trudeaus a message. Justin's father, Pierre, not known for humility, won only a plurality of seats in his second election in 1972—more than any rival party, but not enough for a strong majority in Parliament. To avoid the same fate, Trudeau will have to show he can connect not just with his base—liberal, educated, urban, and young—but also with the Tim Hortons-and-denim crowd that Scheer resonates with.
Lost in the strong top-line economic numbers are a slump in crude prices, soaring housing prices in Toronto and Vancouver, and the high-profile departure of General Motors Co. from Oshawa, the symbolic home of Canadian manufacturing. The new minister of rural economic development will help distribute money to regions that increasingly distrust the city-slicker Liberals. But the demotion of Wilson-Raybould—the first indigenous woman to hold the post—intensified an outcry among indigenous communities, who already blame Trudeau for failing to achieve a promised reset of relations.
Once pushed aside, Wilson-Raybould wrote a public letter about, in part, the importance of judicial independence. On Feb. 7, the Globe and Mail reported that Trudeau had pressed her last fall to intervene on behalf of SNC in fraud and corruption charges related to the company's construction projects in Libya. Wilson-Raybould initially fueled the story by staying silent, and later by retaining a former Supreme Court justice to advise her on what she would be "permitted to discuss in this matter."
Trudeau's path to victory was far from clear in 2015. When he launched his campaign at that summer's Vancouver pride parade, he was the youngest contender and polled in third place. He's now the oldest of the three major party leaders, the incumbent, and, despite everything, still the front-runner. How he weathers the Wilson-Raybould scandal may set the tone for the preelection season. But his majority—and potentially his job—may depend on voters' willingness to tolerate what they don't like about him in favor of what they do.
To contact the editor responsible for this story: Jillian Goodman at jgoodman74@bloomberg.net